delicious minerables, networking nirvana, we have to cut our nails for these vids you know
Remember Roland Wright from
our review of Welcome To
? Well, he's only 
done it again.
Railroad Ink should be arriving in shops any week now, and that's cause for celebration. This game of rails, roads and mounting desperation makes its competitors look like amateur hour. The only questions remaining are (a) should you buy the Red or Blue edition, and (b) when can we expect an expansion?
Have a great weekend, everybody.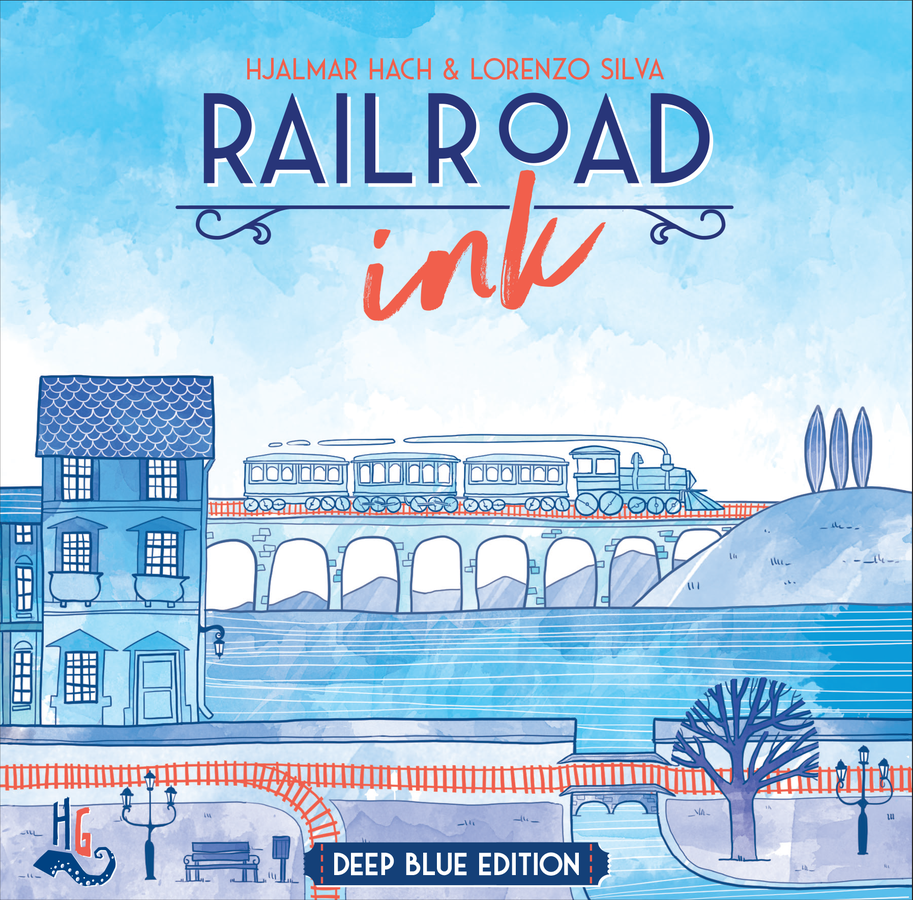 In the multiplayer puzzle game Railroad Ink, your goal is to connect as many exits on your board as possible. Each round, a set of dice are rolled in the middle of the table, determining which kind of road and railway routes are available to all players. You have to draw these routes on your erasable boards to create transport lines and connect your exits, trying to optimize the available symbols better than your opponents.
The more exits you connect, the more points you score at the end of the game, but you lose points for each incomplete route, so plan carefully! Will you press your luck and try to stretch your transportation network to the next exit, or will you play it safe and start a new, simpler to manage route?
Railroad Ink comes in two versions, each one including two expansions with additional dice sets that add new special rules to your games. The Deep Blue Edition includes the Rivers and Lakes expansions. Increase the difficulty by adding the River route into the mix, or use the Lakes to connect your networks by ferry. These special rules can spice up things and make each game play and feel different. Each box allows you to play from 1 to 6 players, and if you combine more boxes, you can play with up to 12 players (or more). The only limit to the number of players is the number of boards you have!
The Princess' Holiday in Hell, The joy of a felt-tip, A bad day for Mr. Mayor
Can you hear a distant rumble of people applauding, firing party poppers and doing synchronised donuts in their cars? Don't panic! Nothing could be more natural when our post-Gen Con podcast rolls around. It's possible that there's never been such a diverse and exciting array of games tucked into a single SU&SD podcast.
Today, Paul and Quinns exchange first impressions of Keyforge: Call of the Archons, Fantasy Flight's new collaboration with Richard Garfield where every deck ever printed will be unique to you. Up next is Gen 7, the dramatic and curious sequel to Dead of Winter that takes place aboard a generation ship. Then there's Nyctophobia, a game where all but one player is blindfolded and being hunted by a murderer. Critical Mass, which might be the best game of mecha-on-mecha violence ever made? Railroad Ink, which is the first roll-and-write game we've found that could steal the throne from Welcome To. And the pair close by talking about The Estates, which is both the meanest and most devious game of auctions that Quinns has ever experienced.
Among those six games are no less than four contenders for the prestigious SU&SD Recommends badge. You heard it here first- the rest of 2018 is going to be absolutely fabulous.
UPDATE: We now have a complete transcription of this podcast, courtesy of SU&SD fan InkyBloc!