basically eric thinks he is is a modern Michelangelo di Lodovico Buonarroti Simoni
My god! 32 podcasts in and we're finally approaching "professional".
Paul, Matt and Quinns discuss the bold new Game of Thrones card game and think back on classic lie-athon Battlestar Galactica, before clearing the floor for an interview with veteran designer Eric Lang (Quarriors, XCOM: The Board Game, Chaos in the Old World). We close with a quick trip to the SU&SD mailbag and an impromptu game show(!).
We've done it, ladies and gents. It's all downhill from here.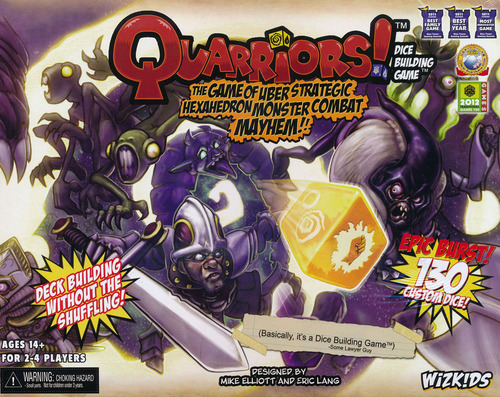 In Quarriors, each player plays as a Quarrior competing for Glory in the eyes of Quiana, the Empress of Quaridia. Each player starts with an identical set of 12 dice in their dice bag. At the start of the game, Creature and Spell dice (Quarry) are dealt at random to form "the Wilds" in the center of the table. As play progresses, players roll their dice to attempt to summon Creatures, cast Spells, and harness the magical power of Quiddity (the in-game resource) to capture Quarry from the Wilds to add to their repertoire and into their dice bag. Players draw and roll 6 dice a turn from their bag, making that controlling bag composition is key to victory.Quarriors is a fast-paced game where players must strategically balance their choices each turn. Do I use my Quiddity to summon Creatures in the hopes of scoring Glory or should I spend it all to capture more powerful Quarry from the Wilds? Players must outmaneuver their opponent's through strategic Spell use, the acquisition of powerful Quarry, and ultimately, by striking down opponent's Creature in combat. If your Creatures survive until your next turn, you will score Glory points and move closer to victory!
Merry happy holiday Christmas! In this festive half-hour we look at everything from a solitaire game, to print and play games, to one of our favourite games ever.
What's that? You want specifics? Well then, you'll see reviews of Quarriors!, Phantom Leader, The D6 Shooters, TimeLine and… ah! We can't tell you everything. That'd just spoil it.
As always, trundle over to shutupshow.com for yet more board game goodness.
YouTube not working? Try Vimeo!