The Spirit of Christmas, Auntie Sandra, Lying to your mother
What are the very best card and board games to play with coworkers and family this holiday? Games that are actually FUN - that you could bring to a party as a great gift for cheap, or tuck in the stocking for Christmas Eve?
Quinns will be writing a piece next week about games more suited to those who already love the hobby, but as part of our ongoing mission to convince the world that board games are great, we wanted to put together an easy resource for the question we seem to get almost all the time: "What game should I buy to play with my family?"
If you've been linked to this by someone else who loves board games, hello! We've put this list together as both a video and a written list. Enjoy!
Matt: Greetings Holiday Humans, it's time to mildly panic as you realise that family will soon descend upon you like a flock of seagulls to a discarded ice-cream. Rather than trying to explain your job to relatives to the point that you might have a mental breakdown, we'd recommend playing board games instead.
These are the 15 best big-family games: all play with at least 6 people, and most can handle 8. In no particular order, let's go!
Downton Abbey, an accident, 300 games, 800 spiders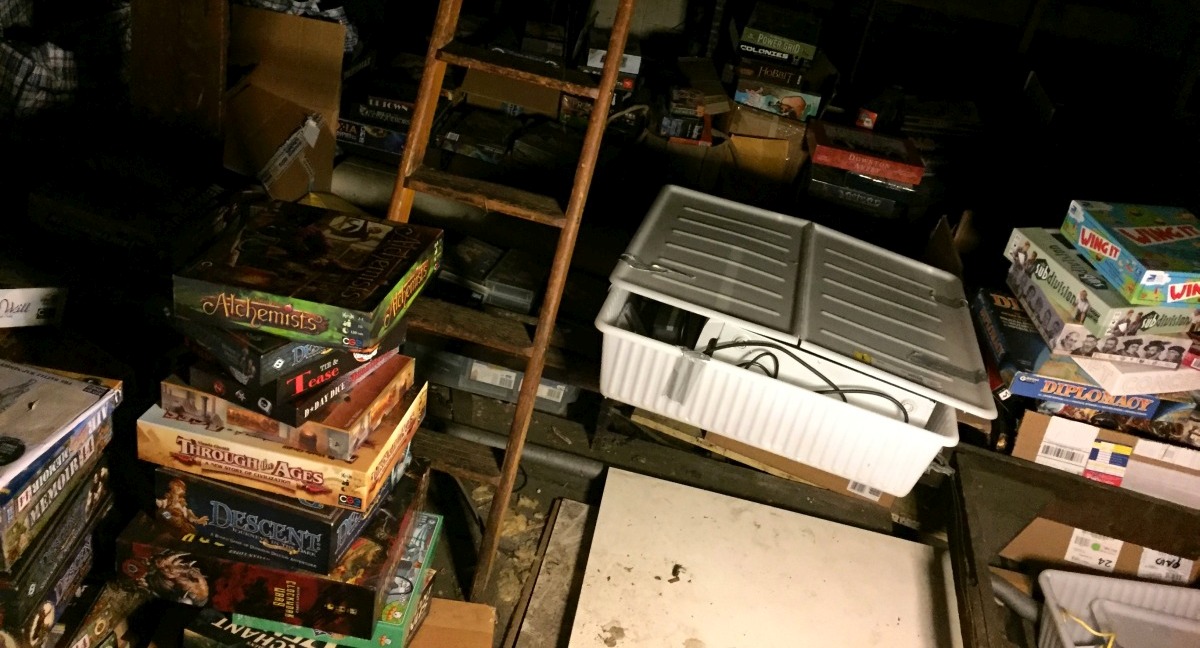 Quinns
: Ladies and gentlemen, roll up! It's time for a new series where we take a look a team SU&SD's board game collections. Come and see! Be amazed. Be aghast. Be envious. Comment with thought-provoking assertions like "why do you have that game it is bad".
You guys will have seen my collection in the background of loads of SU&SD videos, but I don't think you've seen the work that goes into it. Come with me today as I perform... a CULL.
flying 'n crying, clown buttocks, the wide sticks of arkansas
Matt, Quinns and Paul return for 2016! New games discussed include
Billionaire Banshee
,
Flick 'em Up
and
Marrying Mr. Darcy
. Old games discussed include
Tikal
and
Pictomania
. Million year-old games discussed include The Fun Stick Game.
Most importantly of all, our jingle roster has grown! Huge thanks to SU&SD fan Alex Cannon for sending in a folksy sting for Folk Game of the Month.
Perhaps we should make a quick round of Billionaire Banshee a regular feature too... ?
magic bowls, the anger engine, barnacles and broccolis, sex mermaids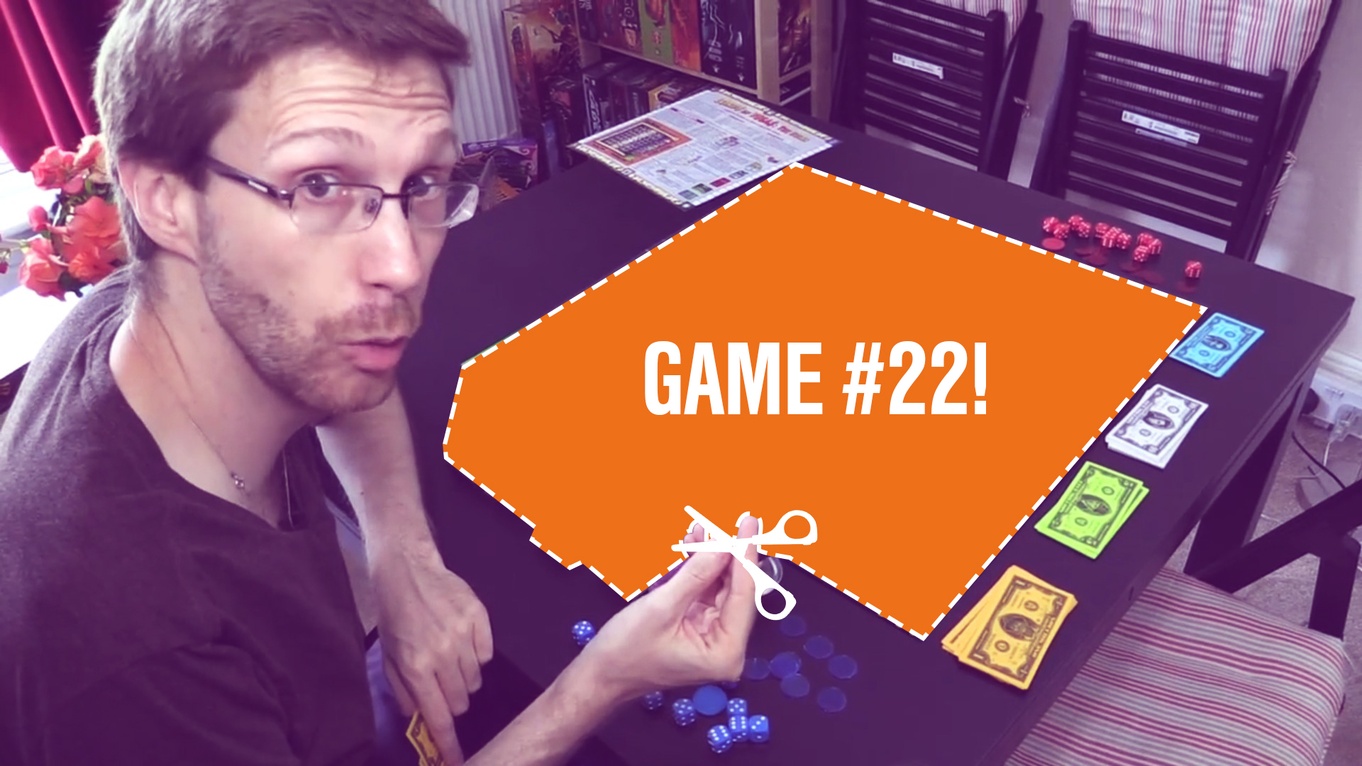 Quinns: Alright, we're proceeding into the twenties. Keep your arms and legs inside the article at all times. If you feel sick stop reading immediately, make a cup of tea and add the Forgetful Mixture we taught you how to make in your induction.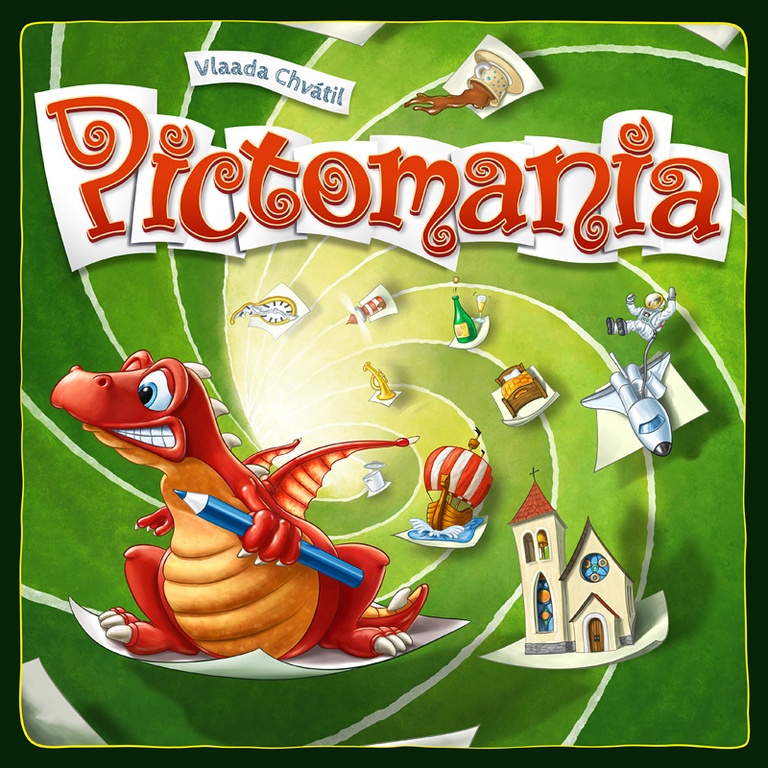 In Pictomania each player is assigned a word to draw. Your goal is to guess the other players' words while drawing your own. That's right: Everyone is drawing and guessing simultaneously! No one has time to draw a complex masterpiece. The player who can sketch the essence of a word with a few lines will have more time to figure out the other players' drawings.
The simple scoring system rewards you for a drawing that is easy to guess as well as for guesses made quickly and accurately. But regardless of your score, you are certain to get a laugh out of your fellow players' drawings.
a beautiful bratwurst, a wad of potato, a cup of tea, judas iscariot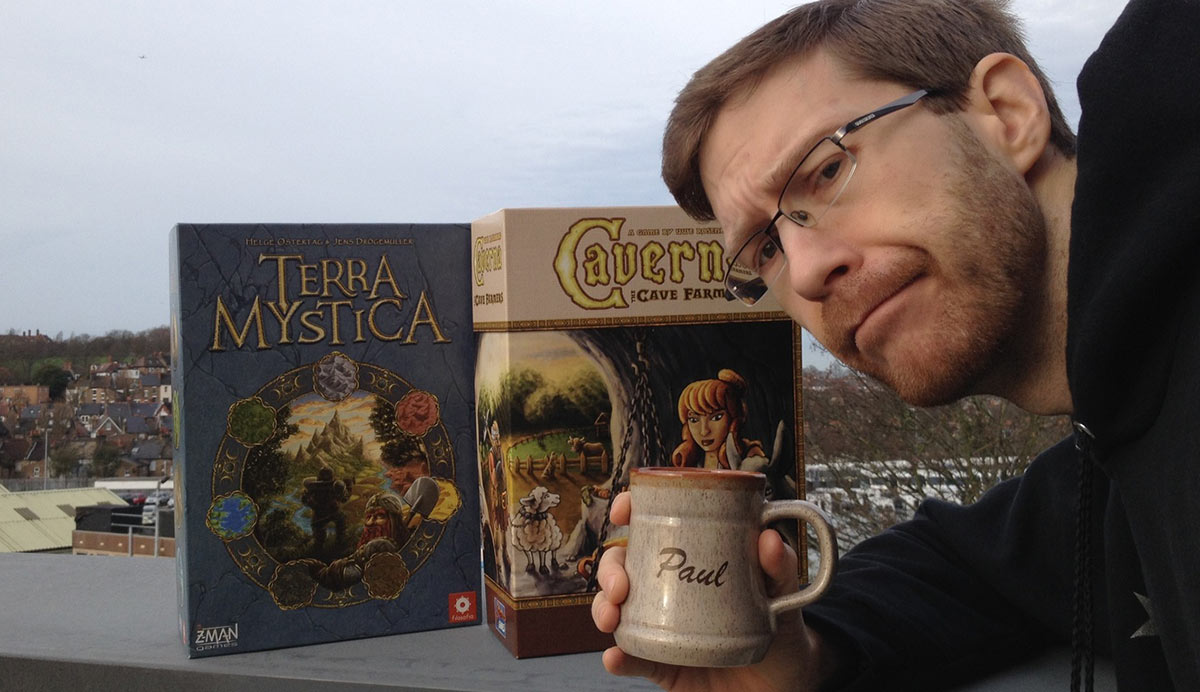 Quinns
: We're back! Like a chicken rolling down a hill, SU&SD has started and won't stop until we've reached the bottom of this mess.
Let's see what golden games we're squawking about today, eh?
sudden rainstorms, romantic encounters, sweep the board game off the table, dungeons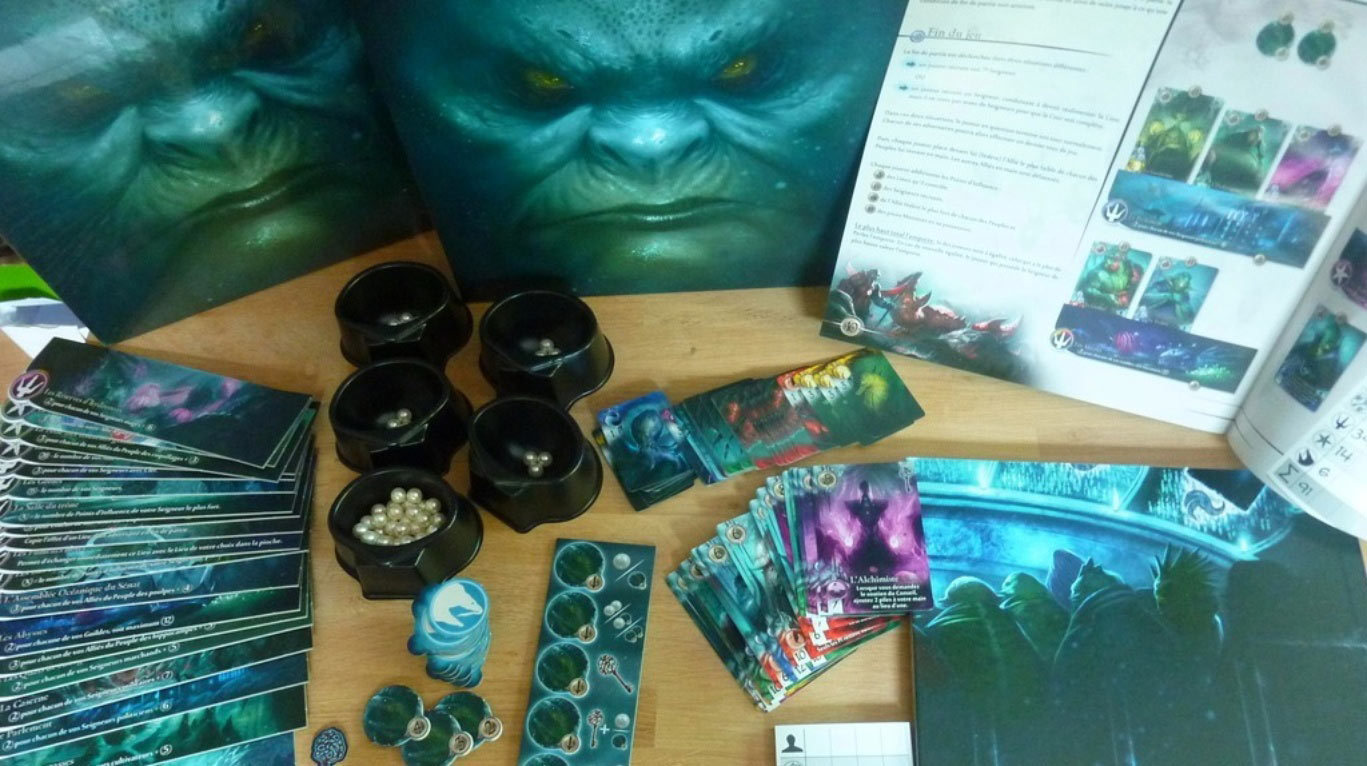 Quinns
: Hello, everybody! How are we all? I spent my morning sweating my way around the warren of central London with all the purpose and grace of
a Hex Bug
, visiting five shops with nothing to show for my brave capitalist efforts. And now there's not much news on the internet, either! What a day.
We'll start with the reveal of the above image, which is the box contents for undersea power struggle Abyss. This game looked exquisite before I knew that it included pearls as a currency, or that the stunning cover is only one of five different boxes. I love what the publishers are doing here so, so much. If this design was any more arresting I'd be in fish prison.
the ultimate resistance of the octopi against the terrible trains of the rising sun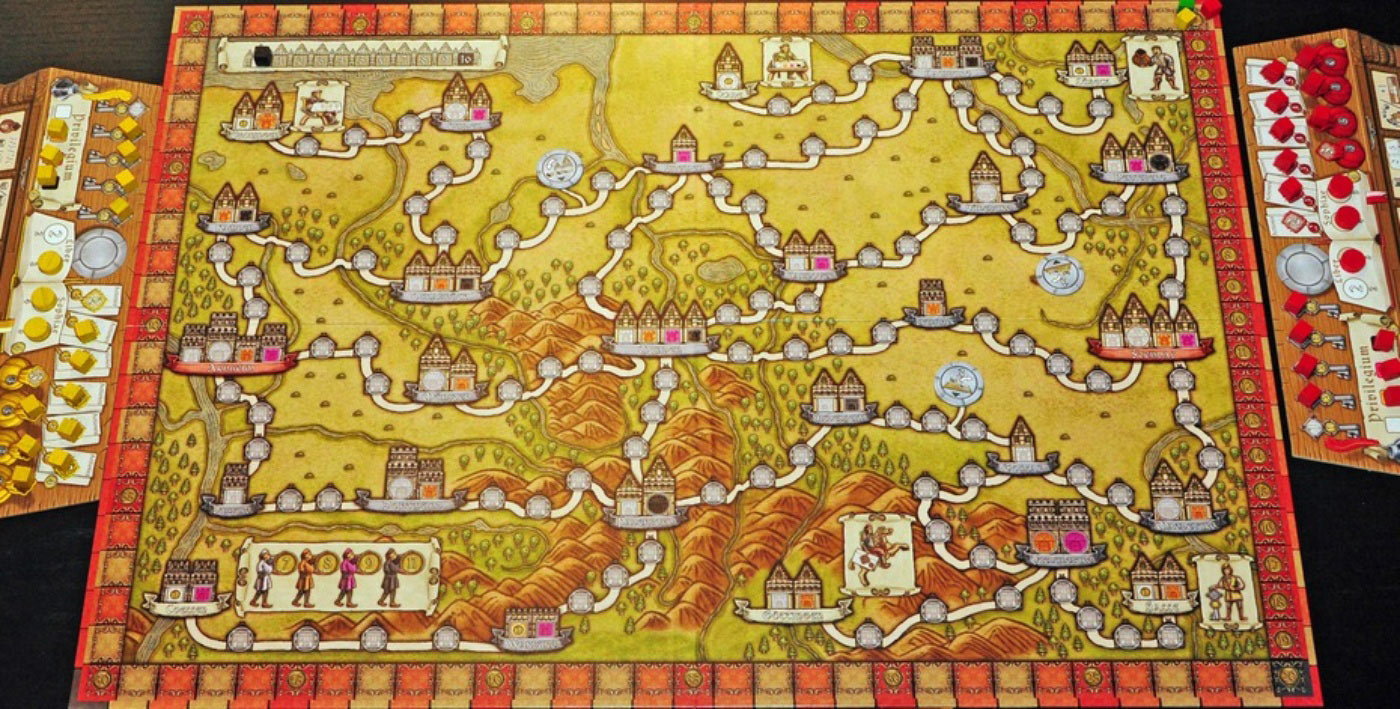 Quinns
: Morning, everyone! How was your weekend? I woke up today with my friend
Olly
sprawled across my sofa after some hot, late-nite
Pictomania
. Such a tragedy that that game didn't sell! It's Vlaada Chvátil's secret best work. If you ever see a copy in the wild, pounce on it instantly and without doubt, like a tiger upon a juicy gazelle.
Oh man, I'm going to get some juice. Be right back.
Our first story is that well-respected 2009 release Hansa Teutonica (seen above) is receiving a reprint this year as well as an expansion, Hansa Teutonica: Britannia, adding an optional new board to play on and revised 2 player rules.
I've never played it, but I can tell you that the fancy Latin name isn't hiding much in the way of theme. Hansa Teutonica is a game about building offices and trading routes in the middle ages, immediately putting me in mind of the comedic-sounding yet actually pretty great Thurn & Taxis. A game where players run a 17th century German postal service. I know! Just like you always dreamed.
roadhouse, water information, Henry, moths, romans, games?
We like to think of SU&SD as one big family. Sadly, according to
GOV.UK
that's wrong, and a family needs at least 2 children, 1 drinking problem and (at least) 1 farting dog.
But that wasn't going to stop us from reviewing the year's hottest new family board game! Augustus is a simulation of dispatching Roman legions to different corners of the earth that recently got nominated for a very prestigious German award. Also, Quinns is back with another hot Netrunner tip. Have you heard of Netrunner? It's really good. You should play it.
podcast, dropsy, arachnids, mammals
Paul: Yep, that's right, your eyes do not deceive you and nor do your ears. Shut Up & Sit Down is back and tightly, trimly encoded into a 64kbps podcast, streamlined for your pleasure. Just like your lunch break, it's almost but not quite an hour long, far too fattening and ultimately nothing more than the briefest respite from the black and tentacled horrors of reality.
In this second podcast, between sips of tea, we talk about two particularly wicked games that we hold nothing but hatred for. That's right, hatred! Can you guess which they are?