sweat washes off, john lemon, millennium dollars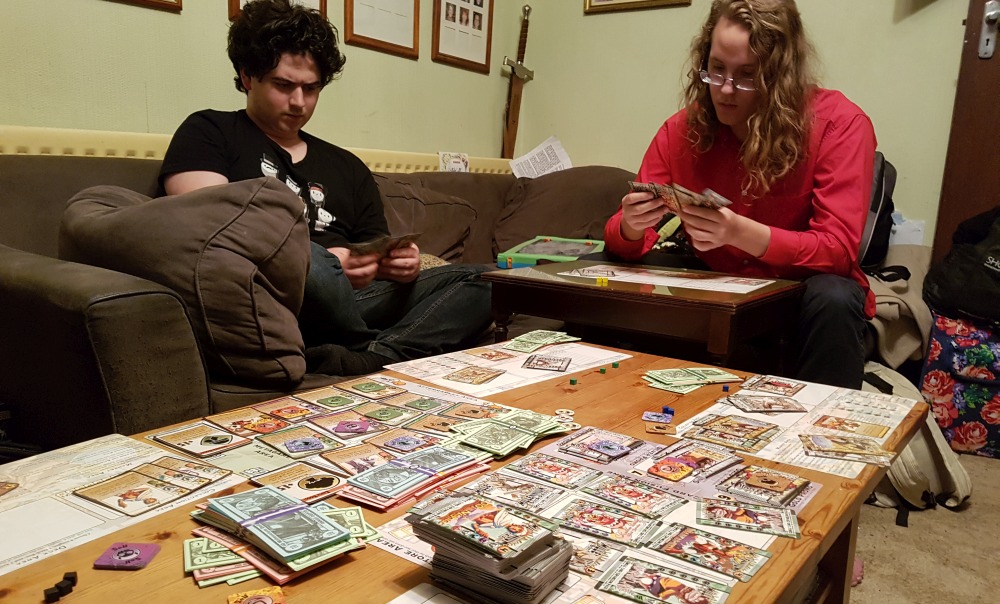 Thrower
: The table is a wreck of cards, tokens and wads of cash. One player has collapsed on the sofa, eyes closed, exhausted. Another feverishly sorts their deck, cards held close to face, unable to understand what went wrong. Someone else has walked out, professing a desire for space and calm.
I'm wondering where the last two hours went and how I didn't notice we now have an audience of a new visitor and a cat. I realise, suddenly, that on this cool spring evening I'm bathed in sweat. This is the aftermath of Millennium Blades.
We've spent the time pretending to be players of a fictional collectible card game in an anime universe. Millennium Blades is, then, a game about playing games. This sounds like a recipe for a design that disappears up its own backside. Instead, this game is interesting, intense and ingenious. Stuffed with self-referential satire, it sits, winking at its players from the comfort of its oversize box. If you can unpick all the parodies from a card called "I'll Form the Head" from the "Obari as Hell" card set, you're a higher voltage gamer than me.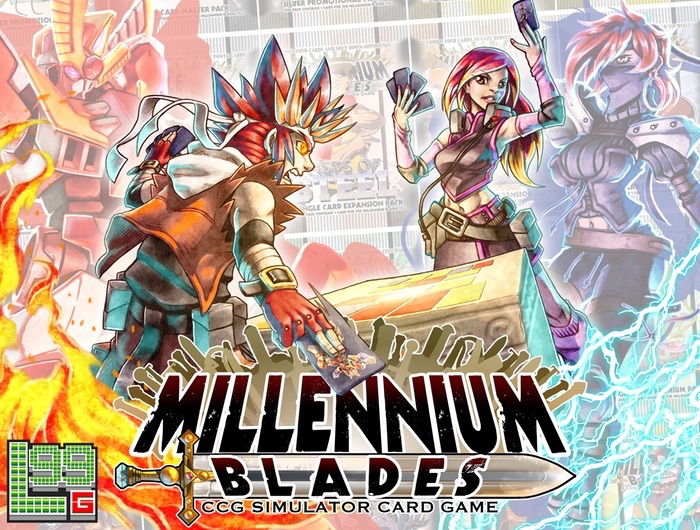 Millennium Blades is a CCG-Simulator -- A game in which you play as a group of friends who play the fictional CCG "Millennium Blades".
In this game you will build decks, play the meta, acquire valuable collections, crack open random boosters, and compete in tournaments for prizes and fame. The game takes you from Starter Deck to Regionals in about 2-3 hours.
The game draws heavily on Manga/Anime inspiration for its art, and parodies Magic: the Gathering, Yugioh, and many other collectible games.
At its heart, it's a commodity trading game, except that instead of cubes or stocks, the things you'll be buying, selling, and speculating on are trading cards that can be used throughout the game in periodic tournaments. By trading wisely, playing the market, working together with friends, building collections, and winning tournaments, you'll secure points and become the Millennium Blades World Champion.
The game features a system of card pods, where you will play with about 400 of the base game's 600 cards every game.