walnut whips, buddy systems, cadfael, a folky tease
The stakes have never been higher!
In this, the one and only 56th episode of the SU&SD podcast, renowned street warriors Matt, Paul and Quinns take a break from their usual areas of discussion (inner-city brawls, knife fights, how to stare down a local tough from sixty yards) to chat about
board games,
of all things!
Quinns has played new Days of Wonder beautypiece Yamatai, the group chat some more about the excellent Flamme Rouge, and inspired by Paul's Mythos Tales review there's a discussion on the future of mystery-solving games. We also answer the question on everyone's lips: Is Lego crap? Finally, we answer a reader mail about how to get the most out of a convention. Basically just make sure you have a friend to drag you out of the fight if you get knocked unconscious.
In other words, we're going mad. How many more episodes of this can we possibly do?
The answer: AS MANY AS IT TAKES.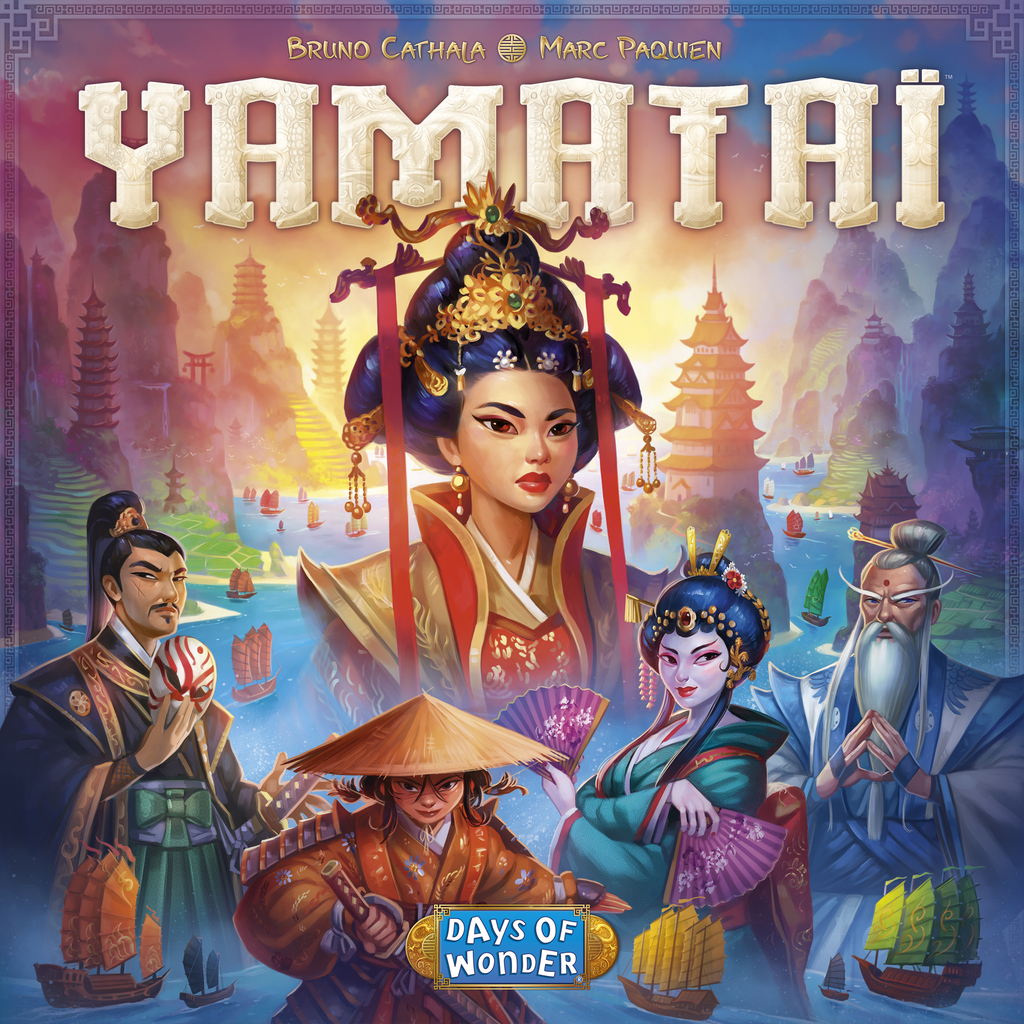 In Yamatai, 2-4 players compete to build palaces, torii, and their own buildings in the land of Yamatai. The game includes ten numbered action tiles, each showing one or more colored ships and with most showing a special action. You shuffle these tiles, place them in a row, then reveal one more than the number of players.
On a turn, each player chooses a tile, collects the depicted ships from the reserve, optionally buys or sells one ship, then places the ships on the board. The land has five entryways, and you must start from these points or place adjacent to ships already on the board. You can't branch the ships being placed, and if you place your first ship adjacent to another, then that first ship must be the same color as the adjacent one; otherwise you can place ships without regard to color.
After placing ships, you can either claim colored resources from land that you've touched with new ships this turn or build on one vacant space. To build, the space must have colored ships around it that match the ships depicted on one of the available building tiles. If you build a personal building that's connected to others you own, you receive money equal to the number of buildings.
You can bank one ship before the end of your turn, then you can use any three resources or a pair of matching resources to purchase a specialist, each of whom has a unique power.
After all players go, you shuffle the action tiles, place them face down in the row, then reveal enough tiles at the front of the line to set up for the next turn, with the turn order being determined by the numbers on the tiles that players chose the previous turn. Once you trigger one of the game-ending conditions — e.g., no ships of one color or no more specialists — you finish the round, then count points for buildings built, specialists hired, and money on hand.
diceberts, batguins, laxatives, venmo for the human condition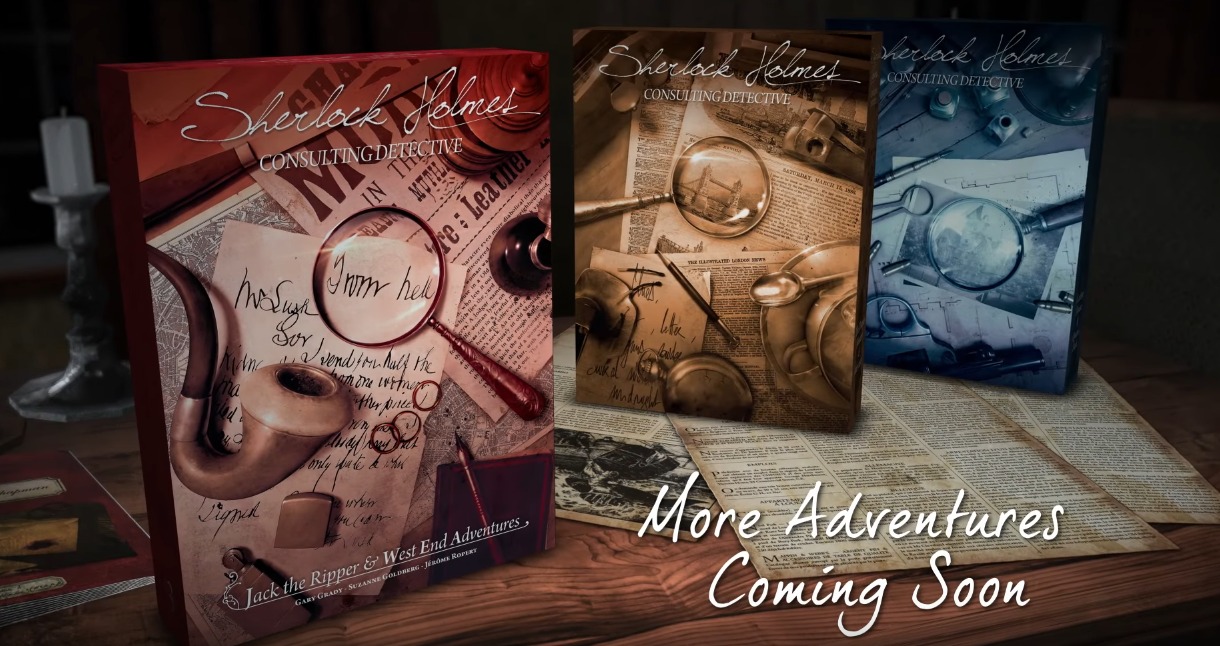 Quinns
: Good morning, Paul! Ready for Games News? How are you feeling today? Rambunctious? Meticulous? Corrugated?
Paul: No, no. Dispirited. Crenelated. Crepuscular. My prandicle is absquatulate.
Quinns: Good God, that's our SEO ruined, for sure. Perhaps you'll be emboldened by THIS wonderful news. SHERLOCK HOLMES CONSULTING DETECTIVE IS GETTING SWOLE because the first(?!) standalone expansion is ALMOST HERE
Paul: OH MY GOD I'M GOING TO EXPLODE
Quinns: HAVE YOU FINISHED THE ORIGINAL TEN CASES YET
Paul: NO
Quinns: ME EITHER
rippling breasts, skirts made of dicks, and the absence thereof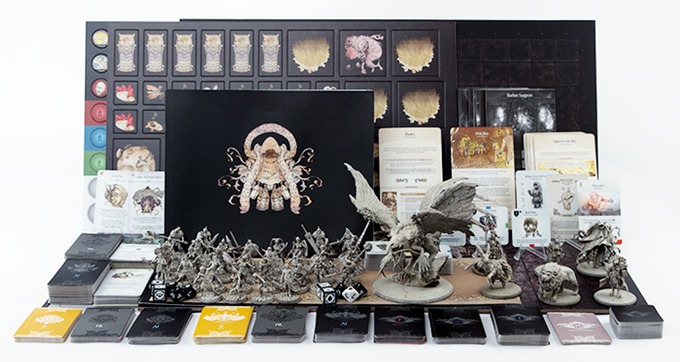 Paul
: Quinns. Quinns I have a strange comment from you here in the Games News notes. It just says-
Quinns: DO NOT READ THAT OUT.
Paul: "Where did the boobs and swinging dicks go"?
Quinns: Ok, I can explain.
Paul: There's no need! It's a question all men must eventually ask themselves.
Quinns: I don't doubt that, but that note actually refers to the Kickstarter for Kingdom Death: Monster, version 1.5. Not only has Kickstarter's most ambitious board game made a comeback, it seems to have been de-sexed.