the board game manger, hallucinatory spaghetti, art, burps
It's a
podcast!
You know the drill, everybody. Recover your audio tubing from the protective sheaths and retreat to your listening hutch.
In this episode Matt and Quinns share their experiences with Wingspan (you'll find the NPI review here), Chronicles of Crime (our SHUX Preview here), Franchise and Woodlouse Chaos, before strapping on their tuxedos for the annual Pearple's Choice Awards, which we last celebrated back on podcast #73.
Who will win Best Game? Best Production? Best Designer? And will SU&SD's audience finally decide that mum and dad... are bad and wrong?
Enjoy the show, everybody, and thanks again to clg6000 for putting these awards together on our forum.
roland wright, y'all ready for bis, it's fine the keyboard was only £7
Welcome To...
made its debut in
podcast #82
, but now it's time for the real housewarming party: The official SU&SD review of one of the best roll'n'write games ever designed.
Are you a sharp enough architect to assemble three streets, speckle them with swimming pools, dab them with parkland and negotiate with real estate agents and contractors? You're probably not, no. But you'll have a great time trying.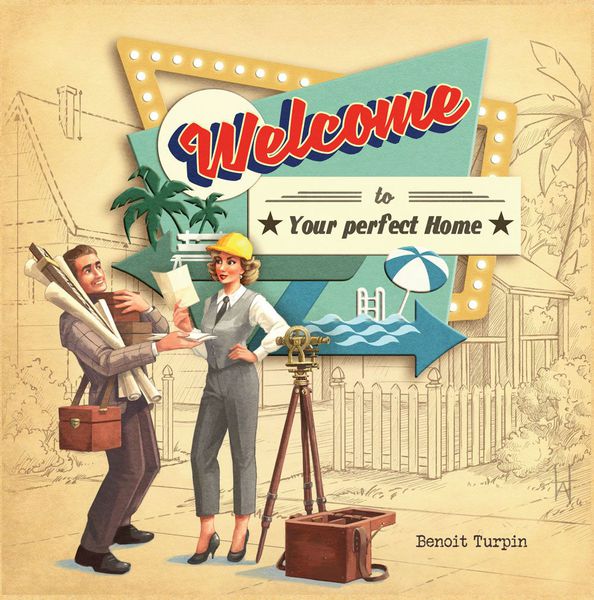 As an architect in Welcome To..., you want to build the best new town in the United States of the 1950's by adding resources to a pool, hiring employees, and more.
Welcome To... plays like a roll-and-write dice game in which you mark results on a score-sheet...but without dice. Instead you flip cards from 3 piles to make 3 different action sets everyone chooses from. Player's will get to choose a house number and a corresponding action. You use the number to fill in a house on your street in numerical order. Then you take the action to increase the point value of estates you're building or score points at the end for building parks and pools. Players also have the option of taking actions to alter or duplicate their house numbers. And everyone is racing to be the first to complete public goals. There's lots to do and many paths to becoming the best suburban architect in Welcome To!
Because of the communal actions, game play is simultaneous and thus supports large groups of players. With many varying strategies and completely randomized action sets, no two games will feel the same!
free butter, muddy dice, some frankensteins, what is egg rolls
Everybody, pick up your pencils! No, you're not having another stress dream about being back at school. We've just finally found a roll-n-write game that we absolutely love. It's called
Welcome To
, and podcast #82 starts with an explanation of what it is, and why you should get excited for the release date in September.
And that's just the beginning of this... peculiarly positive cast. Paul and Quinns soon move on to the happy kitchens of Wok Star (3rd edition), there's talk of the fun they had in Fungi, and of the surprisingly strong Champions of Midgard. There's also some disappointment about Village Attacks, but it wouldn't be a SU&SD podcast without some vigorous complaining, would it?
Finally, the pair end with a particularly sticky reader mail. Has their taste in games changed with time? And if so, how?