space lions, space turtles, space mermaids?, we're not sure about those
Big news everyone! Fantasy Flight Games have just
announced a new edition
of their galaxy-sized flagship game, Twilight Imperium. Which means we can announce something of our own... !
Here at Shut Up & Sit Down we've been huge fans of Twilight Imperium since we reviewed the 3rd edition all those years ago. It's the grandest, silliest game that we know; an epic brawl featuring everything from capitalist cats to a race of sentient vegetables. So back in 2014 we got to talking with owner of Fantasy Flight and original designer of TI Christian Peterson, one thing led to another, and we agreed to document the process of making TI 4th edition.
How do you go about making the grandest board game in the world even more grand? Find out later this month!
magic bowls, the anger engine, barnacles and broccolis, sex mermaids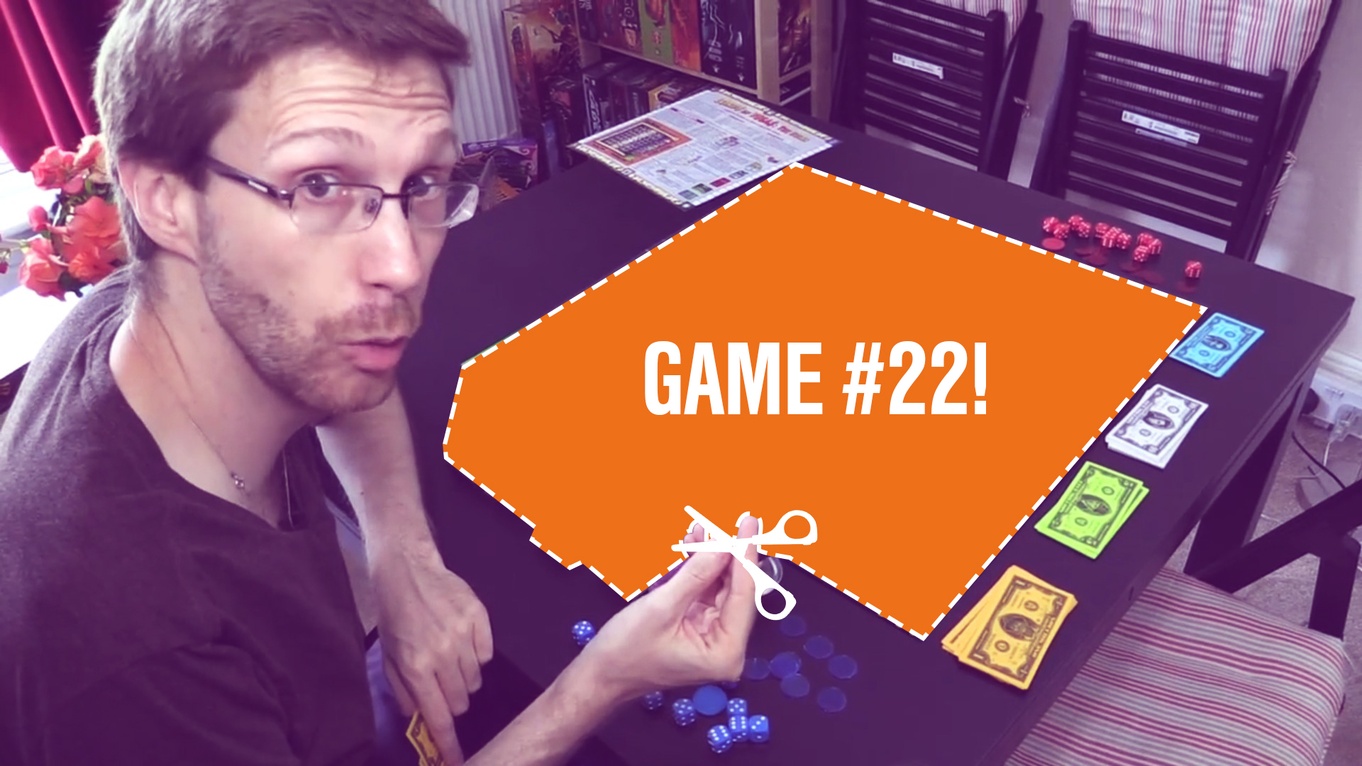 Quinns: Alright, we're proceeding into the twenties. Keep your arms and legs inside the article at all times. If you feel sick stop reading immediately, make a cup of tea and add the Forgetful Mixture we taught you how to make in your induction.
naughty defections, a putrid embrace, the liar's time, ghostly emotions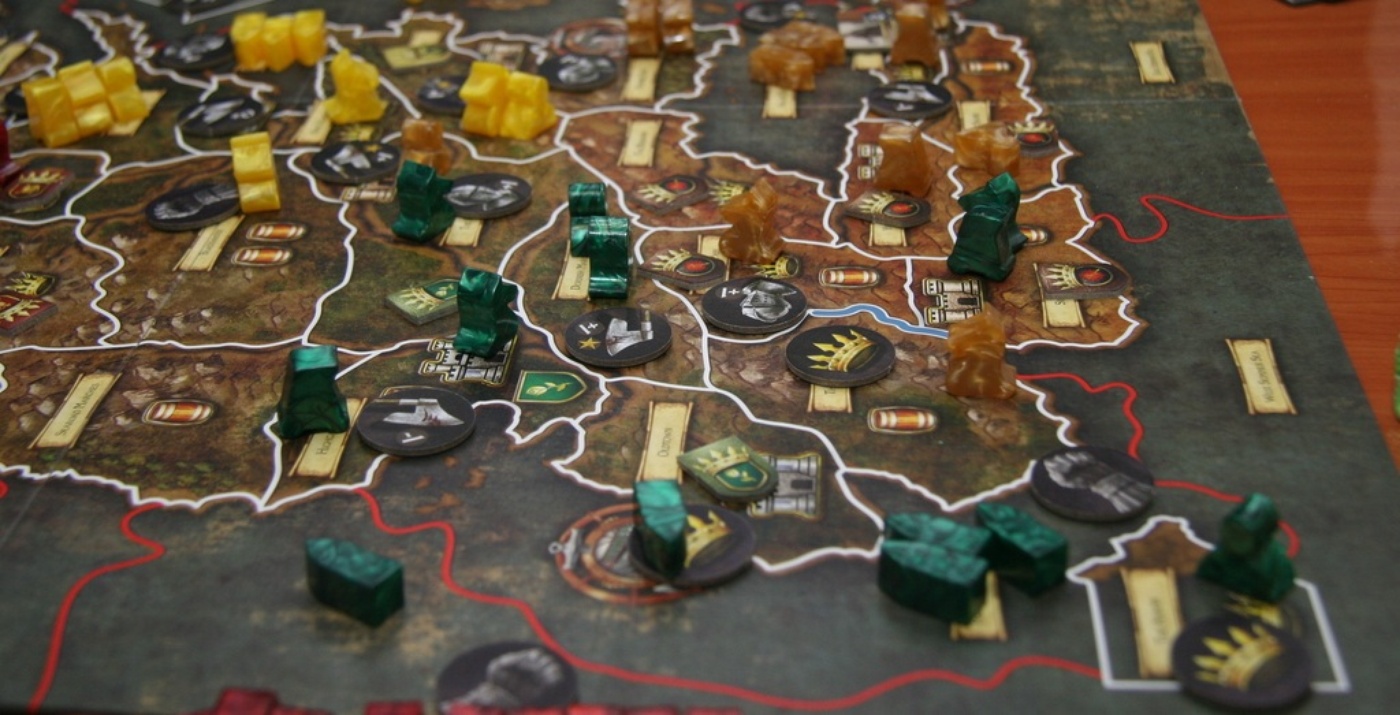 (Some images courtesy of BoardGameGeek.com)
Pip: Shut Up and Sit down – despite the confrontational name – is almost always a hive of lovely cardboardy activity. That's why I started playing games with them and that's why I'm working with them now.
Almost always.
But sometimes in gaming there are acts of betrayal, of contrarian buttheadedness, so large they cannot be forgotten. Instead they lurk in your mental back pocket, ready to be drawn out at a moments notice – reminders that these glorious friends and colleague care as much about boardgames as you do and will do almost anything for a few victory points. Or a cheap laugh.
I'm not talking about the lower level stuff here. This isn't about how Quinns will fail to tell you a rule until partway through the game ("Oh! Did I tell you about [rule which suddenly advantages what Quinns has been doing and nullifies any and all Pip-strats]?"). No. This is about Brendan and this is about City of Horror.
Quinns' rap, Paul's madness, Matt's pah, Brendan's dendan, Pip's toddler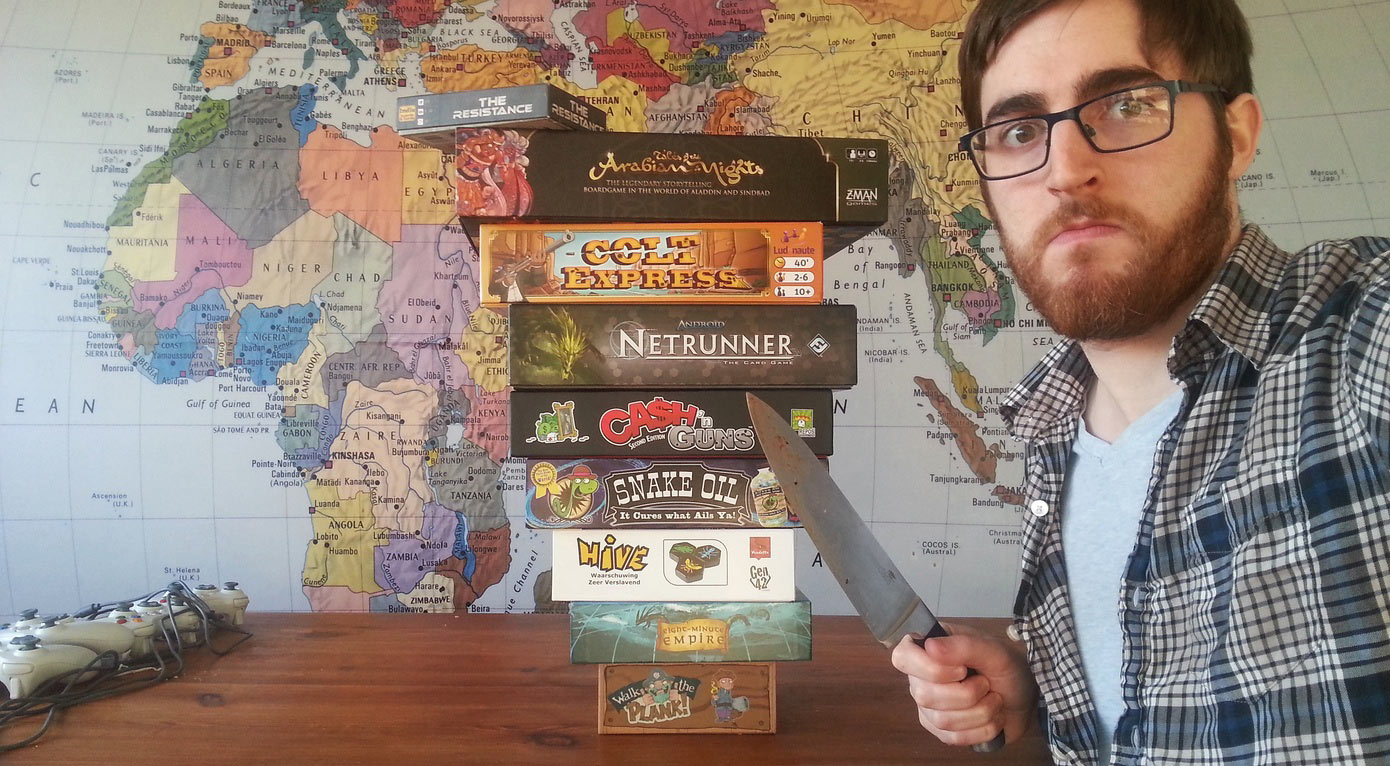 Quinns
: I CAN'T... LOOK AT IT...
IT'S SO BEAAAUUUTIFUUUL
beetle roleplay, vengeful ghosts, grumpy pirates, well-used airlocks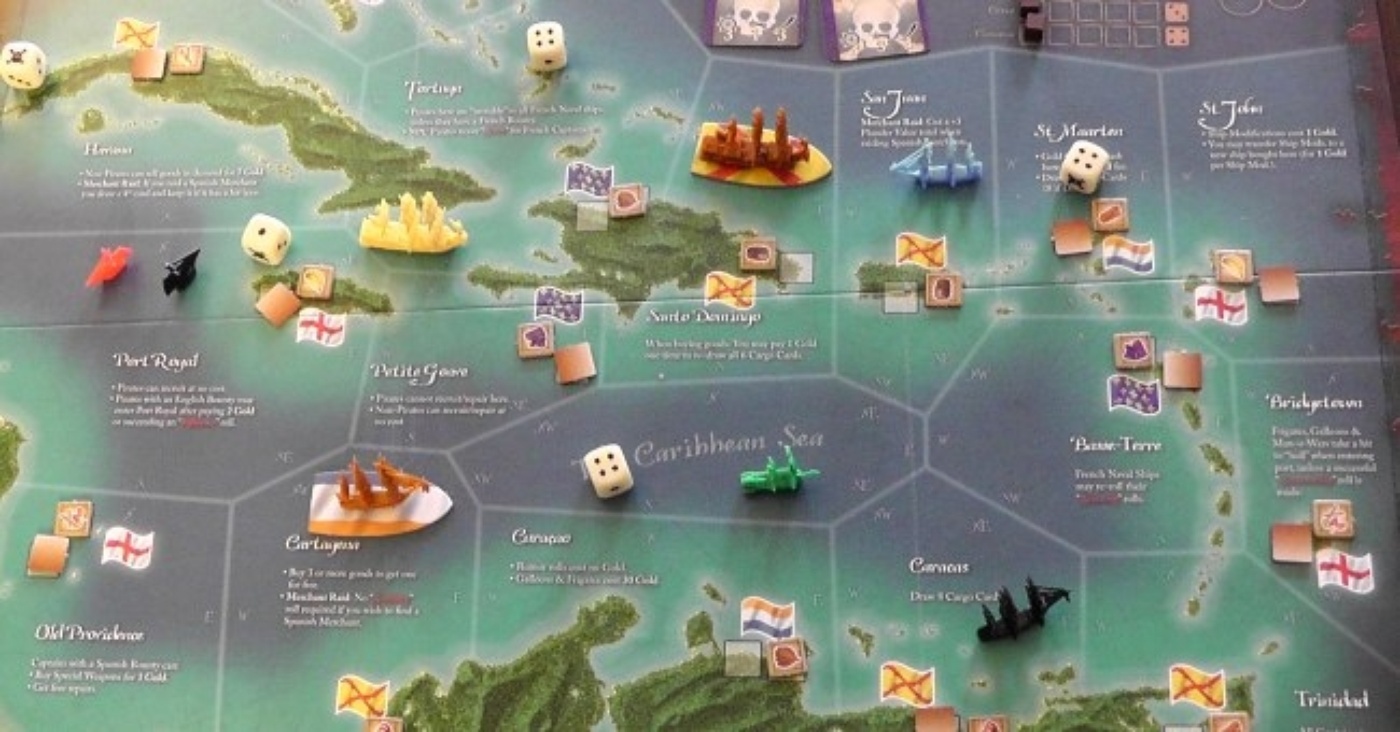 peaty scrounging, professor hangover, jittery jobs, the yawhg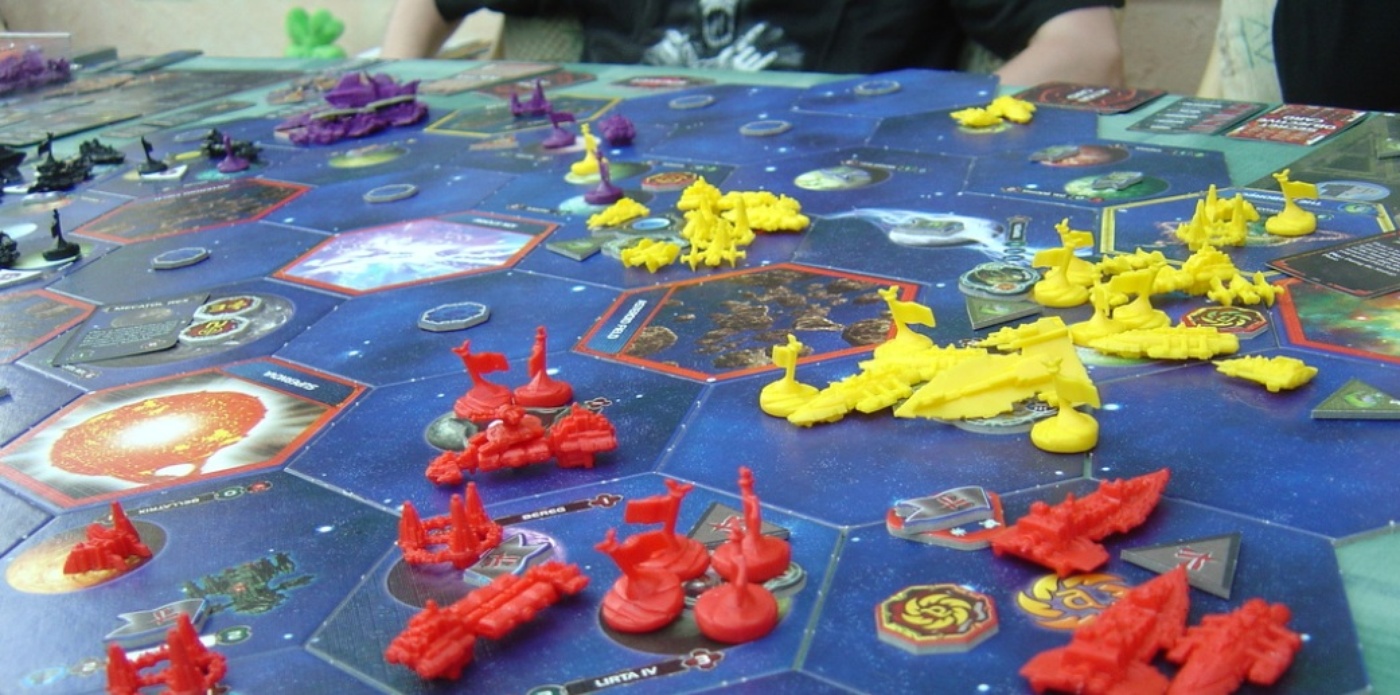 Quinns has again been published on gaming enormo-blog Kotaku, talking about a wonder of the board game world! This month he discusses how, unlike video games, it doesn't matter how good you are at boardgames. The article starts like this:
I remember a colleague taking a 5 minute break, away from the jittery job of reviewing Battlefield 2. "It's fun when you win," he said, exhausted. "And boring when you lose. Haven't we moved past that yet?"
No, we haven't. For a medium that's evolved from play, video games have an overwhelmingly binary view of success and failure, one so crippling that if we settle into a single player game and make no progress, or lose every multiplayer match in one night, our lives will have been worsened. And we never ask why games are like this. After all, how else could it be?
...and continues vigorously until it stops. Quinns would point you towards the article himself, but he's currently in hiding from furious gamer-gangs, who cry his name on every street corner. Go read! Don't let his sacrifice be in vain.
brackish milk, wizard!, somebody feed that poor boy
Last year Quinns gave a 40 minute talk at UK video game festival GameCity, designed to teach people about what's happening in board games and why gamers the world over MUST get involved.
Hear Quinns' caramel baritone as he provides evidence of why board game sales are rocketing up, three deadly arguments for why video gamers need to be playing board games, and even some jokes. Yes, JOKES.
Have you heard of a board game called Twilight Imperium? It's only the biggest, most colourful boardgame in existence today.
Would you like to watch two board game celebrities play an entire, EIGHT HOUR game of it? No? Screw you, then.
The Science Fiction Special sees the boys reviewing enormous games, exciting games and extraterrestrial games! Is this really wise, and quite where will this gaming journey take our hosts?
YouTube not working? Try Vimeo!