sexy turtles, a deadly broom-gun, a glass birthing canal, death by box
We've come a long way, baby!
Six years ago SU&SD published a review of the grand, weird game of Twilight Imperium 3rd edition. Today, we present a first for the board game industry. Please enjoy our amateur attempt at a documentary on the history of the game - which is really the history of Fantasy Flight Games - and the development of the new, shiny, 4th edition. Huge thanks to our donors, without whom this project (which we started work on back in 2015!) would never, ever have been possible.
As you buckle your seatbelt for this ride through time and outer space, please bear in mind that the doc doesn't cover the nitty-gritty of game mechanics that have changed from 3rd to 4th edition. We'll be covering that in our forthcoming review of Twilight Imperium 4th ed, which Quinns will be creating since he had almost no involvement in the doc.
Instead, we tried to make the documentary of broader interest, so please consider sharing it with board game-curious friends. Or just tell your mum it's Netflix? That might work.
Enjoy, everybody!
sparkling lemons, misplaced limes, diamonds and bananas, a cardboard mormon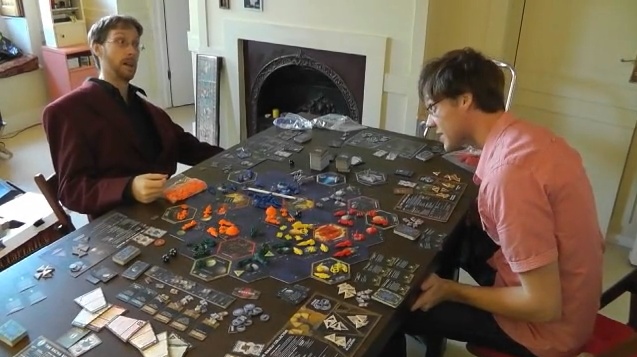 Quinns
: As we continue our marathon-like jog through Board Game Geek's top 100 games ever, today I can reveal that we're out of the weeds. We've played every single board game in the 60-41 slot!
Which isn't to say that we always enjoyed ourselves...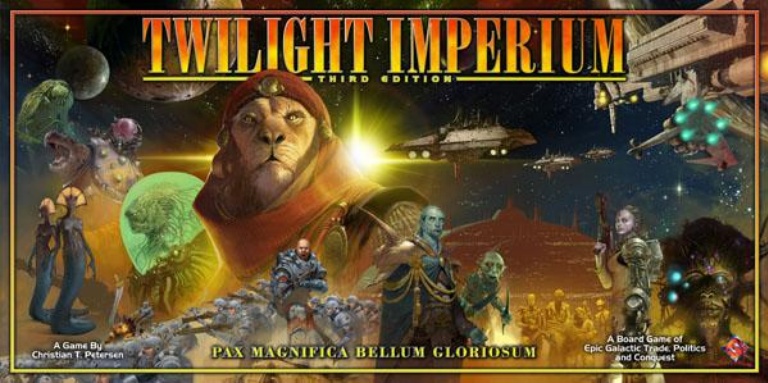 Shipping in a massive (12" x 24") epic-size box, this new giant-size edition of Twilight Imperium features more than 200 masterfully sculpted oversize plastic miniatures - the typical TI units (Ground Forces, Cruisers, Dreadnaughts, Carriers, Fighters, PDS, and Space Docks) as well as two new units (the massive War Sun, and the Destroyer). TI3 contains new oversize board tiles, more than 400 cards, every known civilization of the Twilight Imperium universe, almost every expansion rule and component ever published for Twilight Imperium, a gorgeous graphical overhaul, and an impressive full-color rules set.
The Twilight Imperium gameplay has been refined and redone by original designer Christian T. Petersen. The new design features faster gameplay, and involves players in a far more active game experience, with much less downtime. In addition, TI3 will include the new "Race Cards," as well a dramatic new approach to the structure of the gameplay itself using the new "Command" system.
Twilight Imperium 3rd Edition is nothing short of a massive epic release, and is destined to become a classic for years to come. FFG has directed all its craft, talent, and energy into this massive production. Are you ready for another age of Twilight?
Have you heard of a board game called Twilight Imperium? It's only the biggest, most colourful boardgame in existence today.
Would you like to watch two board game celebrities play an entire, EIGHT HOUR game of it? No? Screw you, then.
The Science Fiction Special sees the boys reviewing enormous games, exciting games and extraterrestrial games! Is this really wise, and quite where will this gaming journey take our hosts?
YouTube not working? Try Vimeo!