you must mmm the slurp, gather your batteries, and most importantly, blurp
My goodness. We always say this, but... have we 
ever
had so many luminary board games on one podcast?
In this episode, Matt and Quinns discuss the twin games of Cockroach Salad and Cockroach Soup, a discovery so exciting that Quinns has since hunted down all of Drei Magier's "Ugly Animals" games. The pair then move on to chatting about the wicked worldbuilding of Neon Gods, the dexterity magic of Men at Work, the small-form joy of Targi, the BEHEMOTH box that is Lisboa, and finally their game of the podcast, Blackout: Hong Kong.
We also answer a particularly tricksy question from our mailbag. If Chess had never been invented, how do we think it would be received today?
Enjoy, everybody!
dates, do dates have wasps in, no that's just figs, phew, sea bears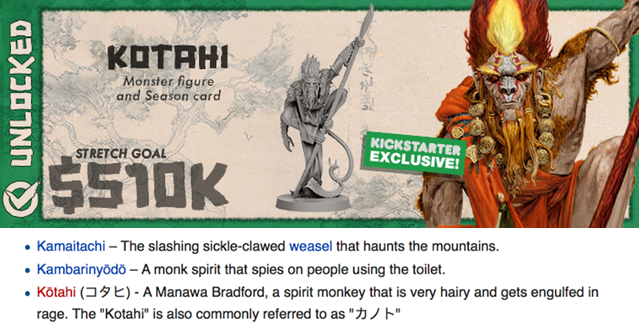 Quinns
: Good morning, my sweet creatures of the table. There's only one story that could possibly kick us off this week: 
How a Random New Zealand Man Became a Character in Rising Sun
.
To summarise, CMON's ludicrously successful Kickstarter game, Rising Sun, was this month shipped to some 32,000 backers only for a few people to begin asking about this "Kotahi" stretch goal miniature. The backers couldn't find any Japanese folklore by that name, but they did find a fake Wikipedia entry where someone put their friend, Kotahi-Manawa Bradford, in Wikipedia's list of Japanese mythical creatures as a joke. In other words, research for Rising Sun was being done via Wikipedia and as a result a random Maori guy was immortalised in CMON's biggest release of the year.
CMON have since stated that they were indeed "tricked", and have sent a couple of copies of the game to Kotahi and his friend in a coy bit of PR, but I'm not sure they come out of this looking good.