the name's bond, james bond, listen do you have 5p for a cup of tea
What's the new hidden role game that's got SU&SD buzzing? That's full of laughs and surprises whether you play it with 4 players, all the way to 8? That has the single nicest components that Quinns has EVER TOUCHED?
We couldn't possibly say. Those are Secrets, you see.
Please note that Secrets isn't out yet, and arrives in shops in August. If you're interested, we recommend contacting your friendly local game shop and asking to place a pre-order.
Boring herbivores, exciting skeksis, the ruddy borg, hot hot hats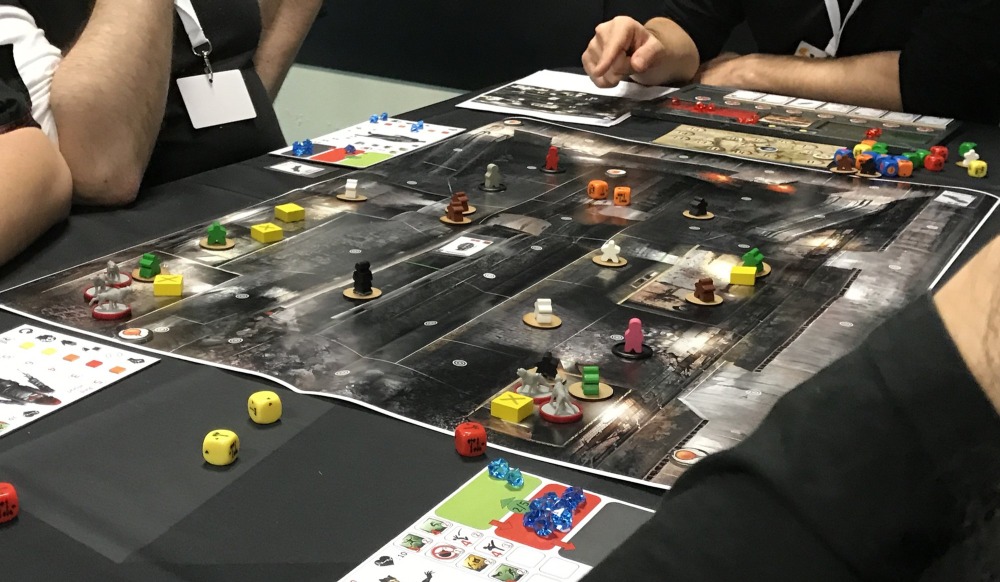 Quinns
: Good morning sweet shut-upsters! Today is the start of a very 
solitary
couple of weeks on the site. Paul and Matt have gone overseas to run our board game lounge at the yearly Game Developer's Conference, and 
then
they're making a top-secret visit to a board game publisher. Like a lighthouse keeper I will be maintaining a lonely vigil
. 
And maybe talking to myself and going a bit mad. We'll see.
Speaking of maddening things, our top story this week is the above header image that was tweeted by BoardGameGeek. Looks boring, eh? WELL, you're actually looking at a prototype of Monolith's next project, Batman: The Board Game, and judging from the dice and stamina crystals it'll be an evolution of Conan, a miniatures game that this site loved to pieces.
This adaptation makes perfect sense! Conan's brutal choreography and breathless heroism would be perfect for Batman. But there's a problem that has me finding this announcement to be bittersweet.
Monolith's Kickstarters for Conan ($3.3 million) and then Mythic Battles ($2.6 million) have shown that they know how to run an exciting Kickstarter. Clearly, the page for Batman is going to make millions of dollars. But in addition to the sexism that's run across their games like an oil spill, in this pundit's opinion Monolith's been botching the post-release support that I've come to expect from expensive games.