fish suppers, a plastic oncologist, quintin throws shade at an ivory tower
You dice are 
bleeding, 
you say? Not to worry! It's nothing a podcast won't fix.
Matt and Quinns kick this one off with a big, hairy discussion of Ultimate Werewolf Legacy, which segues into a discussion of legacy games in general. The expected "era of legacy games" is failing to materialise, and they offer some theories as to why.
Next up they chat about the smooth operations of V-Commandos, which is about to be re-implemented as an official Assassin's Creed board game. After that they discuss their time spent nursing cubes back to health in the disturbing (and entertaining!) facilities of Dice Hospital, which was a fun surprise for them both. Finally, they consider the carefully orchestrated fish feasts of Uwe Rosenberg's Nusfjord.
Oh, your dice are still bleeding? Oh dear. Well, try to not get it on the carpet. That's our advice.
pester a picnic, dice urologists, Boarbatusk I choose you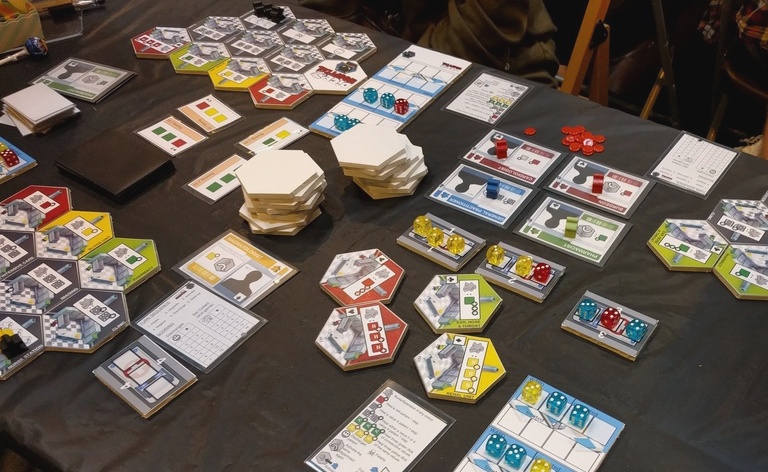 Paul
: Drop the sandbags, the Games News dirigible is aloft! Carried on cool currents and buoyed by the balmiest of gasses (their exact composition a closely-guarded secret), it carries up above the clouds to where the spriteliest gaming news flies, soaring across a sapphire sky. Are you ready for a spectacular trip, a voyage like no other, where we glimpse… oh! Look, it's
Dice Hospital
! How wondrous!
Wait what? The dice are sick, you say?! THIS IS A DISASTER.