BOLD TRAVELLER! Dare you enter the land of
Ethnos
? There live creatures the likes of which you 
cannot imagine.
 Trolls! Orcs! And what's that, hiding over there in that bush? Why, it's a wizard, laying a 
wizard egg
. It is spring here, after all.
Alright, so the "land" of Ethnos is a bit rubbish. But this is a new game from Paolo Mori, who gifted us with Libertalia in 2013 and Dogs of War the year after that. Surely he has earned a moment of your time? Sit a while, traveller, and listen to Matt and Quinns rave about his latest design.
cookie-cutter design, a wobbly foundation for a game, an aussie lolly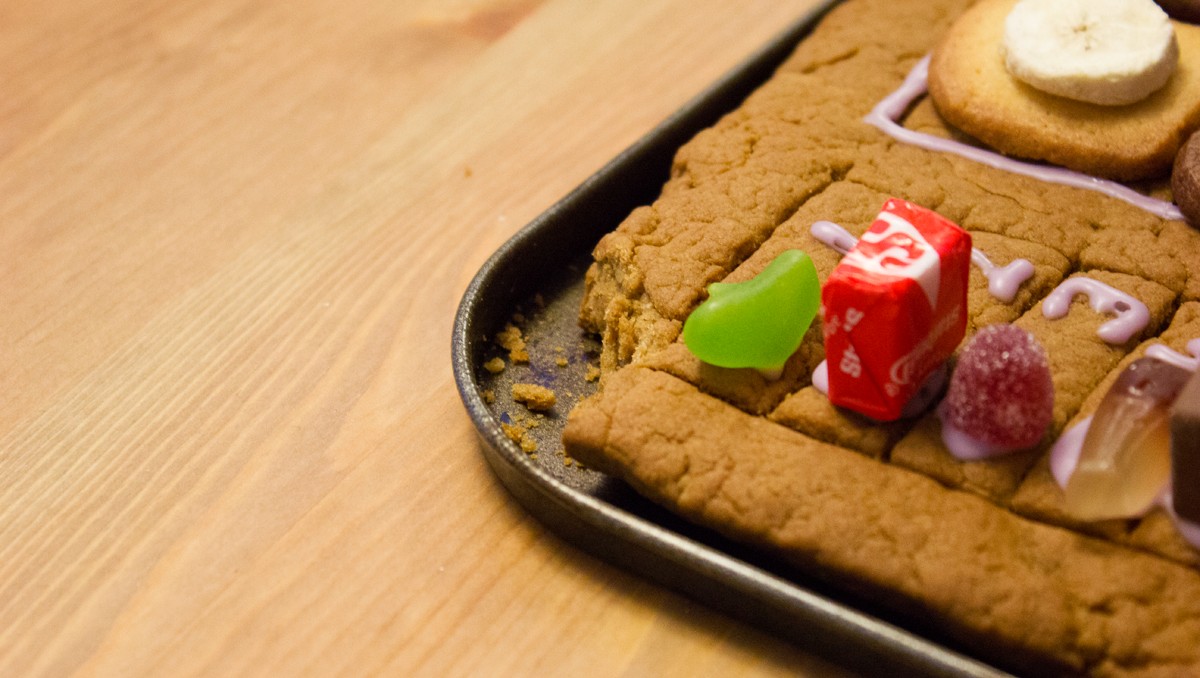 Pip
: In the time it takes my companion/opponent to move his knight to a new square I have broken off a piece of the game board and stuffed it into my mouth, crumbs on my T-shirt volunteering the specifics of my crime.
On the plus side, I am road testing one of Jenn Sandercock's edible games – The Order Of The Oven Mitt – and thus I have a mouthful of gingerbread rather than cardboard. On the less plus side you aren't supposed to eat the board yet and I've just remembered I don't like gingerbread.
The gingerbread debacle happens every year around Christmas. Faced with the dramatic potential of pretending to be a giant devouring a village I will tuck into any number of gingerbread houses and gingerbread folk, trying to ignore my tastebuds. I mention this to make it clear that the gingerbread problem is my own cross to bear rather than anything to do with Jenn. BUT gingerbread is a really useful building material so it's working really well as the substrate for the game.
Spokey Poker, Bi-Men, I thought it would taste of cakes
Who among us can claim that they didn't once dream of growing up to be a master of bicycles? Those debonair doctors of velocity.
The zeal on wheels.
I have good news, friends. It turns out that in the game of Flamme Rouge (French for "Red Flam") you can become a cycleman for no less than 30 to 45 minutes at a time. Clearly we had to give it the full review treatment, and you know what? It turns out that this game is an absolute delight.
Have a fantastic weekend, everybody!
UPDATE: Thanks to SU&SD fan Meeple101 for telling us about the official Flamme Rouge Companion for iOS and Android, which lets you link individual races into a grand tour! What fun.
Conversational sex act, Danny DeVito, No no no no no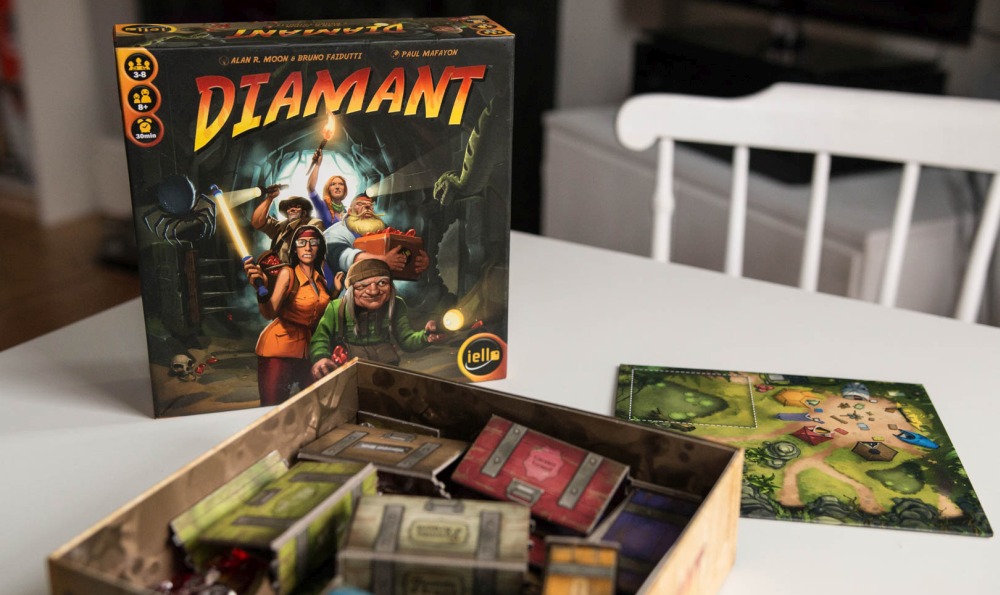 Paul
: QUINTIN. I know we want to tell people all about
Diamant
and how this cute-but-cruel game of pushing your luck can make you either rich or dead, but I've got to say one thing right thing right here, right now, right off the bat. Right?
Quinns: I'll allow it!
Paul: Diamant is probably the most fun I've had for the least investment of time and energy SO FAR THIS YEAR. I'm so sorry. I just had to blurt that. It's a petite wonder. PETITE. WONDER. Like… Danny DeVito. Or... a teabag?
Quinns: You're arriving at this party a little late though, aren't you? Last year I called Incan Gold the best little push-your-luck game I'd played in forever. Diamant is just a beautiful new edition of the same game! You can't talk about it like you've just found a dead sea scroll in your back garden.
Paul: All right, all right, back that boulder up, snarkaeologist. Incan Gold? The 2006 game? And when did you come to it, exactly?
Quinns: Erm. 2016.
Paul: An entire decade of incompetence.
drop a deduce, the gut-motor, a nice hot loaf of police, elementary you're a dick
A mere thirty-six
years
after the release of the amazing 
Sherlock Holmes Consulting Detective
, the board game industry has leapt into action! This month sees the release of the 
West End Adventures
standalone expansion, and... we're not reviewing it.
That's because this month we're also getting a new English-language edition of Watson & Holmes, and that's EVEN MORE EXCITING. This game takes the original, superlative co-op experience that is Consulting Detective and makes it... competitive. Is this a work of evil genius to rival Moriarty? Or simply an error in deductive reasoning? Let's find out.
Have a great weekend, everybody.
clusterpickles, electric bimbling, bum-first into the robo-bin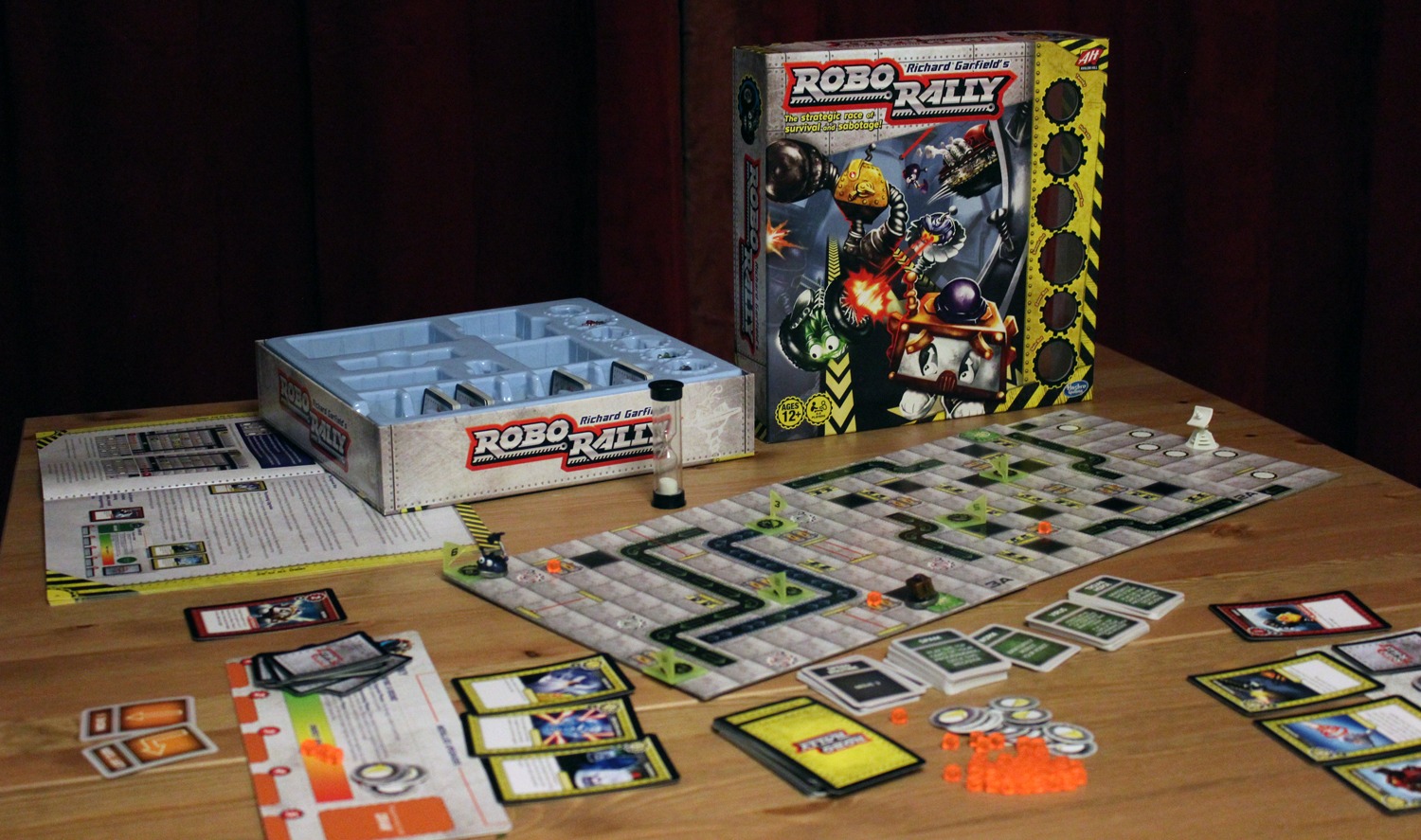 Pip
: When living with a fellow board game enthusiast you have the benefit of a ready-made companion for cardboard adventures – HOORAY! – but you also start to realise that, for a lot of games that say they're for 2-to-however-many-players on the side, there's this disproportionately large leap in enjoyment between the two-player version and the three-or-more-player outings.
Robo Rally might be the ultimate illustration of this. With three people it's a rambunctious clusterpickle of robots and conflicting agendas where your neatly programmed sequence of moves gets nudged hilariously and disastrously off course. With two we ended up trying to house-rule it so we could ginger up the experience and keep our momentum. Quinns informs me that SU&SD is all about reviewing board games in their favoured conditions, though, so consider this a review of Robo Rally the beloved 3-6 player omnishambles, and not Robo Rally the 2 player compromise-simulator.
horror-fallow, delicious finland, a lego boondoggle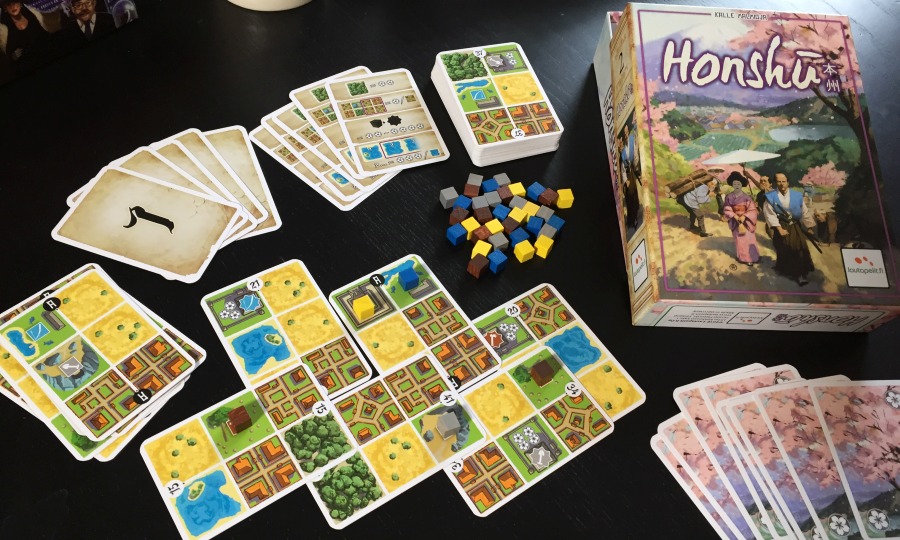 Quinns
: Alright. You see
Honshu
, pictured above? You're looking at one of the most desirable boxes on the planet.
The best thing to come out of Finland since karjalanpiirakat, Honshu made a name for itself during the American convention circuit last year. Contained in its small, peach-tone box are some cards and cubes, and contained within them is a simple card game, and contained within that are Japanese towns of your own design. Players draft cards and tuck them under and over one another in a gentle jigsaw, probing and pondering different arrangements, searching for a high score.
This site's own Paul Dean was convinced after a quick play. So many people were convinced, in fact, that a publisher is finally bringing a shipment of Honshu to America next month.
But should you buy it? Ah, let me help you with that as a European, from the land where copies of this game are considered weeds, and I often have to throw away four or five mouldering copies of Honshu before my breakfast of limppu and kissel.
Honshu is good, but is it "SU&SD Recommends" good? Let's find out.
give me your badge and your gun and that rock you keep in a plastic bag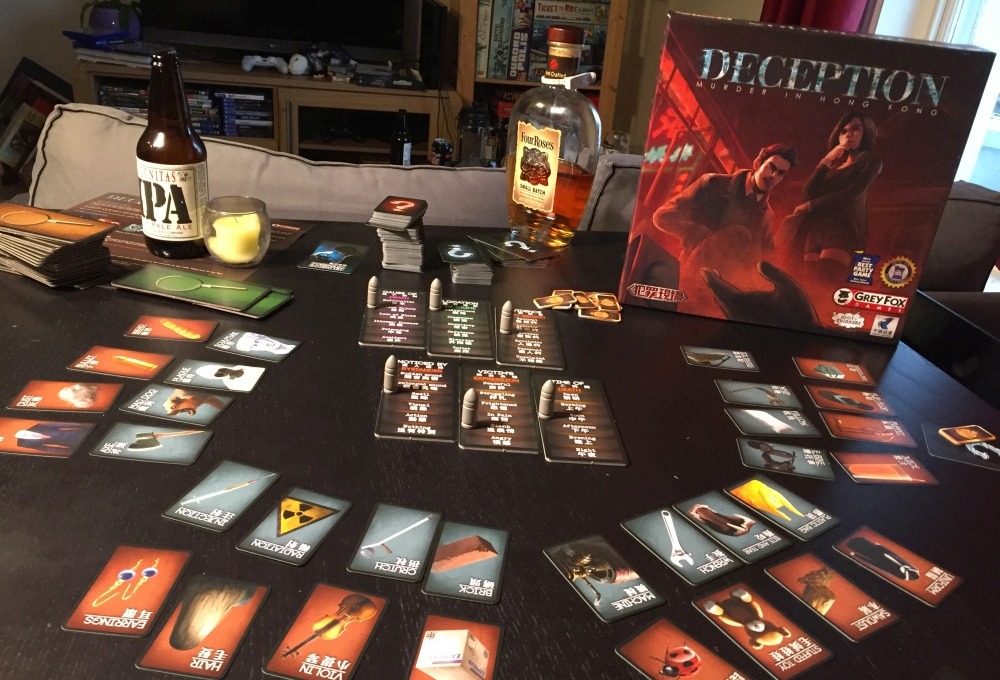 Quinns
: After playing co-operative social deduction game
Deception
, the proof is insurmountable. The 21st century police force is the greatest board game theme of all time, not because it works so well but because
it doesn't work at all.
Back in our eighth ever podcast we talked about Police Precinct, and while we had a terrible time with that game we were endlessly amused because we seemed to be playing the cast of Reno 911 on the set of The Purge. Then last year I finally got to try Good Cop Bad Cop, where in one memorable turn I confiscated my colleague's coffee as evidence, downed it in one gulp, then shot them.
But with a name like "Deception: Murder in Hong Kong" and brooding, maroon box that includes a handful of plastic bullets, you might assume that this, at last, is a serious game about law enforcement.
You couldn't be more wrong. I'm thrilled to say that Deception is every bit as silly as those others, and it's also the best game of the three. Come for a ridealong with me! You're statistically unlikely to be shot.
cool crimes, greasy opossums, rubbery kigurumis, dammit linkedin
Who wants to get extravagant! Inspired by
his own Chinatown review
, Quinns has published a
negotiation triple-bill
. Three new smallbox games, each one telling the story of dividing up loot after a cool crime, but each with a radically different approach.
At the time of writing H.M.S. Dolores looks like it has some European stock availability, but Millions of Dollars and Gentleman's Deal aren't yet broadly available for purchase. If you want these games and can't find them, simply call your friendly local game shop (or your friendly regional game shop) and put in an order.
try tuna and go from there, honestly sushi is really good, let the good times roll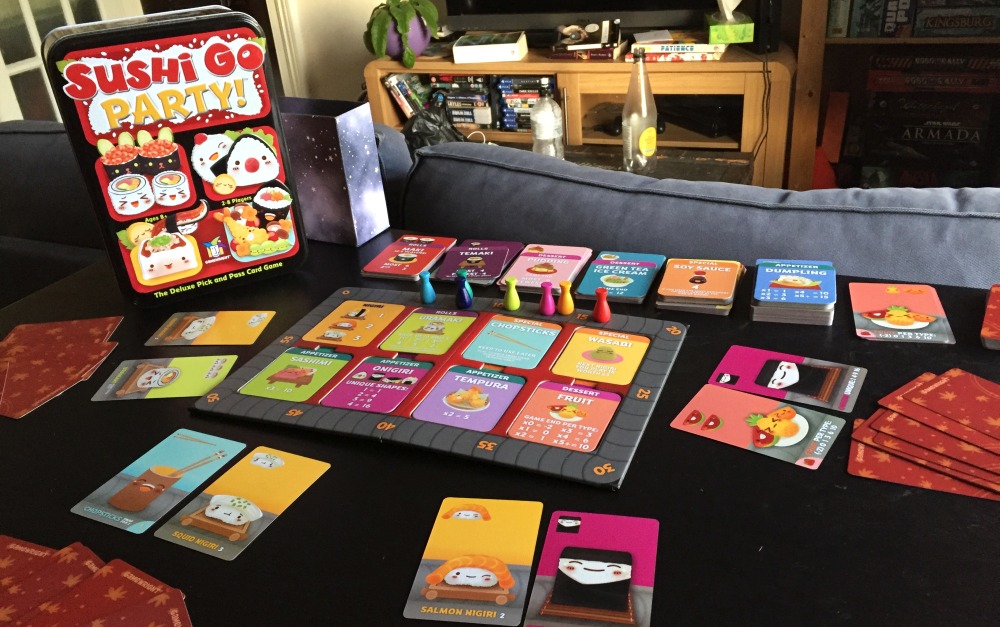 Quinns: Ever since I first squeaked about Sushi Go in my 2015 Corner Awards (and dust off your tux, because I'll be publishing the 2016 Corner Awards any week now) this little game has become loved by my friends. Throughout this year, at the end of a game night when everyone has the happy-sleepy feeling that comes from digesting a two drinks and a big game, and I can't be bothered teaching Mundus Novus, Sushi Go makes a natural end point for the evening.
More specifically, it's Sushi Go Party! that we play. This is the enlargened, deluxe-ified version of Sushi Go! that offers all sorts of new takeout boxes, rueful rolls and playful puddings for you to experiment with, as well adding a board and little soy sauce score-trackers. The original Sushi Go was a delicious-looking package, but Party is positively mouthwatering.
But here's the thing. I'm not sure Sushi Go Party! is as good as other simple, small-box classics you might end a night with, games like Welcome to the Dungeon, Incan Gold or Parade. So why do I keep playing it... ?
It's a frosty Wednesday, I have a hot cup of coffee and I'm feeling optimistic. Let's go deep on this one.