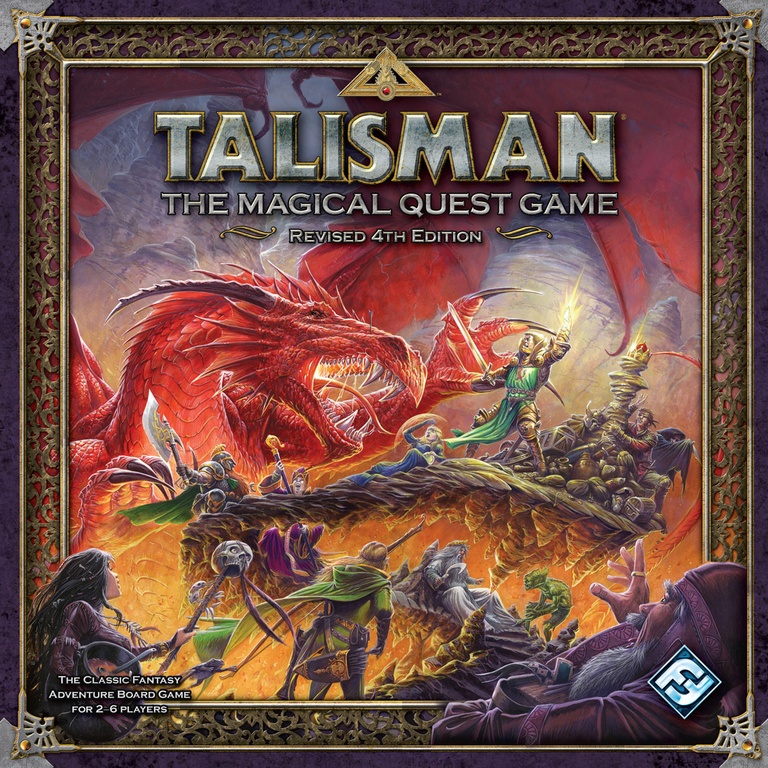 Enter a mythic world of dragons and sorcery!
Talisman, the classic fantasy adventure board game for 2-6 players, receives its most comprehensive update in Fantasy Flight Games' critically acclaimed Revised 4th Edition.
This revised version of Talisman 4th Edition includes plastic figures for each of the heroes, and even new figures for the toads! Strength and Craft changes are even easier to track with the new stackable markers, and the addition of Fate Tokens gives players a bit of control of the randomness of the dice.
In Talisman, you'll embark on a perilous quest for the ultimate treasure, the legendary Crown of Command. You'll choose the warrior, priest, wizard, or one of eleven other heroes with powers both magical and mighty, and you'll race your opponents through a perilous realm. Each player will roll a die to determine his movement around the regions of the board, where he will encounter dangerous foes and claim powerful rewards, all in preparation for his final climactic test.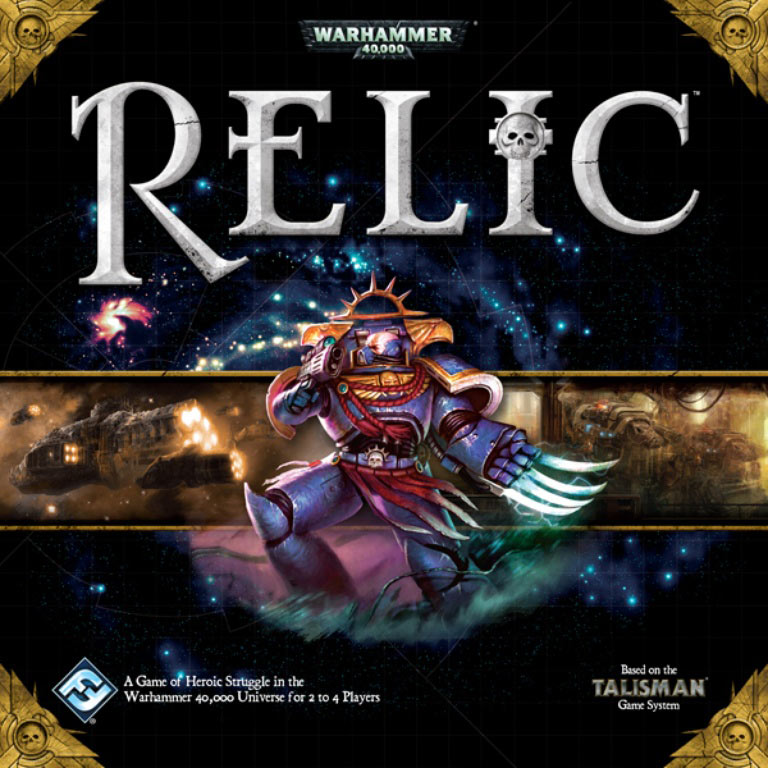 A Warp rift has erupted near the Antian Sector, and under its baleful influence Chaos infestations and other abhorrent phenomena have surfaced. To face this threat, agents of the Imperium have come forth: Space Marine, Inquisitor, Commissar, Rogue Trader, and more. To succeed, such heroes will need skill and weaponry, courage and faith, and even the assistance of ancient and powerful relics.
Relic is a board game in which two to four players each assume the role of a powerful hero from the Warhammer 40,000 universe and bravely venture forth to shield the Antian Sector from certain doom. By completing missions and defeating enemies, characters compete to gain rewards and experience, furthering their chance of being the first to defeat whatever evil lies beyond the Warp rift.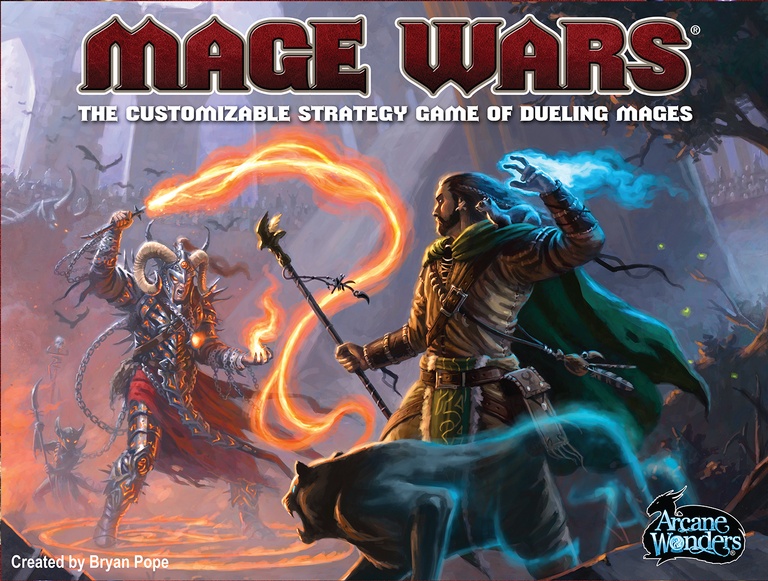 Mage Wars is the customizable strategy game of dueling mages. Players take on the role of powerful mages, stepping into the arena to battle for supremacy. Mage Wars is a unique genre-breaking concept, combining the best elements of customizable card games and tactical miniature games.
Players can play as a Wizard, Warlock, Beastmaster or Priestess; each with their own unique strategies and style of play. The game is fast-paced and exciting, with tough tactical decisions every turn.
Players build their own custom spellbook, with over 300 spells to choose from! The game is not collectible – players have equal access to the same spells. There is no random card drawing - players choose exactly which spells to cast, when they want to cast them! This allows for an unprecedented level of rich strategy and tactics.
Summon powerful creatures into the battle, hurl lightning bolts and fireballs, adorn yourself with mighty weapons and armor, or lay a network of hidden enchantments to take your foe by surprise. All of this and more awaits you in the arena of Mage Wars! With subtle strategies and diabolical surprises, the balance of power can shift each round, keeping the game exciting and victory unpredictable.
Future expansions will offer new mages, spells, and strategies! Very important: Mage Wars is customizable, but not collectible. Everything you need to play is in the box, and players can carefully choose just the expansions they want.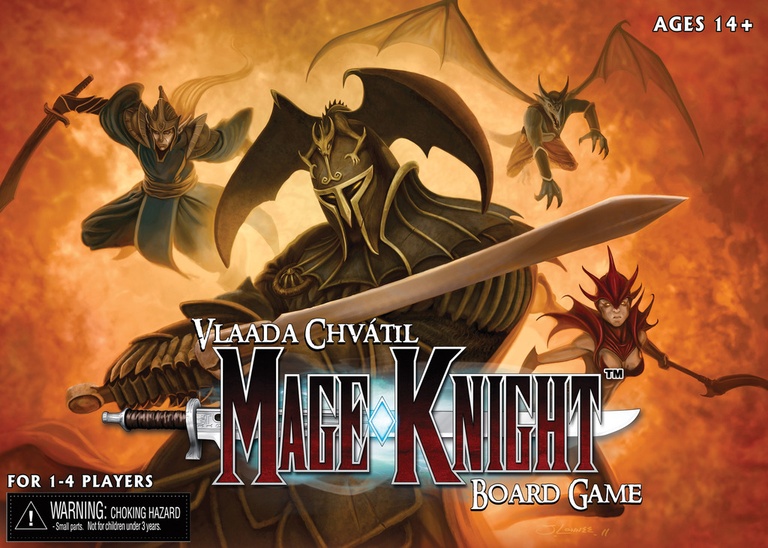 The Mage Knight Board Game throws you and up to three other Mage Knights into the sprawling and ever changing world of the Atlantean Empire, a land that is but a distant memory since your transformation into a mysterious Mage Knight. Build your armies, defeat bands of marauding enemies, and eventually conquer cities in the name of the mysterious Void Council.
Designed by renowned designer Vlaada Chvatil, Mage Knight is a game of Epic Exploration and Conquest that mixes character development, intrigue, and the clashing of swords to create a truly unique gaming experience.
As a Mage Knight you must control your reputation and walk the line or embrace the role of benevolent leader or brutal dictator. Accumulate Fame and experience to acquire powerful Spells and abilities, then use your power to influence units to join your ranks. Will you destroy an ancient Draconum and gain favor with the people, or burn down a monastery to steal the powerful artifact hidden there? Both paths may lead to victory, but the decision is yours to make.
The Mage Knight Board Game comes with a variety of campaign options, allowing you to play both competitively or cooperatively. Will your path intertwine with your fellow Mage Knights as you quest to conquer the Atlantean cities, or will you be sleeping with one eye open?
The game features an impressive 240 cards, 8 intricately painted miniatures, 196 tokens, 20 map tiles, 54 mana crystals, 7 mana dice, 2 game mats and 2 rulebooks!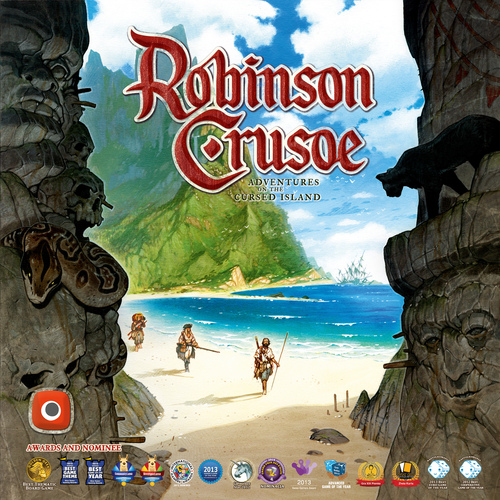 Robinson Crusoe: Adventures on the Cursed Island is a game created by Ignacy Trzewiczek, the author of
Stronghold
. This time Trzewiczek takes the players to a deserted island, where they'll play the parts of shipwreck survivors confronted by an extraordinary adventure. They'll be faced with the challenges of building a shelter, finding food, fighting wild beasts, and protecting themselves from weather changes. Building walls around their homes, animal domestication, constructing weapons and tools from what they find and much more awaits them on the island. The players decide in which direction the game will unfold and – after several in-game weeks of hard work – how their settlement will look. Will they manage to discover the secret of the island in the meantime? Will they find a pirate treasure, or an abandoned village? Will they discover an underground city or a cursed temple at the bottom of a volcano? Answers to these questions lie in hundreds of event cards and hundreds of object and structure cards that can be used during the game...
Robinson Crusoe: Adventures on the Cursed Island is an epic game from Portal. You will build a shelter, palisade, weapons, you will create tools like axes, knives, sacks, you will do everything you can to… to survive. You will have to find food, fight wild beasts, protect yourself from weather changes…
Take the role of one of four characters from the ship crew (cook, carpenter, explorer or soldier) and face the adventure. Use your determination skills to help your team mates, discuss with them your plan and put it into practice. Debate, discuss, and work on the best plan you all can make.
Search for treasures. Discover mysteries. Follow goals of six different, engaging scenarios. Start by building a big pile of wood and setting it on fire to call for help, and then start new adventures. Become an exorcist on cursed Island. Become a treasure hunter on Volcano Island. Become a rescue team for a young lady who's stuck on rock island…
Let the adventure live!