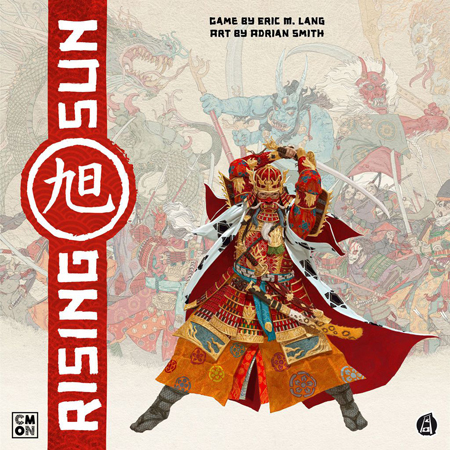 Rising Sun is a spiritual successor in the same mythic big box series as Blood Rage: same designer, same artist, same studio and same sculptors.
Rising Sun is a game about honor, negotiation, and warfare in a feudal Japan where the ancient gods (kami) have returned to rebuild the empire.
Whereas the distant ancestor of Blood Rage was Risk, Rising Sun claims Diplomacy as its distant ancestor. Tackle negotiations, alliances, and war. Capture hostages and commit seppuku. The game features an honor track, which rises and falls based on your actions.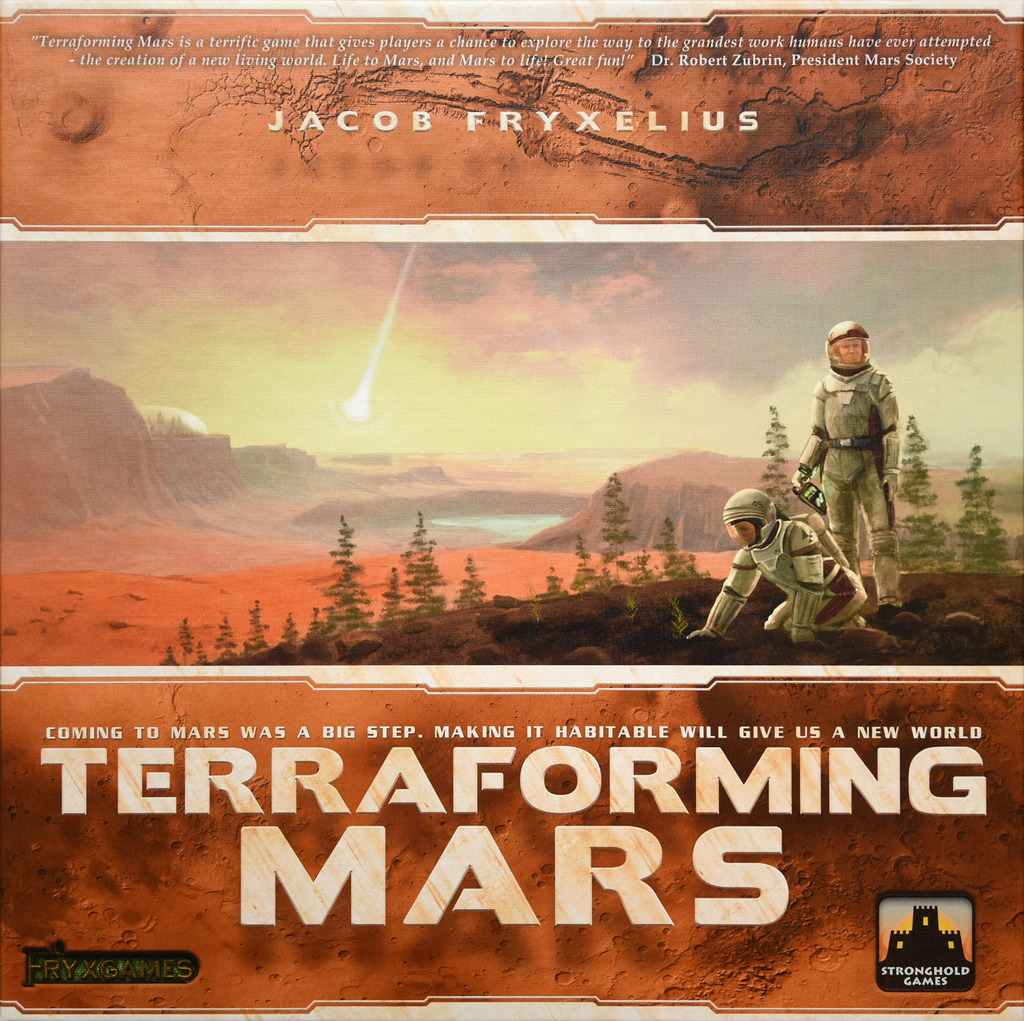 In the 2400s, mankind begins to terraform the planet Mars. Giant corporations, sponsored by the World Government on Earth, initiate huge projects to raise the temperature, the oxygen level, and the ocean coverage until the environment is habitable.
In Terraforming Mars, you play one of those corporations and work together in the terraforming process, but compete for getting victory points that are awarded not only for your contribution to the terraforming, but also for advancing human infrastructure throughout the solar system, and doing other commendable things.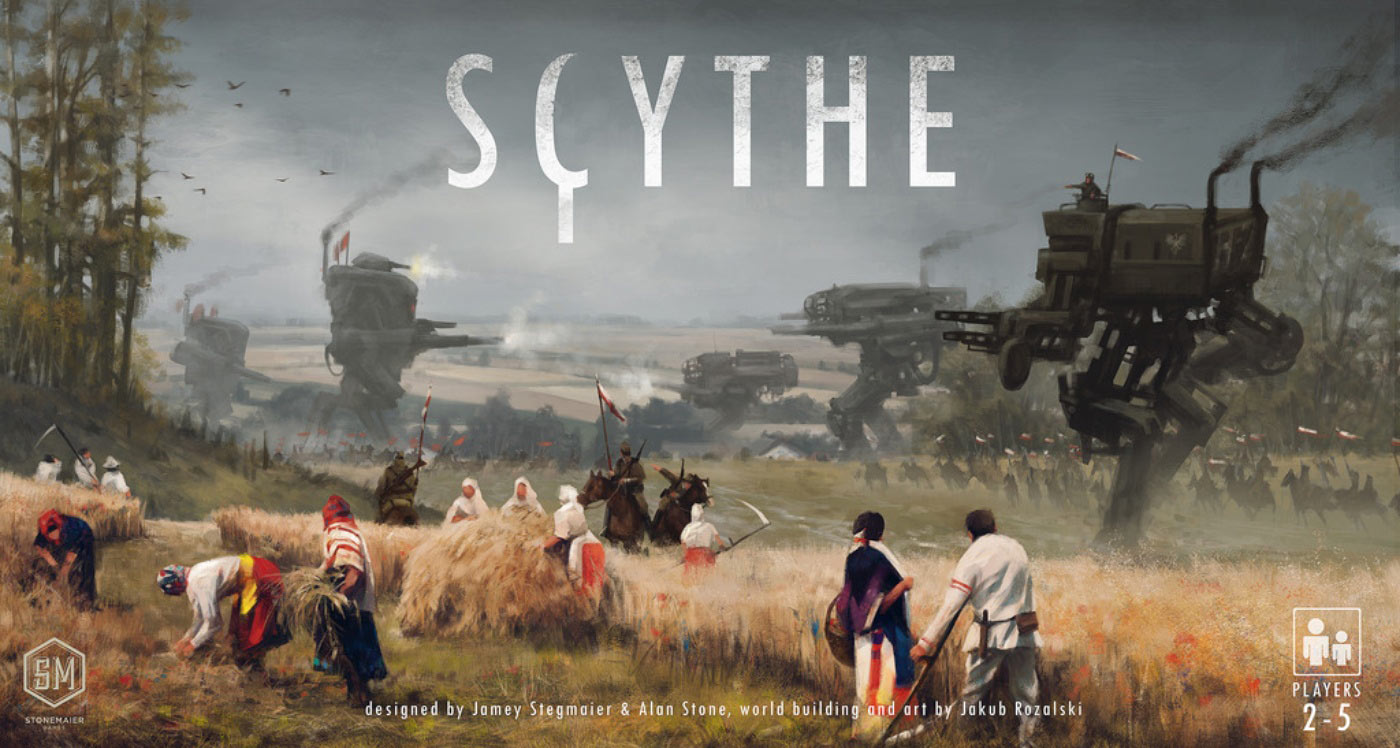 It is a time of unrest in 1920s Europa. The ashes from the first great war still darken the snow. The capitalistic city-state known simply as "The Factory", which fueled the war with heavily armored mechs, has closed its doors, drawing the attention of several nearby countries.
Scythe is a Worker Placement/Economic Engine board game set in an alternate-history 1920s period. It is a time of farming and war, broken hearts and rusted gears, innovation and valor. In Scythe, each player represents a character from one of five factions of Eastern Europa who are attempting to earn their fortune and claim their faction's stake in the land around the mysterious Factory. Players conquer territory, enlist new recruits, reap resources, gain villagers, build structures, and activate monstrous mechs.
Each player begins the game with different resources (power, coins, combat acumen, and popularity), a different starting location, and a hidden goal. Starting positions are specially calibrated to contribute to each faction's uniqueness and the asymmetrical nature of the game (each faction always starts in the same place).
Scythe gives players almost complete control over their fate. Other than each player's individual hidden objective card, the only elements of luck or variability are "encounter" cards that players will draw as they interact with the citizens of newly explored lands. Each encounter card provides the player with several options, allowing them to mitigate the luck of the draw through their selection. Combat is also driven by choices, not luck or randomness.
Scythe uses a streamlined action-selection mechanism (no rounds or phases) to keep gameplay moving at a brisk pace and reduce downtime between turns. While there is plenty of direct conflict for players who seek it, there is no player elimination.
Every part of Scythe has an aspect of engine-building to it. Players can upgrade actions to become more efficient, build structures that improve their position on the map, enlist new recruits to enhance character abilities, activate mechs to deter opponents from invading, and expand their borders to reap greater types and quantities of resources. These engine-building aspects create a sense of momentum and progress throughout the game. The order in which players improve their engine adds to the unique feel of each game, even when playing one faction multiple times.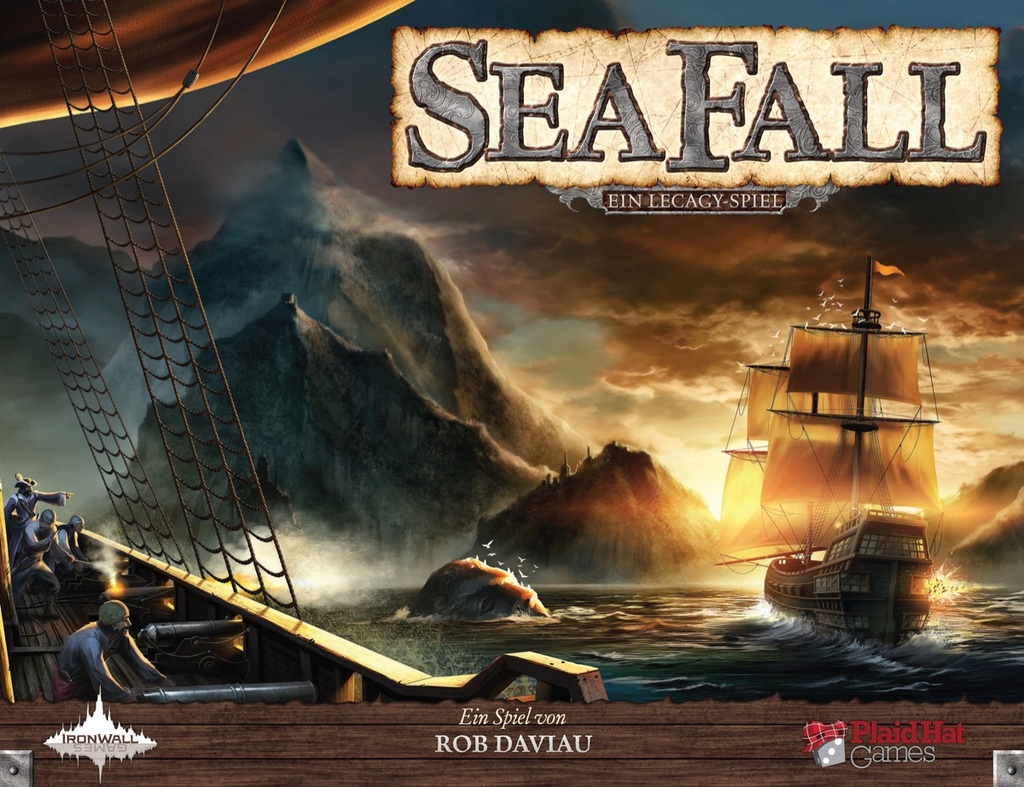 The world is emerging from a dark age where history and knowledge were lost. The great provinces have just begun re-establishing seafaring technology. Wealth and fame await leaders who are cunning and brave. Explore the coastal islands. Discover lost civilizations. Sail the open sea in search of new lands. Uncover long buried secrets. Sail until the sea falls off the edge of the world!
SeaFall is a 'Legacy' board game designed by board game industry veteran Rob Daviau. Like the players who play them, Legacy games 'remember' what happen from game to game. Player choices have irreversible impact on the game world as the game board changes, cards are modified and sealed packs are opened revealing twists and turns in an epic storyline.
SeaFall is the third Legacy game designed by Rob Daviau. It was preceded by Risk Legacy and Pandemic Legacy Season 1. Both were important and acclaimed games whose innovation and scope sent ripples through the board game community. Now, for the first time ever Rob has built a world and game from scratch around the Legacy idea.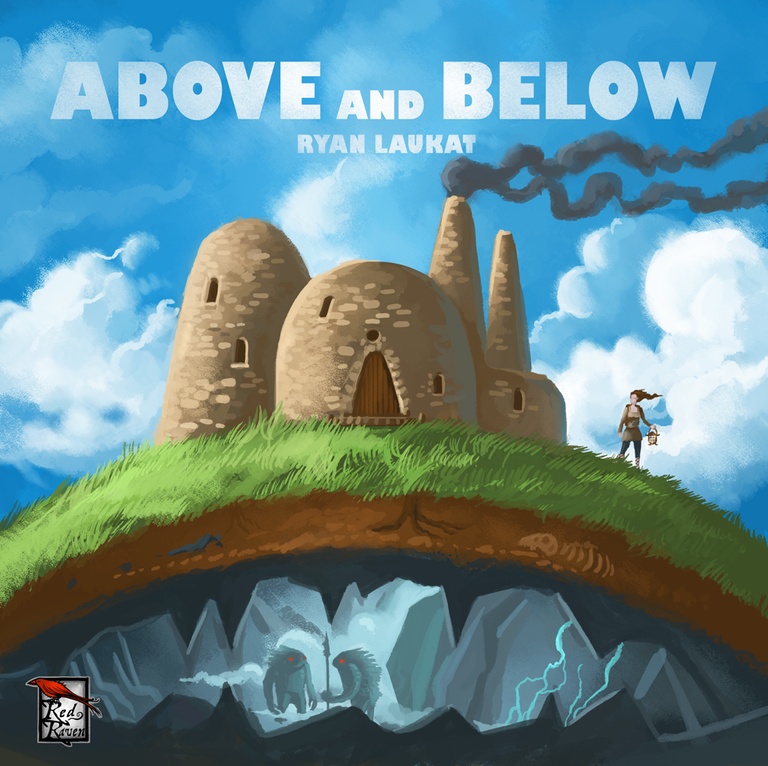 Your last village was ransacked by barbarians. You barely had time to pick up the baby and your favorite fishing pole before they started the burning and pillaging. You wandered over a cruel desert, braved frozen peaks, and even paddled a log across a rough sea, kicking at the sharks whenever they got too close, the baby strapped tightly to your back.
Then you found it! The perfect place to make your new home. But as soon as you had the first hut built, you discovered a vast network of caverns underground, brimming with shiny treasures, rare resources, and untold adventure. How could you limit your new village to the surface? You immediately start organizing expeditions and building houses underground as well as on the surface.
With any luck, you'll build a village even stronger than your last-- strong enough, even, to turn away the barbarians the next time they come knocking.
Above and Below is a mashup of town-building and storytelling where you and up to three friends compete to build the best village above and below ground. In the game, you send your villagers to perform jobs like exploring the cave, harvesting resources, and constructing houses. Each villager has unique skills and abilities, and you must decide how to best use them. You have your own personal village board, and you slide the villagers on this board to various areas to indicate that they've been given jobs to do. Will you send Hanna along on the expedition to the cave? Or should she instead spend her time teaching important skills to one of the young villagers?
A great cavern lies below the surface, ready for you to explore-- this is where the storytelling comes in. When you send a group of villagers to explore the depths, one of your friends reads what happens to you from a book of paragraphs. You'll be given a choice of how to react, and a lot will depend on which villagers you brought on the expedition, and who you're willing to sacrifice to succeed. The book of paragraphs is packed with encounters of amazing adventure, randomly chosen each time you visit the cavern.
At the end of the game, the player with the most well-developed village wins!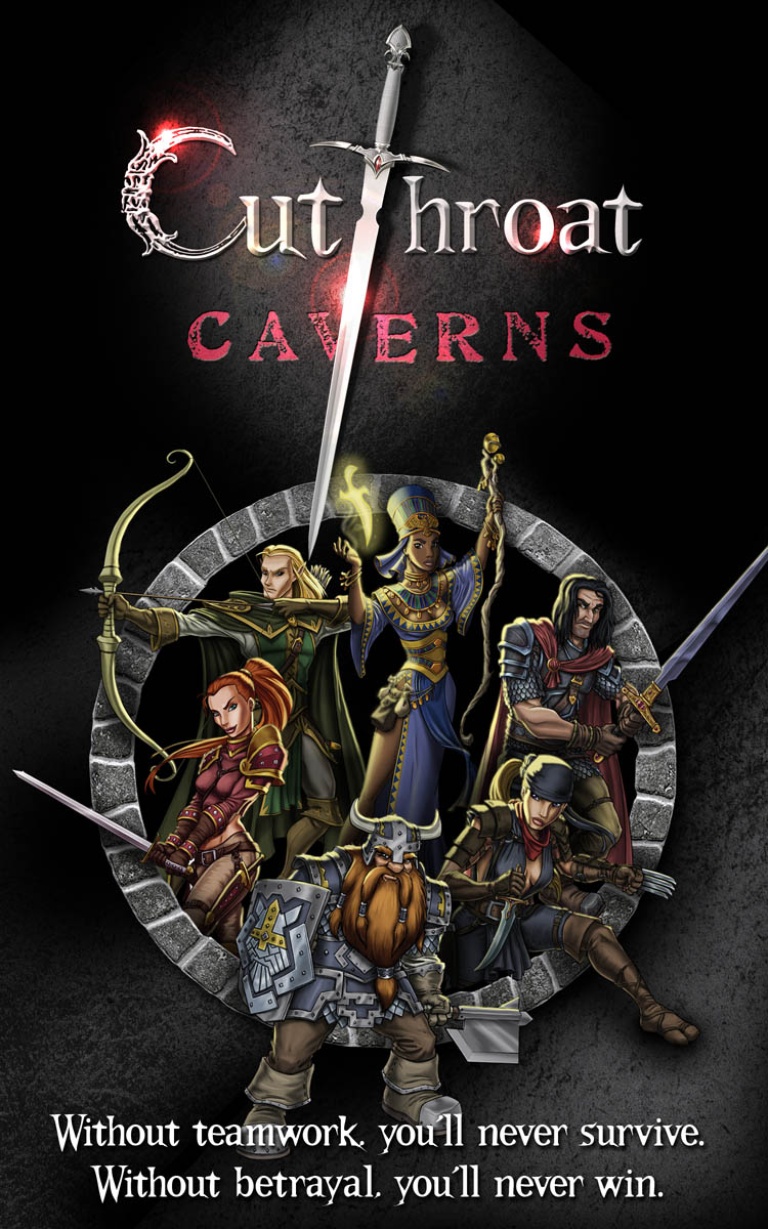 A perfect balance of cooperative gameplay and back-stabbing goodness.
An artifact of untold power lies in your hands. To claim it, you must escape the caverns alive. No less than nine horrific beasts stand in your way – that, and the greed of the other players.
In this game of kill-stealing, you decide whether to swing for a whopping 50 points of damage – or hold back, awaiting a more opportune time to strike. Only the final blow matters if you are to score the kill. Hold back or sabotage other's plans too much – and the entire party will die, without a winner.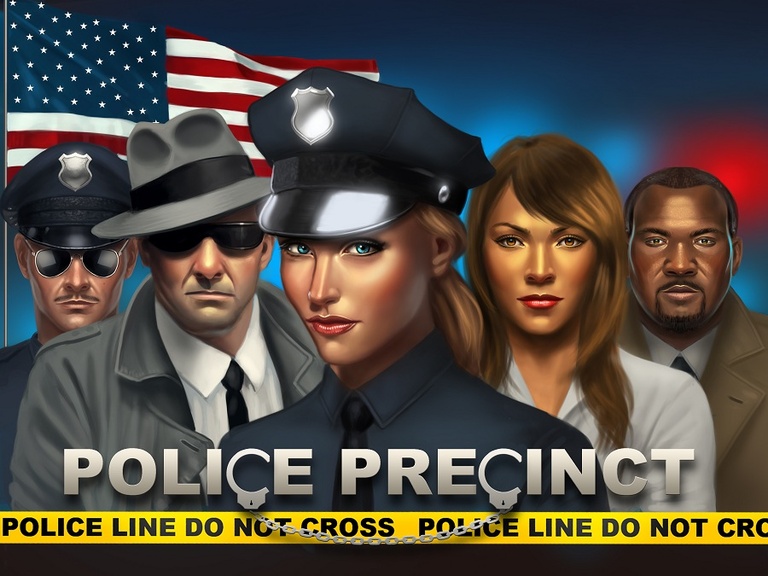 Police Precinct is a cooperative/semi-cooperative game where players are tasked with solving a mysterious murder while simultaneously working to keep crime on the streets under control, and to keep the city from falling into chaos.
Players take on the role of police officers with different areas of expertise. The players work together to solve the mystery by collecting evidence and eventually arresting the suspect.
Complicating matters is the fact that there may or may not be a corrupt officer that is being paid off by the murderer to suppress evidence, the same evidence everyone else is trying to uncover.
Players move around the city searching through randomly shuffled investigation cards for evidence in relation to the murder. The number of investigation cards drawn depends on the character's rating as well as how many player cards are added by other players to boost the character's rating for the current "search". There are four decks of investigation cards (Interview Witness, Collect Crime Scene Evidence, Examine Body and Locate Murder Weapon) to be searched. These decks are shuffled and placed in different locations. So, a player might search the cards in one area and not find any evidence at all… or maybe the bribed cop, if there is one, did the searching and just said no evidence was found.
Players have to find all of the evidence cards from the investigation decks to be able to arrest the murderer.
At the end of each player's turn they draw an event card. These cards represent growing crime and emergencies that are happening in the city. Each one piles on top of the other, and if the cops don't stay on top of things, they will be buried in crime! These Event cards are placed on the game board at the locations where they occur. Some of them have "unknown circumstance" tokens placed face-down upon them, adding even more tension.
If too many criminals are located in one area, a gang is formed. Each gang has it's own power and can cripple the police efforts if not handled quickly and carefully.
So, not only are the players investigating the murder, but they must also arrest street criminals and handle emergencies.
Sometimes when a character successfully completes a task, that character is rewarded with a doughnut token. These tokens can later be used to help with tasks. However, if the character does not complete the task in time, the city crime track advances. The track can also advance if street crimes grow so large that no more street criminals can be placed, when called for. If the Crime Track advances to the end, the murderer escapes justice and the good cops fail the game.
To add to the tension even further, The good cops only have so many days to complete the investigation. If time runs out, once again the murderer shall escape justice!
The pressure is great and the stakes are high!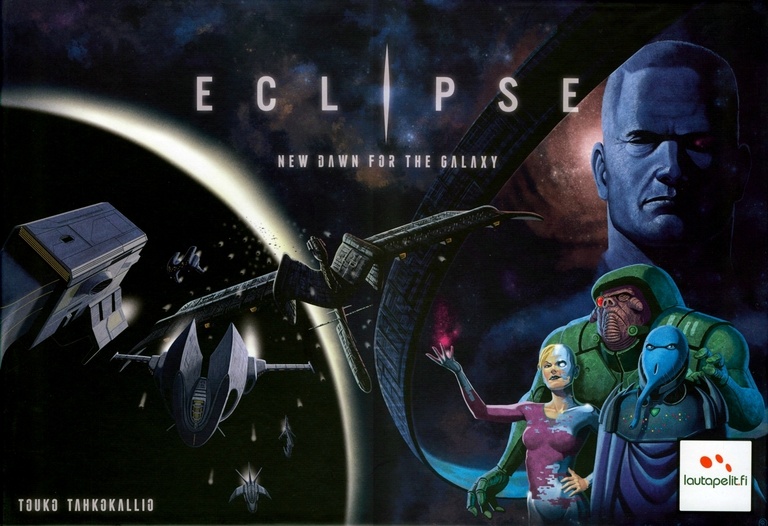 The galaxy has been a peaceful place for many years. After the ruthless Terran–Hegemony War (30.027–33.364), much effort has been employed by all major spacefaring species to prevent the terrifying events from repeating themselves. The Galactic Council was formed to enforce precious peace, and it has taken many courageous efforts to prevent the escalation of malicious acts. Nevertheless, tension and discord are growing among the seven major species and in the Council itself. Old alliances are shattering, and hasty diplomatic treaties are made in secrecy. A confrontation of the superpowers seems inevitable – only the outcome of the galactic conflict remains to be seen. Which faction will emerge victorious and lead the galaxy under its rule?
A game of Eclipse places you in control of a vast interstellar civilization, competing for success with its rivals. You will explore new star systems, research technologies, and build spaceships to wage war with. There are many potential paths to victory, so you need to plan your strategy according to the strengths and weaknesses of your species, while paying attention to the other civilizations' endeavors.
The shadows of the great civilizations are about to eclipse the galaxy. Lead your people to victory!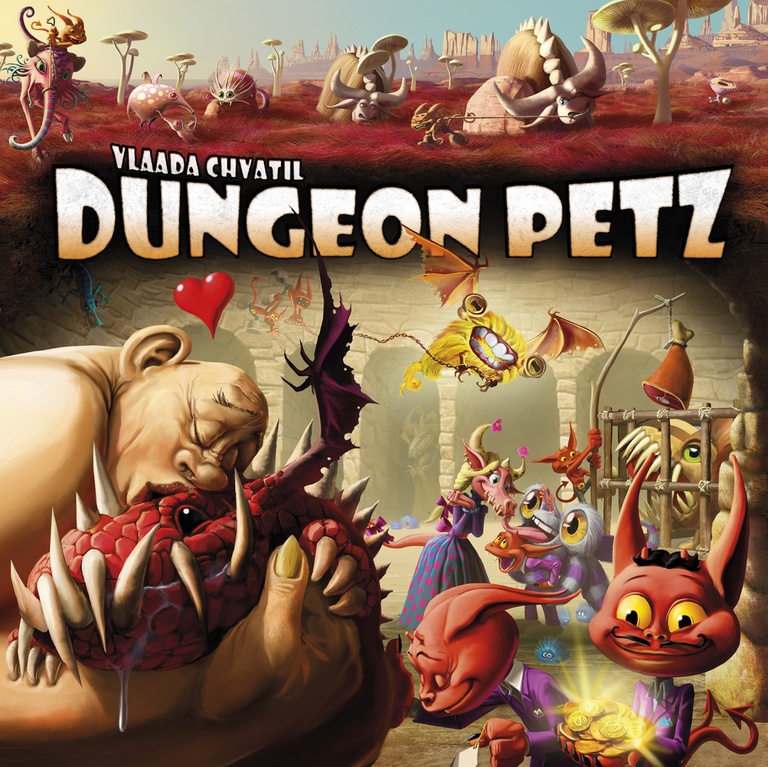 "What this town needs is a pet store." No one knows which imp said it, but every imp recognized the idea was pure genius: "A pet shop for dungeon lords? What a great idea! Yeah, and no one else is doing it! No competition! We'll be rich!"
And now you have just opened the first pet shop in town. Right next door to the other first pet shop in town. Across the street from two more.
Buy baby monsters! Feed them and watch them grow! Clean their cages!
Yes, running a pet store is exciting for an imp. But it can also be mentally challenging: What is the smartest way to win the upcoming exhibition? Which pet is best suited for your dungeon lord customer? How strong a cage do you need, and if you guess wrong, how many family members will be maimed?
Win or lose, you are sure to enjoy the grand opening of Dungeon Petz.