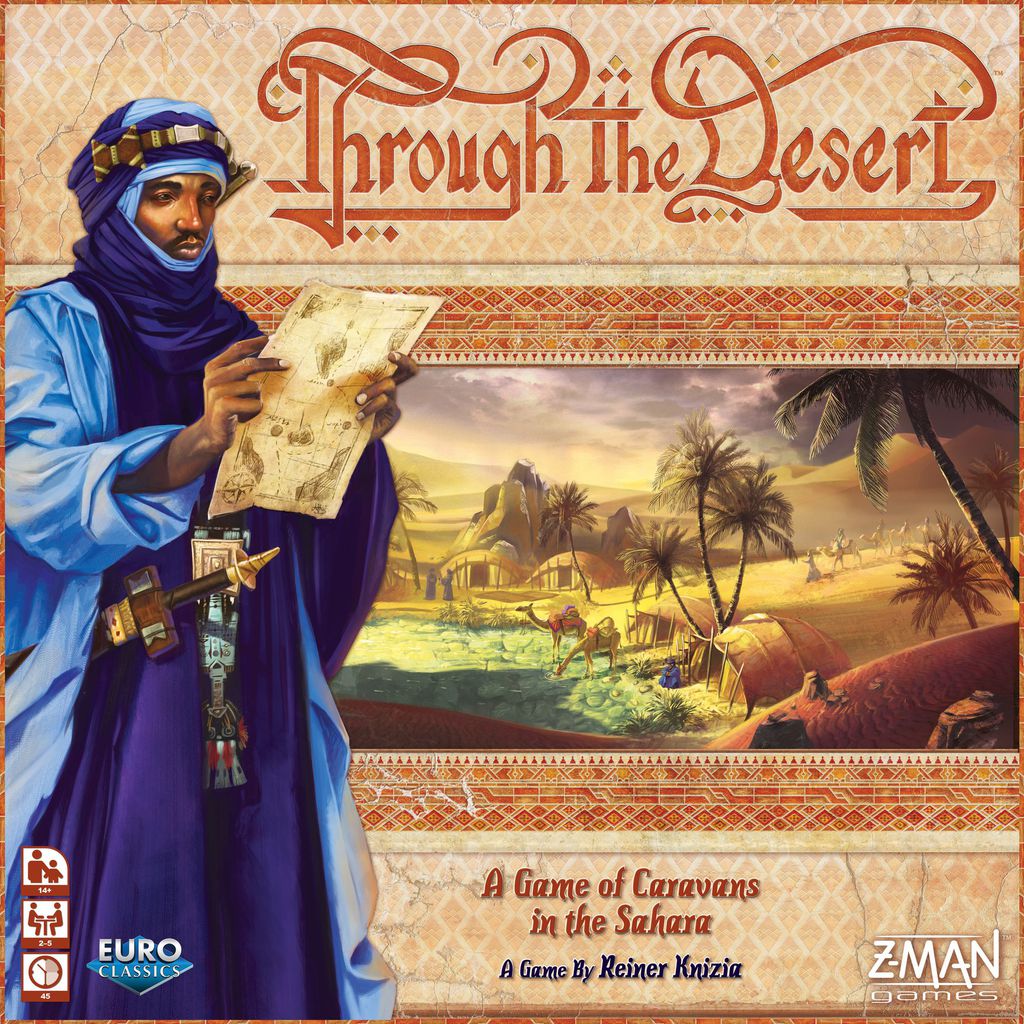 From prolific designer Reiner Knizia comes a game of strategy, patience, and cool plastic camels. The desert is still treacherous, mysterious, and without mercy but, for those willing to risk the dangers of the shifting, sun-baked sands, it holds riches beyond compare.
In Through the Desert, two to five players each control a tribe of nomads vying for control of the desert. By establishing caravans and taking over oases, the players gain points as their tribes increase in power.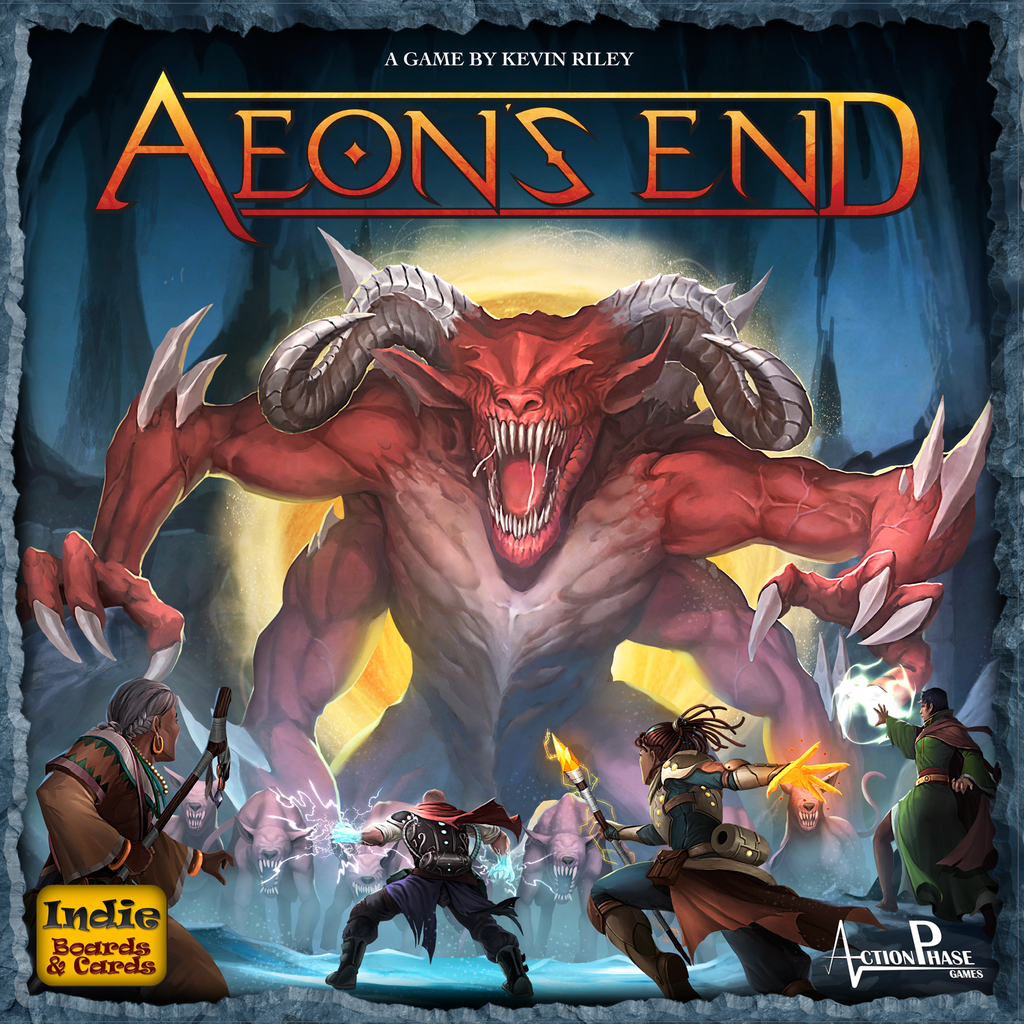 The survivors of a long-ago invasion have taken refuge in the forgotten underground city of Gravehold. There, the desperate remnants of society have learned that the energy of the very breaches the beings use to attack them can be repurposed through various gems, transforming the malign energies within into beneficial spells and weapons to aid their last line of defense: the breach mages.
Aeon's End is a cooperative game that explores the deckbuilding genre with a number of innovative mechanisms, including a variable turn order system that simulates the chaos of an attack, and deck management rules that require careful planning with every discarded card. Players will struggle to defend Gravehold from The Nameless and their hordes using unique abilities, powerful spells, and, most importantly of all, their collective wits.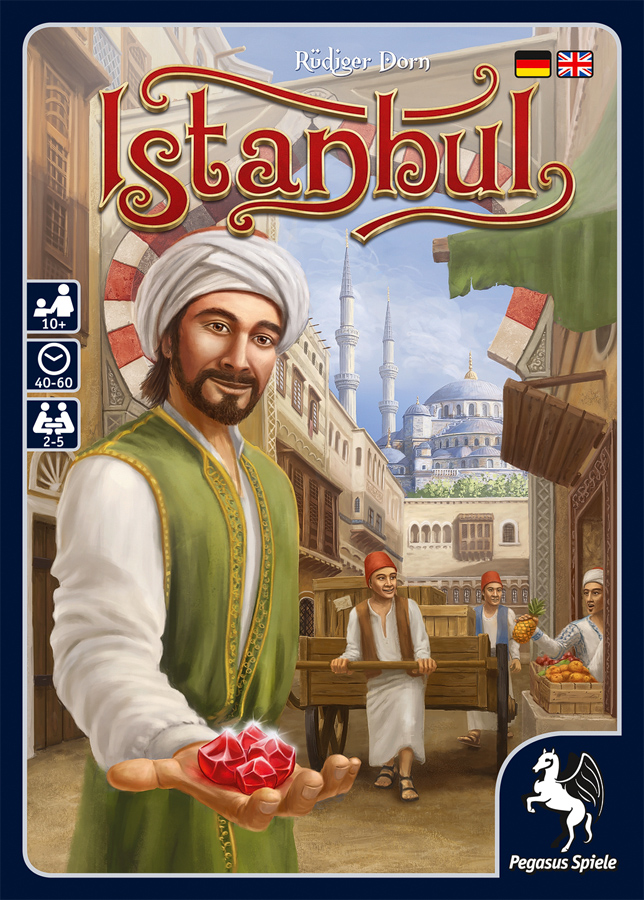 In Istanbul, you lead a group of one merchant and four assistants through 16 locations in the bazaar. At each such location, you can carry out a specific action. The challenge, though, is that to take an action, you must move your merchant and an assistant there, then leave the assistant behind (to handle all the details while you focus on larger matters). If you want to use that assistant again later, your merchant must return to that location to pick him up. Thus, you must plan ahead carefully to avoid being left with no assistants and thus unable to do anything...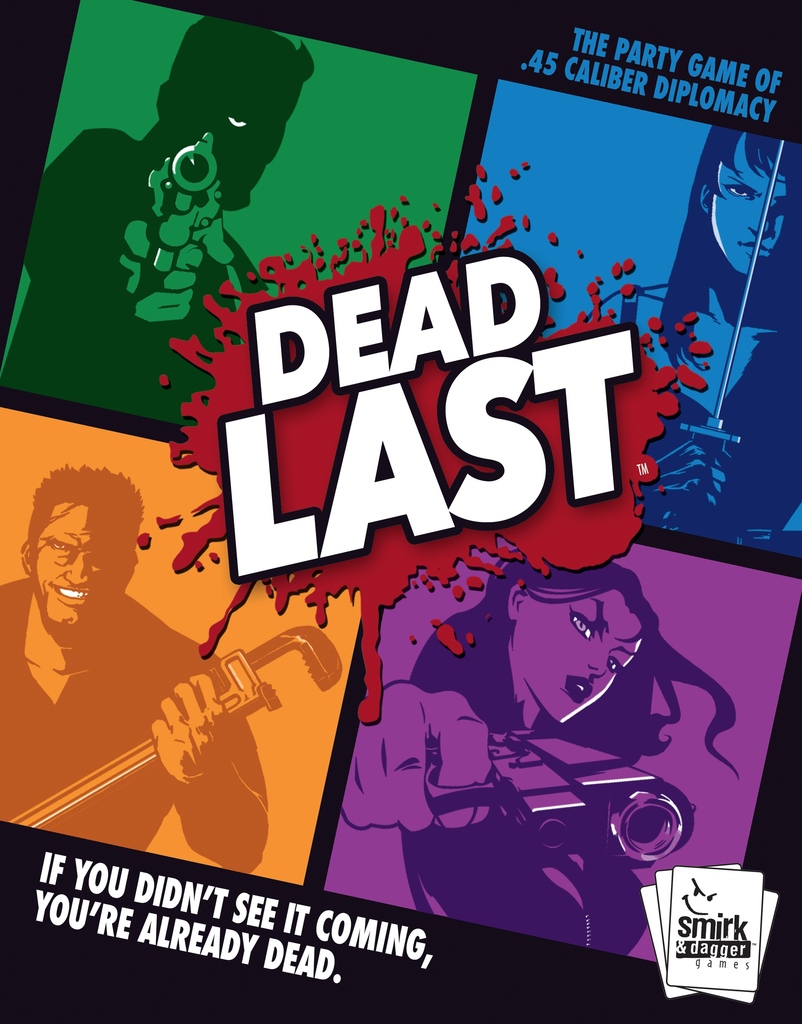 The Tontine. An ages-old investment scheme, where you just buy a ticket and could potentially make millions – if you are the last living member. But there's a reason Tontines are illegal. They have a tendency to lead to murder. That doesn't mean they don't still exist. In fact, you hold a ticket to a quickly collapsing Tontine. With only a few dozen members left, it is now kill or be killed. It could mean a fortune, if you're DEAD LAST.
DEAD LAST is a 'social collusion' game of shifting alliances, betrayals and murder for profit. There is no hidden traitor, as each of you is equally an ally and a betrayer at any given moment. Each round, you will conspire and then vote upon whom to kill, in an effort to be the last player standing and collect gold. You MUST vote with the larger group, just to stay alive, so alliances and gaining agreement on who will die is critical. Subtle communication, a glance, a nod, pointing a finger, flashing their targeting card, anything at all is completely legal. But don't tip off your target – or they will ambush you instead.
A boisterous, party game of .45 caliber diplomacy for 6 to 12 players.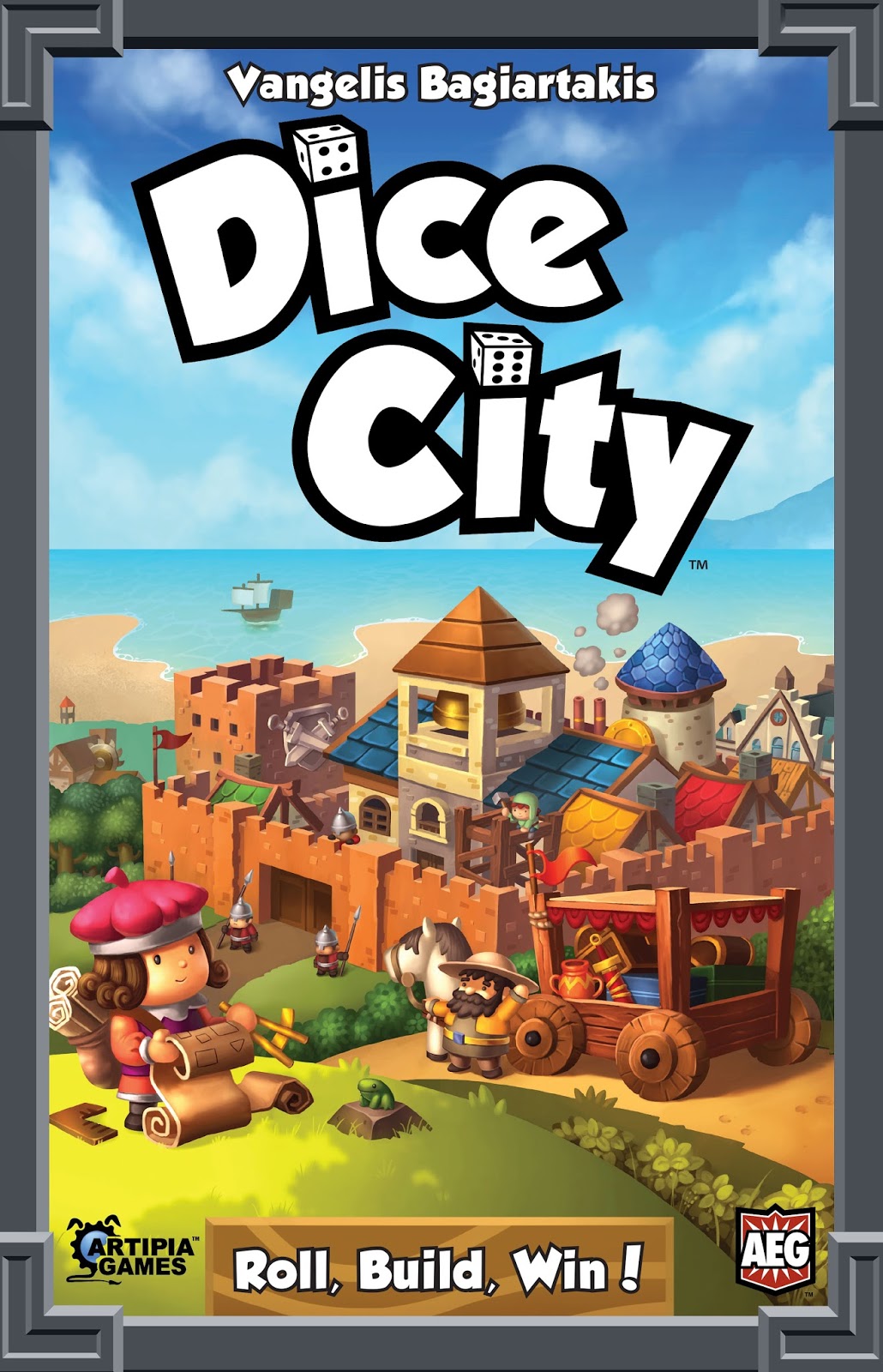 Dice City is a "dice-crafting" game in which the locations in an ever-growing city act as the changing faces of a die each turn. They can be developed into stronger and grander features to make a more successful and more powerful settlement.
There are several ways to promote a city; through strong armies; by constructing wondrous buildings; or by opening up trade routes. The secret is to manage the city and its natural resources carefully to make the best of your fortunes.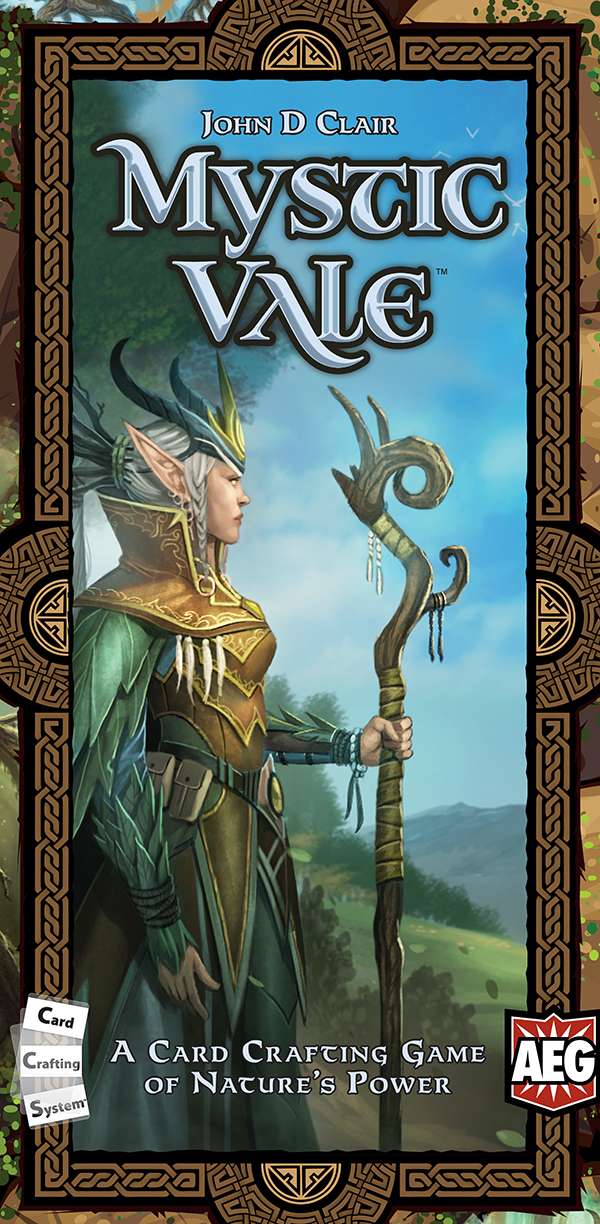 In Mystic Vale, players take on the role of druidic clans who are trying to cleanse a cursed land. Each turn, they play cards into their fields to gain both powerful advancements and useful vale cards. They must use that power wisely, or decay will end their turn prematurely.
Mystic Vale uses a "Card Crafting System", which lets players not only build a deck, but build the individual cards in that deck, customizing each card's abilities to exactly the strategy they wish to follow.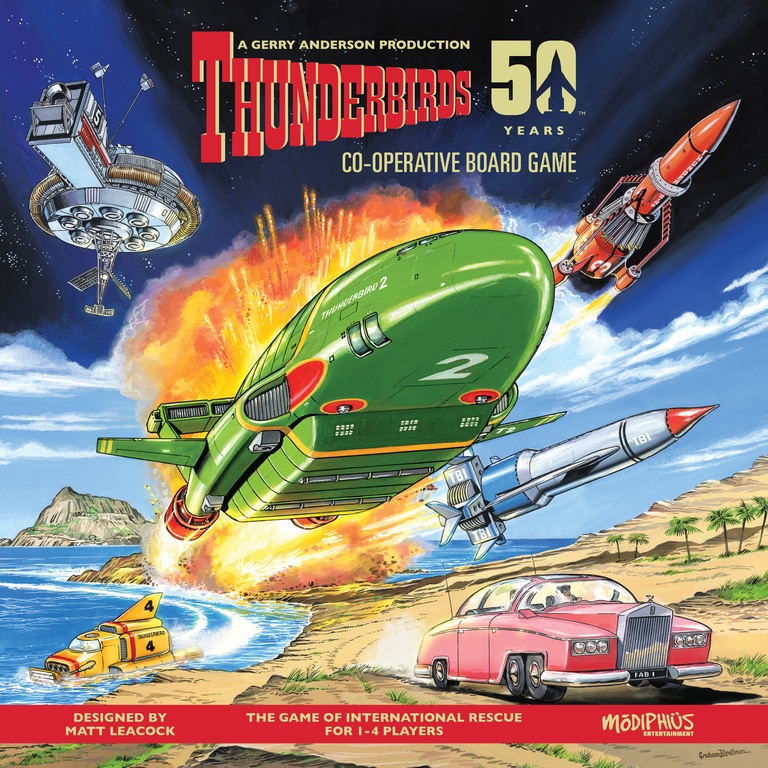 The co-operative game Thunderbirds, released in 2015 to celebrate the 50th anniversary of the cult hit TV show, features the iconic Thunderbirds machines and a high-octane world full of disasters for players to rescue.
Set in the year 2065, Thunderbirds follows the exploits of International Rescue, a secret organization committed to saving human life, secretly founded and funded by the millionaire Tracy family, with the motto: 'Never give in, at any cost!' International Rescue has a host of technologically advanced land-, sea-, air-, and space-rescue vehicles and equipment ready to launch at a moment's notice.
Racing to the rescue from a secret island base beneath the luxurious home of the Tracy family somewhere in the South Pacific Ocean, International Rescue defies government spies and criminals who want the secrets of their incredible machines for their own. To combat this threat, Lady Penelope, the Thunderbirds' aristocratic English secret agent, and her chauffeur Parker lead a network of agents to uncover those behind the disasters caused by deliberate sabotage.
A criminal mastermind known as "The Hood", operating from a temple deep in the Malaysian jungle and in possession of strange powers, often engineers events to allow him to spy on the Thunderbird machines with the goal of selling their secrets to the highest bidder.
The iconic Thunderbirds are designed by the Tracy family's close friend "Brains" and are assigned to each of the five Tracy brothers: - Thunderbird 1, piloted by Scott Tracy – a hypersonic rocket plane used for fast response and rescue-zone reconnaissance, and as a mobile control base. - Thunderbird 2, piloted by Virgil Tracy – a supersonic VTOL carrier which transports their major rescue equipment in detachable pods. - Thunderbird 3, piloted by Alan Tracy – a single-stage, vertically launched spacecraft - Thunderbird 4, piloted by Gordon Tracy – a utility submersible for underwater rescue, launched from Thunderbird 2 - Thunderbird 5, manned by John Tracy – a space station in geo-stationary orbit that monitors calls for help from across Earth.
Finally, Lady Penelope has the iconic FAB 1, driven by Parker – a pink, amphibious car.
Thunderbirds is a cult 1960s British science-fiction television series, created by Gerry and Sylvia Anderson. It was produced using a combination of marionette puppetry and scale-model special effects, which was dubbed "Supermarionation". Two series, totaling thirty-two 50-minute episodes, were produced, along with two films using the same techniques.
Players will work together using Thunderbirds characters and vehicles to complete rescue missions and save the day.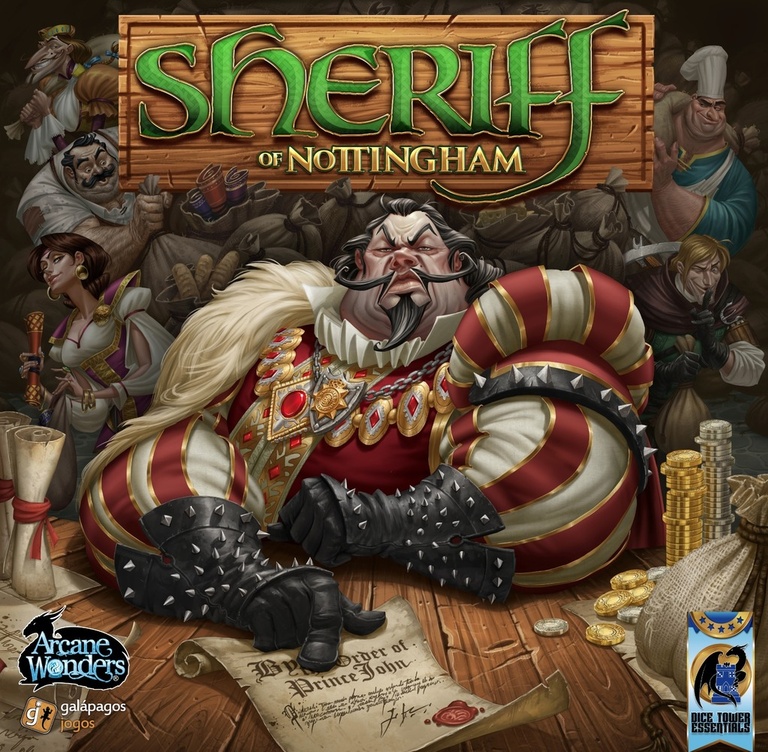 The Sheriff of Nottingham is a fun and engaging game for all where each player will have the chance to step into the shoes of the Sheriff himself! Other players, acting as Merchants will attempt to bring their goods into the city for profit. Beware though, while many may act as honest merchants, there is always the possibility of contraband being smuggled into the city!
Experience Nottingham in a whole new way! Declare your goods, deal with the Sheriff and secure victory in a fun-filled and exciting adventure!
Theseus: The Dark Orbit puts players in the heart of a conflict between five factions trapped on the eponymous space station in deep space. Only one can survive…
Command the marine forces! Use deadly weaponry, setting traps and mines in corridors to defend the human race.
Command the alien race! Use secret passages and ventilation ducts to launch surprise attacks and grow small aliens to take control of the station.
Command the scientists! Use computers and technological devices to gather data and record information about other inhabitants of the station.
Command the Greys race! Use their mind powers to control the enemy and use them for your own purposes.
The fifth faction? It's a mystery. It's precisely why you made the trek to Theseus, and it's precisely why you will die…
In Theseus: The Dark Orbit, players move their pawns around the space station and activate the abilities of different rooms. Every move you take changes the movement possibilities of your opponent. On your turn, you need to think about which room you want to reach and (in addition) how to mess your opponent's movement, which leads to great choices and meaningful decisions.
Rooms abilities change during the game as players install trait cards that give rooms new abilities and skills. Players create Theseus during gameplay by placing traps, smart guns, secret passages and many other features. In every game Theseus looks different; in every game it's deadly for you in a new way…
Rules for team play allow players to engage in incredibly emotional 2-vs-2 battles. With perfectly balanced factions, players will be able to fight engaging and deadly battles as a teams. Each faction has a unique deck of cards, and before the game starts, you discard ten cards from the deck. In basic mode you discard at random, while in tournament (master) mode you choose cards and build your deck. With five factions and 110 cards, the game can provide years of unique experiences.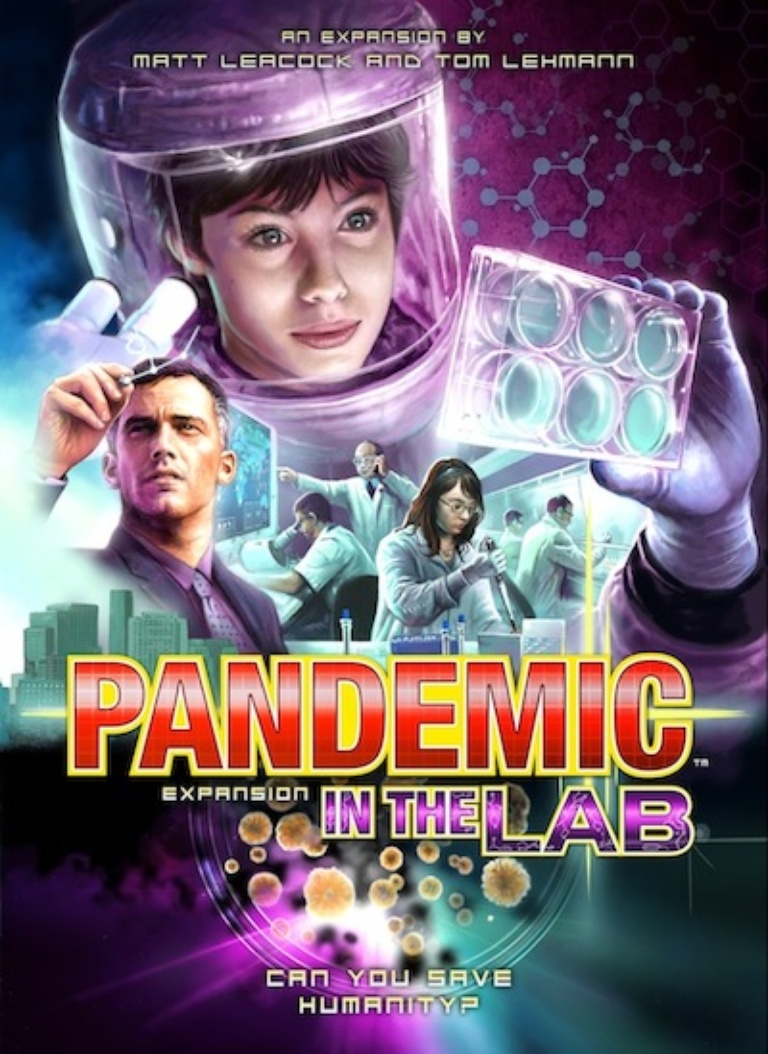 This is an all-new expansion for the popular game Pandemic. You need to own Pandemic and Pandemic: On The Brink to play this expansion.
Behind sealed biohazard doors, scientists race against time to sequence diseases and test cures.
Take samples and develop cures in the Lab challenge
Play on your own or as rival teams (for 4 or 6 players)
Extend the On the Brink challenges with new Virulent Strain Events or the Worldwide
Panic Mutation scenario.
CAN YOUR TEAM WORK TOGETHER IN THE LAB TO SAVE HUMANITY?