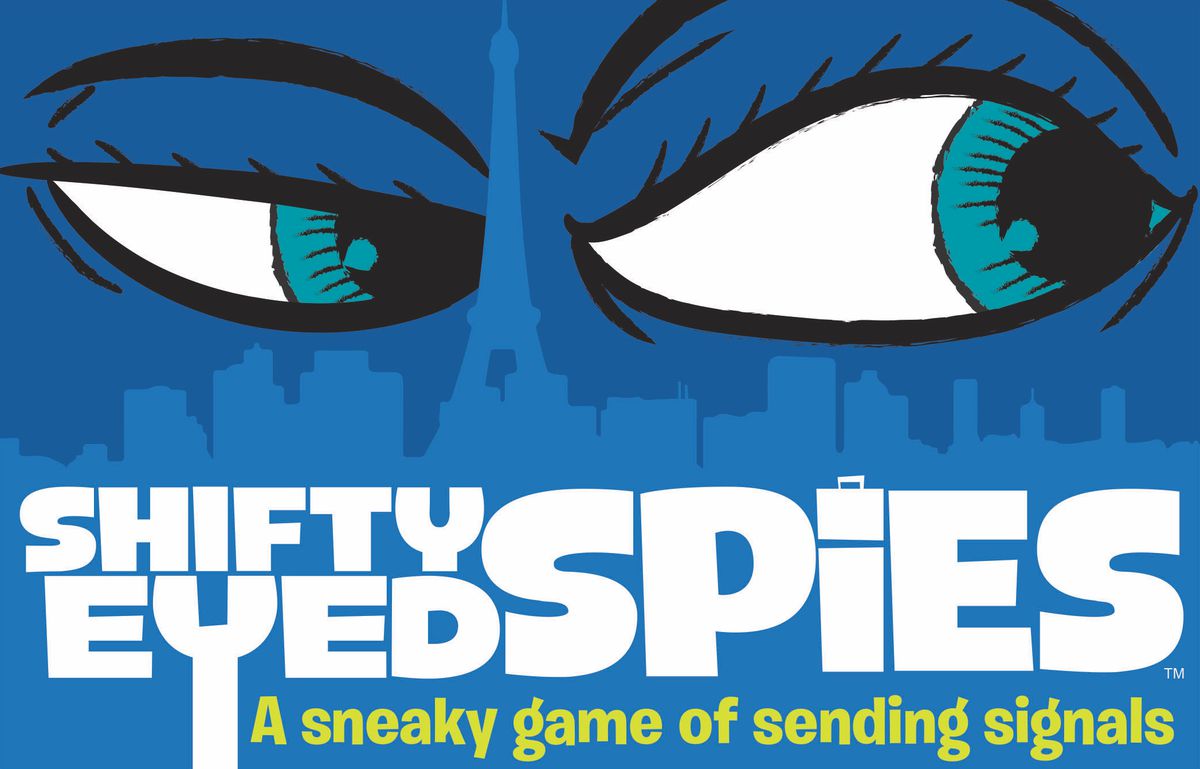 Face off in a stealthy competition of covert communication. Use a wink to signal that you have a delivery for another spy, then await their eye-shift that indicates the rendezvous location. Be discreet – if anyone intercepts you, the mission is blown!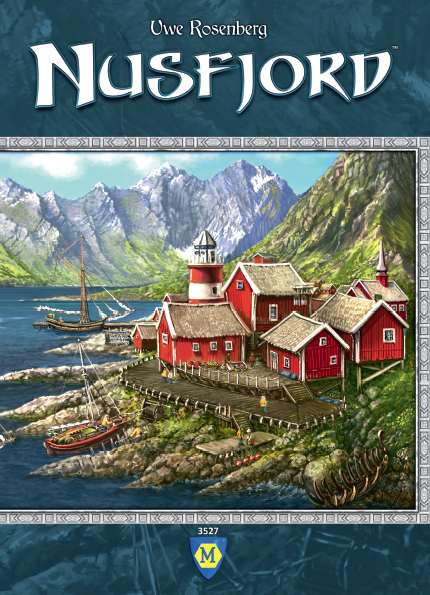 Nusfjord is a tranquil fishing village in the Lofoten archipelago in northern Norway. Fifty years ago, business was blooming when the codfish would come for spawning. Today, Nusfjord is more of a museum than a village, with less than a hundred people living there. Imagine how beautiful this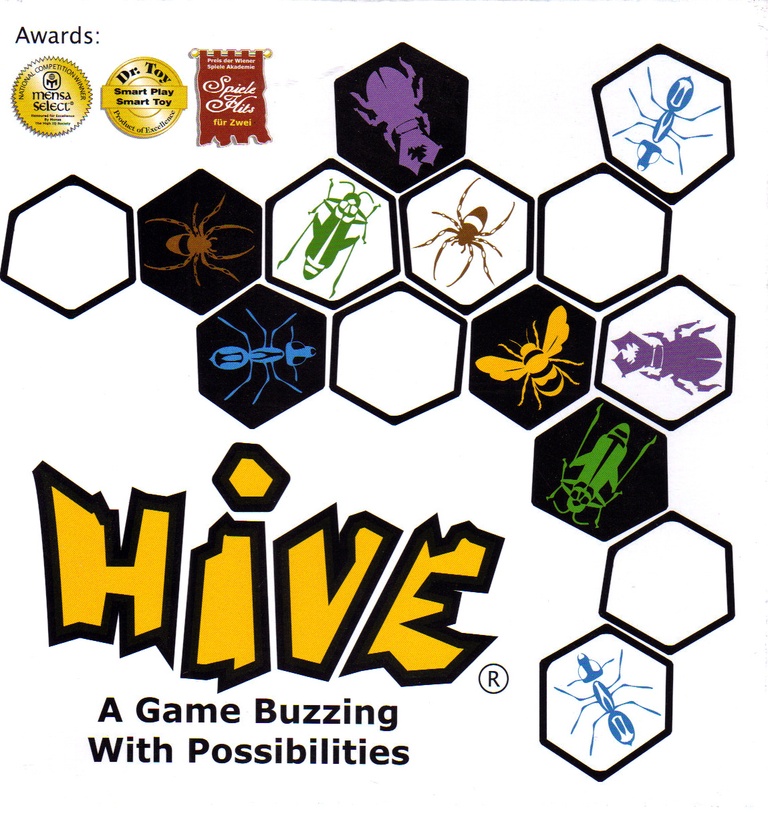 Hive is a highly addictive strategic game for two players that is not restricted by a board and can be played anywhere on any flat surface. Hive is made up of twenty two pieces, eleven black and eleven white, resembling a variety of creatures each with a unique way of moving. With no setting up to do, the game begins when the first piece is placed down. As the subsequent pieces are placed this forms a pattern that becomes the playing surface (the pieces themselves become the board). Unlike other such games, the pieces are never eliminated and not all have to be played. The object of the game is to totally surround your opponent's queen, while at the same time trying to block your opponent from doing likewise to your queen. The player to totally surround his opponent's queen wins the game.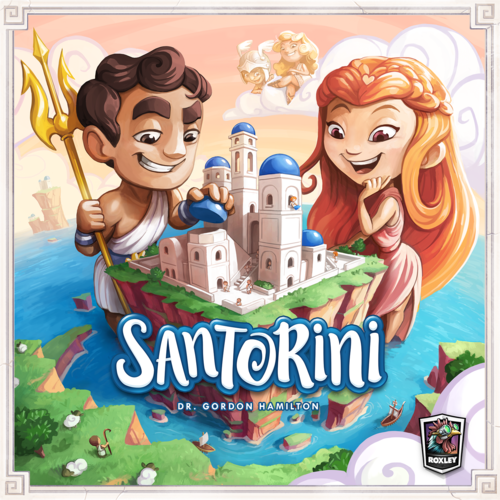 Santorini is a non-abstract re-imagining of the 2004 edition. Since its original inception over 30 years ago, Santorini has been endlessly developed, enhanced and refined by mathematician and educator, Dr. Gordon Hamilton.
Santorini is a highly accessible pure strategy game that is simple enough for an elementary school classroom. But with enough gameplay depth and content for even hardcore gamers to explore, Santorini is truly a game for everyone. The rules are deceptively simple. Each turn consists of 2 steps:
1. Move - move one of your builders into a neighboring space. You may move your Builder Pawn on the same level, step-up one level, or step down any number of levels.
2. Build - Then construct a building level adjacent to the builder you moved. When building on top of the third level, place a dome instead, removing that space from play.
Winning the game - If either of your builders reaches the third level, you win.
Variable player powers - What makes Santorini truly special is its seamless integration of variable player powers into a pure-strategy game. Dr Hamilton has designed over 40 thematic god and hero powers, each fundamentally changing the way the game is played.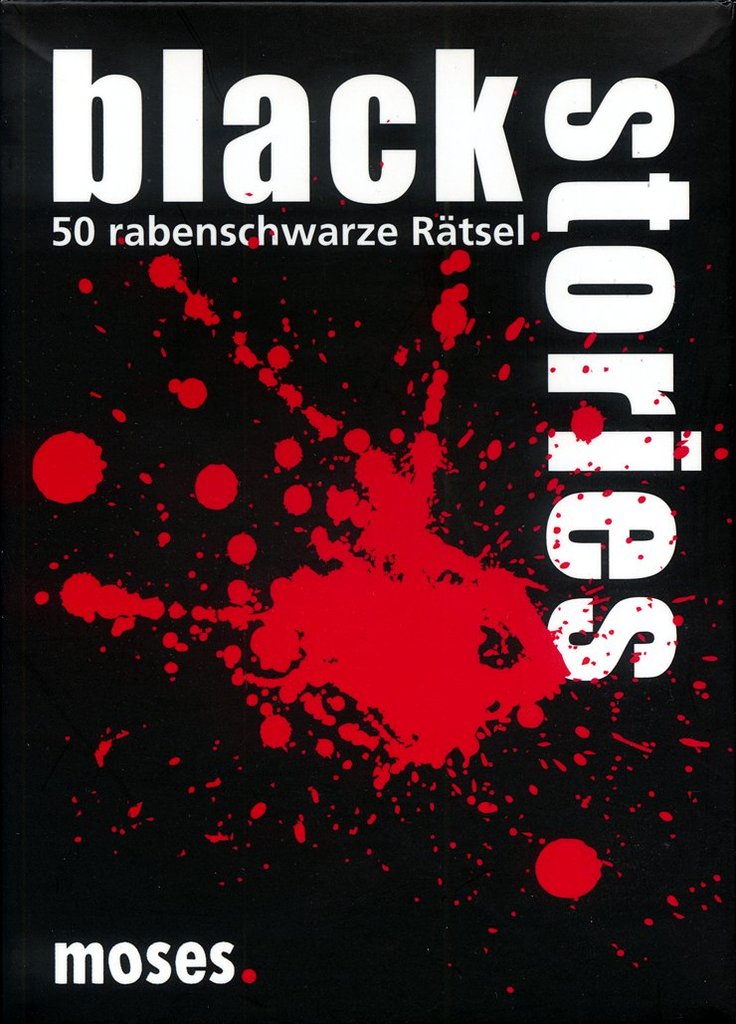 50 black stories, 31 crimes, 49 corpses, 11 murders, 12 suicides and one deadly meal. How could that have happened? Black Stories are fiddly, morbid and mysterious riddles for teenagers and adults. The players try to reconstruct the crime by asking, guessing and fiddling about. A spooky card game just right for any party.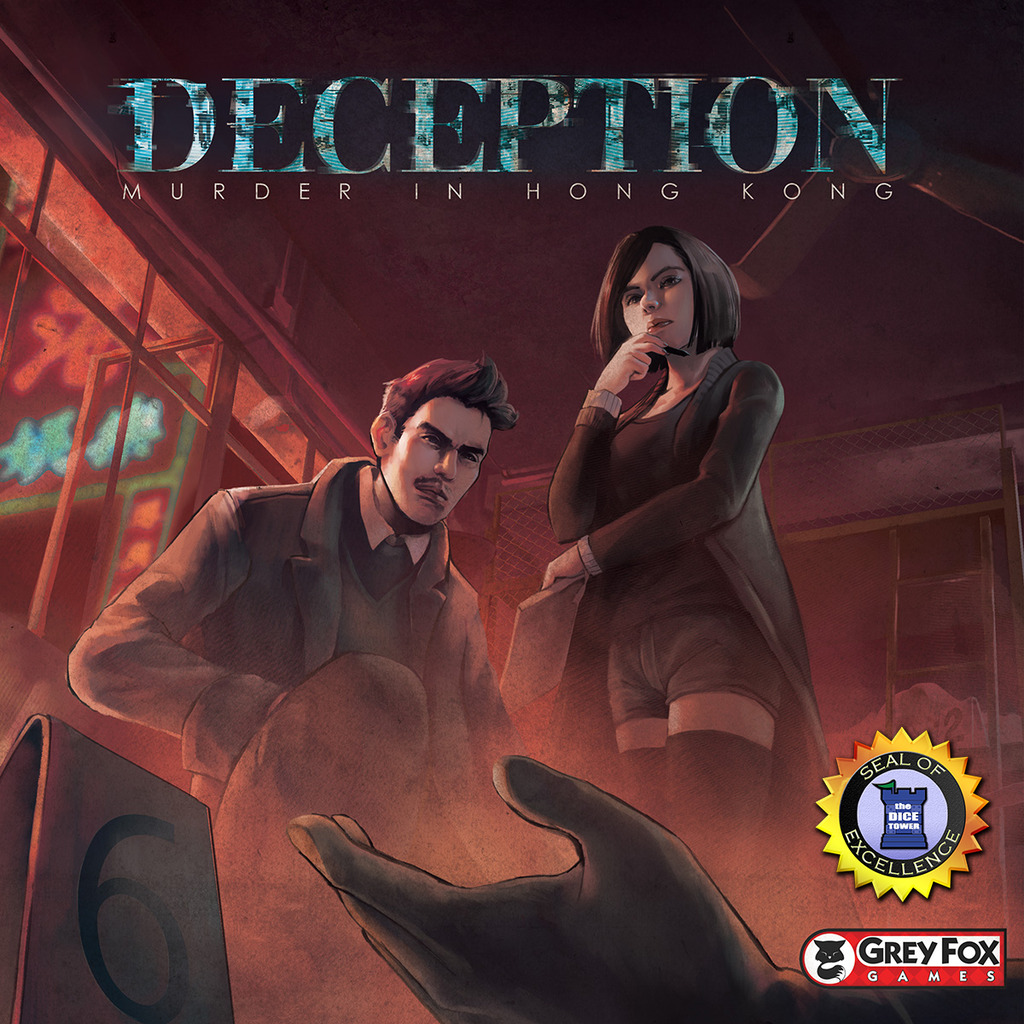 A social game of deduction and deception. Who among you can see through the lies? Who is capable of getting away with murder?
In Deception: Murder in Hong Kong, players find themselves in a scenario of intrigue and murder, deduction and deception. One player is the Murderer, secretly choosing their weapon and the evidence they leave behind. Another is the Forensic Scientist who holds the key to convicting the criminal but is only able to express their knowledge through analysis of the scene. The rest are investigators, interpreting the clues to solve the crime – and the killer is among them. Investigators must collaborate and use their wits, their hunches, and their keen deductive insight to correctly identify the means of murder and the key evidence to convict the killer. The murderer must mislead and confuse the investigators to save themselves.
Do you have what it takes to see through the lies and catch the criminal in your ranks or will they muddy the waters long enough to get away with murder?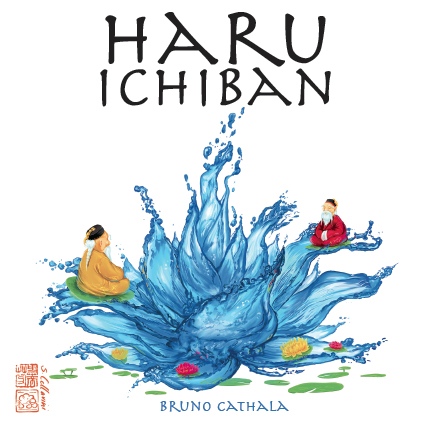 In Haru Ichiban, or "The Wind of Spring", two apprentice gardeners compete to use this wind to their advantage to create harmonious patterns of their blossoms upon the lilypads.
Each gardener has eight flower buds numbered 1-8, with three of those buds being in hand at the start of a round. Sixteen lilypads are placed in the 5x5 pond, with one of them turned to its dark side.
Each gardener simultaneously chooses a reveals a bud, with the player with the lower number becoming the Little Gardener and the other becoming the Grand Gardener. In order:
The Little Gardener places one of his colored blossoms on the dark lilypad.
The Grand Gardener places one of his colored blossoms on the lilypad of his choice.
The Little Gardener moves one lilypad to an adjacent space, possibly moving other lilypads at the same time.
The Grand Gardener flips one unoccupied lilypad to its dark side.
Each gardener takes a new bud.
As soon as a gardener creates a specific pattern with blossoms of his color, he scores points: 1 point for a 2x2 square, 2 points for a horizontal or vertical row of four blossoms, 3 points for a diagonal row of four blossoms, and 5 points for a row of five blossoms. If the gardener has fewer than five points, the gardeners reset the board and start a new round with three buds of their eight; if the gardener has five or more points, the game ends and he wins!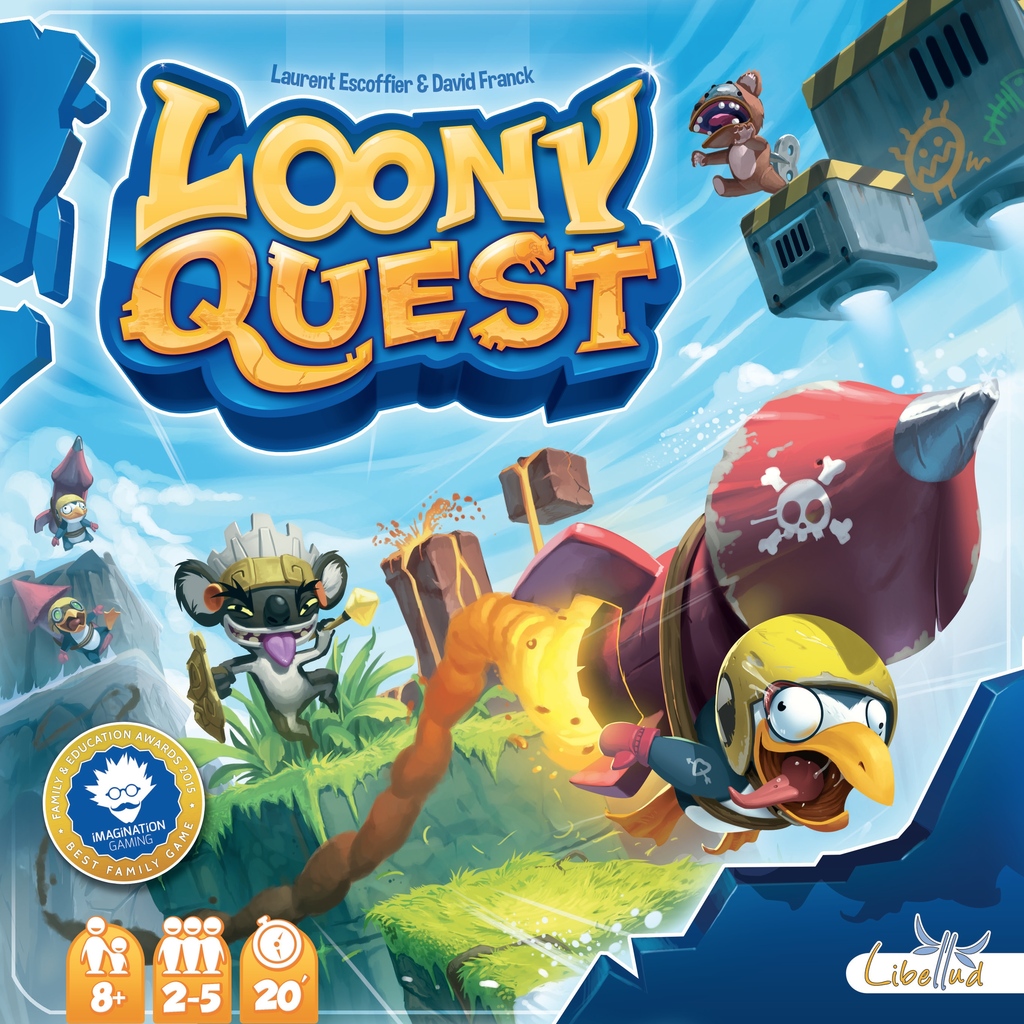 In the wonderful land of Arkadia, a very old king has no heir. He organizes a tournament to offer his throne to the bravest adventurer of the kingdom. Up to five finalists will wander seven worlds full of surprises...
In the drawing game Loony Quest, players study challenging level cards, then try to replicate the outline to meet targets and avoid obstacles on their tracing sheets. Once finished, players place their sheets on top of the level card to see whether the drawings line up with the targets they meant to hit — or avoid. Largely inspired by video games, Loony Quest players discover various worlds, play with 3D and 2D levels, run into loony monsters — Loonies — and big bosses, trigger special stages, collect bonuses, use penalties on opponents, and gather as many Xperience points as possible to win.
Loony Quest features the same basic gameplay as in Doodle Quest, but has been developed differently by the publisher.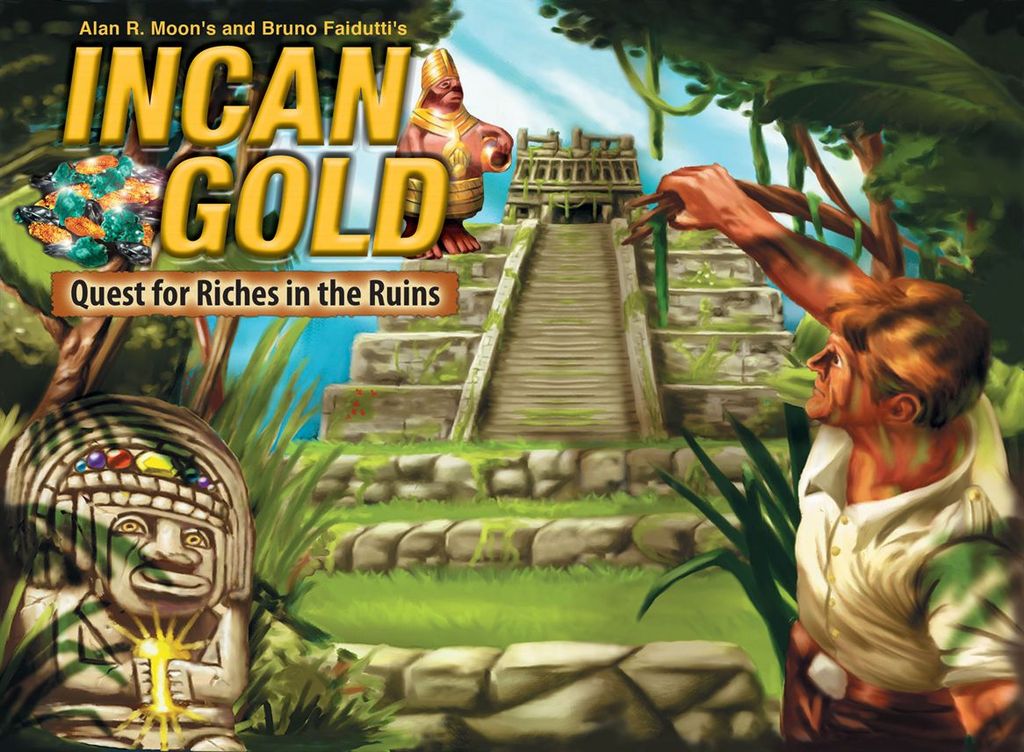 Incan Gold is a quick, fun and tense game in which you and other adventurers explore an old Incan temple in search of gold and treasure. In each of the five rounds, you secretly choose if you want to continue exploring the temple in search of more treasure or retreat to the safety of your camp with your share of the treasure that has been discovered so far.
Each time that an explorer braves new territory, more treasure or a danger appears. When a second card of the same type of danger is turned over, all exposed treasure is buried, leaving the remaining adventurers with nothing. Do you flee the dangerous temple with your portion of the treasure that has been uncovered so far or do you venture into the exciting temple in search of more hidden valuables?
After five rounds of exploration, whoever has the most treasure is the ultimate explorer and winner!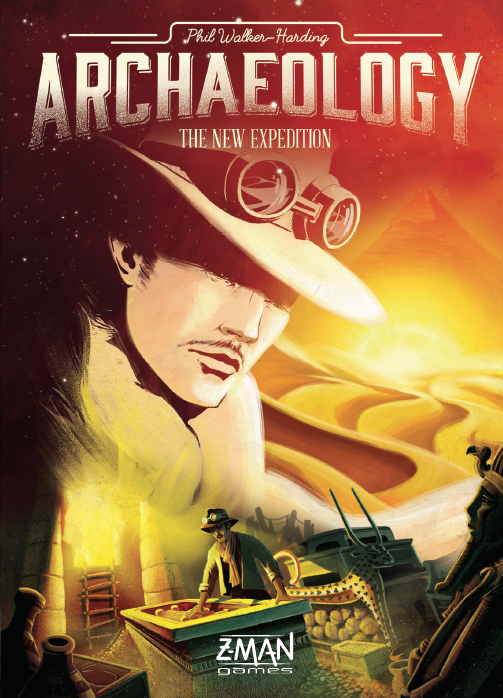 You are an archaeologist working the dig sites of the Egyptian desert. Search for the right pieces to complete torn parchments, broken pots, and other priceless artifacts. Explore an ancient pyramid in the hope of uncovering a huge stash of treasure! Trade shrewdly at the local marketplace to increase the value of your collection. Sell your treasures to the museum at just the right time for maximum profit.
But beware, the desert also has its dangers! A devastating sandstorm can throw your expedition into disarray, and cunning thieves lurk around the dig site ready to steal your prize discovery!