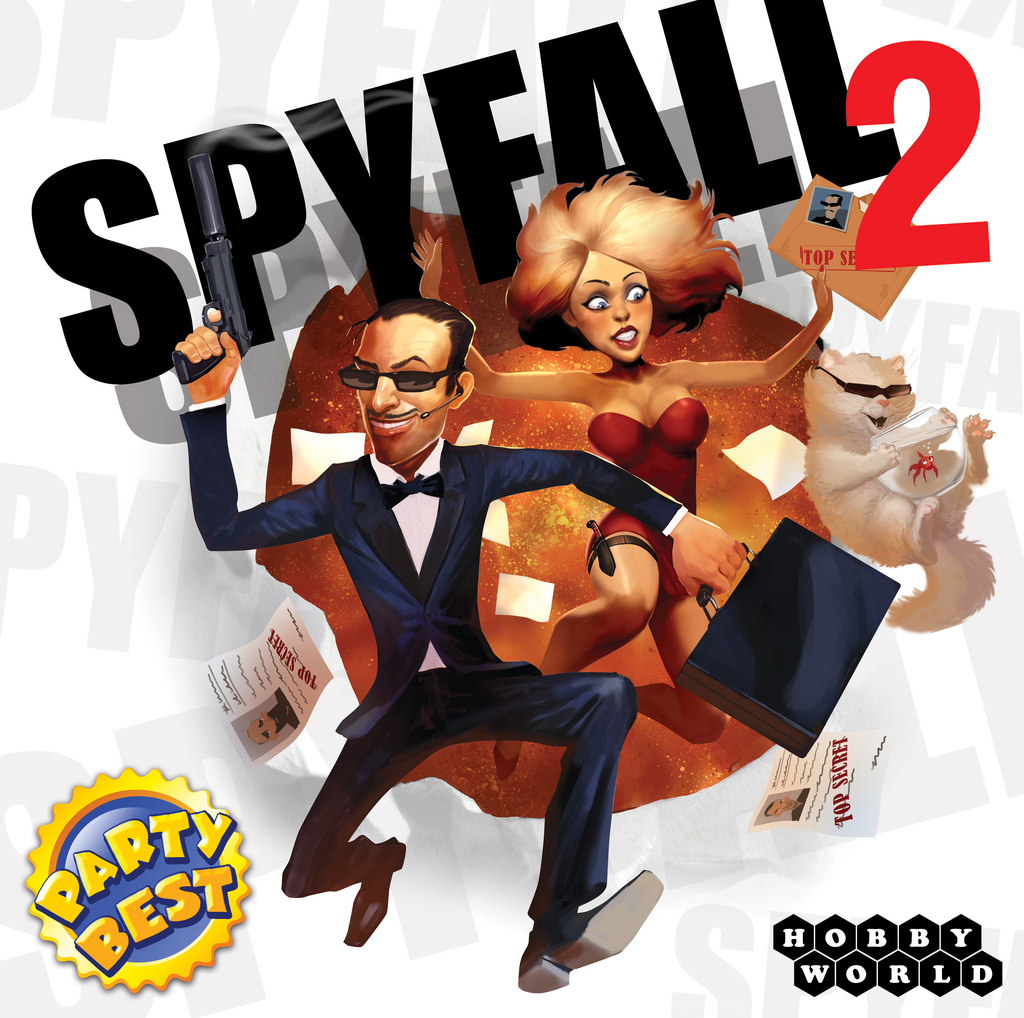 Spyfall is a party game unlike any other, one in which you get to be a spy and try to understand what's going on around you. It's really simple!
Spyfall is played over several rounds, and at the start of each round all players receive cards showing the same location — except that one player receives a card that says "Spy" instead of the location. Players then start asking each other questions — "Why are you dressed so strangely?" or "When was the last time we got a payday?" or anything else you can come up with — trying to guess who among them is the spy. The spy doesn't know where he is, so he has to listen carefully. When it's his time to answer, he'd better create a good story!
At any time during a round, one player may accuse another of being a spy. If all other players agree with the accusation, the round ends and the accused player has to reveal his identity. If the spy is uncovered, all other players score points. However, the spy can himself end a round by announcing that he understands what the secret location is; if his guess is correct, only the spy scores points.
After a few rounds of guessing, suspicion and bluffing, the game ends and whoever has scored the most points is victorious!
Spyfall 2 features the same gameplay as Spyfall with two important changes: (1) Enough location cards are included that the upper player count is now twelve instead of eight, and (2) two spies can be found at each location, giving all of the non-spy players more of a challenge when it comes to tracking down who doesn't belong.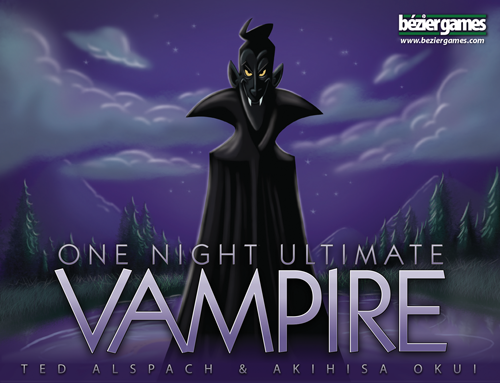 No moderator, no elimination, no werewolves.
In One Night Ultimate Vampire, the sun has just set, and vampires have descended on your sleepy little town, slowly turning the villagers into even more vampires. Fortunately, the village has several residents with special powers, with most willing to help eliminate this fanged menace!
One Night Ultimate Vampire is a fast game for 3-10 players in which everyone gets a role: The nefarious Vampire, the well-meaning Cupid, the sneaky Assassin, or others, each with a special ability. In the course of a single evening, your village will decide who among them is a vampire...because all it takes is finding one vampire to win!
One Night Ultimate Vampire can be combined with One Night Ultimate Werewolf.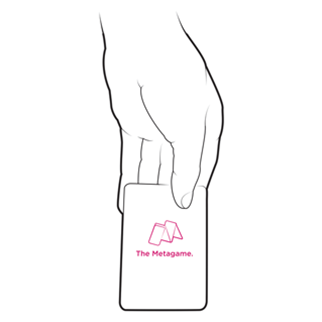 Everybody's got an opinion.
The Metagame
gives you a chance to exercise your smartest and most ridiculous opinions on just about everything: music and movies, fine art and fashion, junk food and videogames. It's a card game where you do what you already love to do with your friends: talk about culture. There's not just one way to play - The Metagame comes with six unique games. Each one makes use of both types of cards in The Metagame deck:
CULTURE CARDS feature a single cultural object or icon, from the Mona Lisa to Ms. Pac-Man.
OPINION CARDS say things like "Which feels like first love?" or "Best reminder of our mortality."
Some of the games get you debating, and some are more strategic. Some are best for a handful of players and others are designed for dozens of them.
The six games are:
Matchmakers: match your culture cards to the right opinion cards
History 101: put everything in the right chronological order
Debate Club: argue to the critics for your hilarious opinion
Head to Head: a fast-paced race to get your cards out first
Massively Multiplayer Metagame: for big parties and events
Metaquilt: a tricky combination of strategy and discussion
You don't usually find games where players have debates like: Which is more fundamentally misunderstood - Fox News or the rainbow flag? The Metagame covers every possible kind of design, media, and art and helps you see culture in new ways. We've played The Metagame at hardcore tabletop game conferences and in dimly lit hipster bars. The Metagame works in just about any social setting - just pick the game variation that suits your group and situation the best.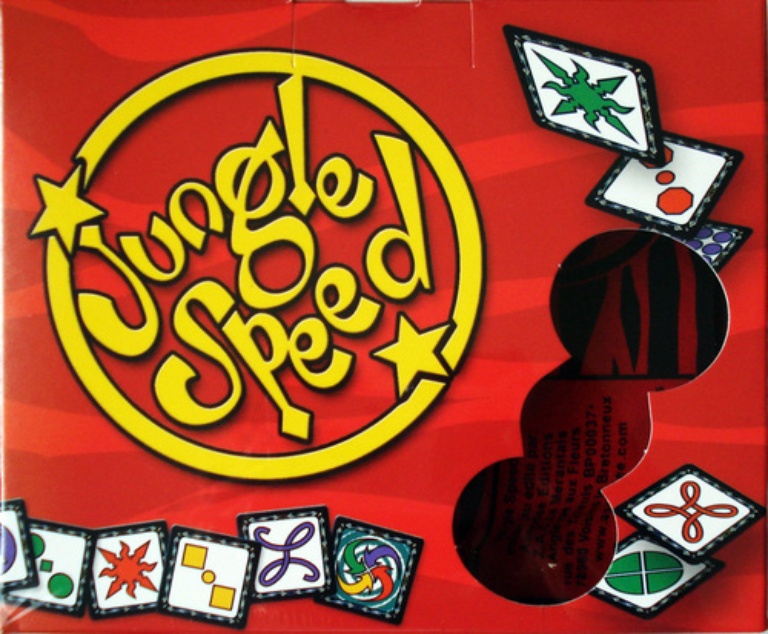 In Jungle Speed, you must rely on your keen sense of observation and quick reflexes. It requires a steady hand -- which can be hard to maintain during the many fits of maniacal laughter! The wooden Totem sits in the middle of the table, waiting for the player with the fastest reflexes to snatch it up and win the game.
Each player is dealt a hand of cards. In order to win you must be the first player to get rid of all of your cards. Each turn, all of the players reveal one of their cards. If two cards are identical, those players must make a grab for the Totem. The faster player then gives their cards to their unfortunate adversary.
To add to the difficulty, certain cards are almost identical, which can trick a hapless player into grabbing the Totem by mistake -- a grave error. Other cards force all players to make a grab at once, change the method of play, or otherwise add to the difficulty.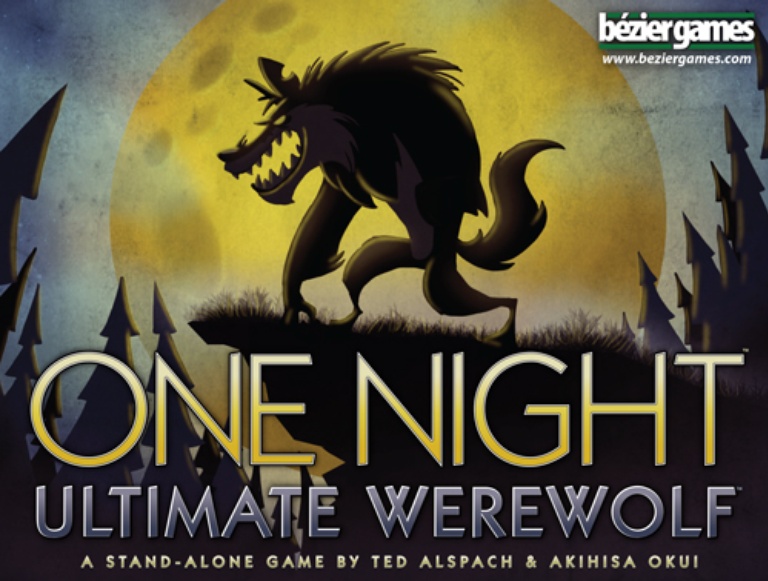 No moderator, no elimination, ten-minute games.
One Night Ultimate Werewolf is a fast game for 3-10 players in which everyone gets a role: One of the dastardly Werewolves, the tricky Troublemaker, the helpful Seer, or one of a dozen different characters, each with a special ability. In the course of a single morning, your village will decide who is a werewolf...because all it takes is lynching one werewolf to win!
Because One Night Ultimate Werewolf is so fast, fun, and engaging, you'll want to play it again and again, and no two games are ever the same.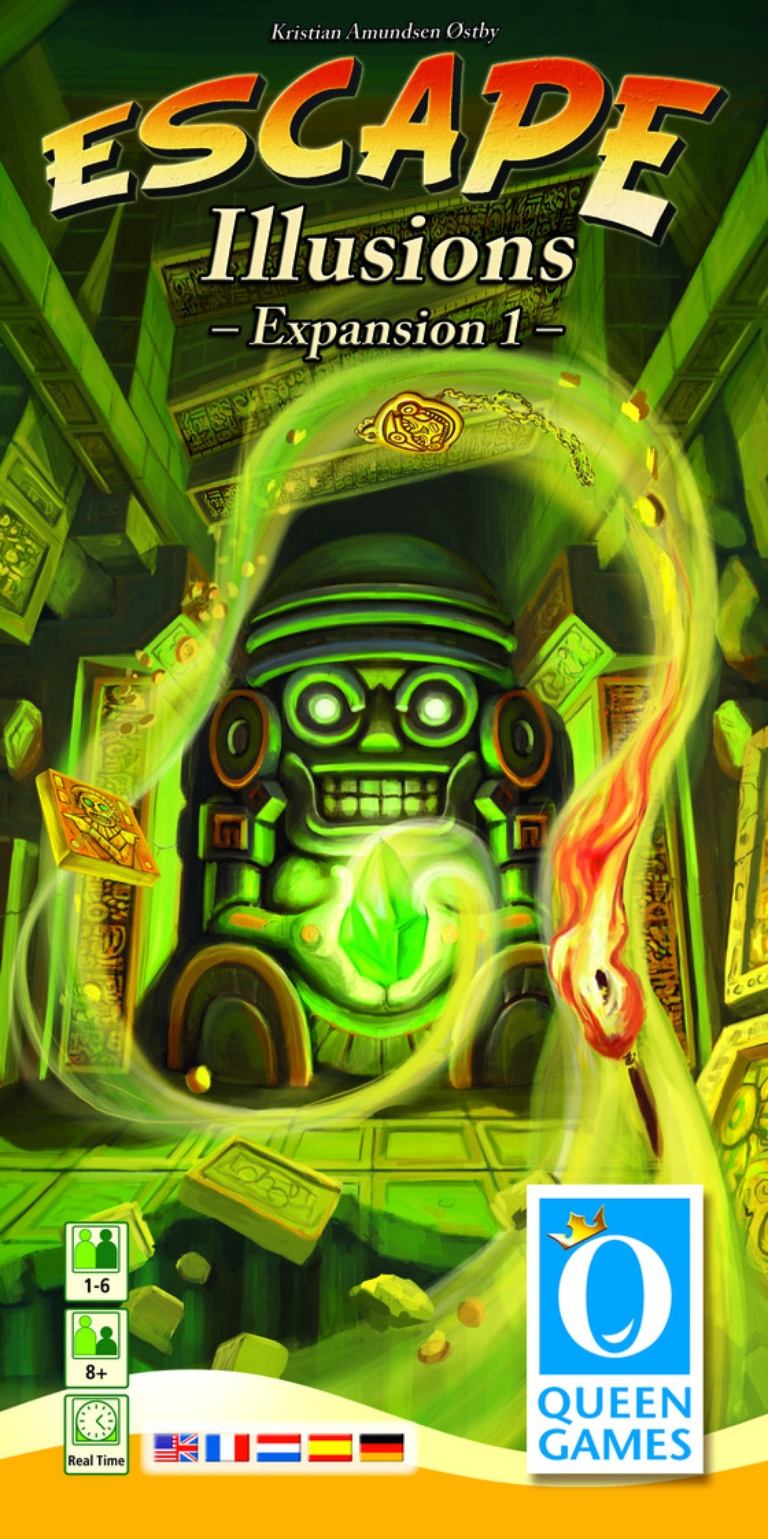 Escape: Illusions includes two new modules for the Escape base game that can be used individually or mixed with any other available modules.
The "Illusion Chambers" module consists of six chamber tiles that replace the tiles with only one magic gem in the basic game. After players return to the starting chamber during the game – something they must do twice in order to avoid losing a die – all illusion chambers in play are removed and returned to the bottom of the tile deck. Hopefully you already completed your business in any section of the temple now disconnected from the rest!
The "Special Chambers" module consists of six new chamber tiles, divided as follows:
Three linked chamber tiles that allow you to activate magic gems, thereby making it easier for the adventurers to escape the temple – but the gems can be activated only if players are in two separate such chambers at the same time.
Two double chamber tiles that consist of a front and back room, with access to the back room being available only if you add tiles to the temple and snake around to the back. Why do you want to reach this room? More opportunities to activate magic gems and ease your way out of the temple.
One treasure chamber tile, containing a chalice that adventurers must bear to the exit tile. If they fail to do so, they lose the game – even if they otherwise would all escape!
Components for a sixth player are included, as well as two copies each of one new curse card ("Soul Exchange") and one new treasure tile ("Large Torch").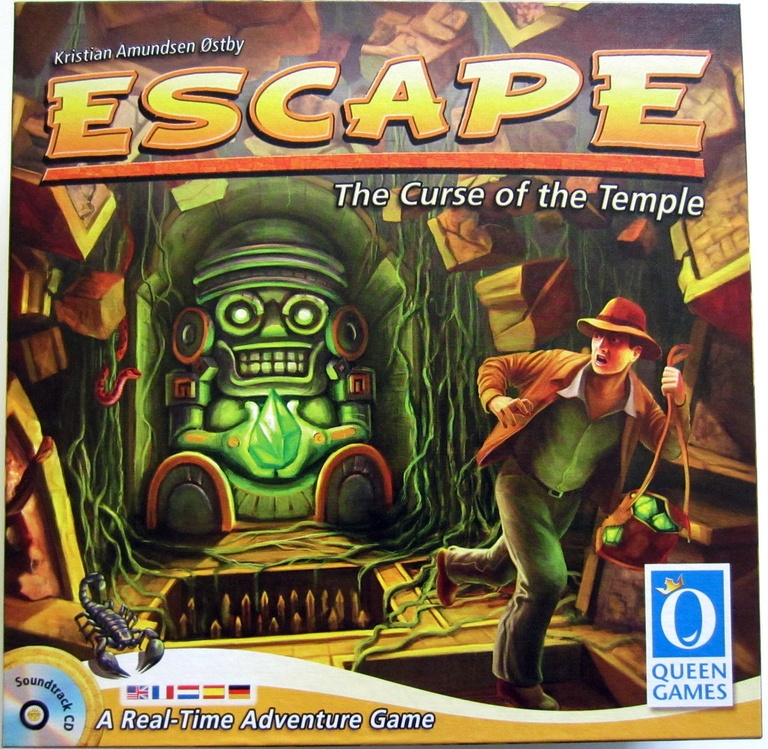 You are a team of adventurers – trapped in a cursed temple. Together you must activate the magic gems in the temple chambers in order to banish the curse.
Look out for one another. Some tasks can be accomplished only as a team – and you have only 10 minutes before the temple collapses!
Escape is a cooperative real-time game, that is not played in rounds. Instead, each player rolls as quickly and as often as he can with his five dice.
The dice determine your fate:
Discover the different temple chambers by rolling the correct dice combinations. Take care, though, because if you fall under the spell of the Black Mask, you'll need the help of the Golden Mask and your team-mates in order to keep moving!
Act together:
If several adventurers are together in one chamber, you'll activate more magic gems faster!
Two modules make Escape even more exciting: The modules "Curses" and "Treasures" make gameplay even more varied. The treasures aid you whereas the curses make escape more difficult. After all, an adventurer who is unable to talk or who must roll his dice with one hand stuck on top of his head will have a tough time working with his team!
The 10-minute soundtrack enhances the exciting atmosphere of the temple adventure!