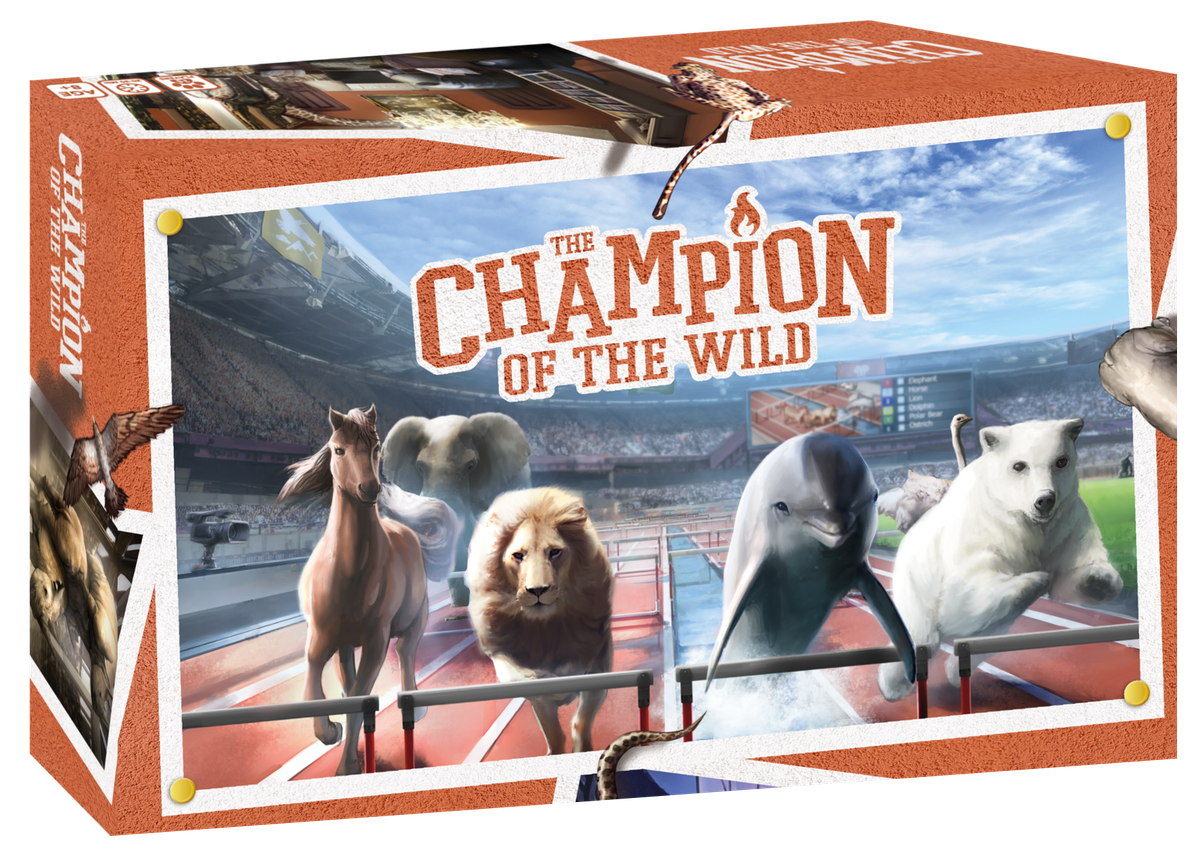 Available direct from
https://championofthewild.com/
The Champion of the Wild, formerly known as The Animal Games, is a light-hearted card-based social game for 3-8 players based on the following theme:
Players have attained super-stardom and handsome riches over many years due to their innate ability to communicate with and to coach animals of all different species. Now the greatest animal coaches from around the world (the participating players) have gathered for the ultimate test of their training prowess to see who will become The Champion of the Wild.
Three events are first selected - one from each of five different categories (speed, power, endurance, technical and team). These events can be any measurable activity, examples including the 100m sprint, high jump, ballroom dancing and hide-and-seek. Players are then dealt a hand of animal cards to choose from and must select one single animal to represent them across all three events, competing against the animals selected by the other players. These events are then played out by way of animated discussion and players then vote according to their opinion on the likely rankings (excluding their own animal when voting). Votes score points for the appropriate players and the player with the most points after three events wins.
The Champion of the Wild combines the fun and laughter of a conversation-driven social game with the challenge of strategic thinking required for animal selection and event tactics.
Who will be your champion?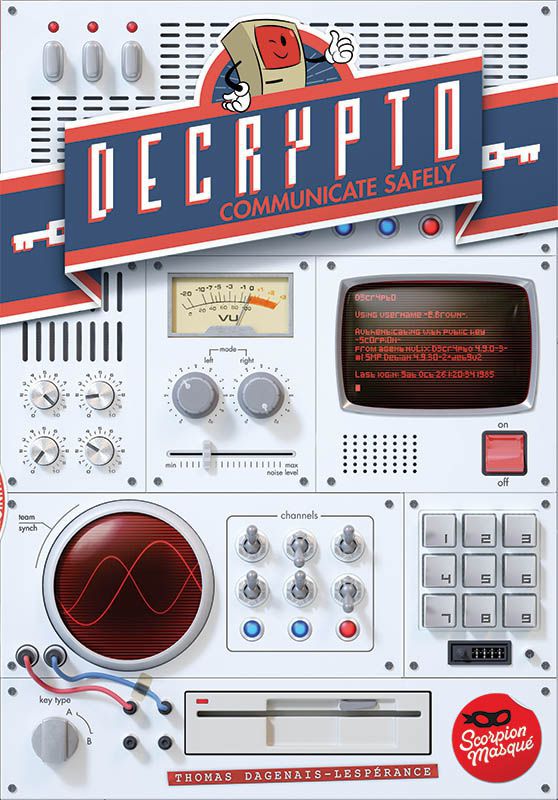 A new party game with codes! Teammates try to transmit secret codes without letting the opposing team intercept them.
In more detail, each team has their own screen, and in this screen they tuck four cards in pockets numbered 1-4, letting everyone on the same team see the words on these cards while hiding the words from the opposing team. In the first round, each team does the following: One team member takes a code card that shows three of the digits 1-4 in some order, e.g., 4-2-1. They then give a coded message that their teammates must use to guess this code. For example, if the team's four words are 'pig', 'candy', 'tent', and 'son', then I might say 'Sam-striped-pink' and hope that my teammates can correctly map those words to 4-2-1. If they guess correctly, great; if not, we receive a black mark of failure.
Starting in the second round, a member of each team must again give a clue about their words to match a numbered code. If I get 2-4-3, I might now say, 'sucker-prince-stake'. The other team then attempts to guess our numbered code. If they're correct, they receive a white mark of success; if not, then my team must guess the number correctly or take a black mark of failure. (Guessing correctly does nothing except avoid failure and give the opposing team information about what our hidden words might be.)
The rounds continue until a team collects either its second white mark (winning the game) or its second black mark (losing the game). Games typically last between 4-7 rounds. If neither team has won after eight rounds, then each team must attempt to guess the other team's words; whichever team guesses more words correctly wins.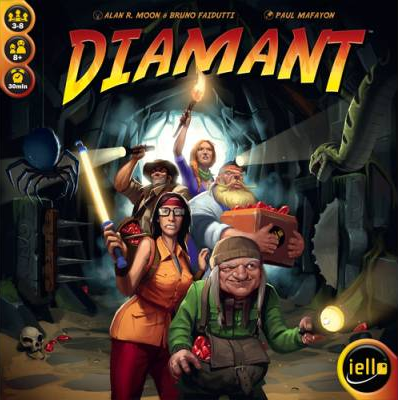 Diamant is a quick, fun game of push-your-luck. Players venture down mine shafts by turning up cards from a deck, sharing the gems they find on the way down. Before the next card is turned up, you have the chance to leave the mine and stash your finds, including any gems you get on the way out. Why would you leave? Because the deck also contains hazards: scorpions, snakes, poison gases, explosions and rockfalls. When a duplicate hazard turns up (such as a second scorpion), anyone left in the shaft has to flee for safety and loses all the gems they got this turn. The trick is, the more players that leave, the bigger your share in the next card will be.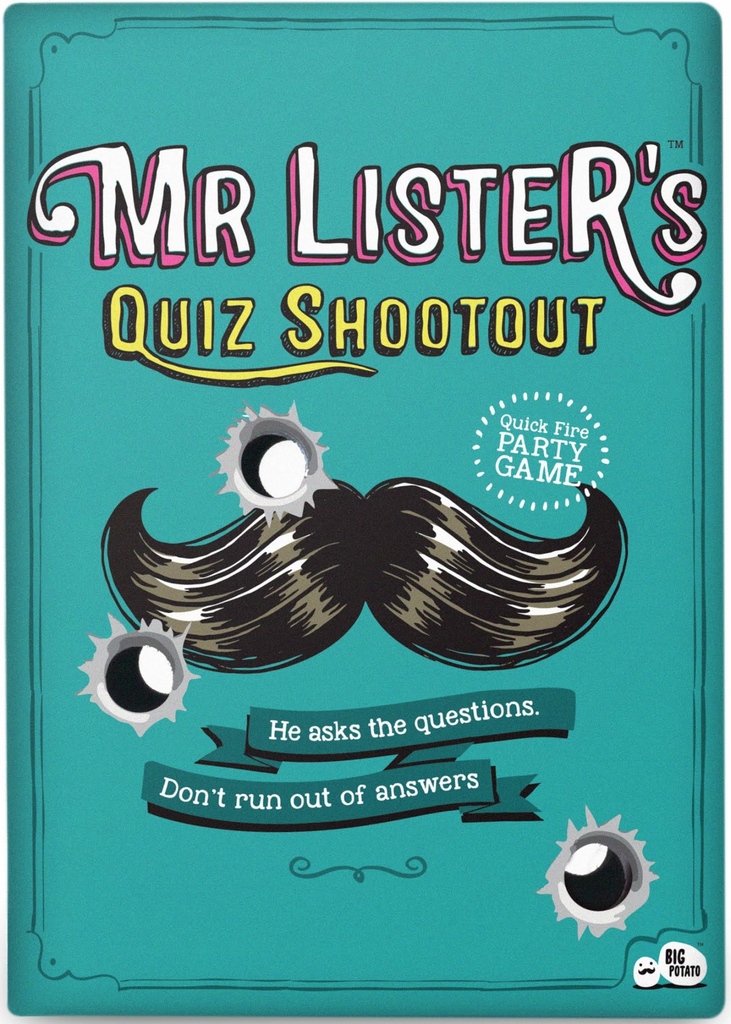 Hey quiz slingers!
If you love ya quizzes and like yer lists, then welcome to my game - it's like an old-style Western shootout but with brains for guns.
First, someone's gonna ask y'all a question with a ton of correct answers. Find an answer and live to play another day. Get it wrong, and you're out. But find a golden answer and you're into the shootout.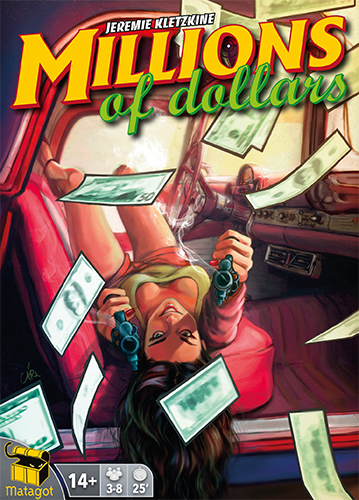 Every division of booty is a tense situation. Will you be the Mastermind, the Driver, or the Snitch?
Millions of Dollars is a hidden role game with no elimination and non-random distribution of roles in which you negotiate and talk your way into as much loot as possible. Choose your role well and disguise your duplicity until the moment that you can play your cards just right...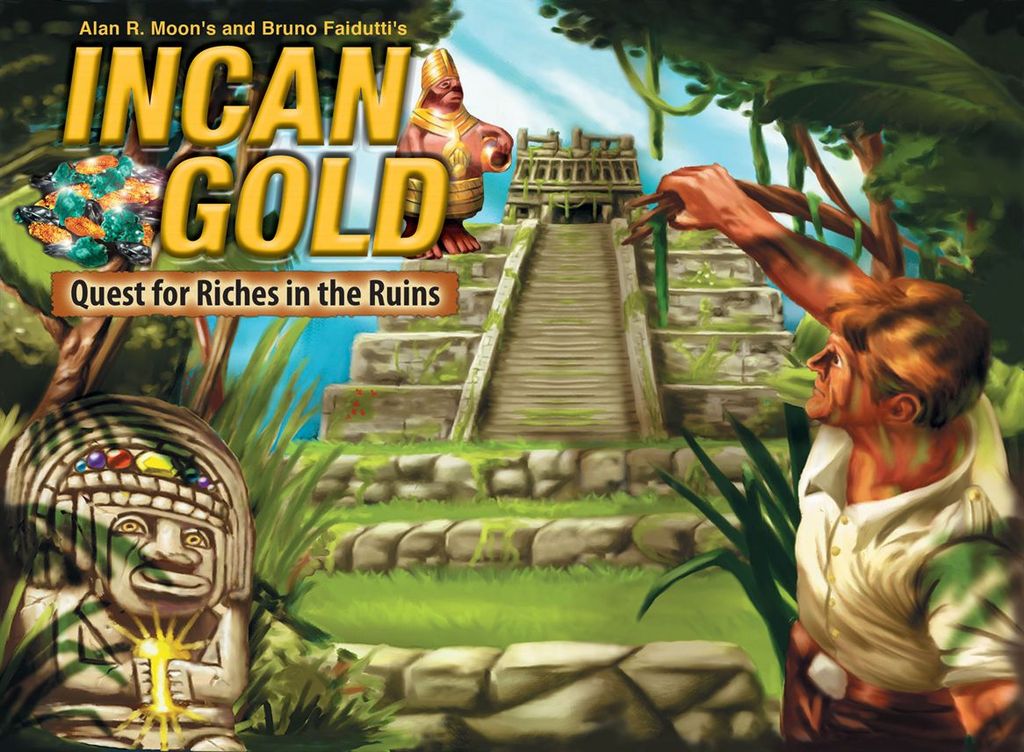 Incan Gold is a quick, fun and tense game in which you and other adventurers explore an old Incan temple in search of gold and treasure. In each of the five rounds, you secretly choose if you want to continue exploring the temple in search of more treasure or retreat to the safety of your camp with your share of the treasure that has been discovered so far.
Each time that an explorer braves new territory, more treasure or a danger appears. When a second card of the same type of danger is turned over, all exposed treasure is buried, leaving the remaining adventurers with nothing. Do you flee the dangerous temple with your portion of the treasure that has been uncovered so far or do you venture into the exciting temple in search of more hidden valuables?
After five rounds of exploration, whoever has the most treasure is the ultimate explorer and winner!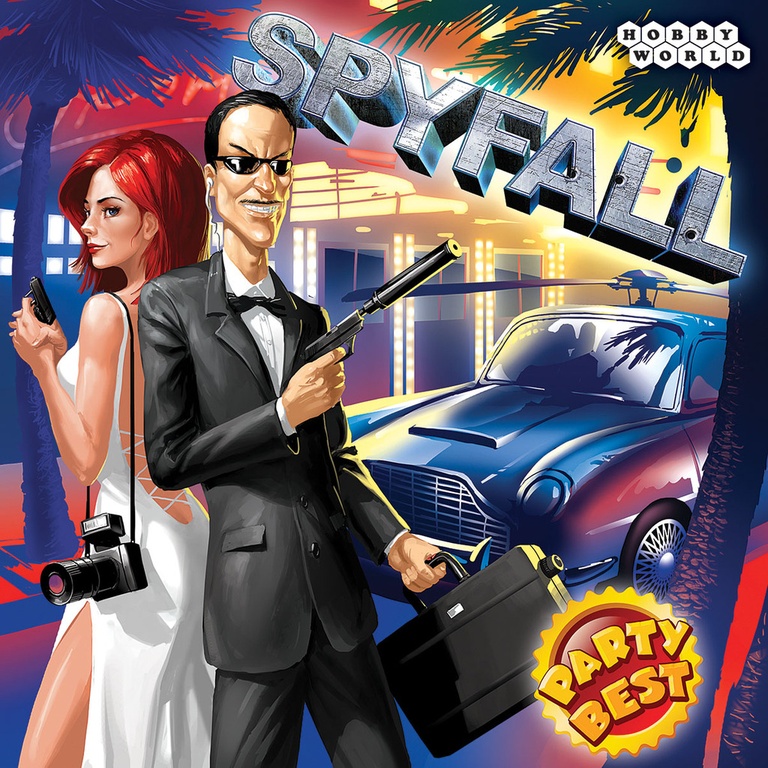 Spyfall is a party game unlike any other, one in which you get to be a spy and try to understand what's going on around you. It's really simple!
Spyfall is played over several rounds, and at the start of each round all players receive cards showing the same location — a casino, a traveling circus, a pirate ship, or even a space station — except that one player receives a card that says "Spy" instead of the location. Players then start asking each other questions — "Why are you dressed so strangely?" or "When was the last time we got a payday?" or anything else you can come up with — trying to guess who among them is the spy. The spy doesn't know where he is, so he has to listen carefully. When it's his time to answer, he'd better create a good story!
At any time during a round, one player may accuse another of being a spy. If all other players agree with the accusation, the round ends and the accused player has to reveal his identity. If the spy is uncovered, all other players score points. However, the spy can himself end a round by announcing that he understands what the secret location is; if his guess is correct, only the spy scores points.
After a few rounds of guessing, suspicion and bluffing, the game ends and whoever has scored the most points is victorious!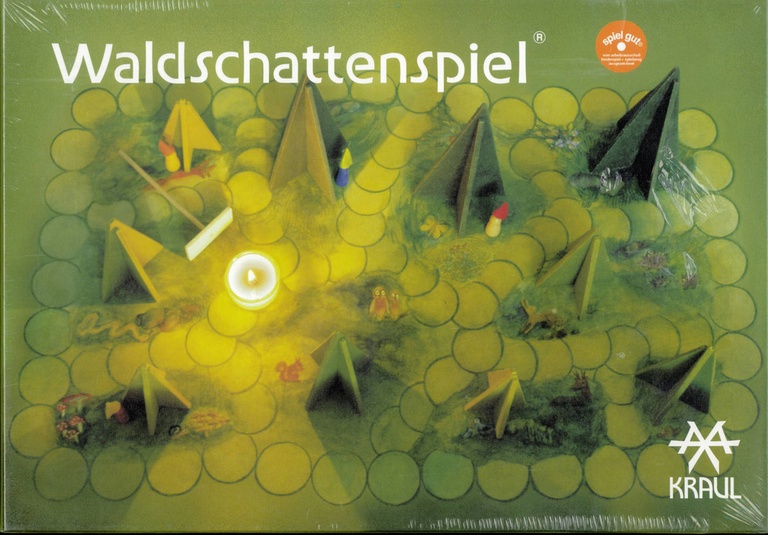 The dwarves hide in the shadows of the trees from the wandering light. The burning tea-light (adult player) moves through the dark forest and tries to find the small dwarves in their hiding places. If a dwarf is touched by the light, it is frozen and not allowed to move anymore. The other dwarves try to release it. To achieve this they must wait until the light has gone far enough so that one of them can join it in the shadow. All the dwarves try to unite under one tree while the candle tries to freeze the dwarves. Who will win, the light or the dwarves?
Shadows in the Woods is a cooperative game for players 5 years and up. An adult player for games where children play is required, due to the open flame of the candle. An alternative version included in the rules is intended for players 7 years and up, and is quite a bit more challenging. The alternative version does not require an adult player, but does require adult supervision. (The light doesn't move.)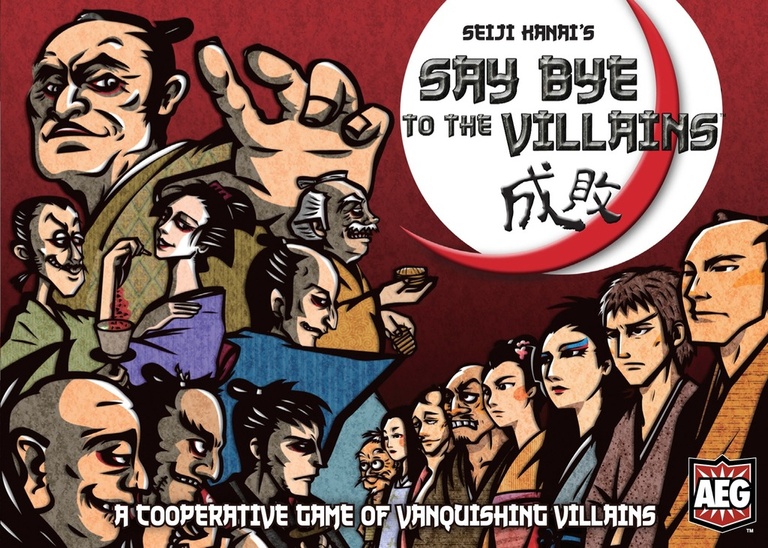 Designed by Seiji Kanai, the game is about valiant heroes, called vanquishers, who stand up to protect good people from evil villains beyond the reach of the law. Vanquishers work in the shadows, cutting down evil wherever it can be found, but they must be quick to discover the villains' secrets and constantly hone their martial skills in order to succeed.
Each player takes on the role of a vanquisher, punishing villains the law cannot reach. But each villain holds several secrets. Some are guarded by many followers. Others threaten to kill hostages. And still others are perhaps not as evil as they appear. The vanquishers themselves are not invincible; ambushing a villain in a dark alley with no preparation could result in defeat as easily as victory. Each vanquisher holds a hand of cards representing that vanquisher's special abilities and preparations for battle. Players must use these cards to learn the villains' secrets, and to strengthen their own blades of justice. But using abilities takes time, and time is precious when so much evil is about. You must cooperate with your fellow vanquishers lest you yourselves become the vanquished! Will the vanquishers defeat all of the villains, or will evil prevail?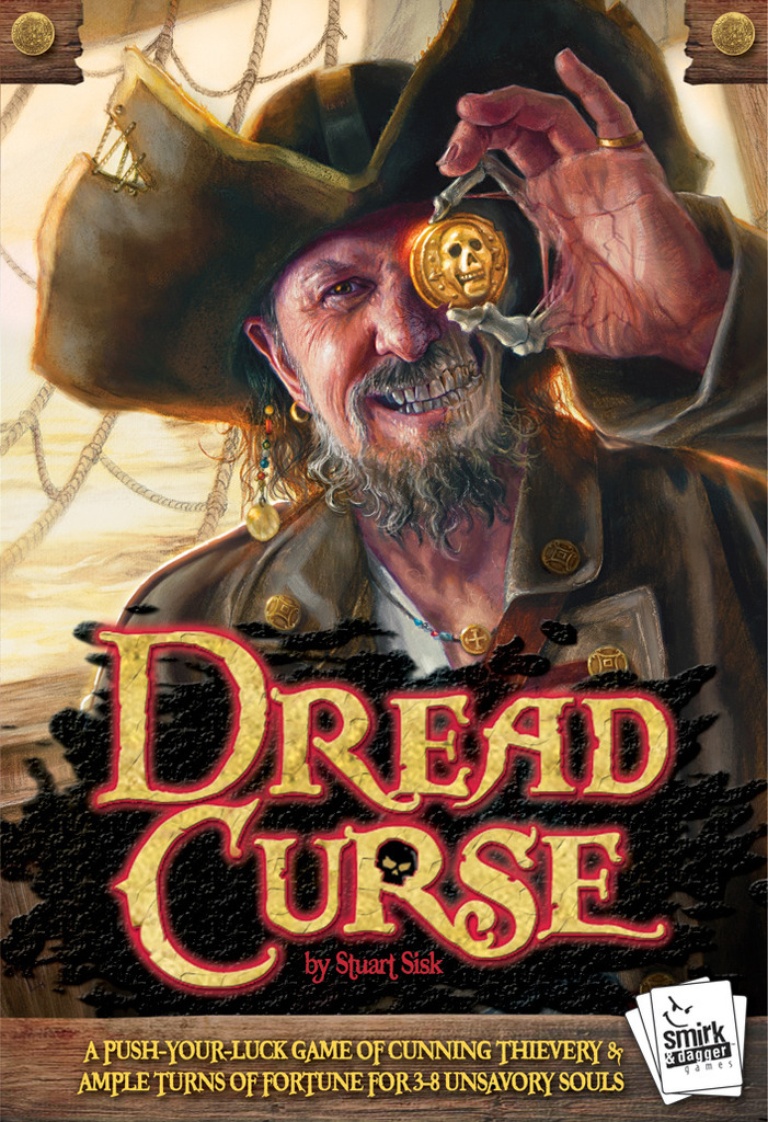 Dread Curse is a push-your-luck game of cunning thievery and ample turns of fortune.
 Play revolves around drawing loot from a cloth bag and stealing from the other pirates in order to gain the most valuable stash of treasure. Each turn, players reveal coins from their hidden cache to win the captaincy or one of the other seven crew assignments, each of whom are able to draw from the bag in a unique way or use a special "cheat" ability available only to that pirate. Stay in as long as you dare to grab more gold, but beware the Black Spot for if you end the game with it in your stash, you automatically lose.