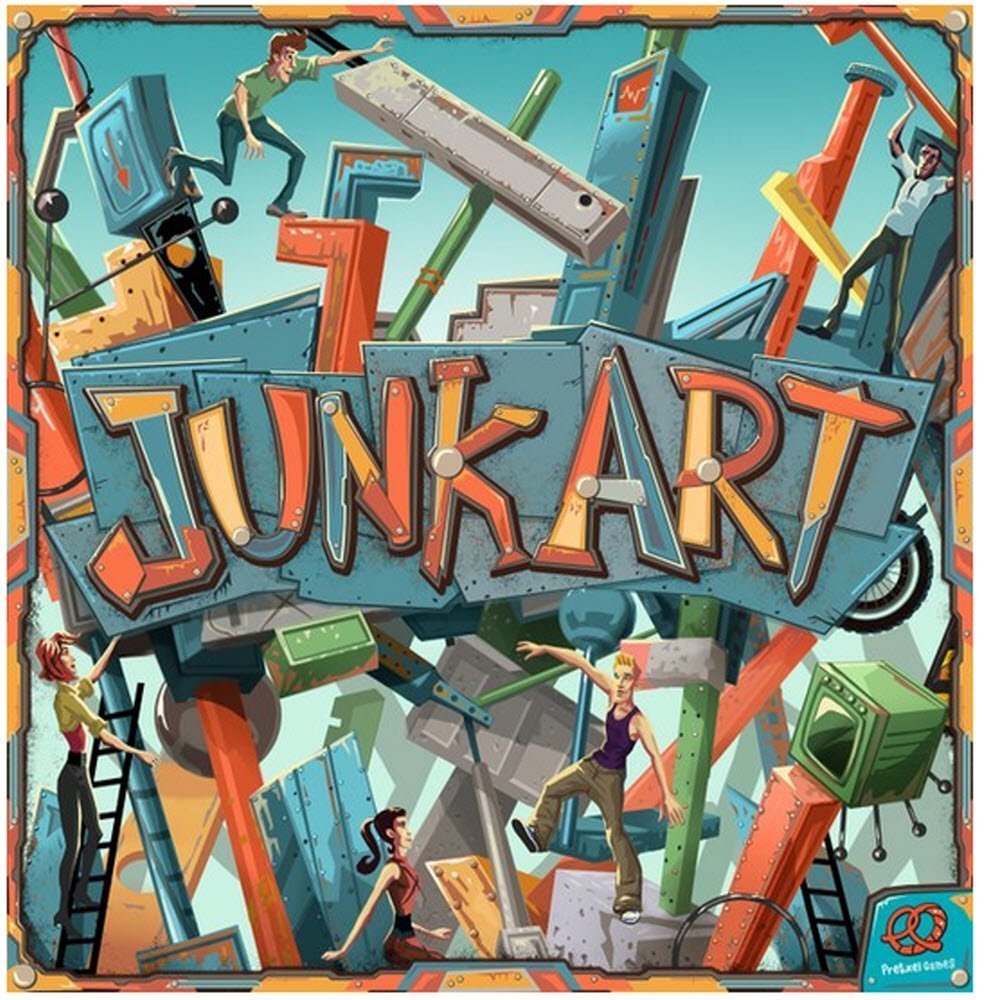 Junk Art challenges players to transform a collection of disparate junk into something meaningful, a construction of size and significance.
Junk Art contains over ten game different ways of playing and more than sixty large, colorful wooden components. It challenges players to create large, stable and cannily-built works of "art" from these pieces, according to the rules of whatever game mode they're playing. Some are collaborative, some are competitive and some are plain old chaos.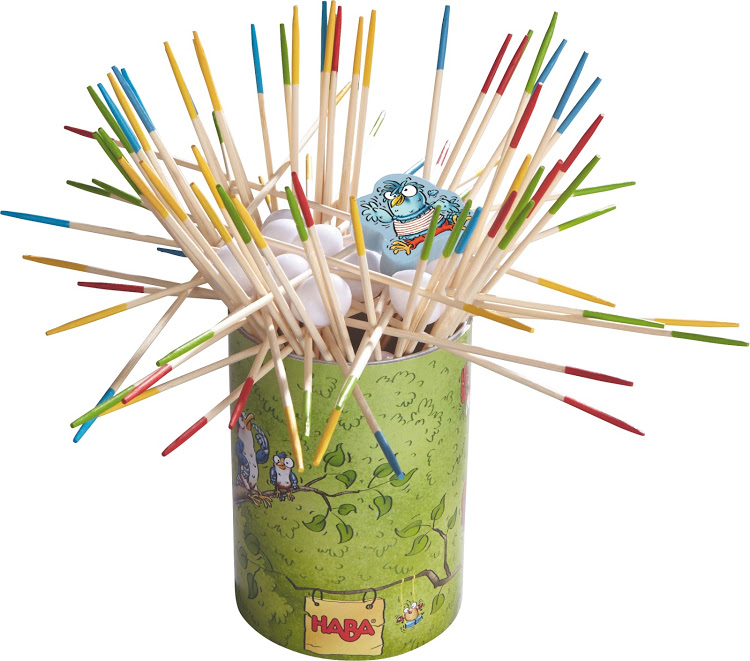 On your turn in Zum Kuckuck!, you take one standing stick and put it on the nest. If both ends of the stick have the same color, you may choose to lay an egg on it. Otherwise, you take another stick whose top color is the same as the hiding color of the previous one, up to three sticks. After laying an egg or putting the third stick with different colors, your turn ends. There are penalties for a stick touching the ground or eggs falling from the nest.
The first person to lay all of their eggs can then put the cuckoo on the nest and win the game.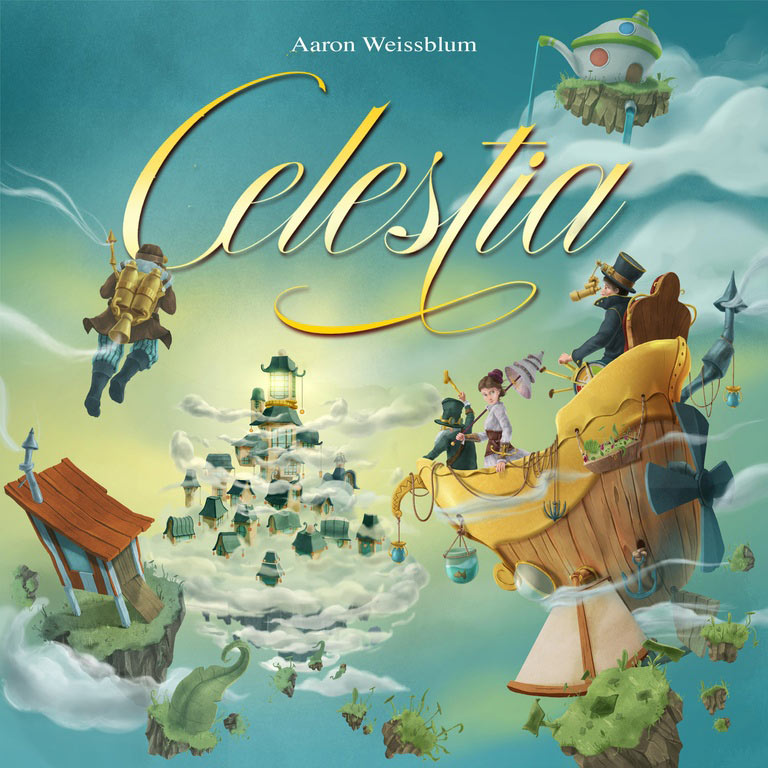 You get aboard an aircraft with an adventurers team to perform many trips through the cities of Celestia and recover their wonderful treasures. Your journey will not be safe, but you will attempt to be the most rich adventurer by collecting the most precious treasures!
At the beginning of a journey, all players place their pawns within the aircraft; the players start the game with 6 cards in the hand (or 8 depending on the number of players). At the beginning of each round, one player is chosen to be the captain of the trip and he throws from 2 to 4 dice so as to determine the weather that he should face (fog, lightning bolts, killer birds or pirates). He must then play the appropriate cards to go on the journey and reach the next city (a compass, a lightning arrester, a foghorn or even canons).
Before that the captain plays the appropriate cards, each player has to decide whether or not he will stay within the aircraft:
– to get off is to ensure the victory points by exploring the city;
– to stay is to try a trip upto the next city in order to catch more precious treasures.
But beware: if the captain is unable to discard the appropriate cards, it is the crash down! All remaining passengers get back empty-handed and a whole new journey beginswith all players on board.
During his journeys, each explorer can try to pull out of the game with fabulous objects ( a jetpack, astronomy glasses… ) or by changing the trip ( modifying the travel or abandoning an explorer in the city ).
As soon as a player earns treasures valuable for at least 50 points, the game is over.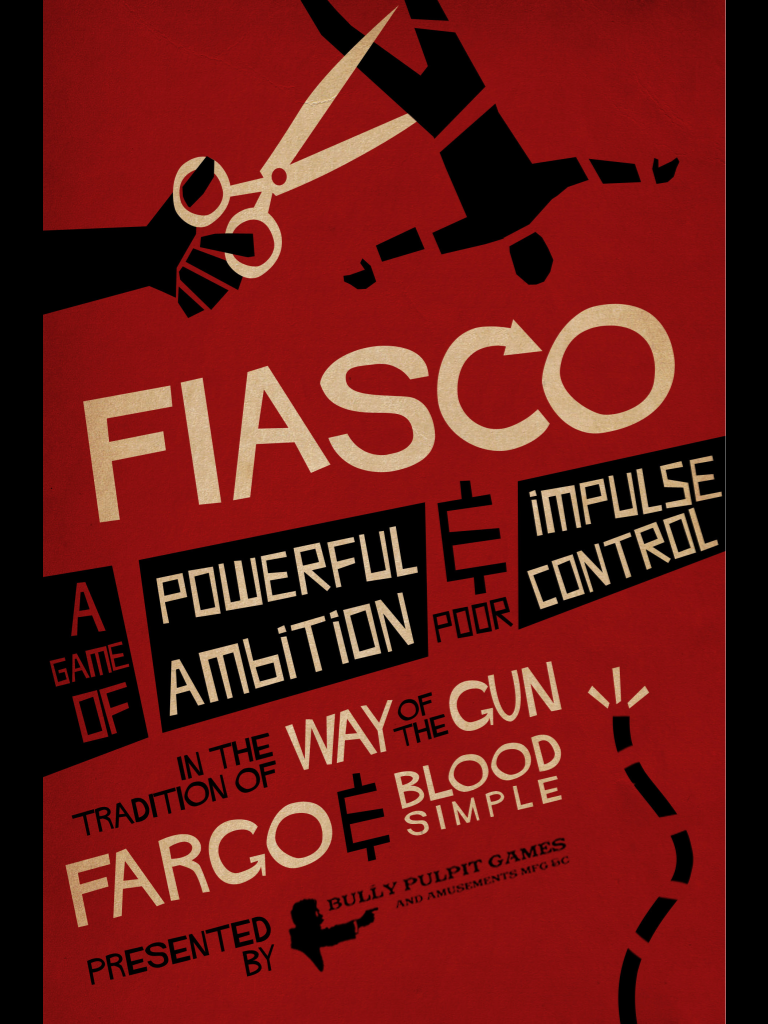 Fiasco is inspired by cinematic tales of small time capers gone disastrously wrong – inspired by films like
Blood Simple, Fargo, The Way of the Gun, Burn After Reading
, and
A Simple Plan
. You'll play ordinary people with powerful ambition and poor impulse control. There will be big dreams and flawed execution. It won't go well for them, to put it mildly, and in the end it will probably all go south in a glorious heap of jealousy, murder, and recrimination. Lives and reputations will be lost, painful wisdom will be gained, and if you are really lucky, your guy just might end up back where he started.
FIASCO is an award-winning, GM-less game for 3-5 players, designed to be played in a few hours with six-sided dice and no preparation. During a game you will engineer and play out stupid, disastrous situations, usually at the intersection of greed, fear, and lust. It's like making your own Coen brothers movie, in about the same amount of time it'd take to watch one.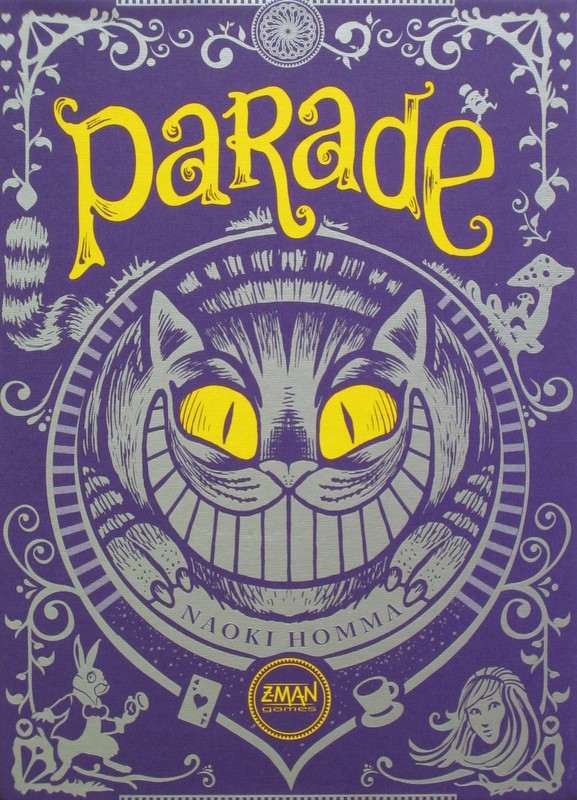 The characters of Alice in Wonderland are having a Parade!
All players are producers of this parade. Characters from Lewis Carroll's books such as Alice, The White Rabbit, and The Mad Hatter are steadily invited to join this weird procession.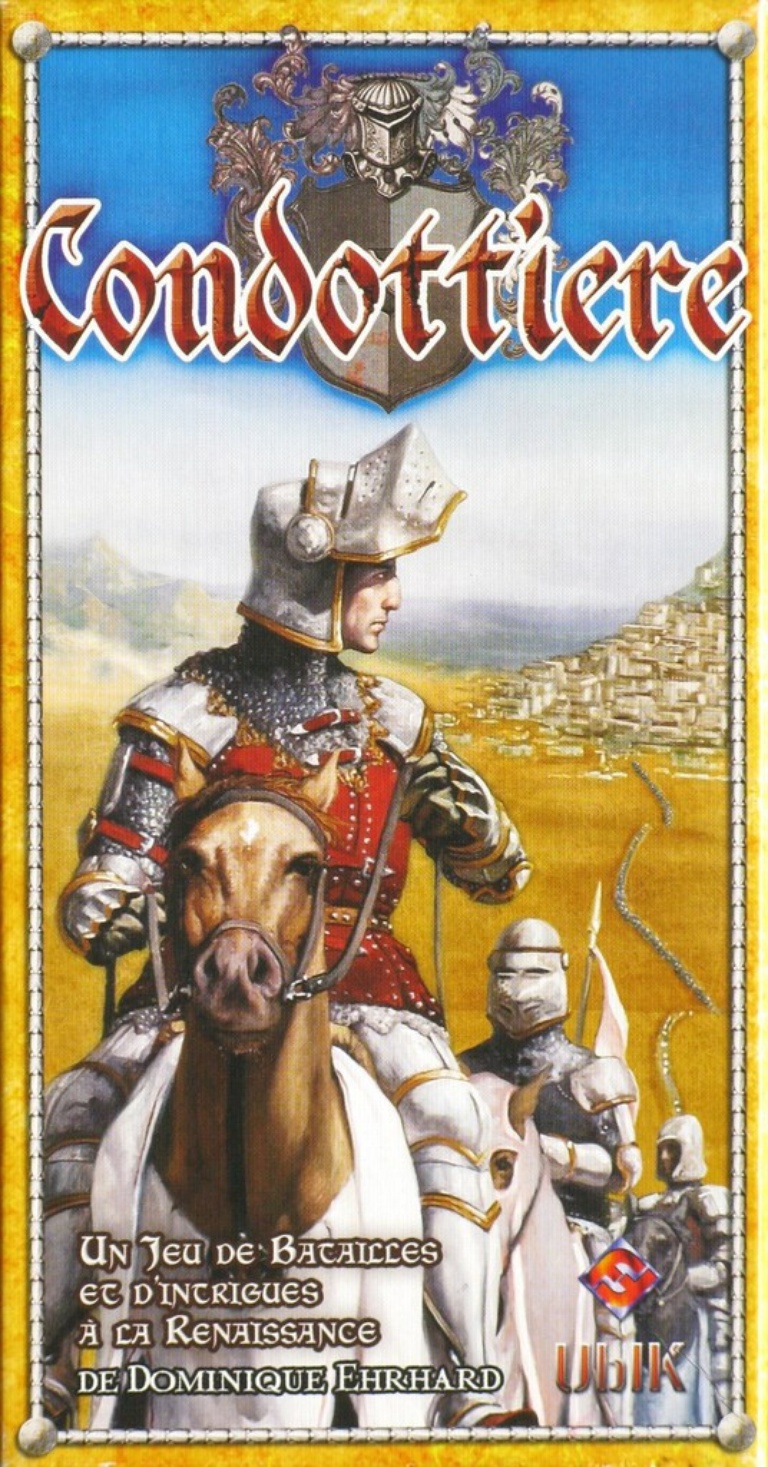 "None of the principal states were armed with their own proper forces. Thus the arms of Italy were either in the hands of the lesser princes, or of men who possessed no state; for the minor princes did not adopt the practice of arms from any desire of glory, but for the acquisition of either property or safety. The others (those who possessed no state) being bred to arms from their infancy, were acquainted with no other art, and pursued war for emolument, or to confer honor upon themselves." –Niccolò Machiavelli, History of Florence Book I, Chapter VII
It is 13th century Italy. Trade flourishes between the city-states and the Levant. Venice, Florence, and Genoa are bursting with wealth. However, each city-state is also plagued with a weak national army, leaving them defenseless against invasion from their envious neighbors. Enter the Condottiere.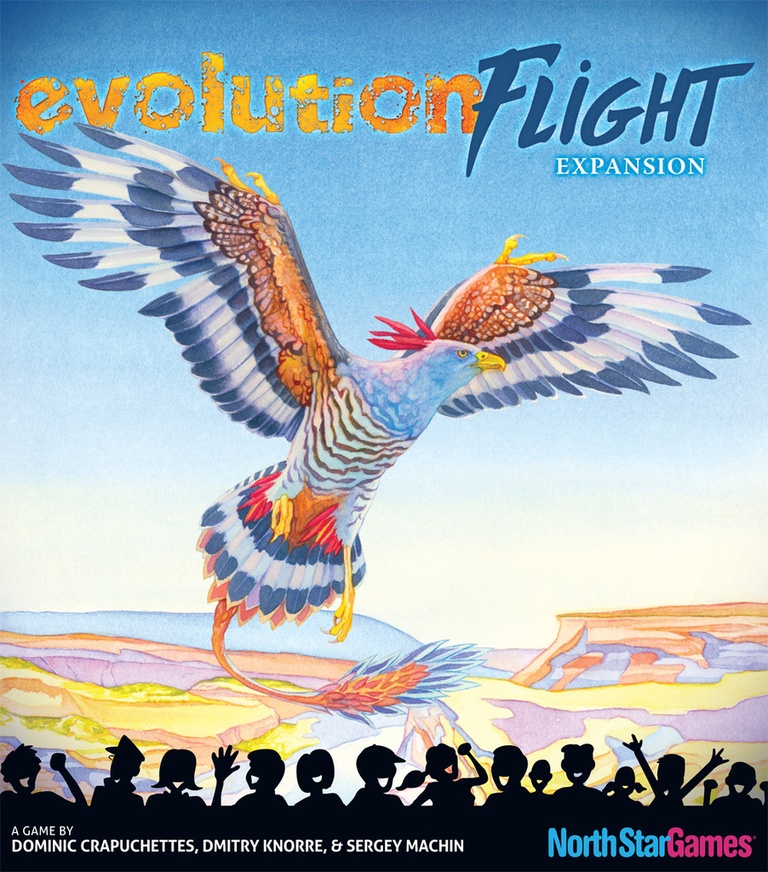 Evolution: Flight, an expansion for Evolution, introduces avian species into the ecosystem. Now your species can swoop on unsuspecting prey from above, fly away from predators, or soar to a new location when food is scarce. Will the ability to fly propel you to new heights? Or will it bring your downfall? Explore the expanding Evolution world and find out!
With this expansion, you may now choose between creating a normal species and creating a flying species! The expansion changes tactics and strategy dramatically, but it doesn't change the base game's core mechanics, so it's a snap to learn.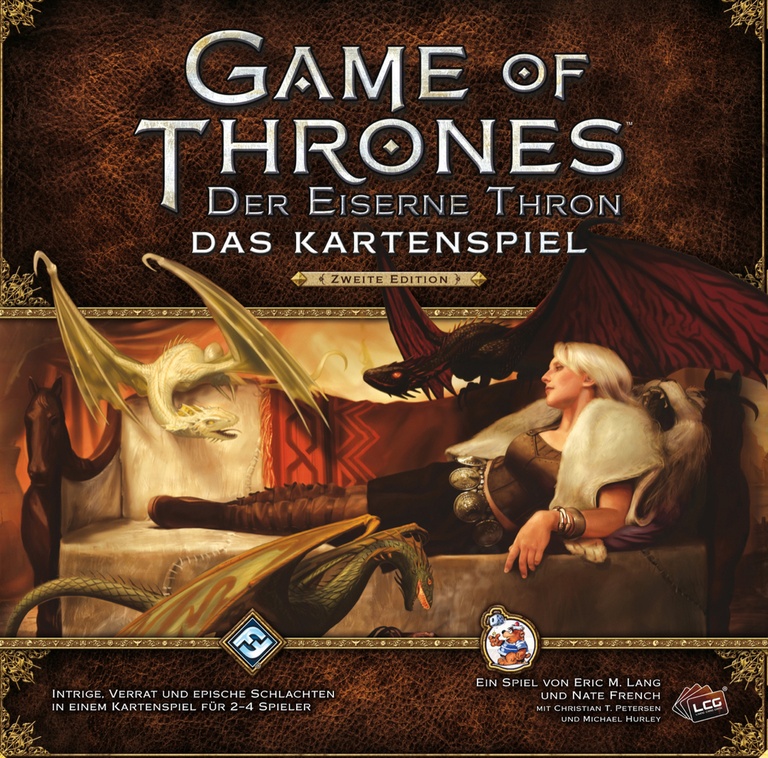 In A Game of Thrones: The Card Game, the warring factions of Westeros await your command, inviting you to engage in a life-or-death struggle. In every game, you select devious plots and challenge your opponents on the field of battle, through back alley intrigue, and in the political arena. Whether you play a against a single opponent, in a game known as a joust, or engage in a battle of three or more players, called a melee, winning challenges against your opponents is the way to victory.
Your ultimate goal in A Game of Thrones: The Card Game is to gain influence over the greatest seat of power in Westeros: the Iron Throne! To achieve this goal, you must call upon iconic characters, such as Tywin Lannister, Robb Stark, Stannis Baratheon, Daenerys Targaryen, Euron Crow's Eye, The Red Viper, and dozens of others. You must maneuver the members of your House and your allies in a constant battle to gain power. The first player to claim fifteen power wins!
In the game, each player has two decks: a draw deck and a plot deck. Your draw deck contains the tactical elements of your struggle, including the characters, locations, attachments, and events that you call upon in your struggle to claim the Iron Throne. You can command characters from throughout A Song of Ice and Fire, and you can march forth from the icy walls of Winterfell or muster your armies around Casterly Rock. You may even equip your characters with storied weapons, such as the Valyrian steel blades Ice or Widow's Wail. The draw deck holds these powerful characters, locations, attachments, and events. This deck is randomly shuffled and players draw their hands from this deck.
At the start of each round, each player simultaneously chooses and reveals one of the plot cards from their individual seven-card plot decks. Your plot for a round determines how much gold you can spend on cards, which player starts with initiative, and how powerful your challenges are. Your plot also bears a reserve value, which determines how many cards you can keep in your hand past the end of the round. Plots may also offer powerful effects that can trigger when the plots are revealed or persist to shape the entire game round. You may scorch the earth with a deadly wildfire assault, or call upon all players to support the faith of the Seven.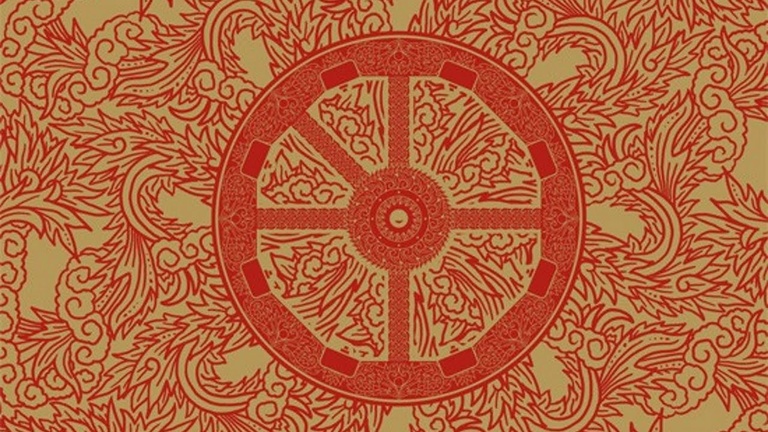 Burning Wheel is an award-winning fantasy roleplaying game in which players take on the roles of vibrant, dynamic characters whose very beliefs propel the story forward. Starting with a simple D6 dice pool mechanic, this game intuitively builds on its core concepts. The rules detail dramatic systems for task resolution, advancement, trials of belief, tests of nerve, searing social conflict, dangerous sorcery, miraculous faith, and brutal, gut-wrenching martial combat.
Behind the dice, your decisions drive the game's systems. Their choices tangibly affect every outcome—from glorious victory to ignominious defeat. But there are consequences to every decision, ramifications to every action. The choices you make close off one path, while opening another. This philosophy underpins the character creation system for Burning Wheel. And it's not just a matter of pushing a point here, or nudging a number there: As soon as a player decides to make a character in Burning Wheel, he is confronted with decisions about the character's past, ethics, beliefs, scars, goals and dreams. Questions whose answers affect not only the player's character, but the shape of the story as a whole. Burning Wheel is presented in an easy-to-read writing style, with plenty of insight and advice from the designer. If you're not careful, Burning Wheel will change the way you play roleplaying games. The Gold Edition combines both the Revised Edition's Burning Wheel and Character Burner. It has been reorganized for clarity and updated by the author.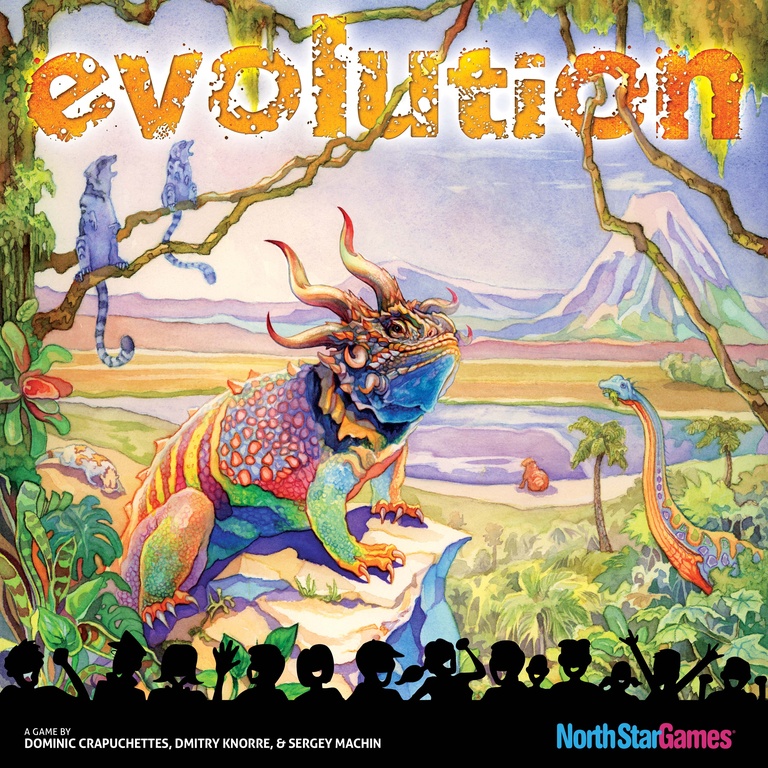 In Evolution, players adapt their species in a dynamic ecosystem where food is scarce and predators lurk. Traits like Hard Shell and Horns will protect your species from Carnivores, while a Long Neck will help them get food that others cannot reach. With over 4,000 ways to evolve your species, every game becomes a different adventure.
Evolution packs a surprising amount of variety for a game with simple rules. The variety comes from the synergies between the trait cards and from the different personalities at the table. Some players thrive on creating Carnivores to wreak havoc on their fellow players. Others prefer to stay protected and mind their own business. Evolution encourages both play styles by giving each of them multiple paths to victory. And it is the mix of play styles at the table that ultimately determines the eco-system in which the player are adapting. So gather your friends and see who can best adapt to the changing world around them.