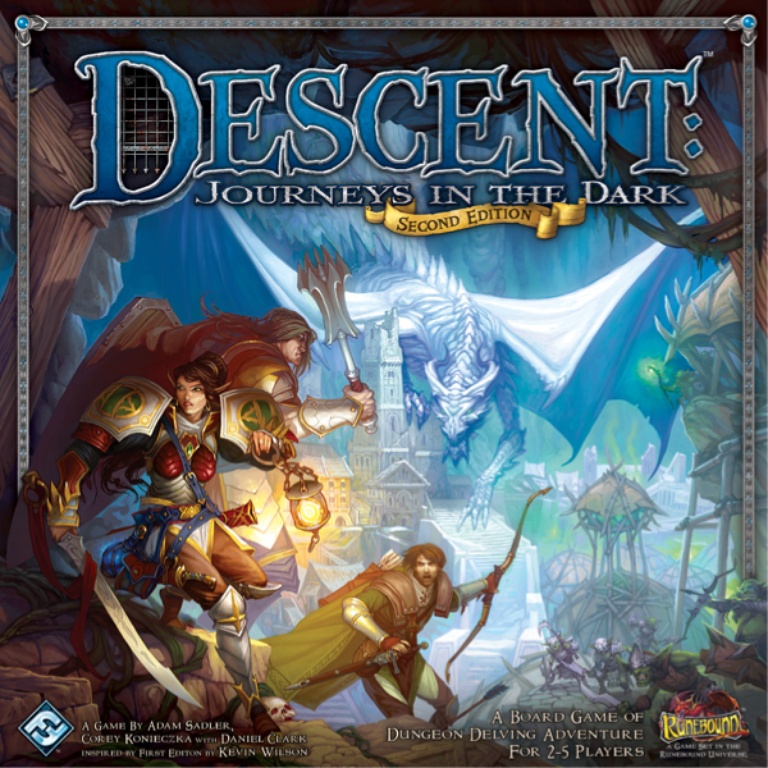 Descent: Journeys in the Dark Second Edition is a board game in which one player takes on the role of the treacherous overlord, and up to four other players take on the roles of courageous heroes. During each game, the heroes embark on quests and venture into dangerous caves, ancient ruins, dark dungeons, and cursed forests to battle monsters, earn riches, and attempt to stop the overlord from carrying out his vile plot.
Featuring double-sided modular board pieces, countless hero and skill combinations, and an immersive story-driven campaign, Descent: Journeys in the Dark Second Edition transports heroes to a vibrant fantasy realm where they must stand together against an ancient evil.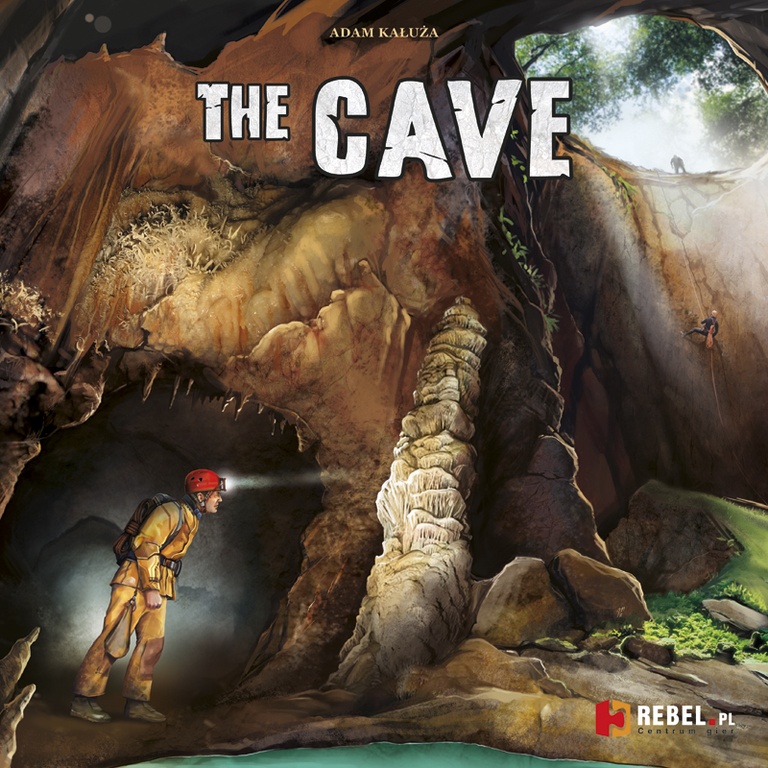 The Cave is a board game in which players take on the roles of speleologist teams, who are going to explore a newly discovered cave. Players start from a base and explore a cave tunnel after a tunnel, effectively building the cave (the board). They have to overcome steep descents, underworld lakes and very narrow passages. They will be given a chance to admire wonders of the underground like halls full of stalactites.
To make it all possible they must take right supplies with them, like ropes, oxygen and batteries. Many times they will have to go back to the base to plan a next move and replenish resources. When the cave is fully explored, the player, who made the biggest effort in the most spectacular way, wins the game.
Each turn players have five action points to use for moving, discovering new cave tiles, exploring them, and packing their backpacks when they go back to the starting base. They need ropes for descents, oxygen to explore underwater parts, and a camera to photograph underground wonders. Planning what to take with them is one of the most important things in the game. Each turn that their pawn is not in the starting base, players must use (i.e., throw out) one basic supply from their backpack; these costs, along with the expenditure of other supplies during exploration, forces them to return to the starting base a few times during the game. To keep them from having to carry everything, though, players can raise a camp somewhere in the tunnels where they can store some of the equipment.
The cave differs every game, so players have to be prepared for everything or they will lose time. Players earn points for exploring different tiles: underwater, wondrous, descents, and so on – but to win they'll need to acquire bonus prizes for exploring the most tiles of each type. This make decision-making during trips very difficult.
When the cave is fully explored, the player who made the biggest effort in the most spectacular way wins the game.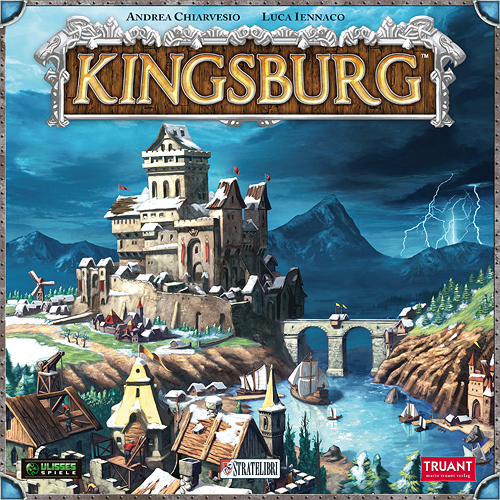 In Kingsburg, players are Lords sent from the King to administer frontier territories.
The game takes place over five years, a total of 20 turns. In every year, there are 3 production seasons for collecting resources, building structures, and training troops. Every fourth turn is the winter, in which all the players must fight an invading army. Each player must face the invaders, so this is not a cooperative game.
The resources to build structures and train troops are collected by influencing the advisers in the King's Council. Players place their influence dice on members of the Council. The player with the lowest influence dice sum will be the first one to choose where to spend his/her influence; this acts as a way of balancing poor dice rolling. Even with a very unlucky roll, a clever player can still come out from the Council with a good number of resources and/or soldiers.
Each adviser on the King's Council will award different resources or allocate soldiers, victory points, and other advantages to the player who was able to influence him/her for the current turn.
At the end of five years, the player who best developed his assigned territory and most pleased the King through the Council is the winner.
Many alternate strategies are possible to win: will you go for the military way, disregarding economic and prestige buildings, or will you aim to complete the big Cathedral to please the King? Will you use the Merchant's Guild to gain more influence in the Council, or will you go for balanced development?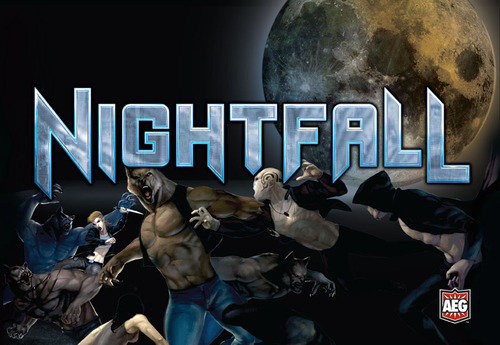 Nightfall - a new fast, furious and fun deck-building game from Alderac Entertainment Group. Featuring direct head-to-head combat, amazing art, a new AEG world, and unique mechanics by designer David Gregg, Nightfall will be the deck-building game to own.
Before the game begins, there is a draft to determine which cards are available for purchase, and by whom. During this draft players select two cards from the set for their personal archives, and they also select cards to put into the common area. The cards drafted into personal archives may only be purchased by the player who drafted them.
After the table has been set with the private and common cards, players begin play.
Each card has a main color and two linking colors. If you can match the main color of a card to one of the linking colors of the previous card, you can chain those cards together. Once a chain is started, players all get an opportunity to link additional cards onto the chain during that turn.
Cards in the chain resolve in reverse order: first in, last out. Instant effects fire off as cards come off the chain, doing damage to your opponents or bringing characters into play to defend you and attack your opponents.
The object of Nightfall is to put wounds into your opponents' decks and end the game with the least amount of wounds in your deck. But beware: the more wounds a person has, the more enraged they become and the faster their deck works, meaning more cards and bigger chains will come your way!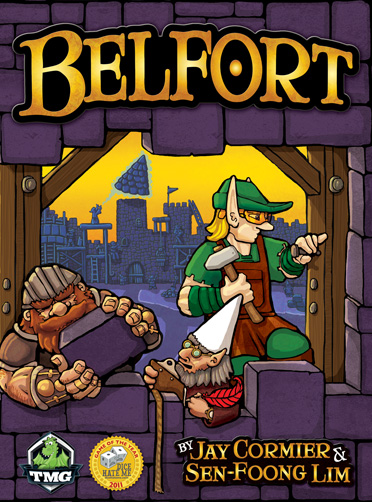 Welcome to the Tasty Minstrel universe! Put your Elves, Dwarves and Gnomes to work in the Village and Guilds of Belfort to collect resources and build up the city!
Elves collect wood from the forest while Dwarves collect stone from the quarry. An Elf and a Dwarf together can collect Metal from the mines, and either one can collect Gold. Build buildings in the five districts of the pentagonal city and hire Gnomes to run them to gain their special abilities.
Belfort is a worker placement game with area majority scoring in each district as well as for each type of worker. Buildings give you influence in the districts as well as income, but taxes increase based on your score so the winning players will have to pay more than those behind! Manage your resources and gold well, choose your buildings wisely, and help build the city of Belfort!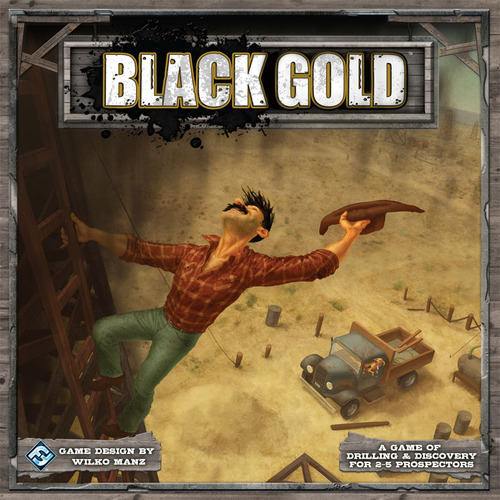 The year is 1922 and the Texas Oil Boom is in full swing. Prepare to head West, surveying the Permian Basin for profitable gushers and gaining more wealth than your fellow prospectors. Are you part of a burgeoning oil family fixed on becoming a dynasty, or a shrewd yankee, tired of watching southerners making their fortune? Whatever your reasons, join the race to become the wealthiest son of a gun in West Texas.
Black Gold is a board game of drilling and discovery for 2-5 prospectors, and play can last from 1-2 hours. Competitors attempt to claim the best wells, bid wisely against their neighbors, and sell their oil at the highest price in order to finish the game with the most money when the Oil Baron's train reaches the last track.
To secure wealth, players explore the terrain of the provided map tiles for oil wells, and they survey and build their derricks. Map tiles are double-sided and modular, ensuring a unique experience every time. Money is made if a player can transport his oil to one of three oil companies, and win the right to sell at auction. The Oil Baron's train moves nearer every turn, counting down the rounds of the game's thrilling ride; all the while it begs you and your fellow prospectors to ask the question: Am I making enough money?
The landscape of the Texas Oil business can be fickle and lonely as it is arid. Players can strategize against their opponents, and upset their play through special actions. During auctions, players can even lie about the value of their Sales Licenses in order to force their neighbors to bid more! But careful, you future tycoons – if you're caught bluffing, you're penalized.
Although Black Gold is a satisfying bidding game, it is also an exciting contest of strategy and exploration. Every game variable can offer an advantage or variation in play each round. The round's starting player has the first choice for powerful Action cards, which dictate his options for that round. Subsequent prospectors can be savvy and alter their exploration based on other players' surveying, or the last player could choose to sell his oil at a different company than his neighbors and find an easier auction at which to bid.
Black Gold is easy to learn, but offers an abundance of intriguing game play choices. Black Gold also provides players with optional rules that can shorten or extend game play, increase the challenge, give inexperienced players a handicap, or even reduce the randomness of well distribution. With all of these options players will discover that Black Gold is a new experience every time, even offering unique variation depending on player number, map tile setup, and well placement.