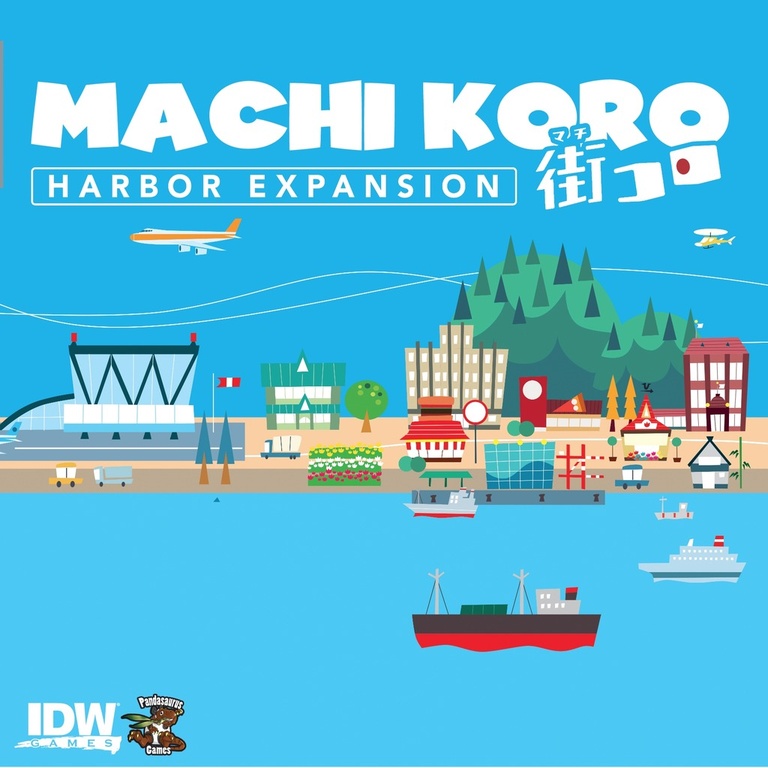 Its election time in Machi Koro and your mayorship is in peril. The citizens are no longer wowed by Cheese Factories and Coffee Shops. Winning reelection means going big.
Remember that bay that the cheese factories have been dumping their unsold Gouda into all these years? Your salvation lies in rehabbing that polluted body of water northeast of town. So get ready to roll up your sleeves and earn those votes.
A harbor with fancy boats and sushi bars and a shiny new airport will surely bring more gold to town and more gratitude! Sure, the city might not have the money in its coffers to pay for all this, but that never stopped you before.
The Machi Koro: Harbor Expansion injects further excitement into the game that has everyone talking! Want even more fun in your box?! Perhaps ten new establishments, one new starting establishment and two new landmarks will help?
Machi Koro the Harbor expansion requires the base game Machi Koro to play and is designed to add more variety, strategy and a 5th player to the smash hit Machi Koro.
Say hello to more variety, more nail biting and MORE players!
The Harbor Expansion is an absolute must for bonafide Machi- whizzes and newbies alike!
Machi Koro: Harbor Expansion includes cards that allow for up to five players to compete at the same time (82 cards total), while Machi Koro Plus includes only the new types of cards (68 cards).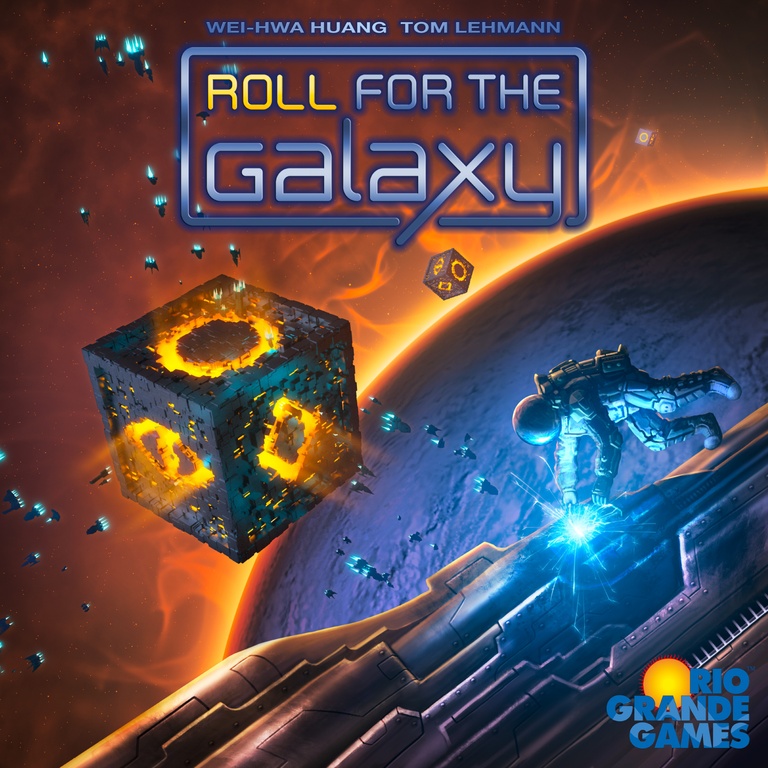 Roll for the Galaxy is a dice game of building space empires for 2–5 players. Your dice represent your populace, whom you direct to develop new technologies, settle worlds, and ship goods. The player who best manages his workers and builds the most prosperous empire wins!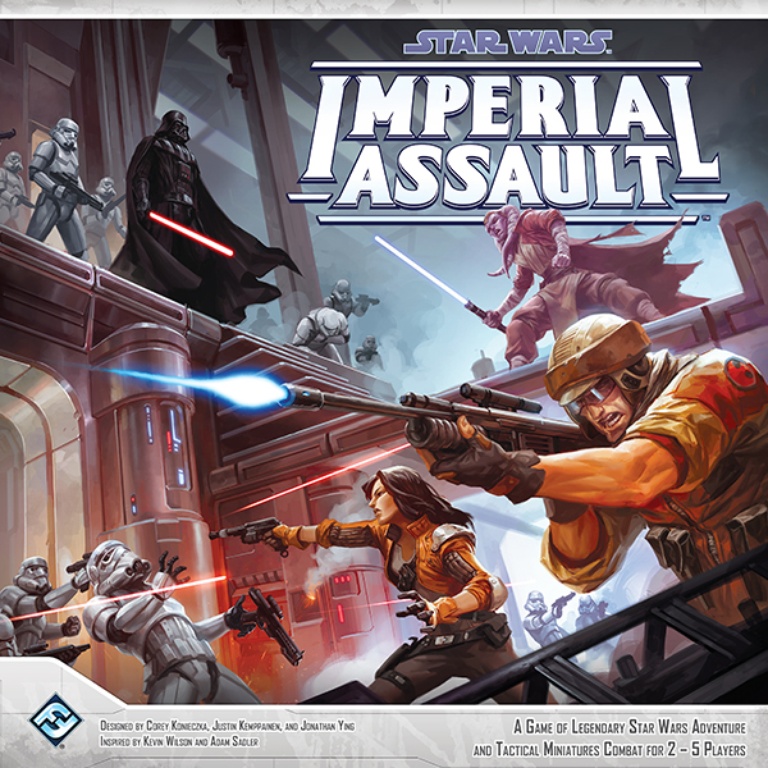 Imperial Assault is a strategy board game of tactical combat and missions for two to five players, offering two distinct games of battle and adventure in the Star Wars™ universe!
Imperial Assault puts you in the midst of the Galactic Civil War between the Rebel Alliance and the Galactic Empire after the destruction of the Death Star over Yavin 4. Imperial Assault offers two separate game experiences. The campaign game pits the limitless troops and resources of the Galactic Empire against a crack team of elite Rebel operatives as they strive to break the Empire's hold on the galaxy, while the skirmish game invites you and a friend to muster strike teams and battle head-to-head over conflicting objectives.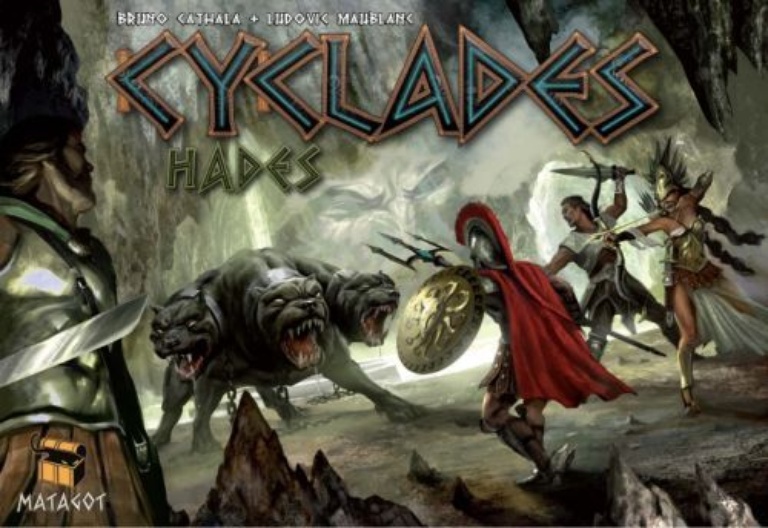 The Cyclades are currently at peace, but the sound of furious battles still echoes in our memories. Is this a long lasting peace or nothing but a short truce?
There are whispers that Hades will soon return, bringing his undead phalanxes and ghost ships… Every city-state will need to demonstrate their skills at recruiting powerful heroes and gaining the favors of all the gods of Olympus, even terrifying Hades, to extend its supremacy over his opponents.
This box contains several modules which can be incorporated one by one into the basic game, according to the desires and experience levels of the players.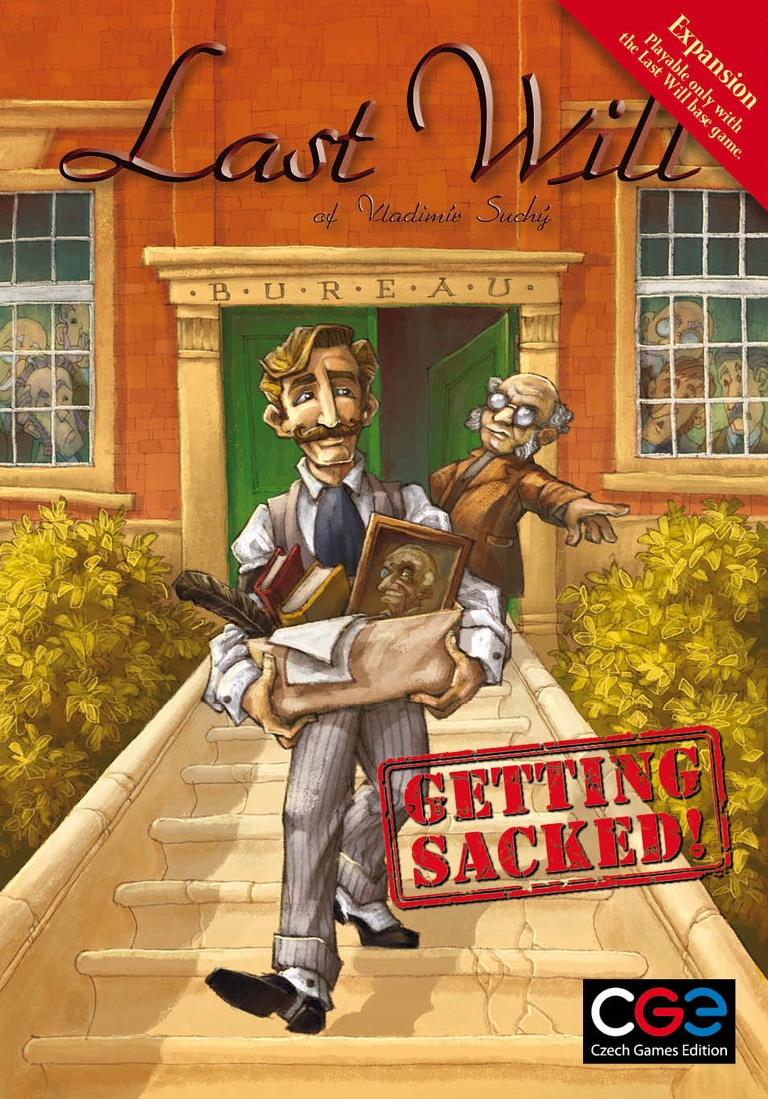 In Last Will: Getting Sacked, the lawyers have found a hidden clause in your uncle's last will. Spending money faster than all your relatives will not be enough. To inherit your Uncle's fortune, you must also lose your job! After all, your Uncle's heritage can't go to someone who's employed!
You will also have a chance to find yourself a good, demanding wife. A wedding is such a romantic way to spend piles of money in a hurry, right? The expansion has 6 nuptial cards. So get down on one knee and ask the question!
Also, with this expansion, each game can have a different planning board to bring additional variety to the game. When you set up the game boards, you randomly select the 8 plan tiles that will be used in the game.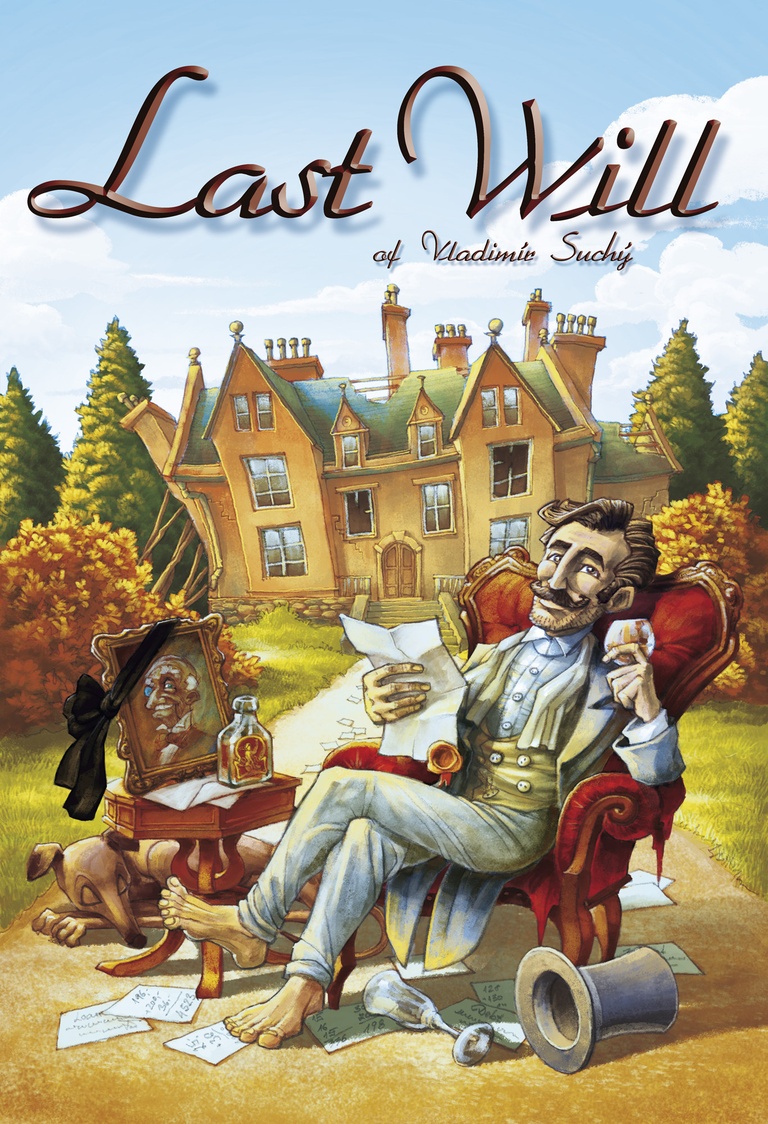 In Victorian England, the profits of the Industrial Revolution have given rise to a wealthy upper class of English ladies and gentlemen. Sadly, you are not among them. But you do have a rich uncle, recently departed, who decided on his death bed to leave all his money to the relative who will enjoy it the most. To find out who that is, you and your cousins will each be given a substantial sum of money. Whoever can spend it the fastest will inherit all your uncle's wealth.
Last Will is a race to bankruptcy. In each round, you choose a plan for the day, which determines how many options you will have available and how much time you will have for them. If you don't give yourself enough options, you might find yourself with nothing left to do after attending the theatre. If you don't set aside enough time, you might have to forgo dinner prepared by London's most famous chef or a carriage ride with a charming guest. And don't neglect your property investments. Or rather, do neglect them: Once your properties depreciate, you can sell them for a pittance, bringing you that much closer to bankruptcy. The upper class lifestyle provides you many opportunities to spend your uncle's money. Just be sure to spend it fast.
A luxurious life of fabulous wealth is within your grasp. With your uncle's Last Will, bankruptcy leads to riches!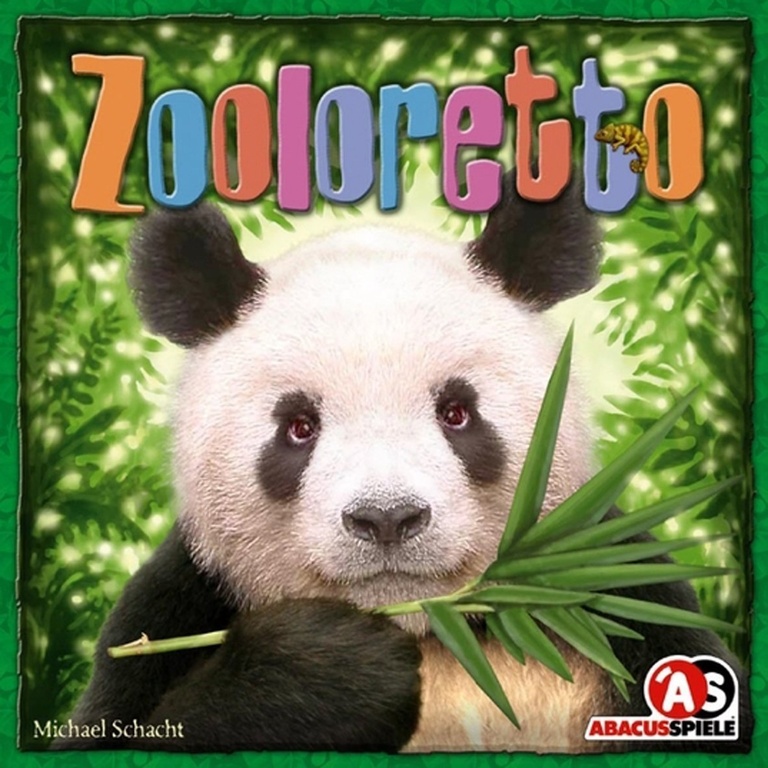 Each player uses small, large, wild, and exotic animals and their young to try to attract as many visitors as possible to their zoo, but must be careful. The zoo needs to be carefully planned as, before you know it, you might have too many animals and no more room for them. That brings minus points. Luckily, your zoo can expand. This is a zoo of a family game in which less is sometimes more.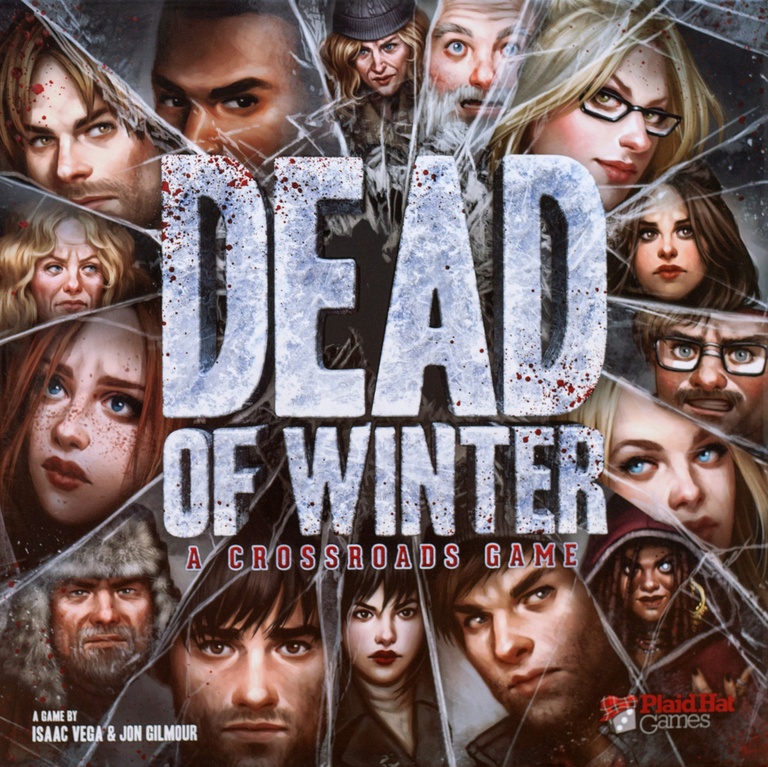 Crossroads is a new series from Plaid Hat Games that tests a group of survivors' ability to work together and stay alive while facing crises and challenges from both outside and inside.
Dead of Winter is the first game in this series, designed by Isaac Vega and Jon Gilmour. It puts 2-5 players together in a small, weakened colony of survivors in a world where most of humanity are either dead or diseased, flesh-craving monsters. Each player leads a faction of survivors with dozens of different characters in the game.
Dead of Winter is a meta-cooperative psychological survival game. This means the players are working together toward one common victory condition--but for each individual player to achieve victory, they must also complete their personal secret objective. This secret objective could relate to a psychological tick that's fairly harmless to most others in the colony, a dangerous obsession that could put the main objective at risk, a desire for sabotage of the main mission, or worst of all: vengeance against the colony! Certain games could end with all players winning, some winning and some losing, or all players losing. Work toward the group's goal but don't get walked all over by a loudmouth who's only looking out for their own interests!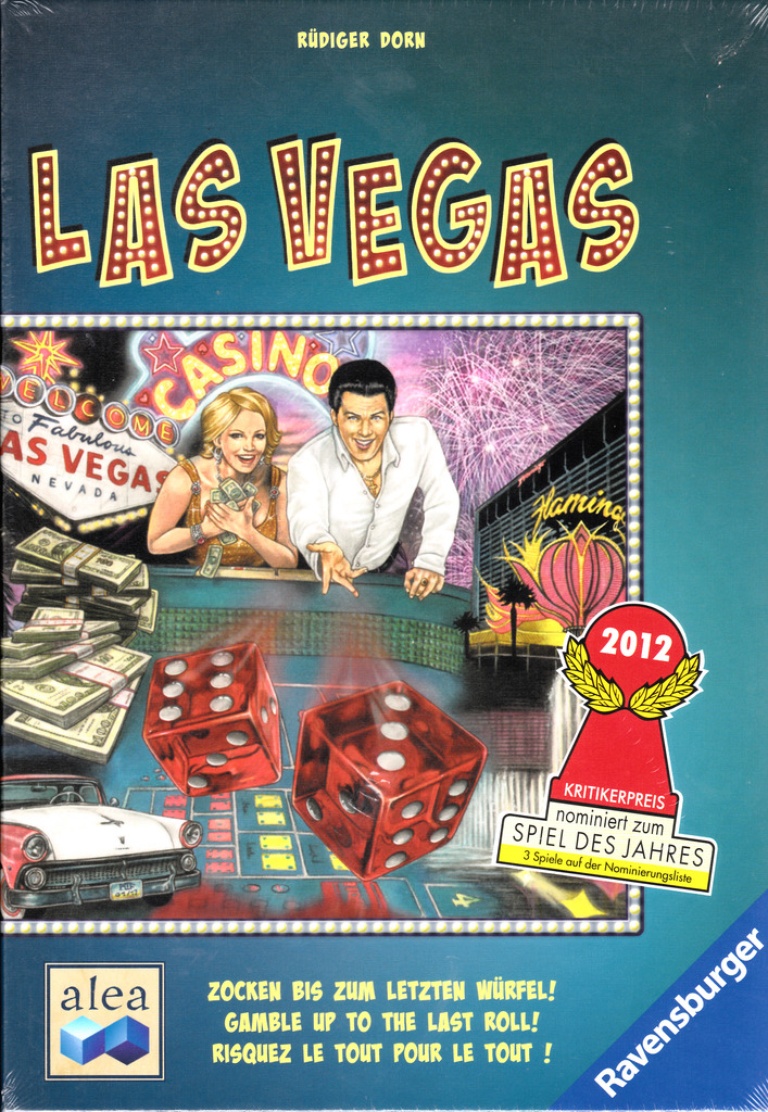 Developer Stefan Brück at alea describes Las Vegas as "an easy, dice-rolling, fun-and-luck game with a lot of interaction and 'schadenfreude'". Who doesn't love schadenfreude? (Well, other than those being schadened, I suppose...)
In more detail, Las Vegas includes six cardboard casino mats, one for each side of a normal six-sided die. For each mat, players draw money cards until at least $50k is showing, but the amount may end up being a lot more, making that casino more desirable.
Each player has eight dice of a different color, which they take turns rolling. When you roll your dice, you can choose to place them on the relevant casino cards; for example, a die showing a 1 will be placed on the casino mat marked "1". You must place at least one die per turn, although you may place more. All players take turns doing this until all the dice have been used. Finally, the player with the most dice on each casino card takes the money associated with it. In case of a tie, the next non-tied player takes the highest-valued money card at that casino.
Las Vegas rates a 1 out of 10 on alea's difficulty scale.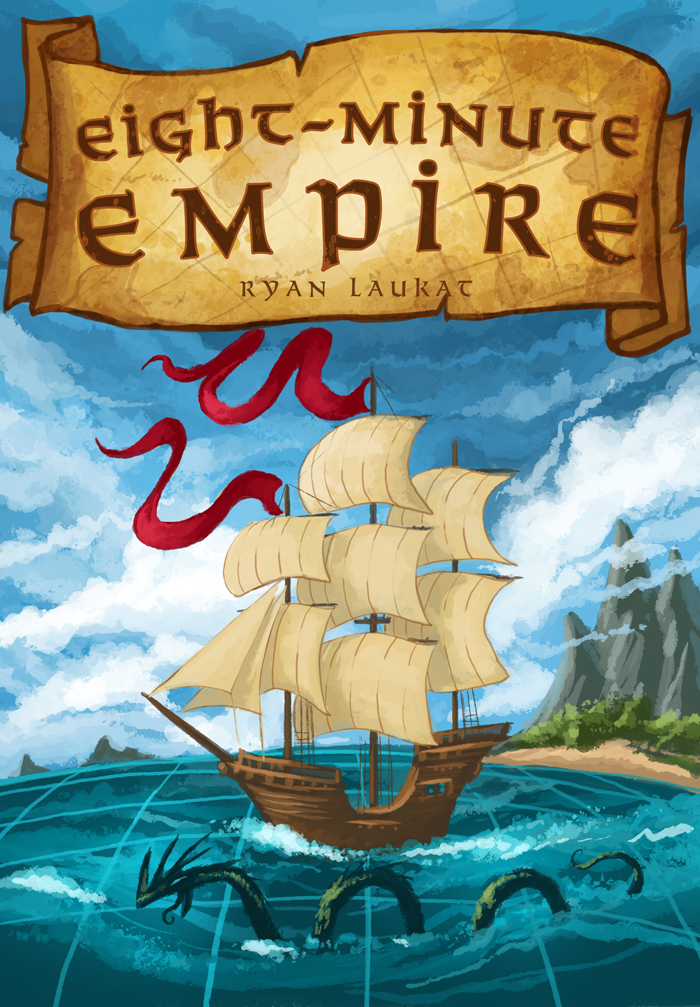 Short on time but you want to build a civilization? From Red Raven Games, the people behind the board games Empires of the Void and City of Iron, comes Eight Minute Empire. In Eight-Minute Empire, 2-4 players take turns selecting a card from six displayed. The card gives a good, and also has an action that the player takes immediately. Actions help players take over the map, but sets of goods are worth points at the end of the game, so players have to balance the two aspects. Eight-Minute Empire is the super-quick area control game with tough decisions. It's easy to learn and perfect for when you only have a few minutes.