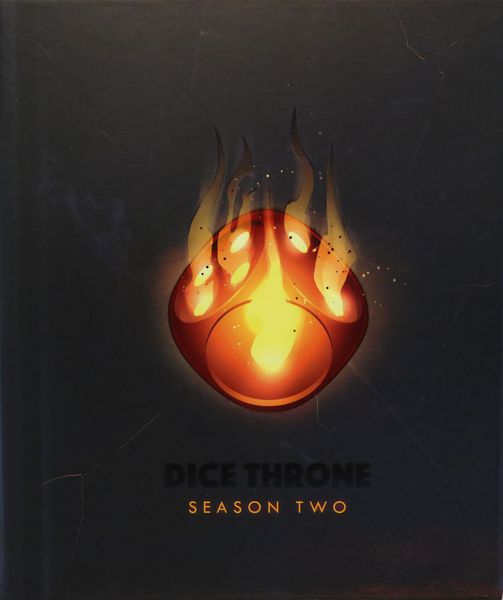 Dice Throne is a game of intriguing dice, tactical card play, powerful heroes, and unique abilities.
It's a fast-paced 2-6 player combat game (1v1, 2v2, 3v3, 2v2v2, or free-for-all). Select from a variety of heroes that play and feel completely distinct from one another. Attack opponents and activate abilities by rolling your hero's unique set of five dice. Accumulate combat points and spend them on cards that have a large range of effects, such as granting permanent hero upgrades, applying status effects, and manipulating dice directly (yours, your teammate's, or even your opponent's).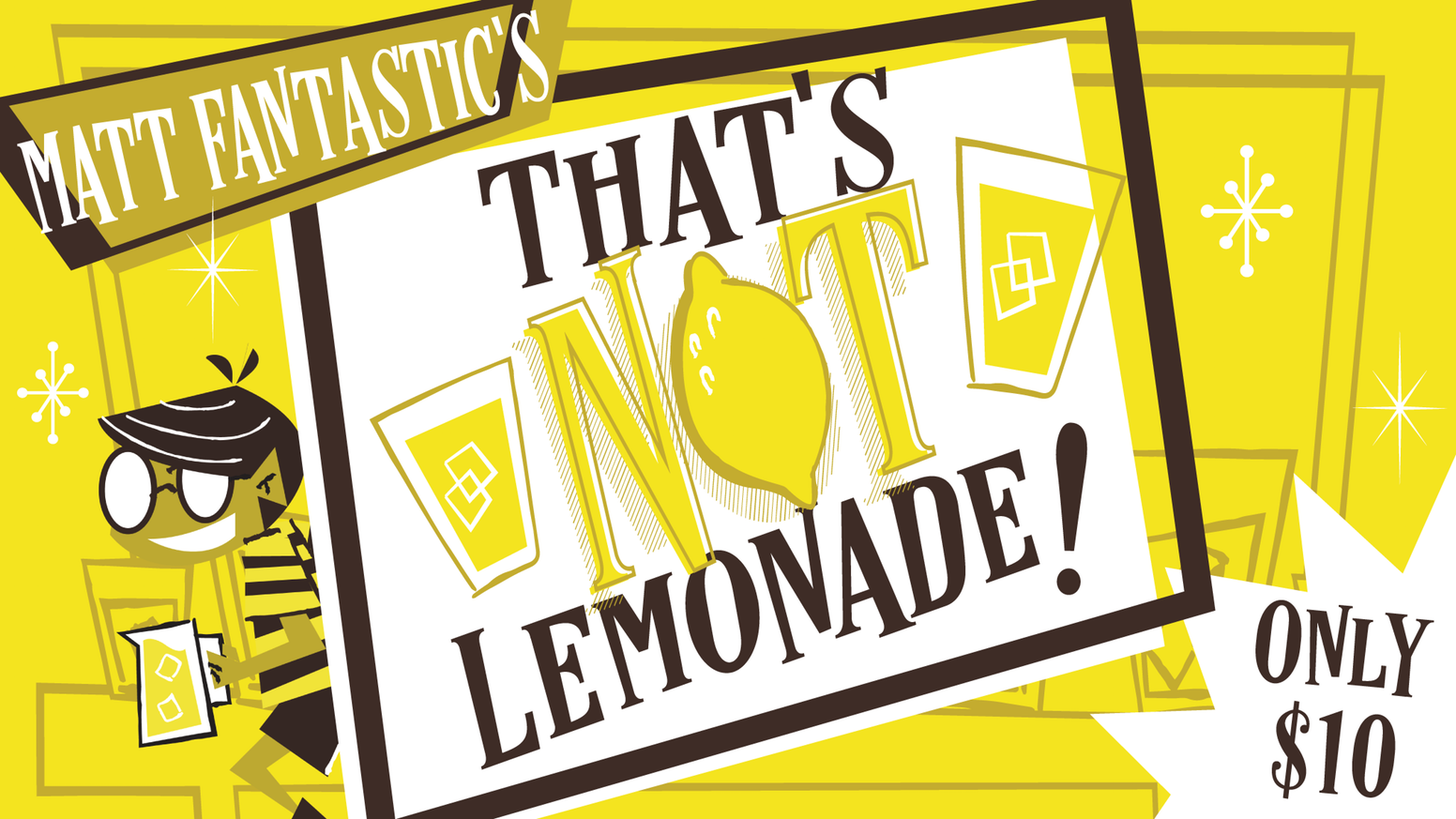 It's lemonade season and you run a successful lemonade stand. Unfortunately, today you're not the only lemonade stand on the block. To settle this problem, you and your rivals agree to a lemonade drinking contest. But wait, something's wrong! Little Johnny, the neighborhood menace, is up to no good. During this contest you might take a gulp of something ... THAT'S NOT LEMONADE!
That's Not Lemonade is the simplest press-your-luck game there is. On your turn, decide if you will take a card or pass. If you get a That's Not Lemonade card, you're out for the round. The player with the most lemon cards at the end of the round wins a lemon card. First player to win 3 lemons wins.
Comes with 18 cards, 6 player tiles, and 6 mini cups.
It's the drinking game for kids!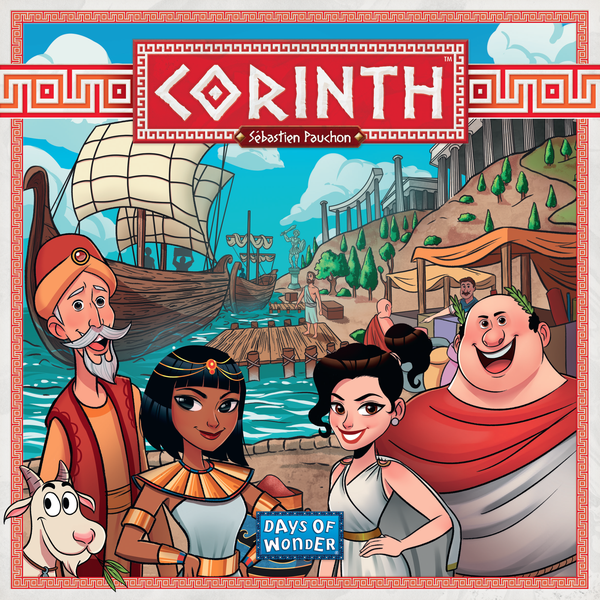 Under a blazing sun in 4th century BCE, traders come from all corners of the Mediterranean Sea to Corinth to sell their goods; Persian carpets, Cretan olive oil, Roman grapes, and Egyptian spices are highly prized by traders. Players have a few weeks to secure their place in Corinthian lore as its most savvy trader!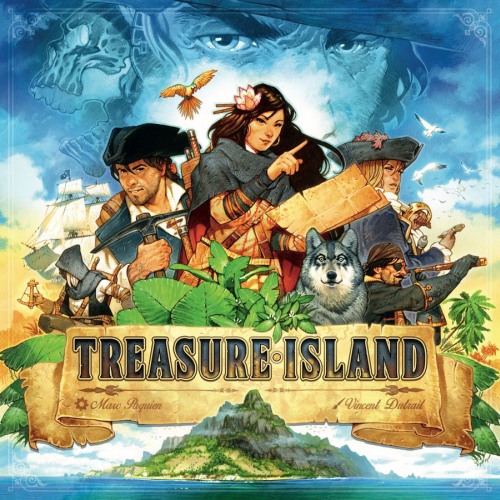 Long John Silver's crew has committed mutiny and has him cornered and tied up! Round after round, they question him about the location of his treasure and explore the island following his directions — or perhaps his misdirections? Who knows... The old sea dog is surely planning an escape, after all, after which he will definitely try to get his treasure back.
Treasure Island is a game of bluffing and adventure in which one player embodies Long John, trying to mislead the others in their search for his treasure. The hunt reaches its climax with Long John's escape, when he will make a final run to get the booty for himself!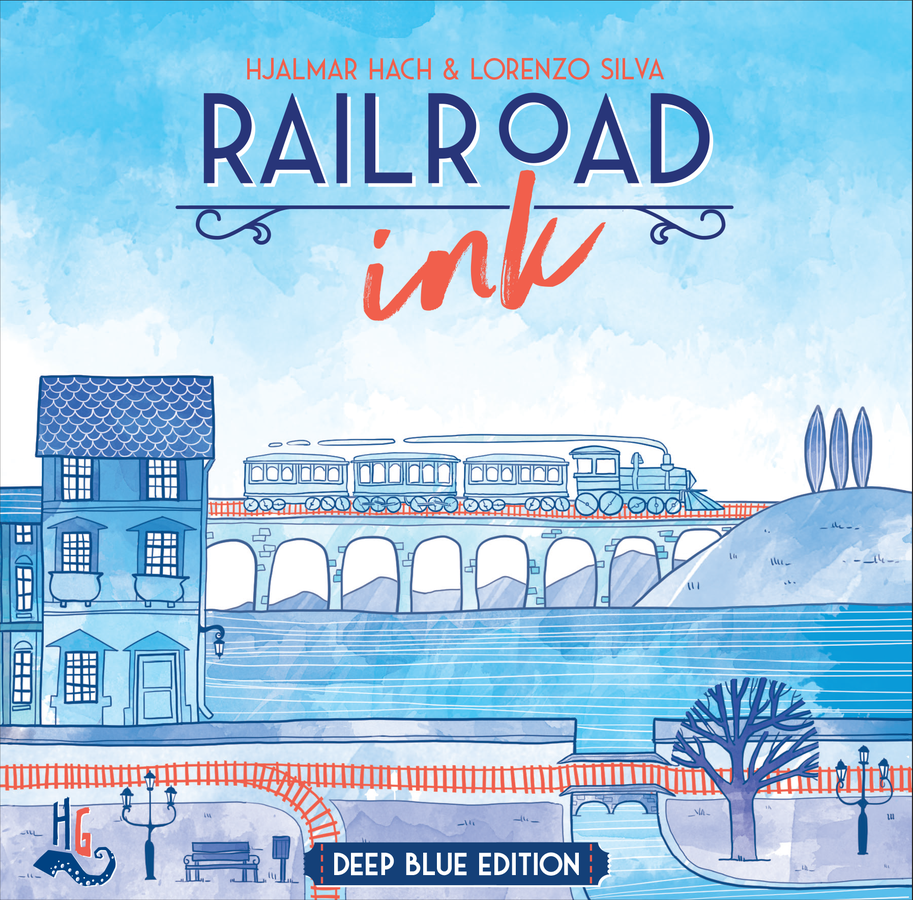 In the multiplayer puzzle game Railroad Ink, your goal is to connect as many exits on your board as possible. Each round, a set of dice are rolled in the middle of the table, determining which kind of road and railway routes are available to all players. You have to draw these routes on your erasable boards to create transport lines and connect your exits, trying to optimize the available symbols better than your opponents.
The more exits you connect, the more points you score at the end of the game, but you lose points for each incomplete route, so plan carefully! Will you press your luck and try to stretch your transportation network to the next exit, or will you play it safe and start a new, simpler to manage route?
Railroad Ink comes in two versions, each one including two expansions with additional dice sets that add new special rules to your games. The Deep Blue Edition includes the Rivers and Lakes expansions. Increase the difficulty by adding the River route into the mix, or use the Lakes to connect your networks by ferry. These special rules can spice up things and make each game play and feel different. Each box allows you to play from 1 to 6 players, and if you combine more boxes, you can play with up to 12 players (or more). The only limit to the number of players is the number of boards you have!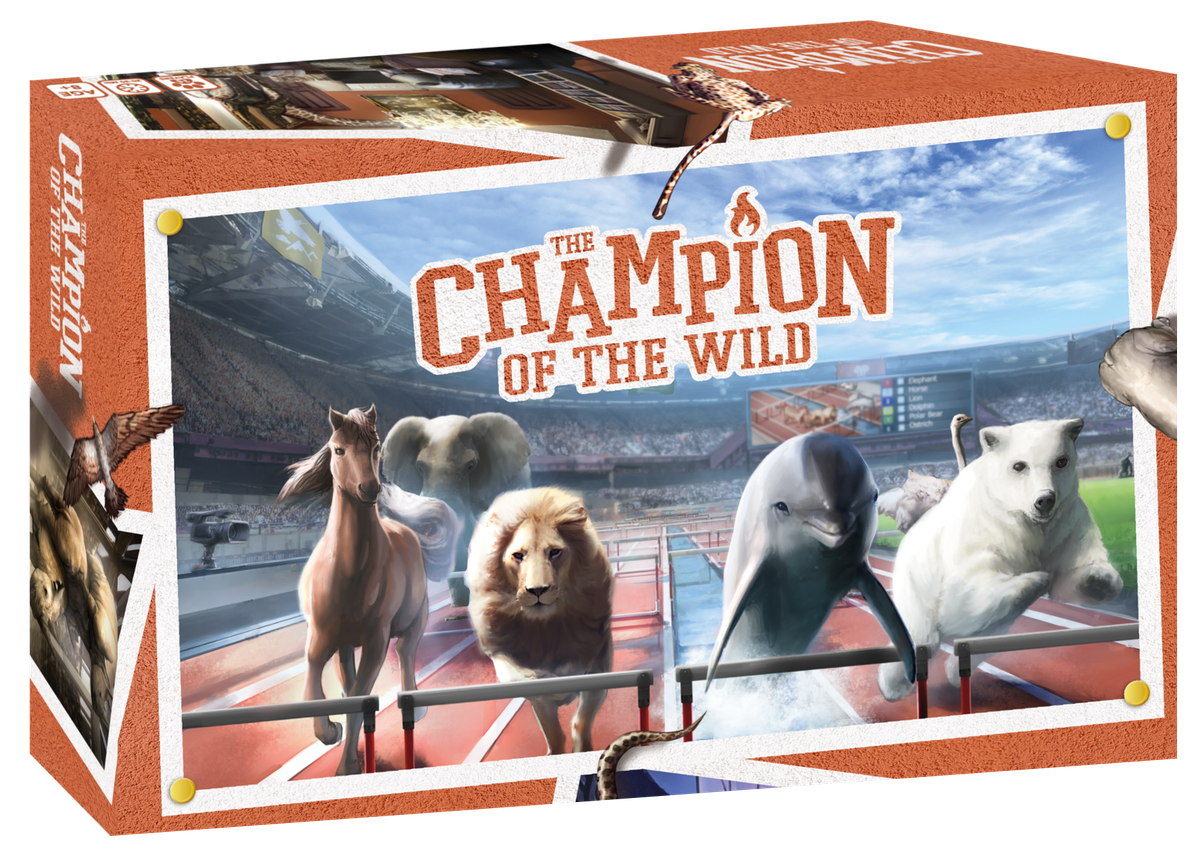 Available direct from
https://championofthewild.com/
The Champion of the Wild, formerly known as The Animal Games, is a light-hearted card-based social game for 3-8 players based on the following theme:
Players have attained super-stardom and handsome riches over many years due to their innate ability to communicate with and to coach animals of all different species. Now the greatest animal coaches from around the world (the participating players) have gathered for the ultimate test of their training prowess to see who will become The Champion of the Wild.
Three events are first selected - one from each of five different categories (speed, power, endurance, technical and team). These events can be any measurable activity, examples including the 100m sprint, high jump, ballroom dancing and hide-and-seek. Players are then dealt a hand of animal cards to choose from and must select one single animal to represent them across all three events, competing against the animals selected by the other players. These events are then played out by way of animated discussion and players then vote according to their opinion on the likely rankings (excluding their own animal when voting). Votes score points for the appropriate players and the player with the most points after three events wins.
The Champion of the Wild combines the fun and laughter of a conversation-driven social game with the challenge of strategic thinking required for animal selection and event tactics.
Who will be your champion?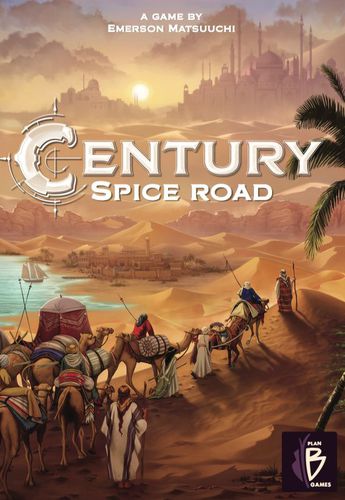 Century: Spice Road is the first in a series of games that explores the history of each century with spice-trading as the theme for the first installment. In Century: Spice Road, players are caravan leaders who travel the famed silk road to deliver spices to the far reaches of the continent for fame and glory. Each turn, players perform one of four actions:
Establish a trade route (by taking a market card)
Make a trade or harvest spices (by playing a card from hand)
Fulfill a demand (by meeting a victory point card's requirements and claiming it)
Rest (by taking back into your hand all of the cards you've played)
The last round is triggered once a player has claimed their fifth victory point card, then whoever has the most victory points wins.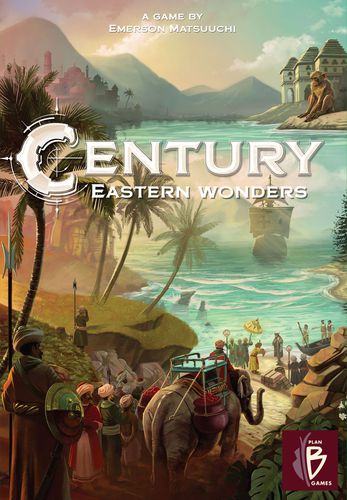 Centuries ago, the lucrative spice trade compelled the prosperous nations of the world to explore alternate routes to the sources of these precious goods. These nations took to the seas to seek out exotic lands. This led to the discovery of the famed Spice Islands where the most valuable spices of the world were found. This discovery also led to further exploration, competition....and later, war! During this time of prosperity and opportunity, you find yourself traveling on the high seas in search of these exotic wonders. As a merchant and privateer representing your nation, you seek to control this region for glory and profit. Your journey continues in the Far East...
Designed by Emerson Mastuuchi, Century: Eastern Wonders invites fans to return to the exciting world of spice trading as players take to the high seas in the role of merchants seeking to prosper in the exotic Indonesian islands. Century: Eastern Wonders offers new, satisfying game mechanisms that provide infinite replayability and countless strategies.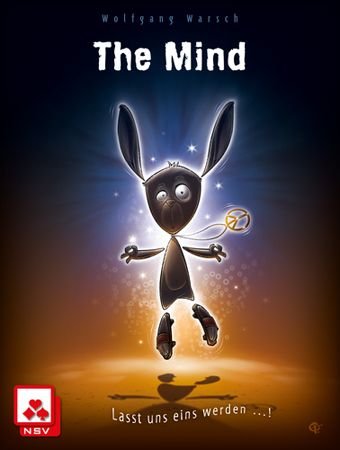 The Mind is an experiment, a journey, a team experience in which you can't exchange information, yet will become one to defeat all the levels of the game.
In more detail, the deck contains cards numbered 1-100, and during the game you try to complete 12, 10, or 8 levels of play with 2, 3, or 4 players. In a level, each player receives a hand of cards equal to the number of the level: one card in level 1, two cards in level 2, etc. Collectively you must play these cards into the center of the table on a single discard pile in ascending order but you cannot communicate with one another in any way as to which cards you hold. You simply stare into one another's eyes, and when you feel the time is right, you play your lowest card. If no one holds a card lower than what you played, great, the game continues! If someone did, all players discard face up all cards lower than what you played, and you lose one life.
You start the game with a number of lives equal to the number of players. Lose all your lives, and you lose the game. You start with one shuriken as well, and if everyone wants to use a shuriken, each player discards their lowest card face up, giving everyone information and getting you closer to completing the level. As you complete levels, you might receive a reward of a shuriken or an extra life. Complete all the levels, and you win!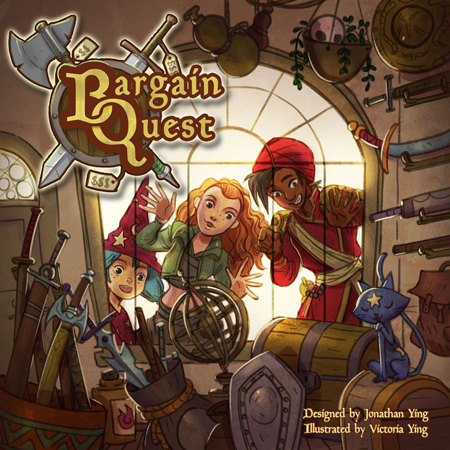 Bargain Quest is a game of adventure and capitalism for 2-4 players. Players will take the role of shopkeepers in an adventuring town plagued by monsters. Players must draft items and then secretly choose which items to place in their windows to attract wealthy heroes to their shops.
Bargain Quest is a game of adventure and capitalism for 2-4 players. Players will take the role of shopkeepers in an adventuring town plagued by monsters. Players must draft items and then secretly choose which items to place in their windows to attract wealthy heroes to their shops.
Once all heroes have been equipped, they battle against monstrous threats, earning money and adding prestige to whichever item shop they most recently visited. Throughout the game players will encounter new heroes and monsters while upgrading their shops and hiring employees. Once the third monster is defeated the player who has earned the most gold and prestige is the winner.