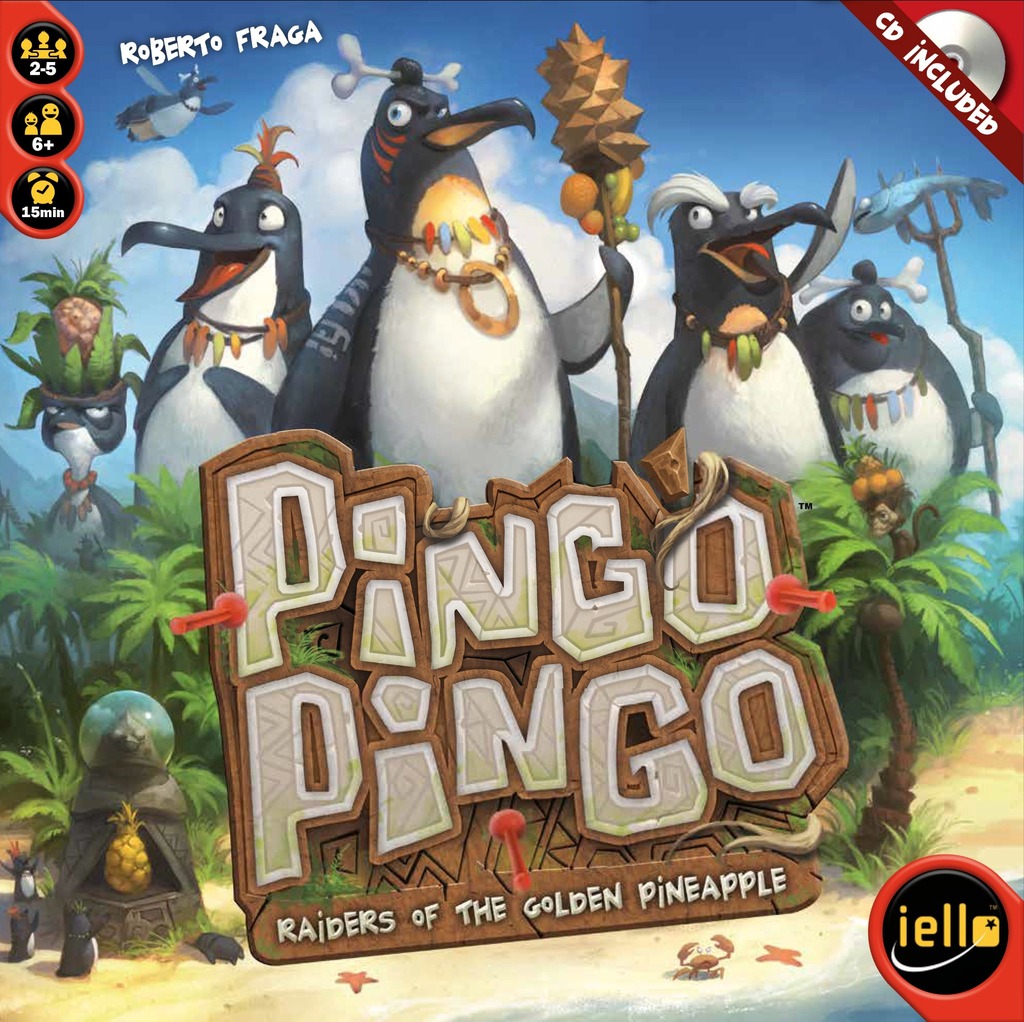 Pingo Pingo has everyone searching for the Golden Pineapple while trying to avoid warrior penguins and reacting to a real-time soundtrack. A frenetic dexterity game driven by an action-packed soundtrack, Pingo Pingo demands players collect the most treasure, but avoid traps critters and fearsome foes. Be brave, fast, focused, and precise as the soundtrack counts down, while you attempt to face every challenge and make it safely back to your boat.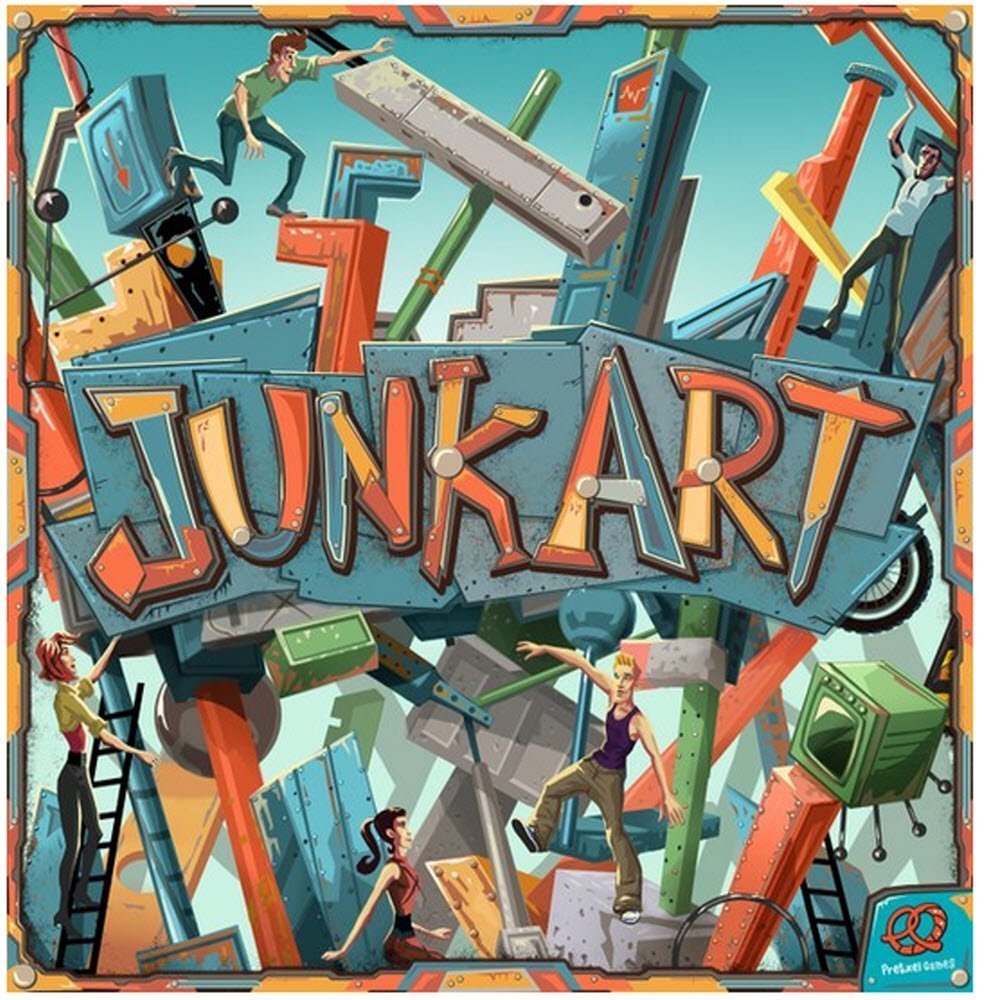 Junk Art challenges players to transform a collection of disparate junk into something meaningful, a construction of size and significance.
Junk Art contains over ten game different ways of playing and more than sixty large, colorful wooden components. It challenges players to create large, stable and cannily-built works of "art" from these pieces, according to the rules of whatever game mode they're playing. Some are collaborative, some are competitive and some are plain old chaos.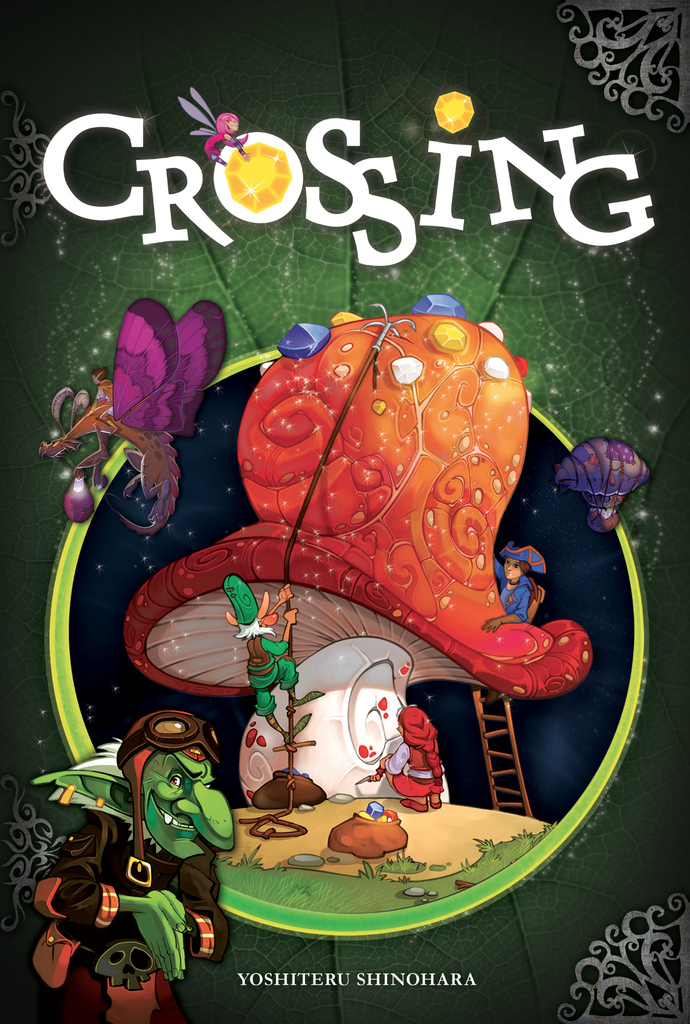 Race to grab riches or steal them from your opponents in the quick, simple, family-friendly game of Crossing. It's the time of the Summer Solstice in the small town of Crossing, when priceless life stones appear on mushrooms in the surrounding fields and forests. Pixies, goblins, elves, fairies, dwarves, and humans all seek the life stones and will stop at nothing to possess as many as possible! Each round, players try to grab life stones from mushrooms, steal them from each other, or greedily protect their own hoard. All players make their moves at the same time, so think quickly and choose your action wisely!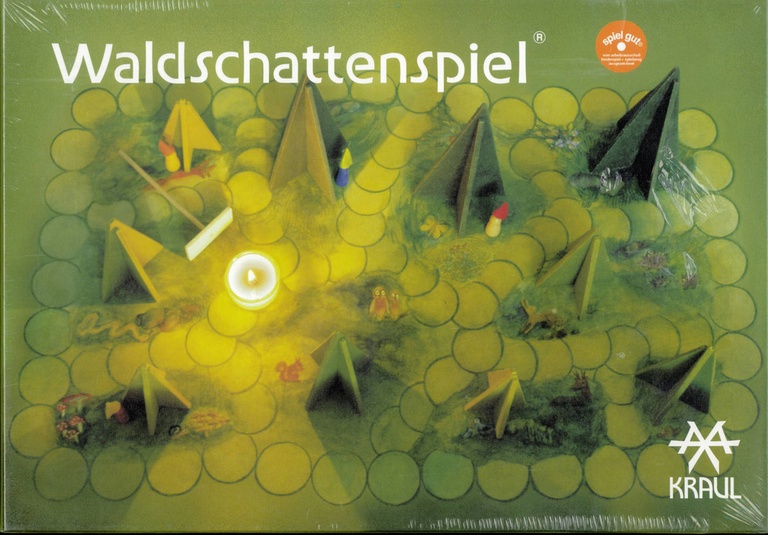 The dwarves hide in the shadows of the trees from the wandering light. The burning tea-light (adult player) moves through the dark forest and tries to find the small dwarves in their hiding places. If a dwarf is touched by the light, it is frozen and not allowed to move anymore. The other dwarves try to release it. To achieve this they must wait until the light has gone far enough so that one of them can join it in the shadow. All the dwarves try to unite under one tree while the candle tries to freeze the dwarves. Who will win, the light or the dwarves?
Shadows in the Woods is a cooperative game for players 5 years and up. An adult player for games where children play is required, due to the open flame of the candle. An alternative version included in the rules is intended for players 7 years and up, and is quite a bit more challenging. The alternative version does not require an adult player, but does require adult supervision. (The light doesn't move.)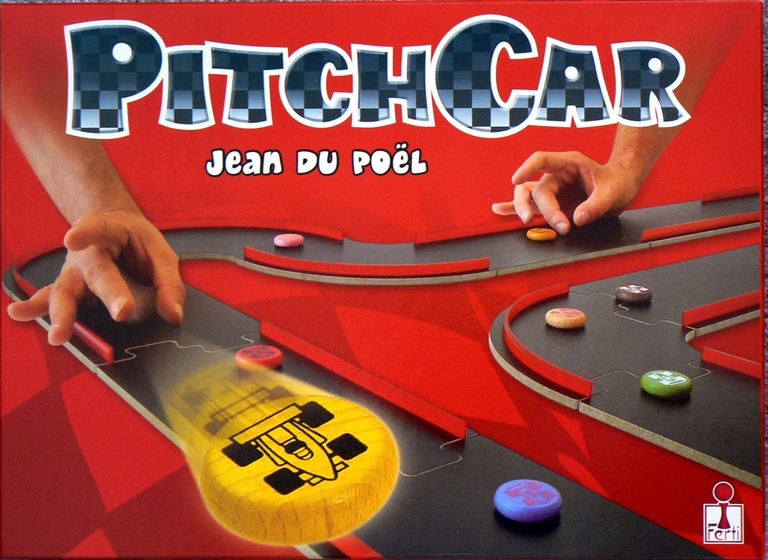 This game entry refers to two nearly identical games which are not compatible with one another. Ages 6 and up. PitchCar and Carabande are dexterity games where large, wooden, puzzle-like pieces are used to construct a race track that looks very similar to a slot car track when finished. But instead of using electrons, players use finger-flicks to send small pucks around the track, a la Carrom. PitchCar is produced by Ferti. It currently has five expansions which add "tight" curves, crossroads, small jumps, long straightaways, 45-degree curves, and curved bottlenecks. PitchCar apparently also has two editions, where the first edition has the black laminate on the top and bottom of the track pieces, where the second edition only has the laminate on the top of the track pieces. In the BGG photo gallery, PitchCar has red rails.