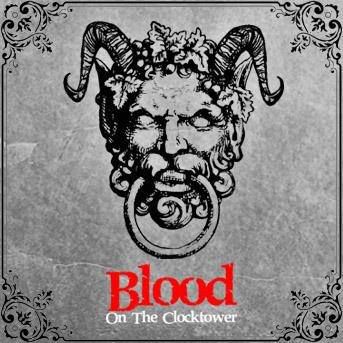 In the quiet village of Ravenswood Bluff, ‌a demon walks amongst you…
During a hellish thunderstorm, on the stroke of midnight, there echoes a bone-chilling scream.
The townsfolk rush to investigate and find the town storyteller murdered, their body impaled on the hands of the clocktower, blood dripping onto the cobblestones below.
A Demon is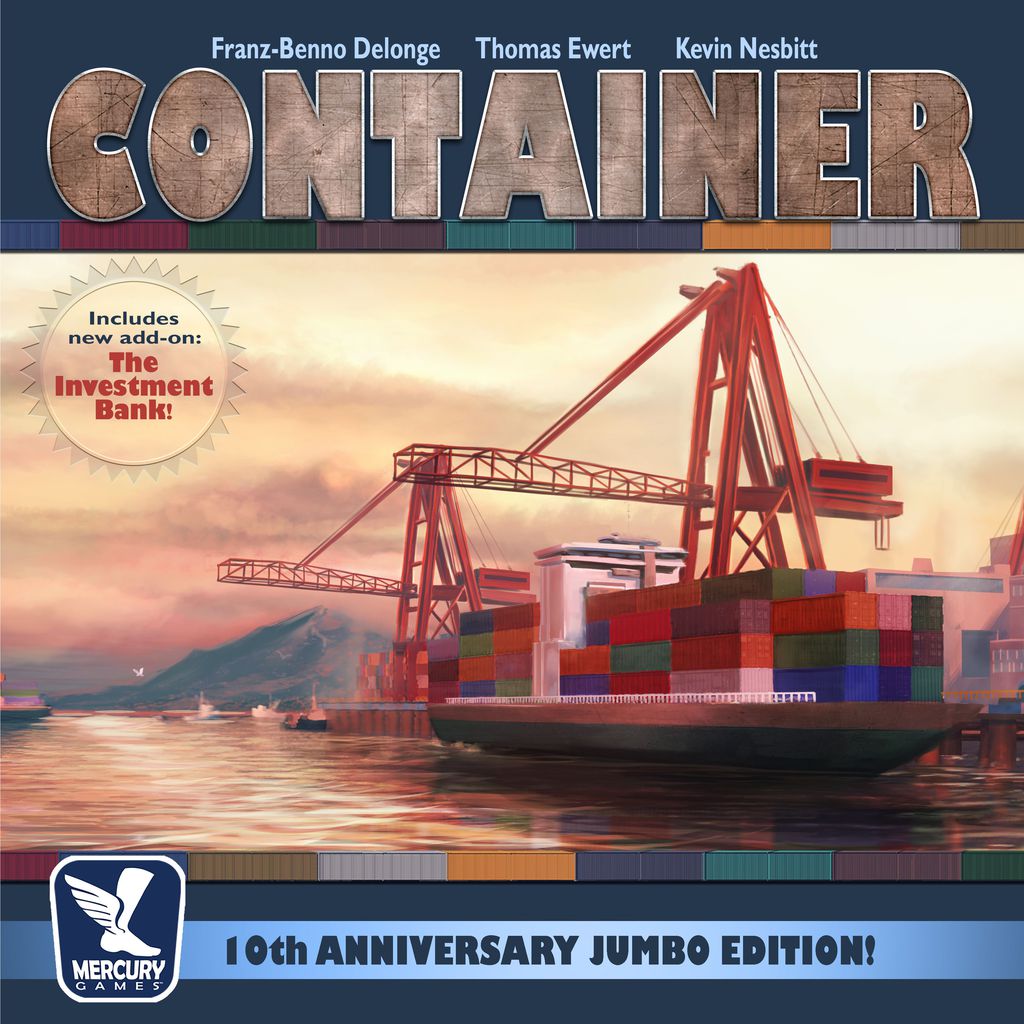 Container, the classic game of big ships and big production, returns in a 10th Anniversary Jumbo Edition! Now with huge ships and realistic containers to load and unload, building (or destroying) your living economy has never been more fun!
Container is an easy game with an open economy and lots of meaningful decisions. Build factories and warehouses, or focus on shipping goods to your island. Take advantage of government subsidies to ensure maximum profits! But watch out for your cash reserves because the player-driven market can go sour at any time, and you'll need to be ready to change your strategy.
Also included in this edition of Container is an all new add-on called "The Investment Bank". This new entity operates as a game-controlled broker who is seeking to maximize their own profits. Watch as the three brokers try to build their own cash and container resources and be ready to make a deal when the price is right. The Investment Bank add-on ensures new and interesting challenges for even the most seasoned Container player.
This 10th Anniversary Jumbo Edition of Container features resin miniature ships 7 inches long!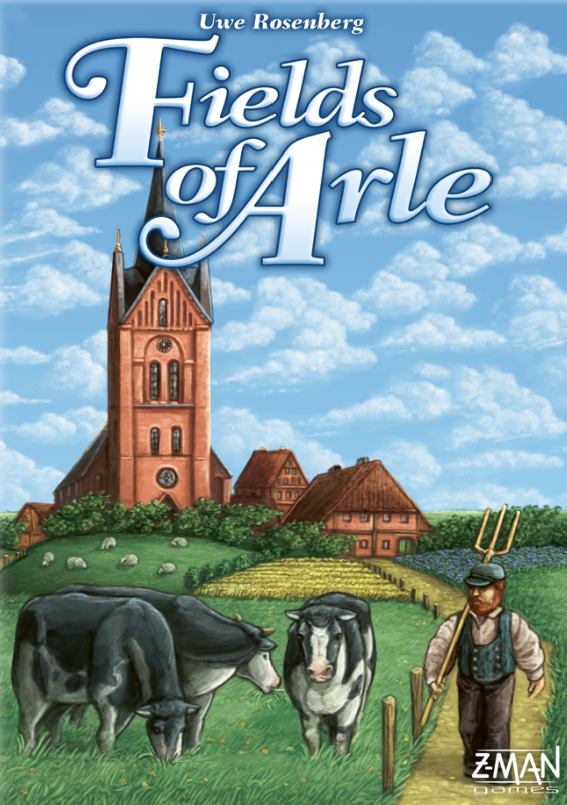 In the worker placement game Fields of Arle, set in the German region of East Frisia, players develop an estate and expand their territory by cutting peat and building dikes.
The game covers nine half-years with alternating summer and winter seasons, and each season allows or denies specific player actions. Different and detailed manufacturing processes allow a player to create goods needed to expand her estate. In addition, trades with adjoining municipalities can help a player gain the needed resources or goods for building and expanding.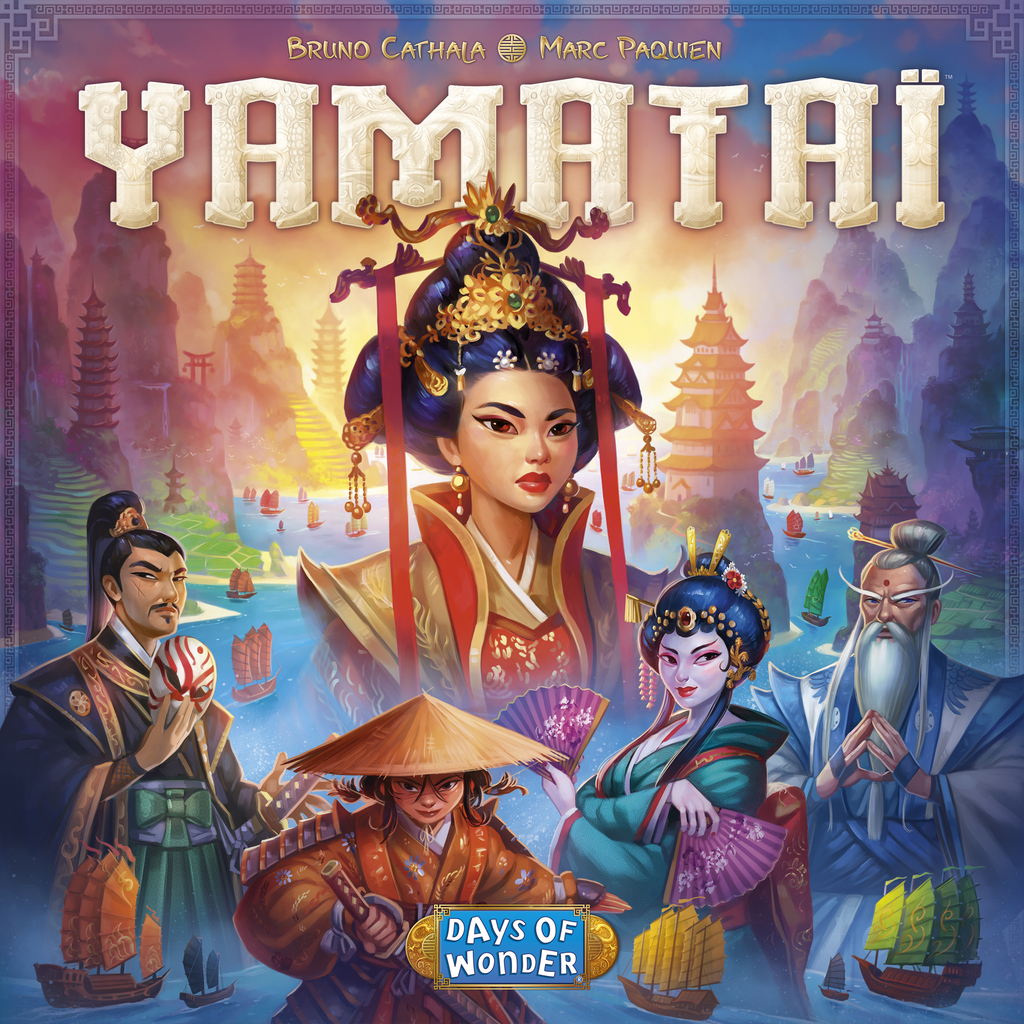 In Yamatai, 2-4 players compete to build palaces, torii, and their own buildings in the land of Yamatai. The game includes ten numbered action tiles, each showing one or more colored ships and with most showing a special action. You shuffle these tiles, place them in a row, then reveal one more than the number of players.
On a turn, each player chooses a tile, collects the depicted ships from the reserve, optionally buys or sells one ship, then places the ships on the board. The land has five entryways, and you must start from these points or place adjacent to ships already on the board. You can't branch the ships being placed, and if you place your first ship adjacent to another, then that first ship must be the same color as the adjacent one; otherwise you can place ships without regard to color.
After placing ships, you can either claim colored resources from land that you've touched with new ships this turn or build on one vacant space. To build, the space must have colored ships around it that match the ships depicted on one of the available building tiles. If you build a personal building that's connected to others you own, you receive money equal to the number of buildings.
You can bank one ship before the end of your turn, then you can use any three resources or a pair of matching resources to purchase a specialist, each of whom has a unique power.
After all players go, you shuffle the action tiles, place them face down in the row, then reveal enough tiles at the front of the line to set up for the next turn, with the turn order being determined by the numbers on the tiles that players chose the previous turn. Once you trigger one of the game-ending conditions — e.g., no ships of one color or no more specialists — you finish the round, then count points for buildings built, specialists hired, and money on hand.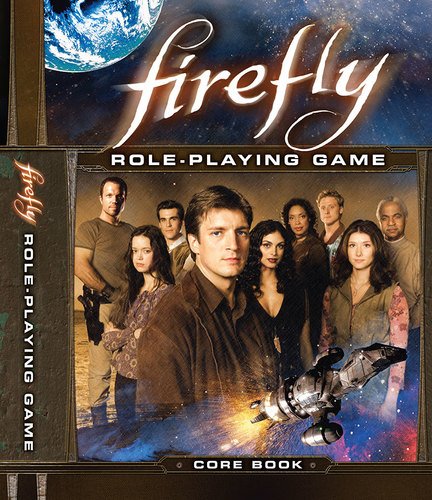 The FIREFLY RPG puts you right in the middle of the action of the wildly popular television series. You and your Crew will trade bullets with fearsome bounty hunters, folk who want what you have, or varmints that try to put out the light of hope you represent. Keep your Browncoat banner flyin' high and dodge Alliance cruisers. Side with the Alliance and track down riff-raff to haul 'em in for justice. Explore your 'Verse to find a crew, find a job, and keep flyin'!
The Firefly RPG uses a freewheelin' version of the award-winning Cortex Plus System to bring the 'Verse to life online or at your table in this 350+ page, full-color game.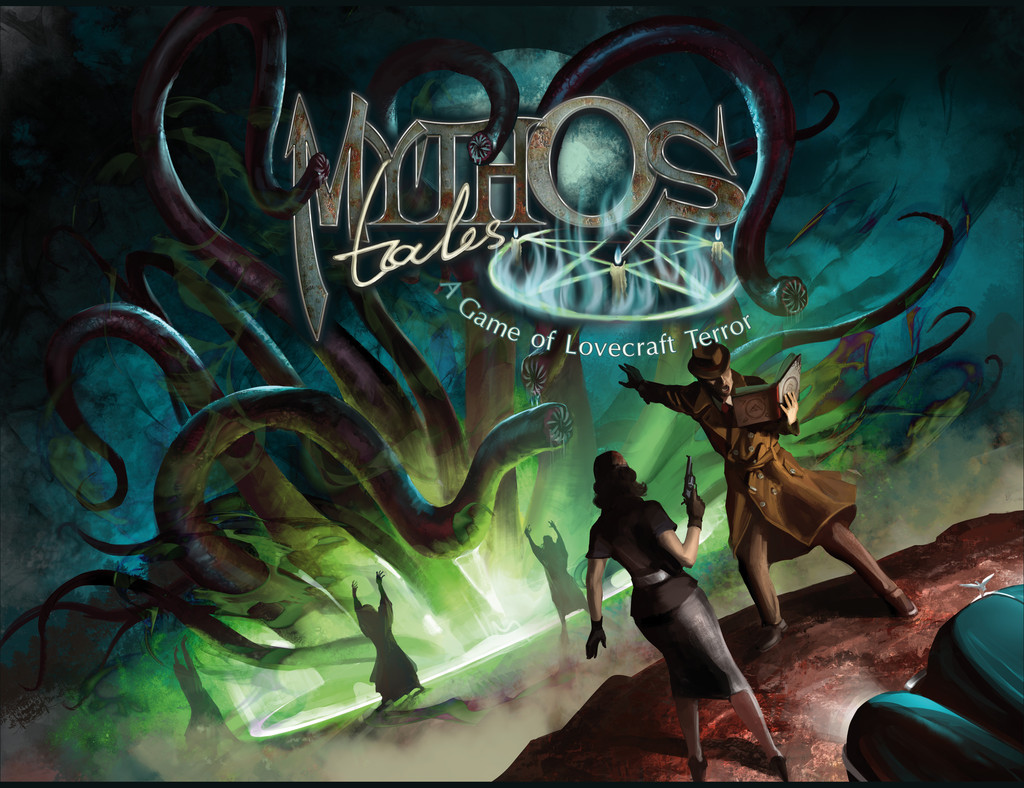 Welcome to H.P. Lovecraft's Arkham, the 1920s. There will be many mysteries to uncover in this storytelling game of Lovecraftian terror. Using the provided newspaper, a list of allies, the directory of Arkham residents and a map of Arkham - your job is to follow the clues from location to location, suspect to suspect - to unravel the mystery and answer the questions posed at the end of each scenario.
Match wits with Armitage's final score the man who has been exposed to the sanity-blasting truth about the existence of the age old evil! Can you beat his score?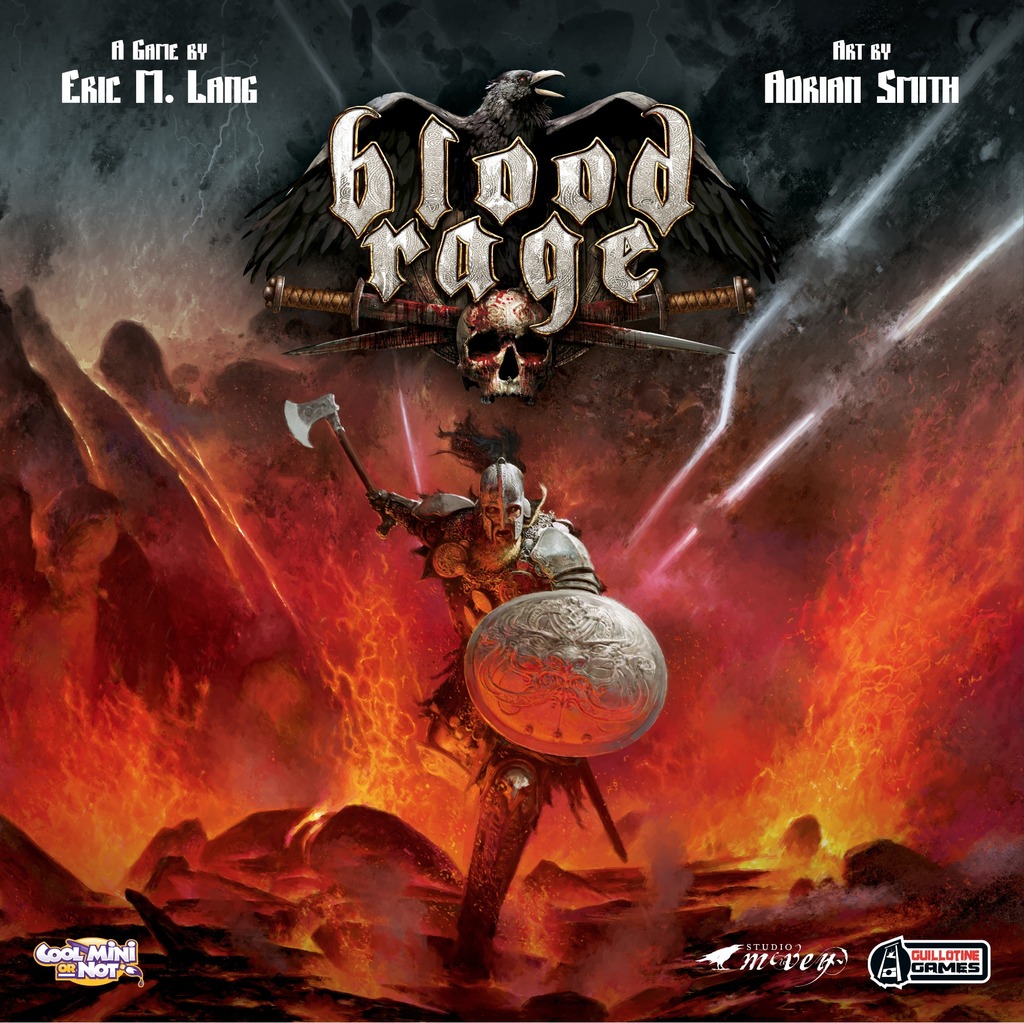 "Life is Battle; Battle is Glory; Glory is ALL"
In Blood Rage, each player controls their own Viking clan's warriors, leader, and ship. Ragnarök has come, and it's the end of the world! It's the Vikings' last chance to go down in a blaze of glory and secure their place in Valhalla at Odin's side! For a Viking there are many pathways to glory. You can invade and pillage the land for its rewards, crush your opponents in epic battles, fulfill quests, increase your clan's stats, or even die gloriously either in battle or from Ragnarök, the ultimate inescapable doom.
Most player strategies are guided by the cards drafted at the beginning of each of the three game rounds (or Ages). These "Gods' Gifts" grant you numerous boons for your clan including: increased Viking strength and devious battle strategies, upgrades to your clan, or even the aid of legendary creatures from Norse mythology. They may also include various quests, from dominating specific provinces, to having lots of your Vikings sent to Valhalla. Most of these cards are aligned with one of the Norse gods, hinting at the kind of strategy they support. For example, Thor gives more glory for victory in battle, Heimdall grants you foresight and surprises, Tyr strengthens you in battle, while the trickster Loki actually rewards you for losing battles, or punishes the winner.
Players must choose their strategies carefully during the draft phase, but also be ready to adapt and react to their opponents' strategies as the action phase unfolds. Battles are decided not only by the strength of the figures involved, but also by cards played in secret. By observing your opponent's actions and allegiances to specific gods, you may predict what card they are likely to play, and plan accordingly. Winning battles is not always the best course of action, as the right card can get you even more rewards by being crushed. The only losing strategy in Blood Rage is to shy away from battle and a glorious death!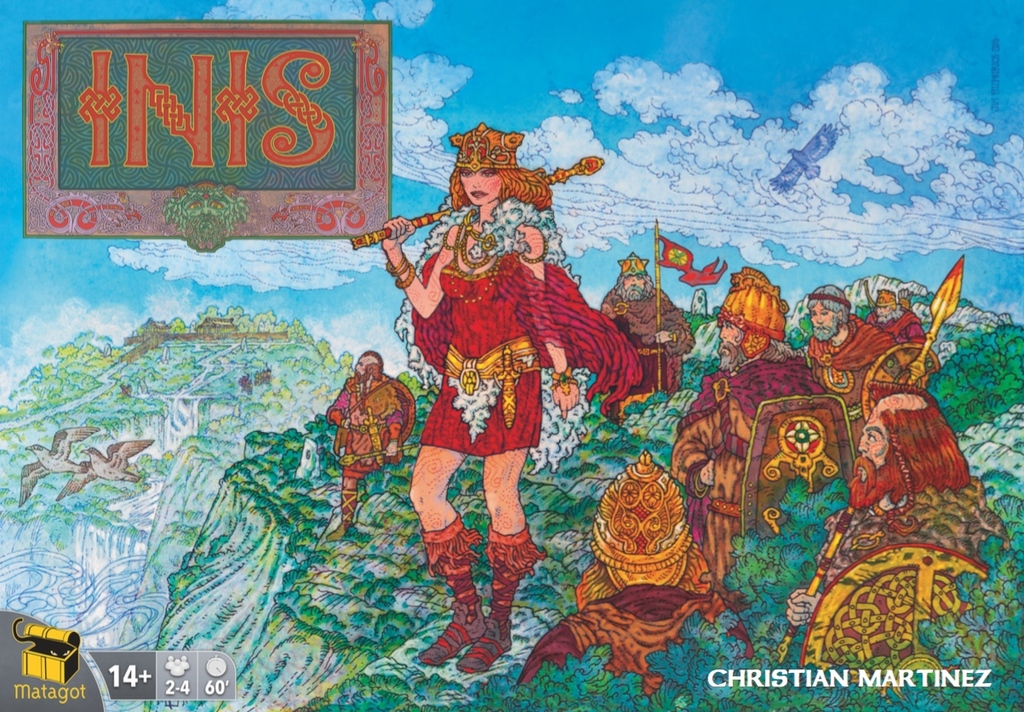 Lead one of Ireland's first peoples and perform legendary exploits in Inis, a two-to-four player board game designed by Christian Martinez and lavishly produced by Matagot. Inis immerses you in Ireland's mythological era, its fierce heroes, enchanted objects, and beautiful mist-covered landscape. Your goal in Inis is to become Ireland's first High King. Among your allies are the warrior Cuchulainn, the beautiful and tragic Deirdre, and the exiles Diarmuid and Grainne. Your tools include a magical spear, horses made out of sea-foam, a god's cauldron, and all the cards you can gather into your hand.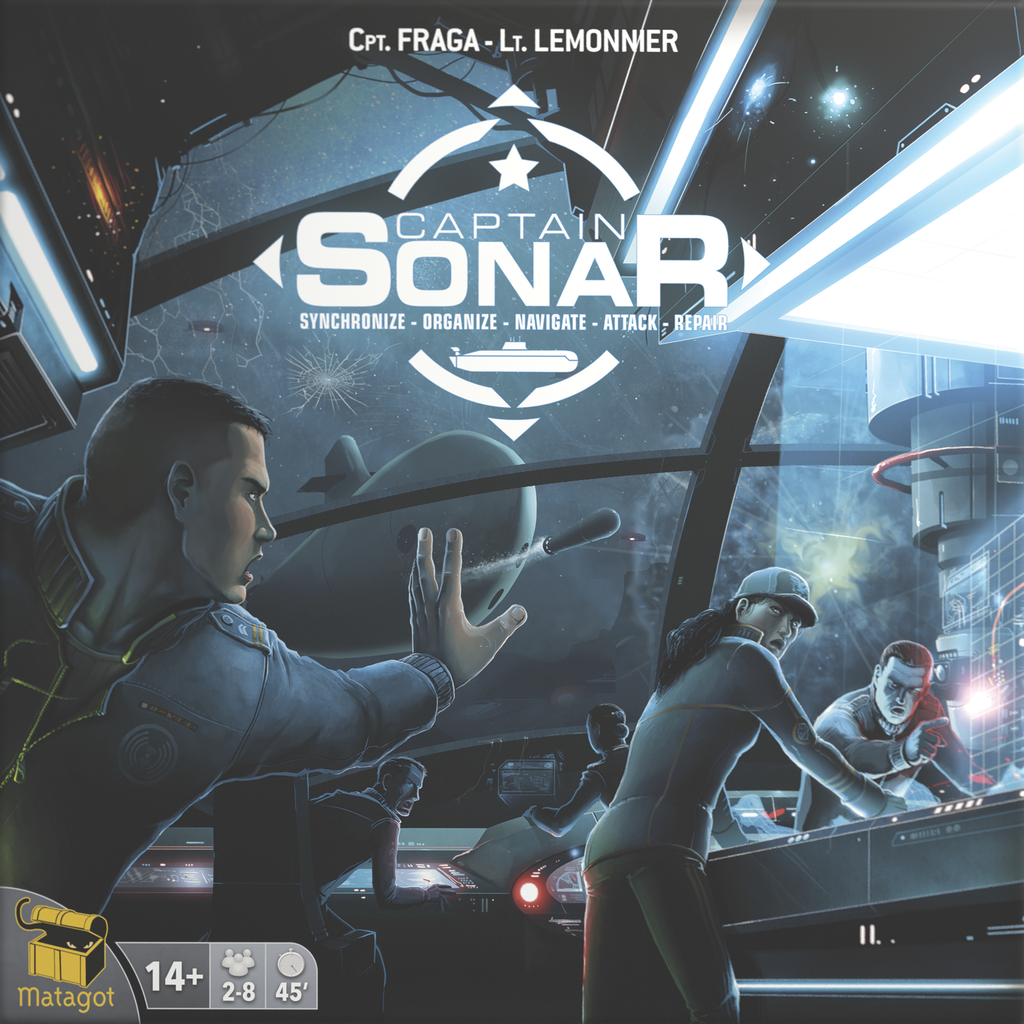 The year is 2048. A new economic war has erupted. Rare earth has become a key element for building new machines, leading private companies to arm next-gen submarine prototypes to protect their underwater mines. Beneath the quiet waves, a silent war is taking place, and these new, unstable submarines are your weapon. Prepare to dive in
Captain Sonar
, a game of dueling submarines for two to eight players!
Captain Sonar is an innovative real-time game that challenges two teams to take their submarines head-to-head in a thrilling battle. Your ultimate goal is to find and destroy your opponent's submarine, but this task is far more difficult that it may first appear. Your entire crew must work together to chart a course, charge systems, locate the enemy, and keep your own submarine fully operational. Communication and teamwork can lead you to victory, but if you fail to cooperate, you'll be sunk to the bottom of the ocean!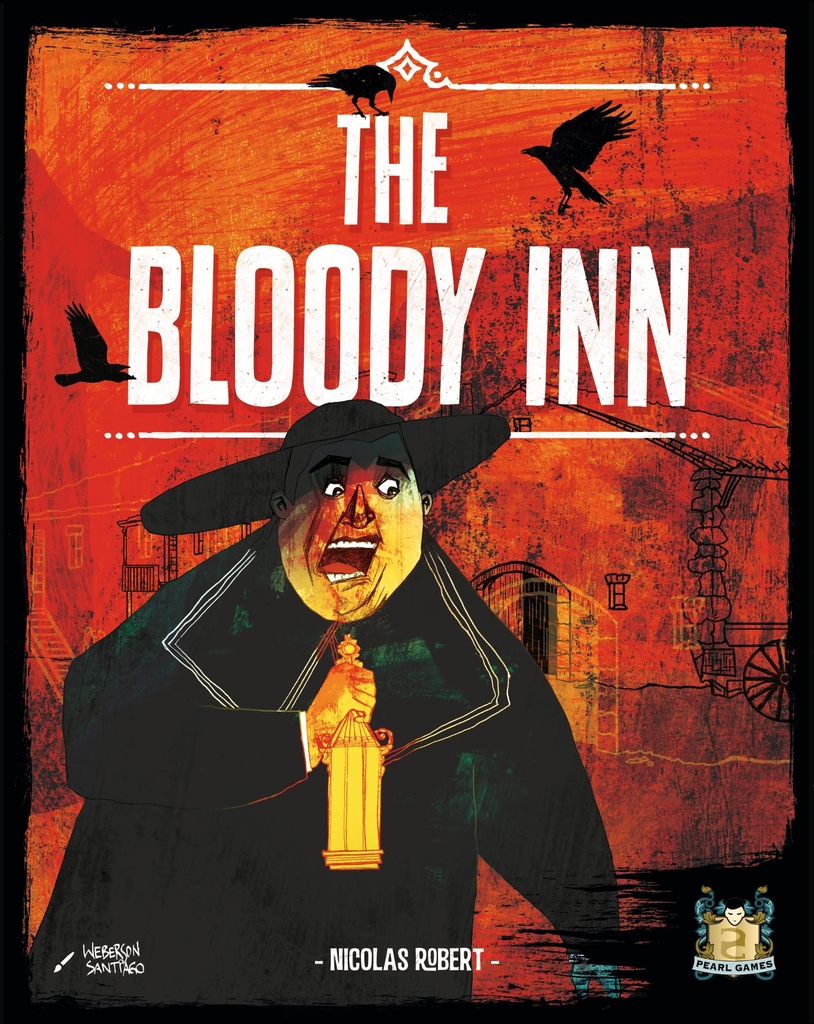 France 1831: In a remote corner of Ardèche, the little village of Peyrebeille sees numerous travelers pass through. A family of greedy rural farmers is determined to make its fortune and has devised a diabolical stratagem to achieve this goal: Invest in an inn so they can rob traveling guests, allowing them to get rich without arousing the suspicions of the police! Whether or not their plan will work out, one thing is certain: Not every guest will leave this inn alive….
In The Bloody Inn, you are one of the competitive innkeepers, bent on amassing the most wealth. Unfortunately, your morals hinder you from robbing your guests… at least while they're alive. Fortunately, your scruples have no qualms with murder. Of course, you can't just have dead bodies piled everywhere: It's bad for business, and besides, what if the police drop by for a visit? It's all so much work! Perhaps you could employ some of the guests as accomplices? Everyone has a price, after all!