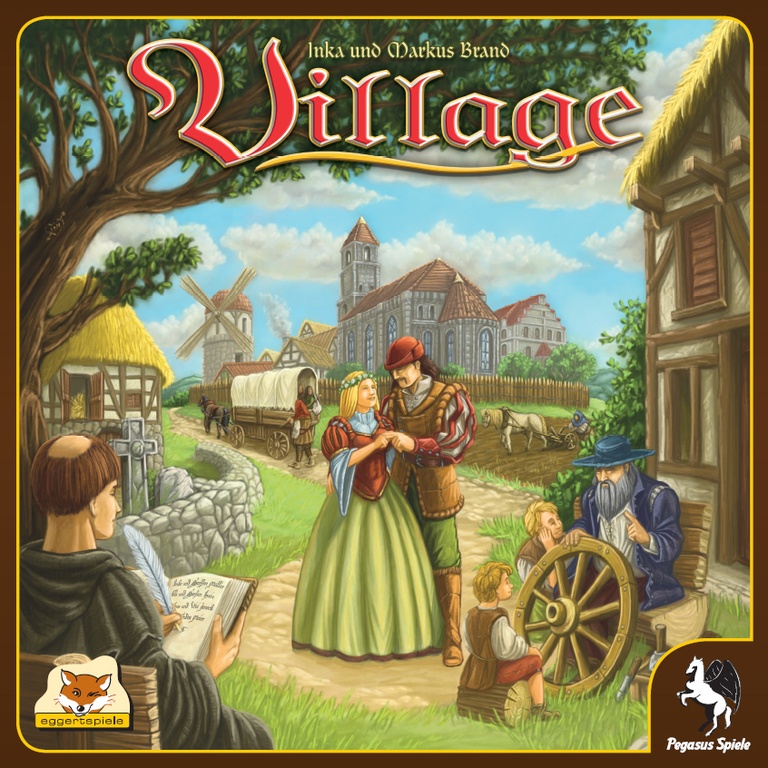 Life in the village is hard – but life here also allows the inhabitants to grow and prosper as they please. One villager might want to become a friar. Another might feel ambitious and strive for a career in public office. A third one might want to seek his luck in distant lands.
Each player will take the reins of a family and have them find fame and glory in many different ways. There is one thing you must not forget, however: Time will not stop for anyone and with time people will vanish. Those who will find themselves immortalized in the village chronicles will bring honor to their family and be one step closer to victory.
Village is a game full of tactical challenges. A smart and unique new action mechanism is responsible for keeping turns short and yet still tactically rich and full of difficult decisions. Also unique is the way this game deals with the delicate subject of death; as a natural and perpetual part of life in the village, thoughts of death will keep you focused on smart time-management.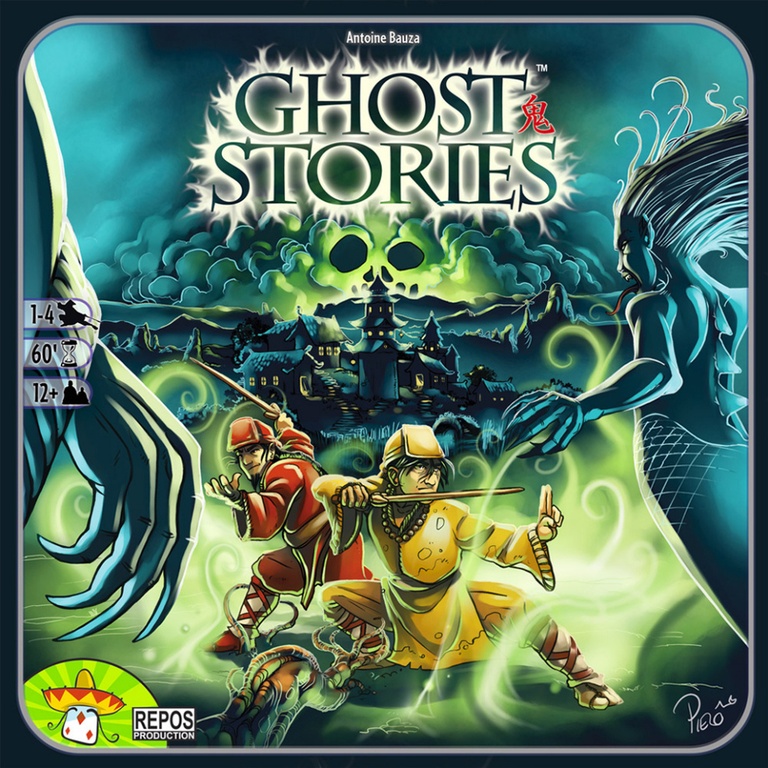 Wu-Feng, the Lord of Nine Hells, has discovered the village hiding the funeral urn containing his ashes. Four Taoist priests protect the village, as hordes of ghosts and demons descend on the town to reclaim the remains of their evil overlord. Can you hold out against the forces of eternal darkness, or will Wu-Feng recover his ashes and destroy everything in his path?
In Ghost Stories, the players work together as the Taoist priests attempting to turn back the tide of evil and save the doomed village. With mystical powers and ancient martial arts, the heroes will battle wave after wave of ghosts and demons until Wu-Feng himself rises to claim his remains. Working together is your only hope, as the ghosts increase in number and force the Taoist priests to sacrifice resources, time and even their very lives in this desperate battle against the hordes of Hell.
Ghost Stories is a cooperative game for one to four players. With modular playing tiles and a randomized deck of ghastly foes, no two games will be alike. The cards and tiles boast fantastic illustrations inspired by kung-fu legends, and a variety of excellent plastic playing pieces will draw you into the game. Gather your forces and battle the Lord of Nine Hells in the ultimate battle of good versus evil!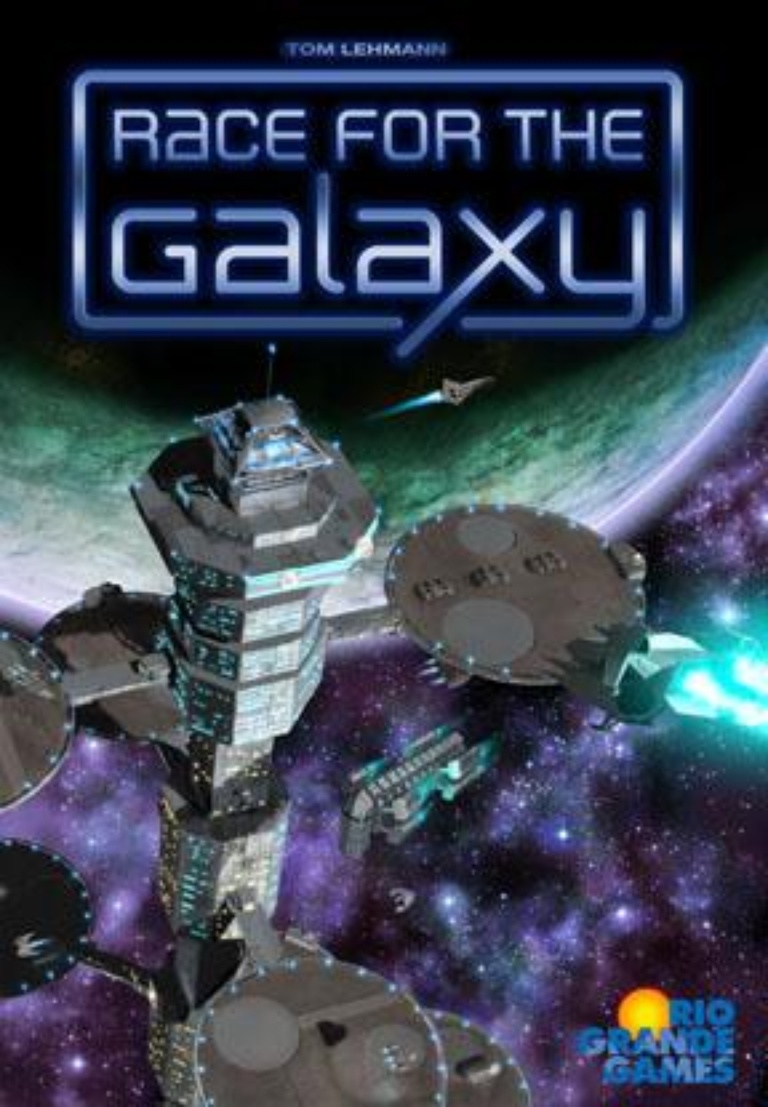 In Race for the Galaxy, players build galactic civilizations by game cards that represent worlds or technical and social developments.Each round consists of one or more of five possible phases. In each round, each player secretly and simultaneously chooses one of seven different action cards and then reveals it. Only the selected phases occur.
For these phases, every player performs the phase's action, while the selecting player(s) also get a bonus for that phase.For example, if at least one player chooses the Develop action, then the Develop phase will occur; otherwise it is skipped. In it, each player may simultaneously select a development from his hand of cards to build. After revealing the cards, each player adds his development to his tableau of cards on the table and then discards cards from his hand equal to its cost.
The player who best manages his cards, phase and bonus selections, and card powers to build the greatest space empire, wins.The winner is the player with the most victory points.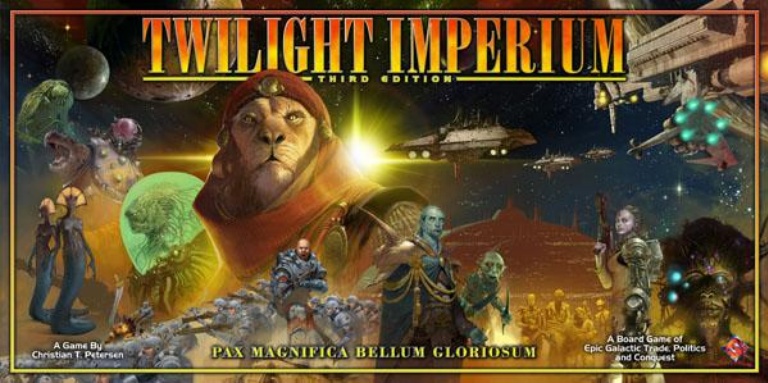 Shipping in a massive (12" x 24") epic-size box, this new giant-size edition of Twilight Imperium features more than 200 masterfully sculpted oversize plastic miniatures - the typical TI units (Ground Forces, Cruisers, Dreadnaughts, Carriers, Fighters, PDS, and Space Docks) as well as two new units (the massive War Sun, and the Destroyer). TI3 contains new oversize board tiles, more than 400 cards, every known civilization of the Twilight Imperium universe, almost every expansion rule and component ever published for Twilight Imperium, a gorgeous graphical overhaul, and an impressive full-color rules set.
The Twilight Imperium gameplay has been refined and redone by original designer Christian T. Petersen. The new design features faster gameplay, and involves players in a far more active game experience, with much less downtime. In addition, TI3 will include the new "Race Cards," as well a dramatic new approach to the structure of the gameplay itself using the new "Command" system.
Twilight Imperium 3rd Edition is nothing short of a massive epic release, and is destined to become a classic for years to come. FFG has directed all its craft, talent, and energy into this massive production. Are you ready for another age of Twilight?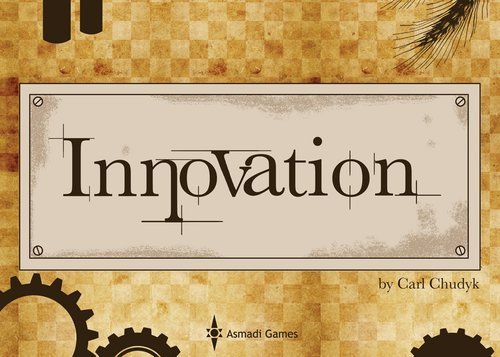 This game by Carl Chudyk is a journey through innovations from the stone age through modern times. Each player builds a civilization based on various technologies, ideas, and cultural advancements, all represented by cards. Each of these cards has a unique power which will allow further advancement, point scoring, or even attacking other civilizations. Be careful though, as other civilizations may be able to benefit from your ideas as well!
To win, you must score achievements, which you can attain by amassing points or by meeting certain criteria with the innovations you have built. Plan your civilization well, and outmaneuver your opponents, and with some luck you will achieve victory!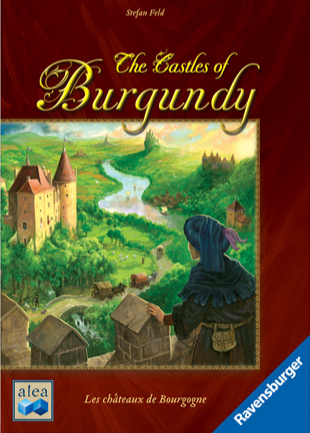 The game is set in the Burgundy region of High Medieval France. Each player takes on the role of an aristocrat, originally controlling a small princedom. While playing they aim to build settlements and powerful castles, practice trade along the river, exploit silver mines, and use the knowledge of travelers.
The game is about players taking settlement tiles from the game board and placing them into their princedom which is represented by the player board. Every tile has a function that starts when the tile is placed in the princedom. The princedom itself consists of several regions, each of which demands its own type of settlement tile.
The game is played in five phases, each consisting of five rounds. Each phase begins with the game board stocked with settlement tiles and goods tiles. At the beginning of each round all players roll their two dice, and the player who is currently first in turn order rolls a goods placement die. A goods tile is made available on the game board according to the roll of the goods die. During each round players take their turns in the current turn order. During his turn, a player may perform any two of the four possible types of actions: 1) take a settlement tile from the numbered depot on the game board corresponding to one of his dice and place it in the staging area on his player board, 2) take a settlement tile from the staging area of his player board to a space on his player board with a number matching one of his dice in the corresponding region for the type of tile and adjacent to a previously placed settlement tile, 3) deliver goods with a number matching one of his dice, or 4) take worker tokens which allow the player to adjust the roll of his dice. In addition to these actions a player may buy a settlement tile from the central depot on the game board and place it in the staging area on his player board. If an action triggers the award of victory points, those points are immediately recorded. Each settlement tile offers a benefit, additional actions, additional money, advancement on the turn order track, more goods tiles, die roll adjustment or victory points. Bonus victory points are awarded for filling a region with settlement tiles.
The game ends when the last player finishes his turn of the fifth round of the fifth phase. Victory points are awarded for unused money and workers, and undelivered goods. Bonus victory points from certain settlement tiles are awarded at the end of the game.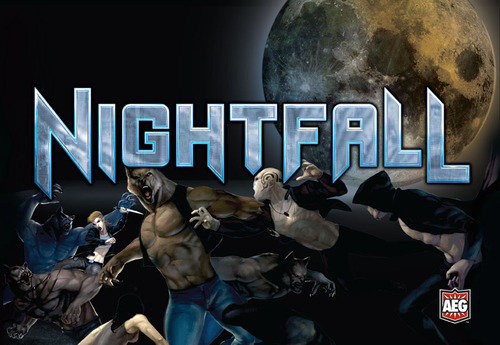 Nightfall - a new fast, furious and fun deck-building game from Alderac Entertainment Group. Featuring direct head-to-head combat, amazing art, a new AEG world, and unique mechanics by designer David Gregg, Nightfall will be the deck-building game to own.
Before the game begins, there is a draft to determine which cards are available for purchase, and by whom. During this draft players select two cards from the set for their personal archives, and they also select cards to put into the common area. The cards drafted into personal archives may only be purchased by the player who drafted them.
After the table has been set with the private and common cards, players begin play.
Each card has a main color and two linking colors. If you can match the main color of a card to one of the linking colors of the previous card, you can chain those cards together. Once a chain is started, players all get an opportunity to link additional cards onto the chain during that turn.
Cards in the chain resolve in reverse order: first in, last out. Instant effects fire off as cards come off the chain, doing damage to your opponents or bringing characters into play to defend you and attack your opponents.
The object of Nightfall is to put wounds into your opponents' decks and end the game with the least amount of wounds in your deck. But beware: the more wounds a person has, the more enraged they become and the faster their deck works, meaning more cards and bigger chains will come your way!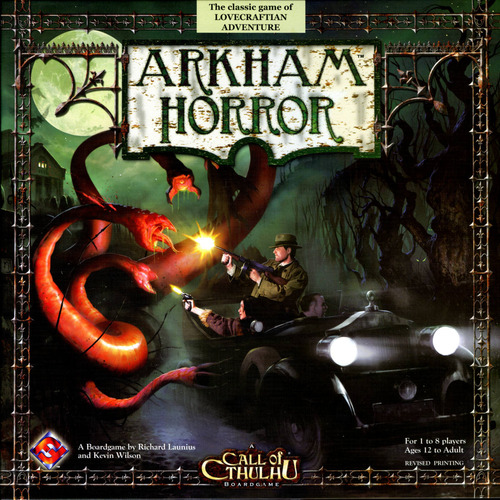 The year is 1926, and it is the height of the Roaring Twenties. Flappers dance till dawn in smoke-filled speakeasies drinking alcohol supplied by rum runners and the mob. It's a celebration to end all celebrations in the aftermath of the war to end all wars.
Yet a dark shadow grows in the city of Arkham. Alien entities known as Ancient Ones lurk in the emptiness beyond space and time, writhing at the gates between worlds. These gates have begun to open and must be closed before the Ancient Ones make our world their ruined domination.
Only a handful of investigators stand against the Arkham Horror. Will they Prevail?
Arkham Horror is a cooperative adventure game themed around H.P Lovecraft's Cthulhu Mythos. Players choose from 16 Investigators and take to the streets of Arkham. Before the game, one of the eight Ancient Ones is chosen and it's up to the Investigators to prevent it from breaking into our world. During the course of the game, players will upgrade their characters by acquiring skills, allies, items, weapons, and spells. It's up to the players to clean out the streets of Arkham by fighting many different types of monsters, but their main goal is to close portals to other dimensions that are opening up around town. With too many portals open the Ancient One awakens and the players only have one last chance to save the world. Defeat the Ancient One in combat!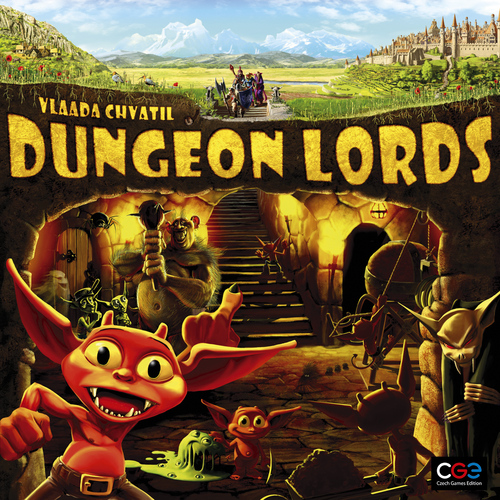 In Dungeon Lords, you are an evil dungeonlord who is trying to build the best dungeon out there. You hire monsters, build rooms, buy traps and defeat the do-gooders who wish to bring you down.
Have you ever ventured with party of heroes to conquer dungeons, gain pride, experiences and of course rich treasure? And has it ever occurred to you how hard it actually is to build and manage such underground complex filled with corridors and creatures? No? Well now you can try. Put yourself in role of the master of underground, summon your servants, dig complex of tunnels and rooms, set traps, hire creatures and try to stop filthy heroes from conquering and plundering your precious creation. We can guarantee you will look on dark corners, lairs and their inhabitant from completely different perspective!
Each turn, players use a hand of cards to choose where to place their worker. Actions vary from mining gold, hiring monsters, buying traps etc. Each action has three spots available - with each spot having different effects (e.g. mining gold lets you mine more gold in each spot). When using the cards, two cards will become locked and will not be able to be used next turn.
There are 4 turns to place actions for each game "year" and two game years in a whole game.
Each turn is identified as a "season". Each season, players will get to see the heroes and events to come in the following season. Thus allowing them to prepare.
At the end of each season (after the first), heroes will be allocated to each player according to their level of evil. Heroes range from mighty heroes to sneaky thieves. Each hero has their own power for which the player needs to prepare for. Finally, at the end of each year, the heroes will travel down into the dungeon to fight.
Scoring in the game is based upon what you have built, the monsters you have hired and the heroes you have captured.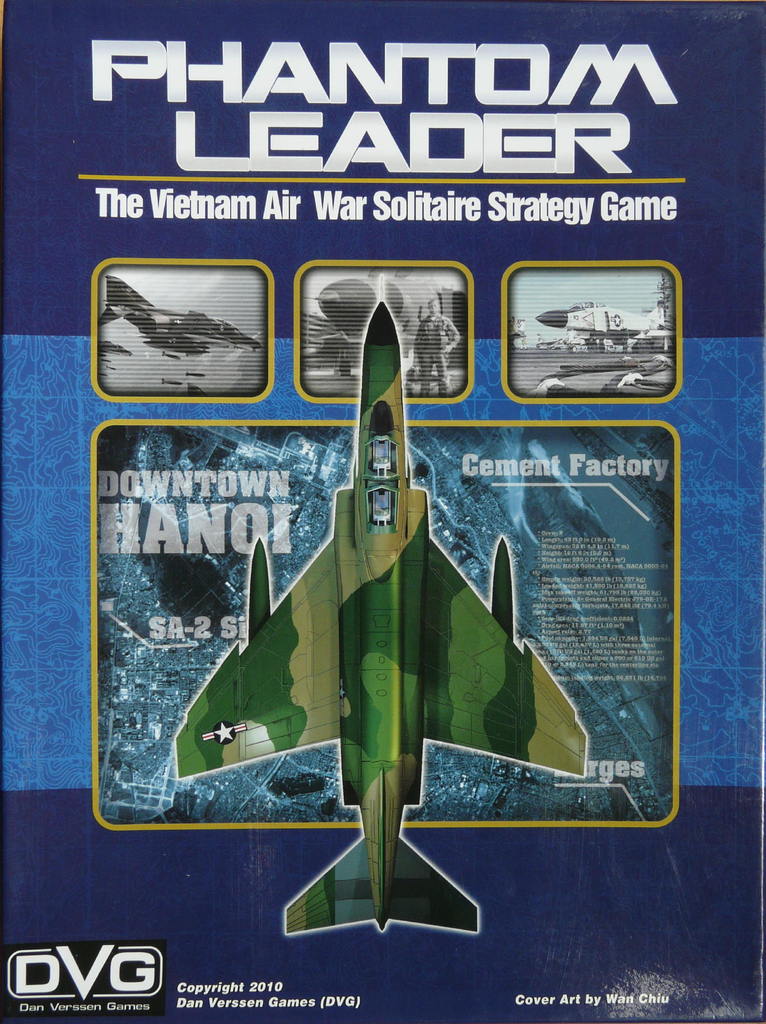 Phantom Leader places you in command of a US Air Force or US Navy Tactical Fighter squadron in Vietnam between 1964 and 1972. You must not only destroy the targets but you must also balance the delicate political repercussions of your attacks. If you strike too hard, your air offensive might be put on hold, strike too light, and you'll be blamed for losing the war.
Welcome to the Vietnam Air War!
Each of the campaigns can be played with either an Air Force or Navy squadron. The targets assigned to each service are different and change the complexion of the campaigns. Each campaign can be played with three different durations of: Skirmish, Conflict, or War.
Each mission takes roughly 30 minutes to set-up, plan, and resolve.
Each of your pilots has their own skills. Selecting the right pilots and weapons for a mission is vital to its success. As you fly missions, your pilots will gain experience and fatigue. With experience, their skills improve, but as their fatigue increases, their skills decrease and they might not be able to fly for several missions.