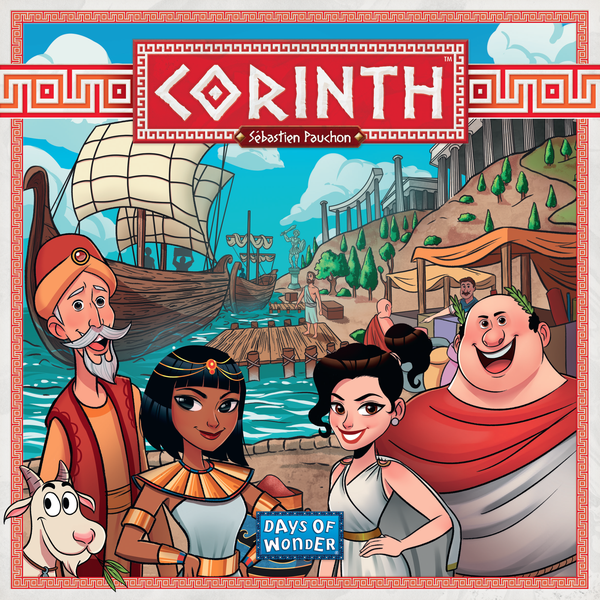 Under a blazing sun in 4th century BCE, traders come from all corners of the Mediterranean Sea to Corinth to sell their goods; Persian carpets, Cretan olive oil, Roman grapes, and Egyptian spices are highly prized by traders. Players have a few weeks to secure their place in Corinthian lore as its most savvy trader!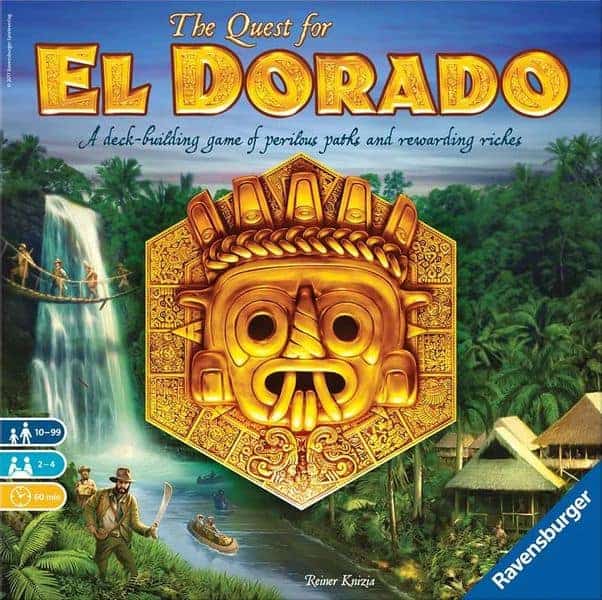 In The Quest for El Dorado, players take the roles of expedition leaders who have embarked on a search for the legendary land of gold in the dense jungles of South America. Each player assembles and equips their own team, hiring various helpers from the scout to the scientist to the aborigine. All of them have one goal in mind: Reaching the golden border first and winning all of the riches for themselves. Whoever chooses the best tactics will be rewarded!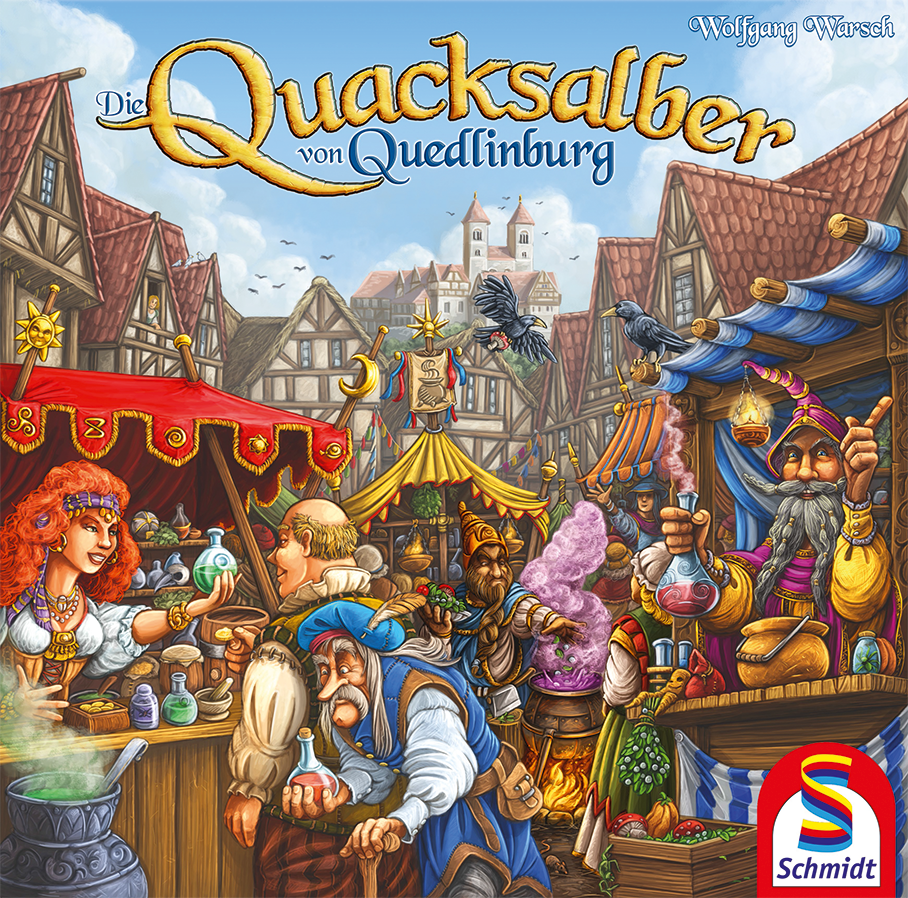 In The Quacks of Quedlinburg, players are charlatans — or quack doctors — each making their own secret brew by adding ingredients one at a time. Take care with what you add, though, for a pinch too much of this or that will spoil the whole mixture!
Each player has their own bag of ingredient chips. During each round, they simultaneously draw chips and add them to their pot. The higher the face value of the drawn chip, the further it is placed in the swirling pattern. Push your luck as far as you can, but if you add too many cherry bombs, your pot explodes!
At the end of each round, players gain victory points and also coins to spend on new ingredients to add to their bags. But players with exploded pots must choose points or coins — not both! The player with the most victory points at the end of nine rounds wins the game.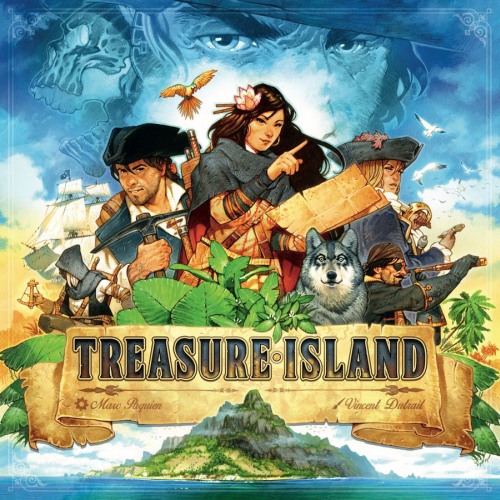 Long John Silver's crew has committed mutiny and has him cornered and tied up! Round after round, they question him about the location of his treasure and explore the island following his directions — or perhaps his misdirections? Who knows... The old sea dog is surely planning an escape, after all, after which he will definitely try to get his treasure back.
Treasure Island is a game of bluffing and adventure in which one player embodies Long John, trying to mislead the others in their search for his treasure. The hunt reaches its climax with Long John's escape, when he will make a final run to get the booty for himself!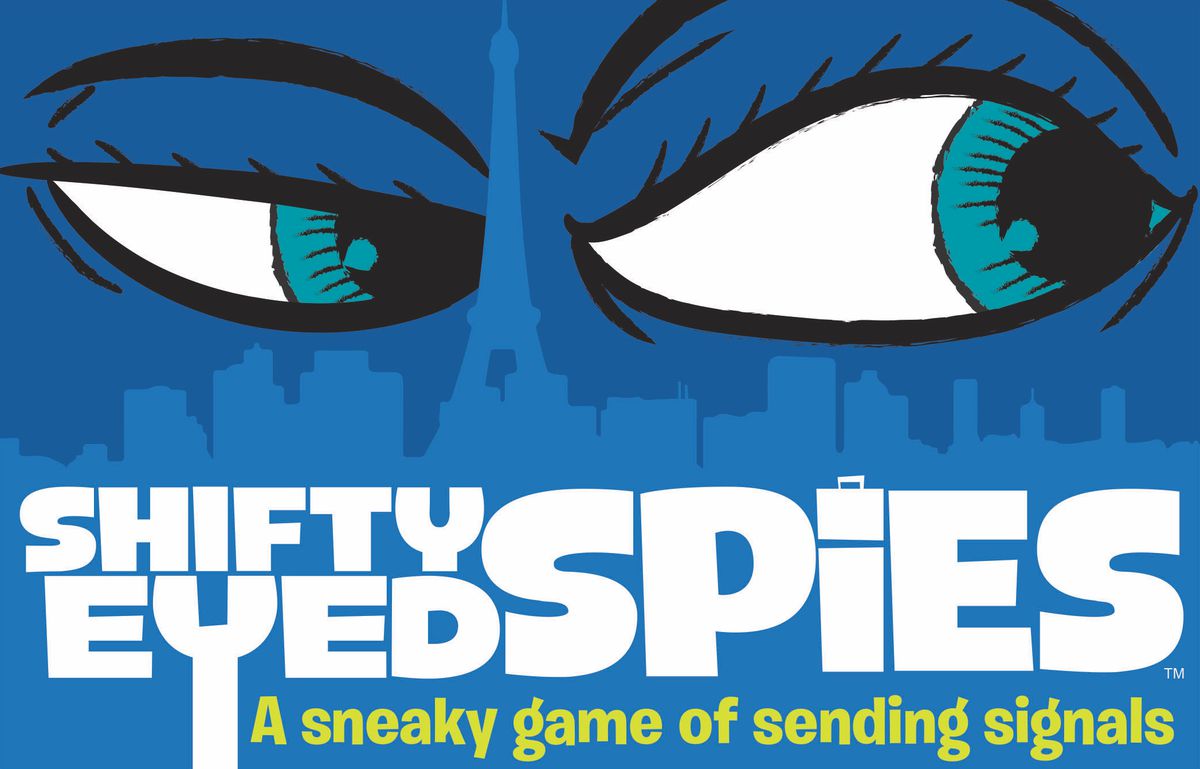 Face off in a stealthy competition of covert communication. Use a wink to signal that you have a delivery for another spy, then await their eye-shift that indicates the rendezvous location. Be discreet – if anyone intercepts you, the mission is blown!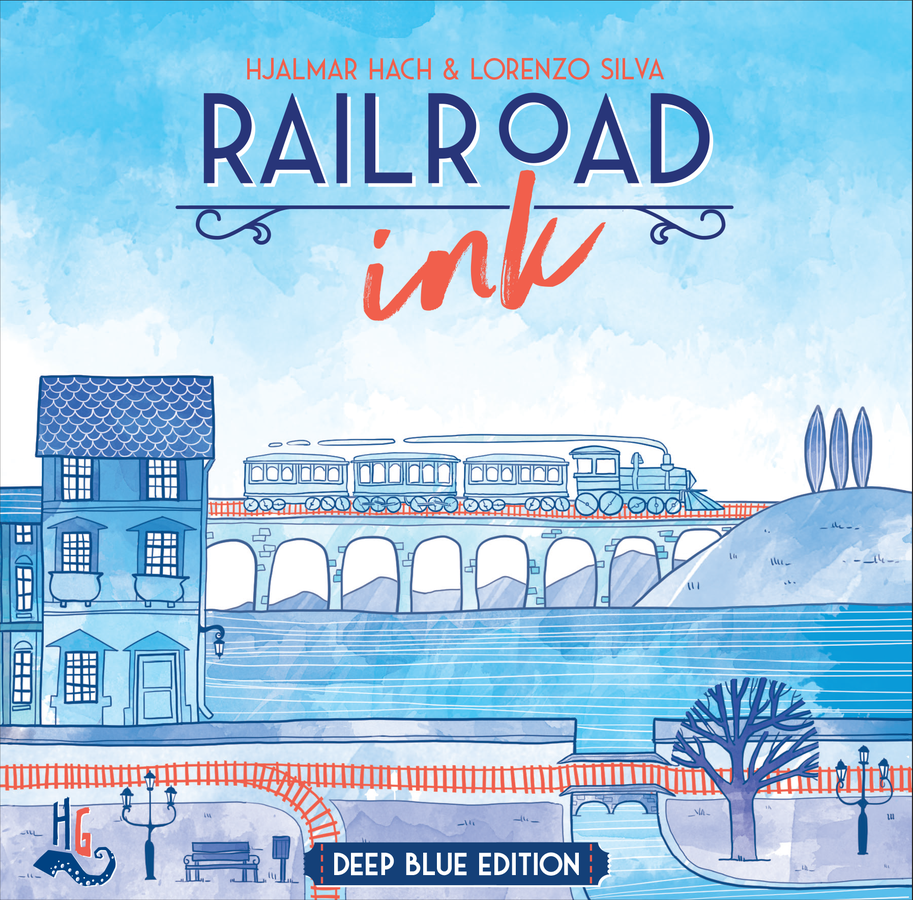 In the multiplayer puzzle game Railroad Ink, your goal is to connect as many exits on your board as possible. Each round, a set of dice are rolled in the middle of the table, determining which kind of road and railway routes are available to all players. You have to draw these routes on your erasable boards to create transport lines and connect your exits, trying to optimize the available symbols better than your opponents.
The more exits you connect, the more points you score at the end of the game, but you lose points for each incomplete route, so plan carefully! Will you press your luck and try to stretch your transportation network to the next exit, or will you play it safe and start a new, simpler to manage route?
Railroad Ink comes in two versions, each one including two expansions with additional dice sets that add new special rules to your games. The Deep Blue Edition includes the Rivers and Lakes expansions. Increase the difficulty by adding the River route into the mix, or use the Lakes to connect your networks by ferry. These special rules can spice up things and make each game play and feel different. Each box allows you to play from 1 to 6 players, and if you combine more boxes, you can play with up to 12 players (or more). The only limit to the number of players is the number of boards you have!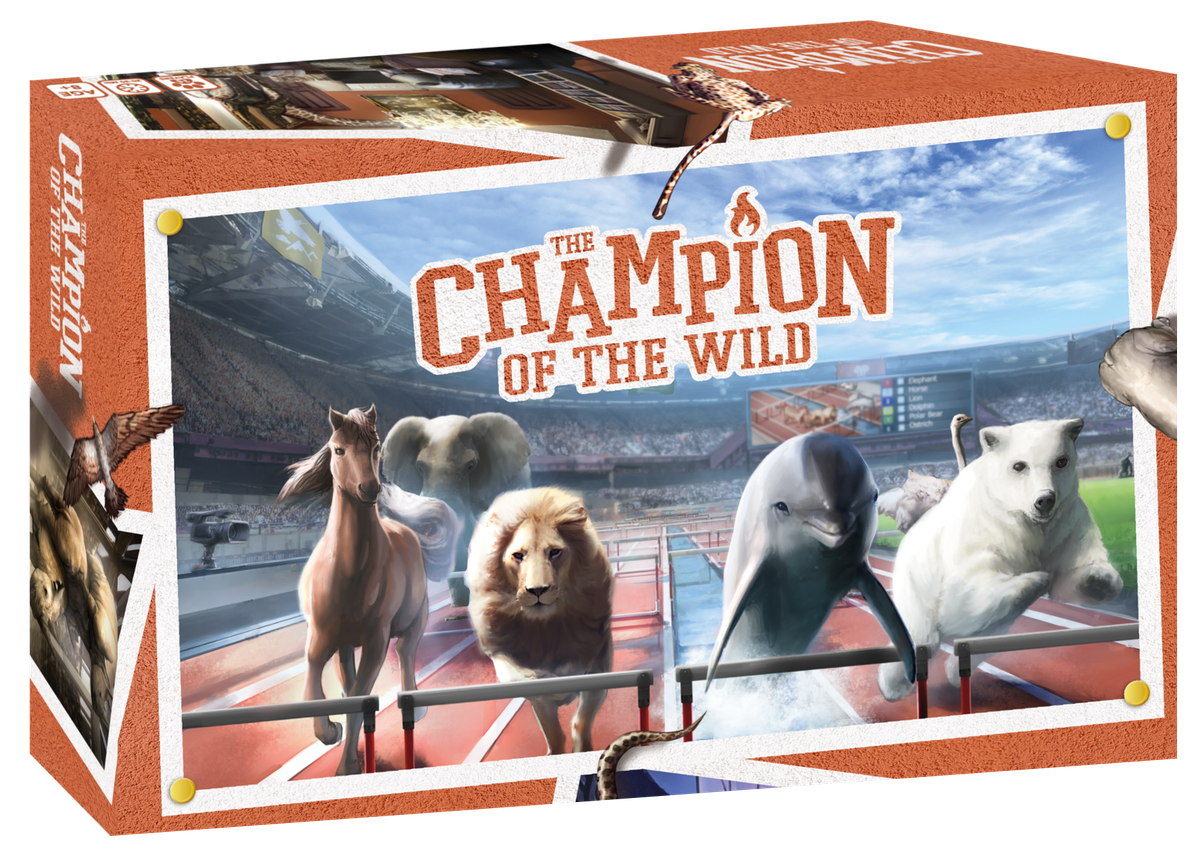 Available direct from
https://championofthewild.com/
The Champion of the Wild, formerly known as The Animal Games, is a light-hearted card-based social game for 3-8 players based on the following theme:
Players have attained super-stardom and handsome riches over many years due to their innate ability to communicate with and to coach animals of all different species. Now the greatest animal coaches from around the world (the participating players) have gathered for the ultimate test of their training prowess to see who will become The Champion of the Wild.
Three events are first selected - one from each of five different categories (speed, power, endurance, technical and team). These events can be any measurable activity, examples including the 100m sprint, high jump, ballroom dancing and hide-and-seek. Players are then dealt a hand of animal cards to choose from and must select one single animal to represent them across all three events, competing against the animals selected by the other players. These events are then played out by way of animated discussion and players then vote according to their opinion on the likely rankings (excluding their own animal when voting). Votes score points for the appropriate players and the player with the most points after three events wins.
The Champion of the Wild combines the fun and laughter of a conversation-driven social game with the challenge of strategic thinking required for animal selection and event tactics.
Who will be your champion?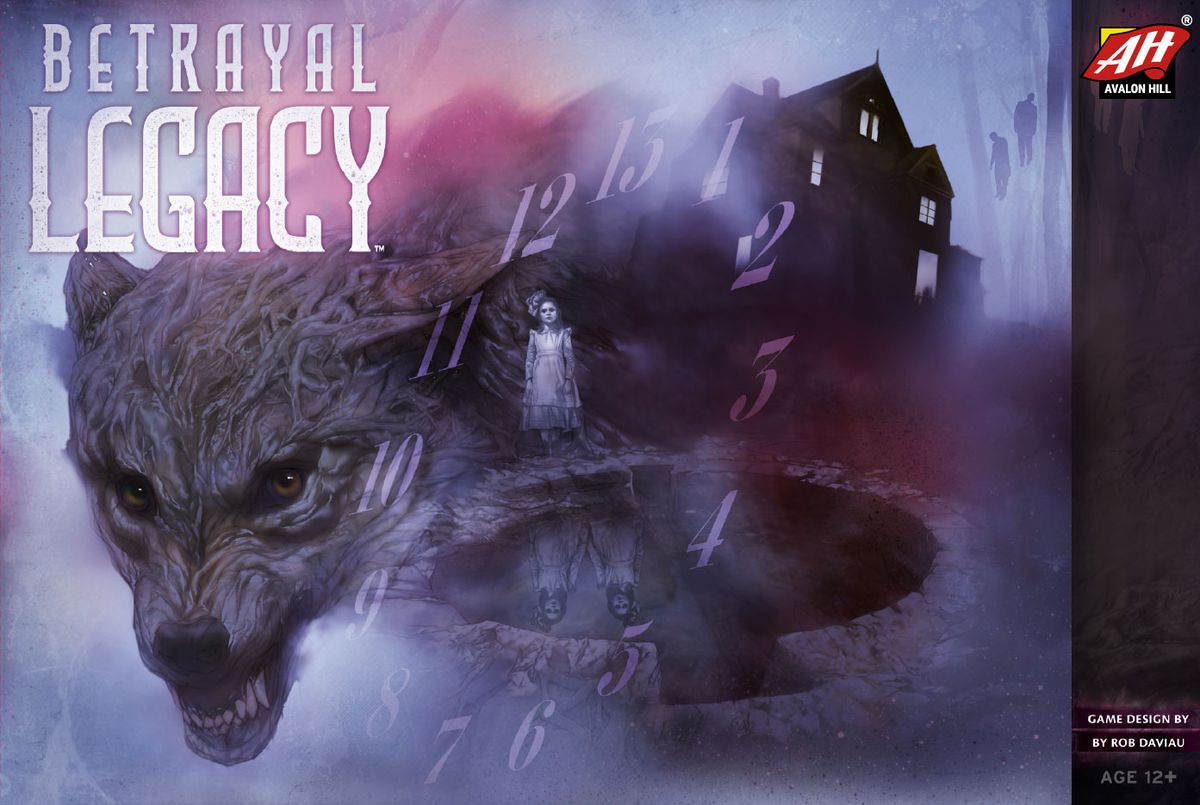 Betrayal Legacy marries the concept of Betrayal at House on the Hill — exploring a haunted mansion — with the permanency and multi-game storytelling exhibited by Daviau's Risk Legacy and other legacy games that followed. Betrayal Legacy consists of a prologue and a thirteen-chapter story that takes place over decades. Players represent families, with specific members of a family participating in one story, then perhaps an older version of those characters (assuming they lived) or their descendants showing up in later stories.
Why would people keep exploring a haunted mansion for decade after decade, especially when horrible things happen there? Curiosity, I suppose, or perhaps an ignorant boldness that comes from the belief that we know better than those who have come before. Look at all that we've learned, marvel at the tools we have at hand! Surely we'll all exit safely this time...
As with other Betrayal titles, the game is narratively-driven, with elements that record the history of your specific games. The tools mentioned earlier, for example, become attached to specific families. This isn't just a bucket; it's my bucket, the one my grandpappy used to feed his family's pigs when he was a boy, and while you can certainly use that bucket, I know how to wield it best from the time he spent teaching me how to slop. Yes, it's an heirloom bucket, and when kept in the family, I get a bonus for using it.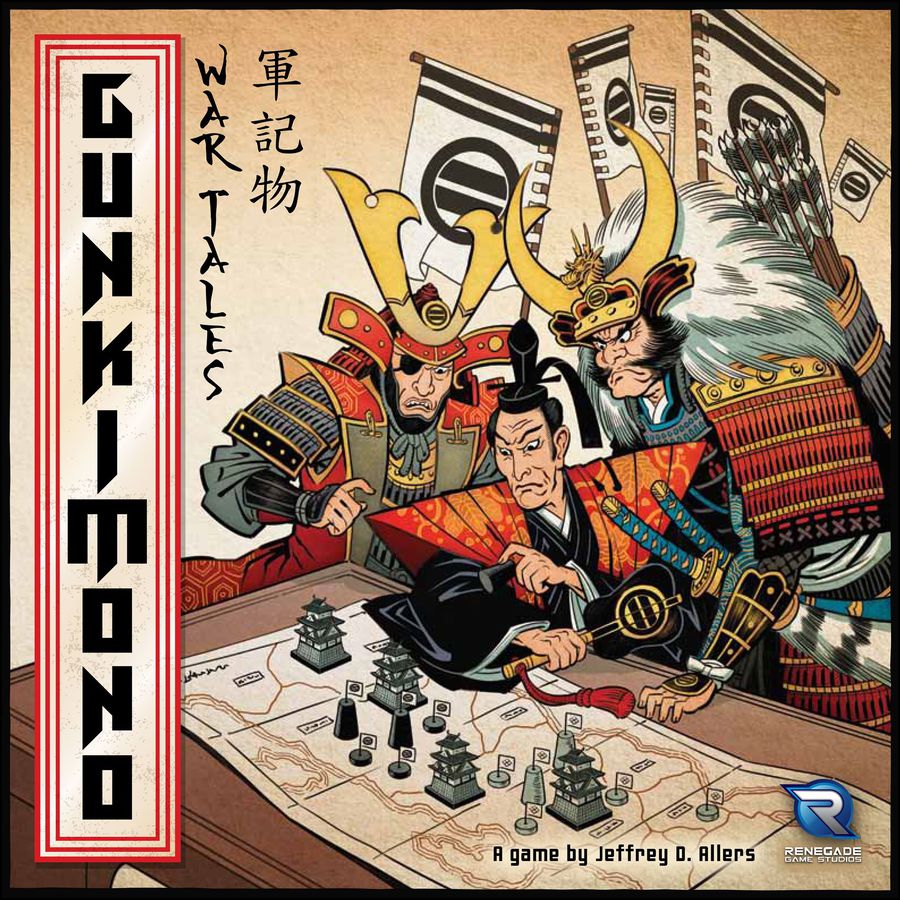 In war-torn feudal Japan, the soldiers are restless. The endless battles, betrayals, and broken promises have the soldiers questioning where their loyalties lie. Meanwhile, the daimyo are strategising, marshalling their troops, and erecting strongholds to bolster the strength of their armies, all in pursuit of honour and ultimate victory.
In Gunkimono, players take on the roles of these daimyo, plotting their military advances across the countryside. Each new squad of troops yields victory points, but you may decide to forgo these points and save up for your stronghold instead. All the while, you need to keep an eye on your opponents so that their forces do not grow too large and expand at your expense.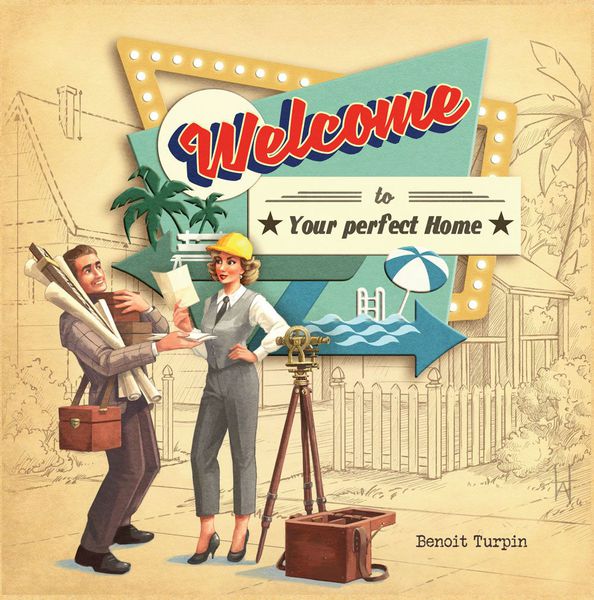 As an architect in Welcome To..., you want to build the best new town in the United States of the 1950's by adding resources to a pool, hiring employees, and more.
Welcome To... plays like a roll-and-write dice game in which you mark results on a score-sheet...but without dice. Instead you flip cards from 3 piles to make 3 different action sets everyone chooses from. Player's will get to choose a house number and a corresponding action. You use the number to fill in a house on your street in numerical order. Then you take the action to increase the point value of estates you're building or score points at the end for building parks and pools. Players also have the option of taking actions to alter or duplicate their house numbers. And everyone is racing to be the first to complete public goals. There's lots to do and many paths to becoming the best suburban architect in Welcome To!
Because of the communal actions, game play is simultaneous and thus supports large groups of players. With many varying strategies and completely randomized action sets, no two games will feel the same!