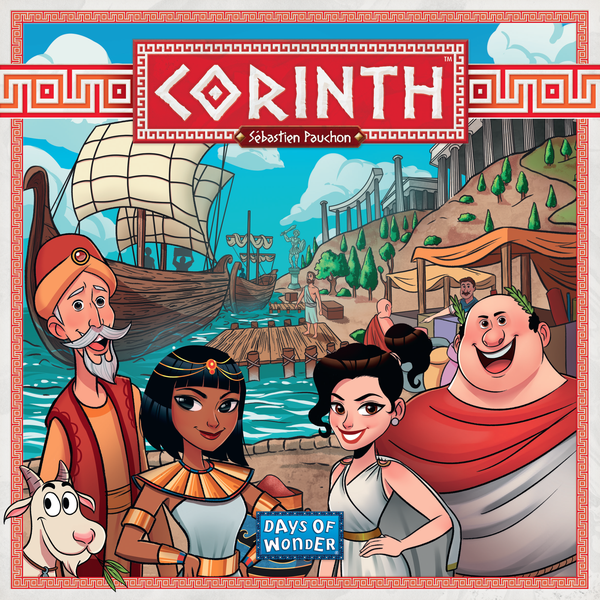 Under a blazing sun in 4th century BCE, traders come from all corners of the Mediterranean Sea to Corinth to sell their goods; Persian carpets, Cretan olive oil, Roman grapes, and Egyptian spices are highly prized by traders. Players have a few weeks to secure their place in Corinthian lore as its most savvy trader!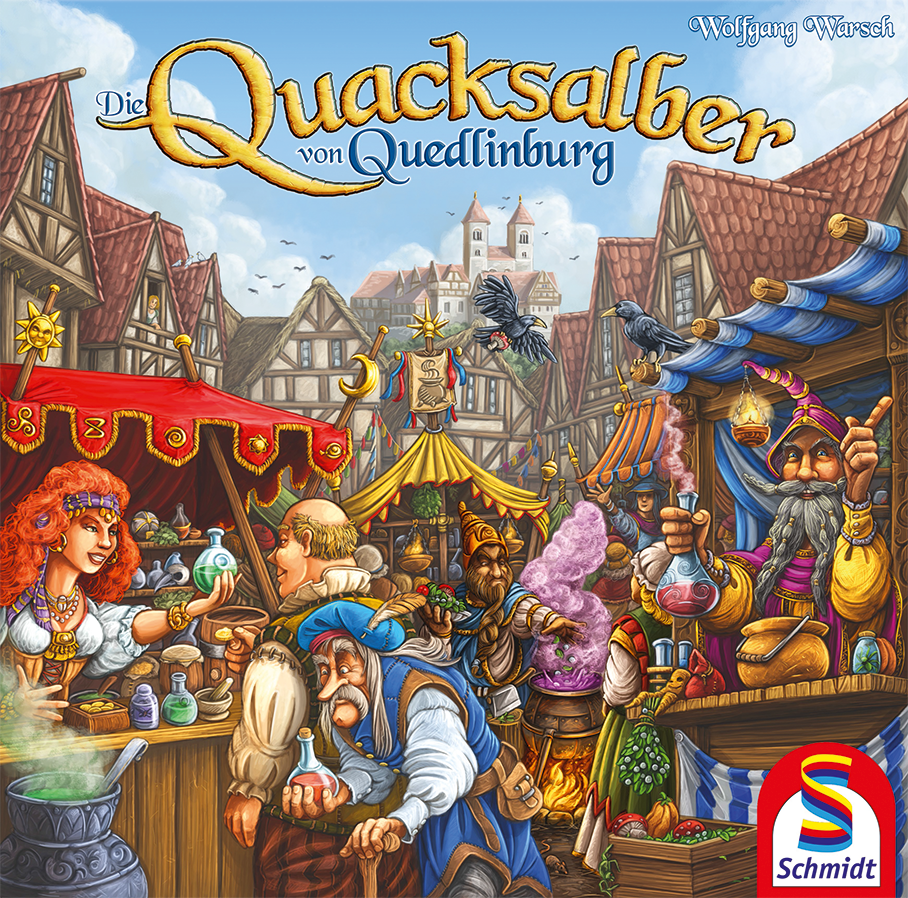 In The Quacks of Quedlinburg, players are charlatans — or quack doctors — each making their own secret brew by adding ingredients one at a time. Take care with what you add, though, for a pinch too much of this or that will spoil the whole mixture!
Each player has their own bag of ingredient chips. During each round, they simultaneously draw chips and add them to their pot. The higher the face value of the drawn chip, the further it is placed in the swirling pattern. Push your luck as far as you can, but if you add too many cherry bombs, your pot explodes!
At the end of each round, players gain victory points and also coins to spend on new ingredients to add to their bags. But players with exploded pots must choose points or coins — not both! The player with the most victory points at the end of nine rounds wins the game.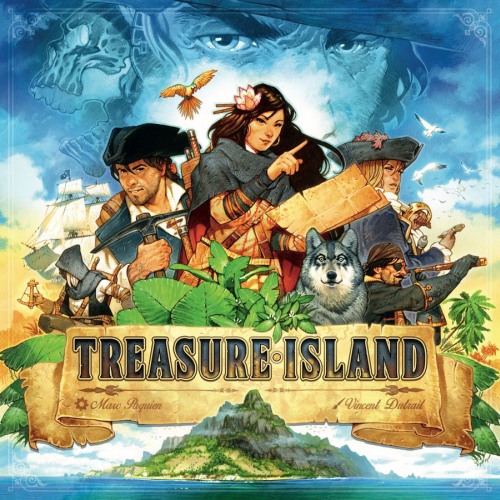 Long John Silver's crew has committed mutiny and has him cornered and tied up! Round after round, they question him about the location of his treasure and explore the island following his directions — or perhaps his misdirections? Who knows... The old sea dog is surely planning an escape, after all, after which he will definitely try to get his treasure back.
Treasure Island is a game of bluffing and adventure in which one player embodies Long John, trying to mislead the others in their search for his treasure. The hunt reaches its climax with Long John's escape, when he will make a final run to get the booty for himself!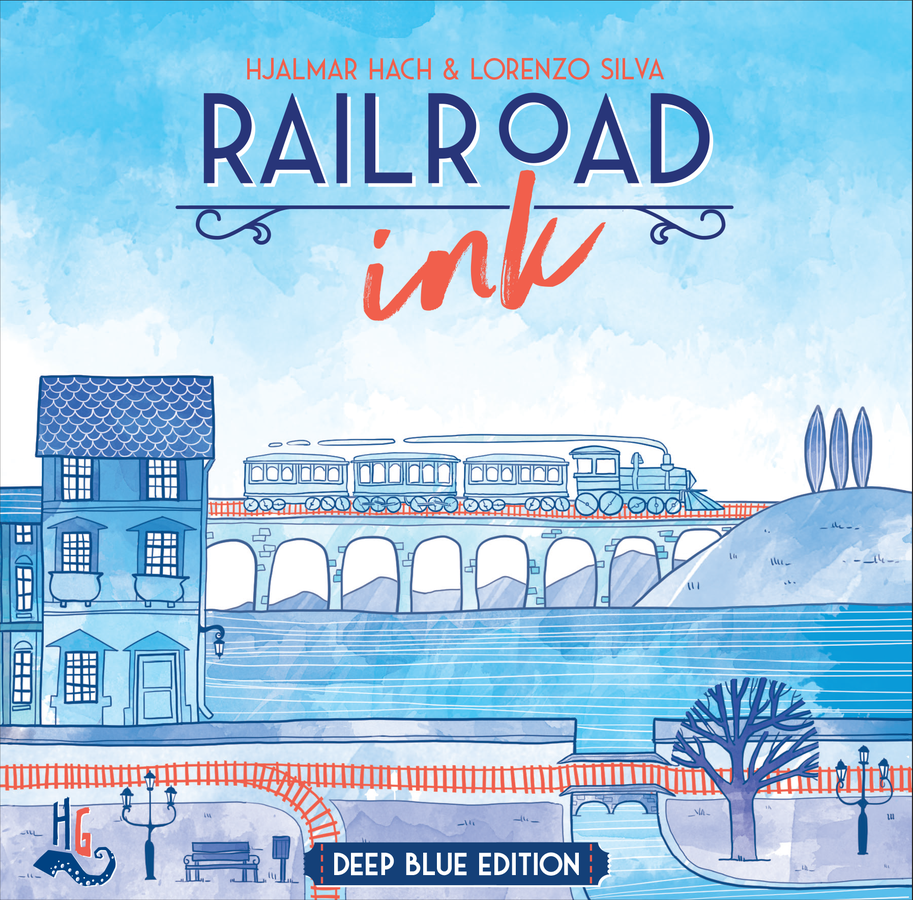 In the multiplayer puzzle game Railroad Ink, your goal is to connect as many exits on your board as possible. Each round, a set of dice are rolled in the middle of the table, determining which kind of road and railway routes are available to all players. You have to draw these routes on your erasable boards to create transport lines and connect your exits, trying to optimize the available symbols better than your opponents.
The more exits you connect, the more points you score at the end of the game, but you lose points for each incomplete route, so plan carefully! Will you press your luck and try to stretch your transportation network to the next exit, or will you play it safe and start a new, simpler to manage route?
Railroad Ink comes in two versions, each one including two expansions with additional dice sets that add new special rules to your games. The Deep Blue Edition includes the Rivers and Lakes expansions. Increase the difficulty by adding the River route into the mix, or use the Lakes to connect your networks by ferry. These special rules can spice up things and make each game play and feel different. Each box allows you to play from 1 to 6 players, and if you combine more boxes, you can play with up to 12 players (or more). The only limit to the number of players is the number of boards you have!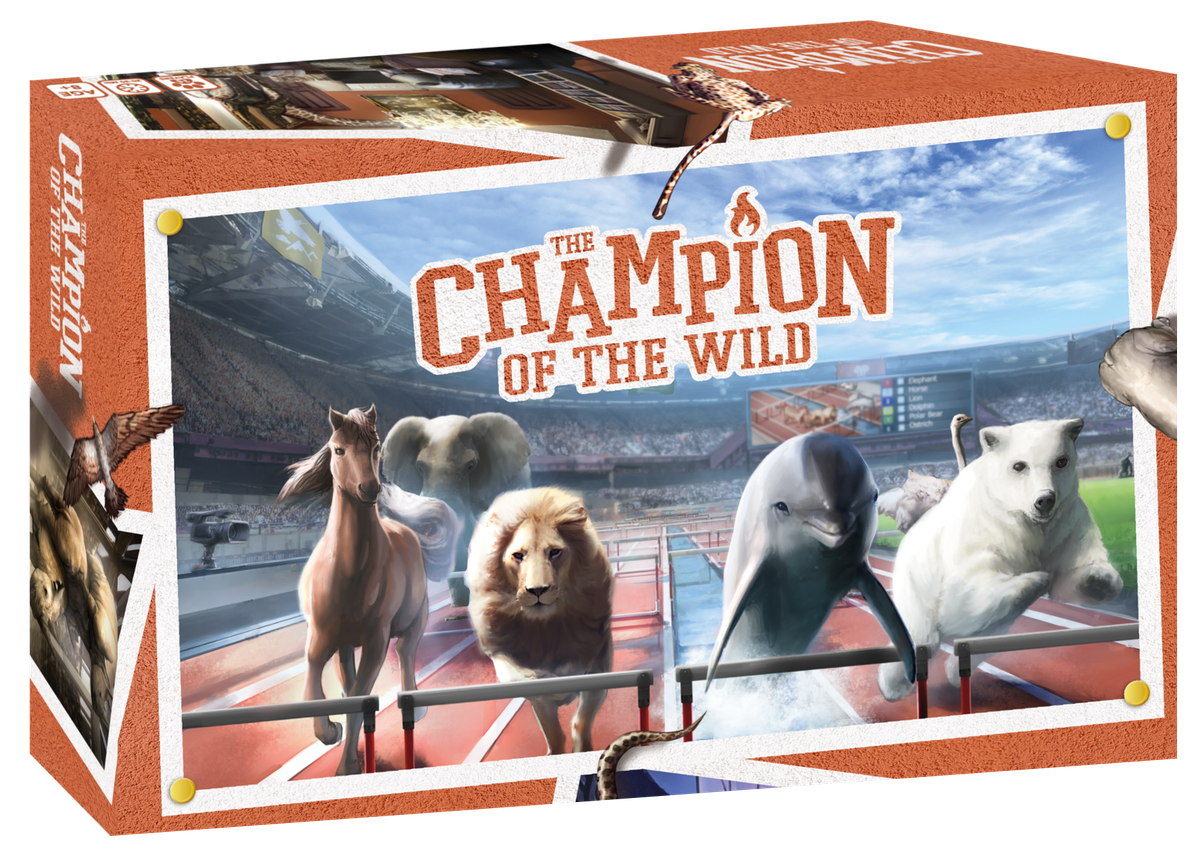 Available direct from
https://championofthewild.com/
The Champion of the Wild, formerly known as The Animal Games, is a light-hearted card-based social game for 3-8 players based on the following theme:
Players have attained super-stardom and handsome riches over many years due to their innate ability to communicate with and to coach animals of all different species. Now the greatest animal coaches from around the world (the participating players) have gathered for the ultimate test of their training prowess to see who will become The Champion of the Wild.
Three events are first selected - one from each of five different categories (speed, power, endurance, technical and team). These events can be any measurable activity, examples including the 100m sprint, high jump, ballroom dancing and hide-and-seek. Players are then dealt a hand of animal cards to choose from and must select one single animal to represent them across all three events, competing against the animals selected by the other players. These events are then played out by way of animated discussion and players then vote according to their opinion on the likely rankings (excluding their own animal when voting). Votes score points for the appropriate players and the player with the most points after three events wins.
The Champion of the Wild combines the fun and laughter of a conversation-driven social game with the challenge of strategic thinking required for animal selection and event tactics.
Who will be your champion?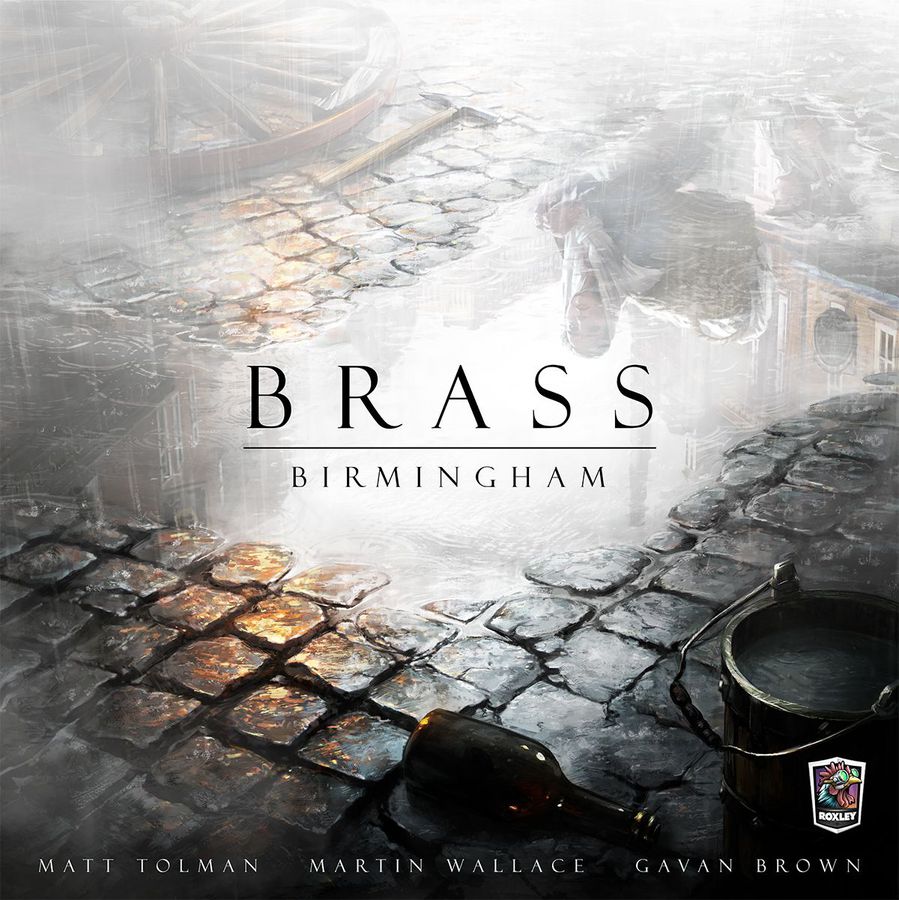 A finely brewed sequel to the original featuring new industries, new mechanics, and new strategies for you to discover.
~ Birmingham Features ~
Dynamic board setup makes each game unfold completely differently
Core rules stay true to the original
New canal/rail scoring creates tactics in where you place them
3 new industry types include Breweries, Potteries and Manufactured goods
New actions, mechanics and strategies to discover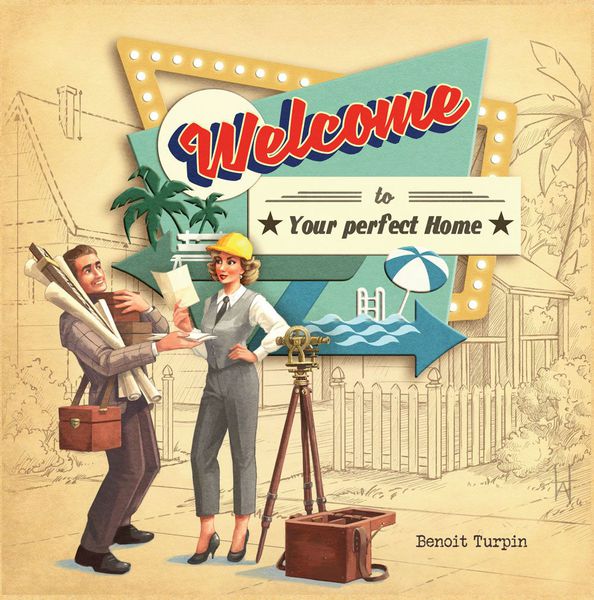 As an architect in Welcome To..., you want to build the best new town in the United States of the 1950's by adding resources to a pool, hiring employees, and more.
Welcome To... plays like a roll-and-write dice game in which you mark results on a score-sheet...but without dice. Instead you flip cards from 3 piles to make 3 different action sets everyone chooses from. Player's will get to choose a house number and a corresponding action. You use the number to fill in a house on your street in numerical order. Then you take the action to increase the point value of estates you're building or score points at the end for building parks and pools. Players also have the option of taking actions to alter or duplicate their house numbers. And everyone is racing to be the first to complete public goals. There's lots to do and many paths to becoming the best suburban architect in Welcome To!
Because of the communal actions, game play is simultaneous and thus supports large groups of players. With many varying strategies and completely randomized action sets, no two games will feel the same!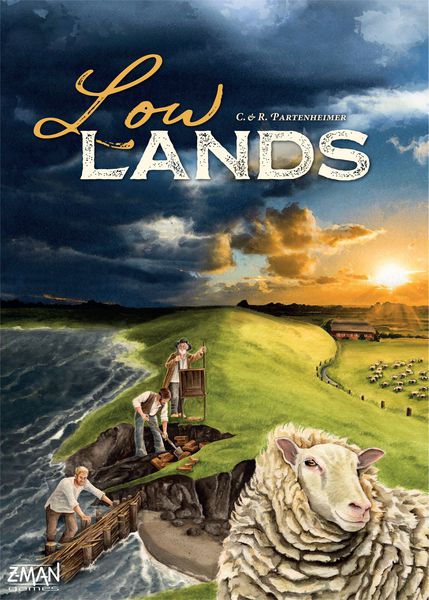 In Lowlands, you carve your farm out of this unforgiving land, gathering and spending resource cards to transform your farmyard into pastures that allow you to profit from breeding sheep. Adding expansions to your farm will unlock new options and score you victory points, but helping to build the dike that collectively protects all players is also rewarded. No matter what, the tide will rise and, if the dike isn't high enough, it could rush in and sweep away your hard-earned profits. Will you sacrifice your own farm for the good of the community, or will you pursue your own agenda? The choice is yours.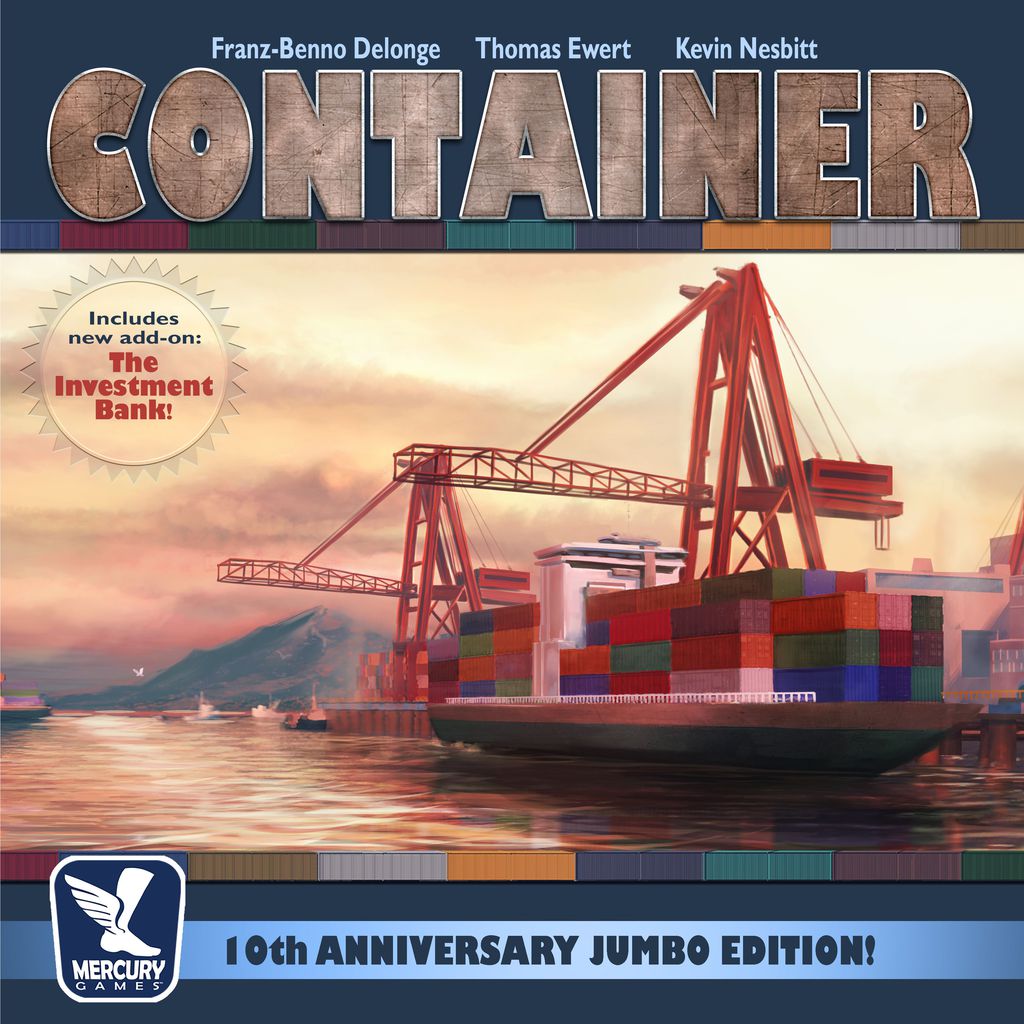 Container, the classic game of big ships and big production, returns in a 10th Anniversary Jumbo Edition! Now with huge ships and realistic containers to load and unload, building (or destroying) your living economy has never been more fun!
Container is an easy game with an open economy and lots of meaningful decisions. Build factories and warehouses, or focus on shipping goods to your island. Take advantage of government subsidies to ensure maximum profits! But watch out for your cash reserves because the player-driven market can go sour at any time, and you'll need to be ready to change your strategy.
Also included in this edition of Container is an all new add-on called "The Investment Bank". This new entity operates as a game-controlled broker who is seeking to maximize their own profits. Watch as the three brokers try to build their own cash and container resources and be ready to make a deal when the price is right. The Investment Bank add-on ensures new and interesting challenges for even the most seasoned Container player.
This 10th Anniversary Jumbo Edition of Container features resin miniature ships 7 inches long!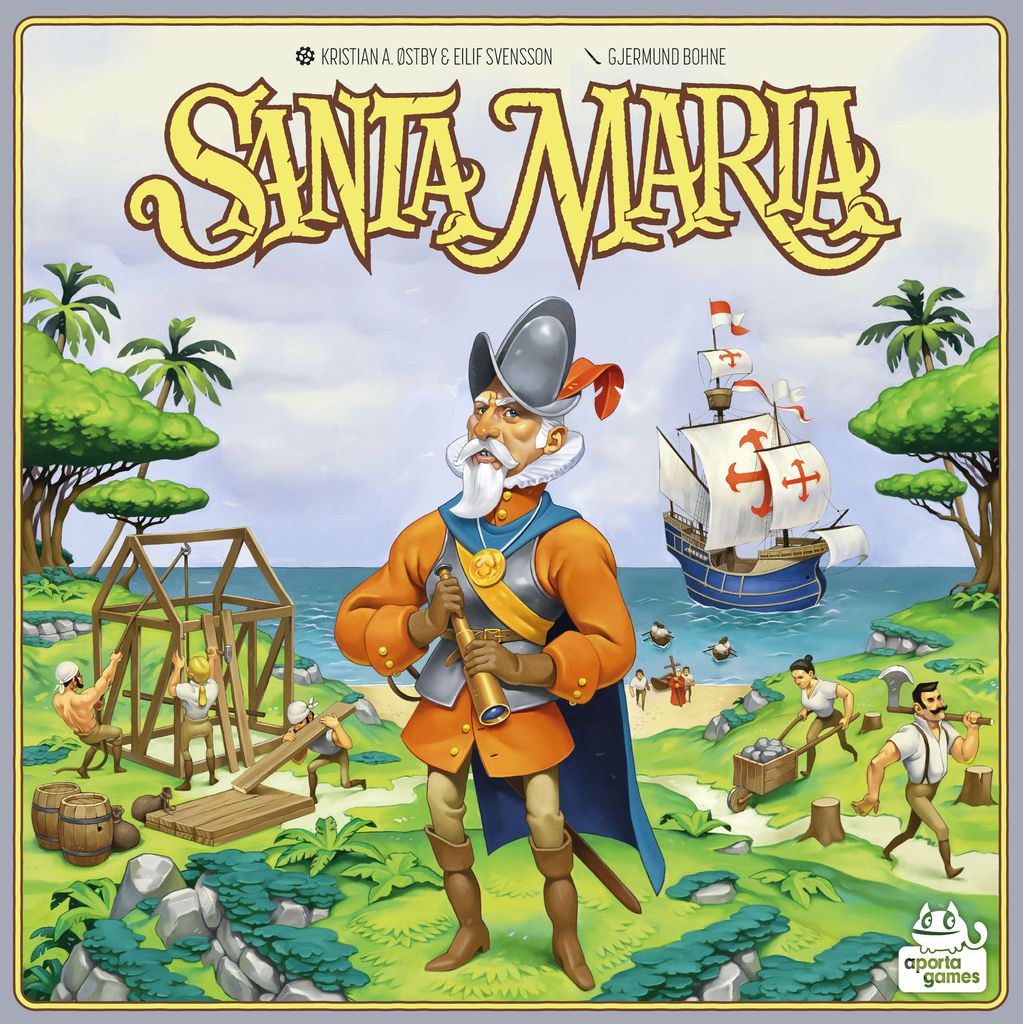 Santa Maria is a streamlined, medium complexity Eurogame in which each player establishes and develops a colony. The game features elements of dice drafting and strategic engine building. The game is low on luck and has no direct destructive player conflict; all components are language independent.
In the game, you expand your colony by placing polyominoes with buildings on your colony board. Dice (representing migrant workers) are used to activate buildings; each die activates a complete row or column of buildings in your colony. The buildings are activated in order (left to right / top to bottom), then the die is placed on the last activated building to block this space. It is therefore crucial where you put new buildings in your colony, and in which order you use the dice.
As the game progresses, you produce resources, form shipping routes, send out conquistadors, and improve your religious power to recruit monks. When you recruit a monk, you must decide if it becomes a scholar (providing a permanent special ability), a missionary (for an immediate bonus) or a bishop (for possible end game points). The player who has accumulated the most happiness after three rounds wins. The available specialists, end game bonuses and buildings vary from game to game, which makes for near endless replayability.